Revitalization projects have become a common trend in recent years, but that doesn't mean the skill level required to create something outstanding is any lower. They key success factor is finding a good balance between the old and the new. When architectural design firm Archstudio took over this residential renovation project in Paizi Hutong of the Dashilan area of Beijing, they were entrusted with the important task of transforming the siheyuan into a public venue in the inner city of Beijing. The priority of the design team was to equip the space with the necessary infrastructure for modern life, and to upgrade the traditional small courtyard that was only dominated by residential functions.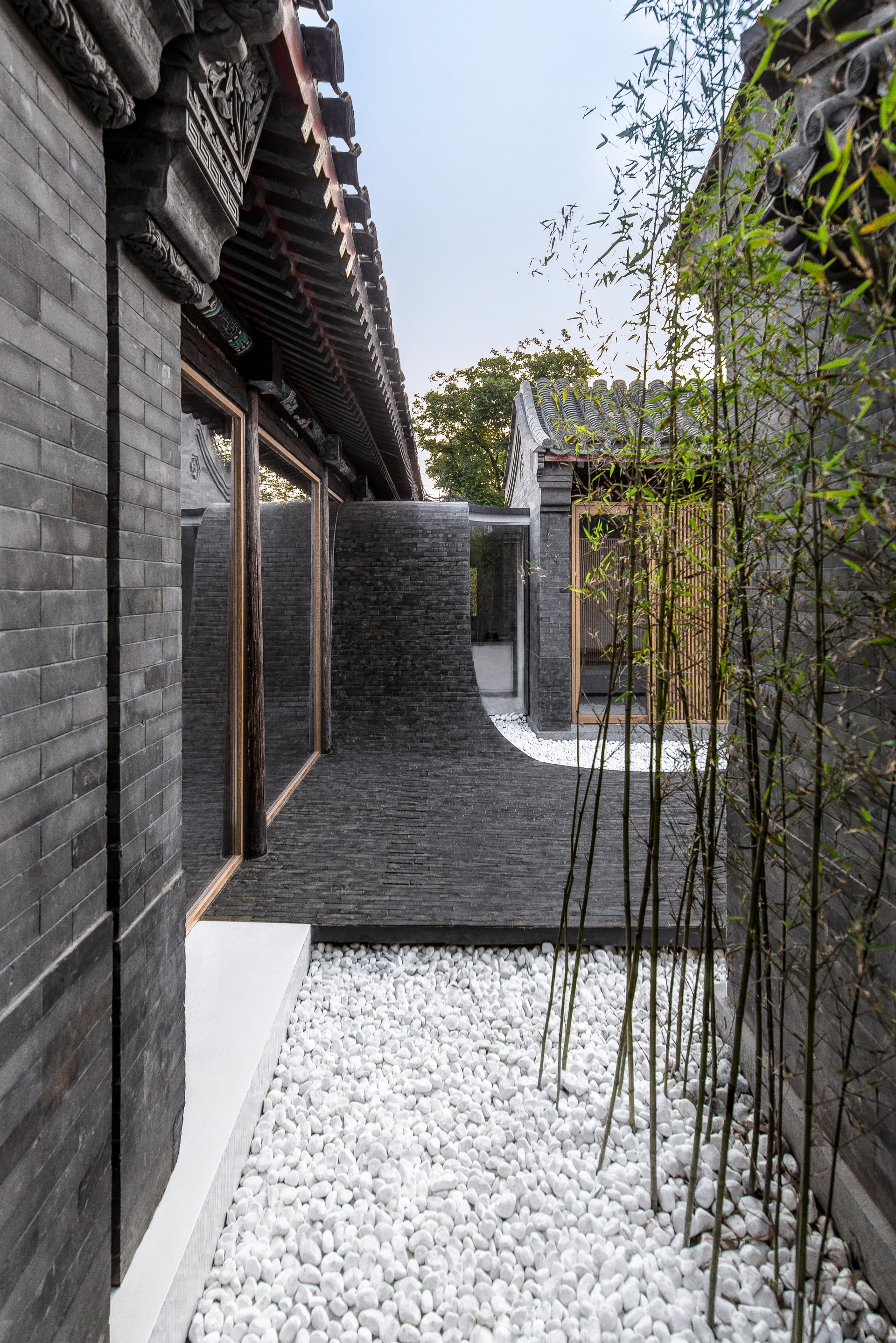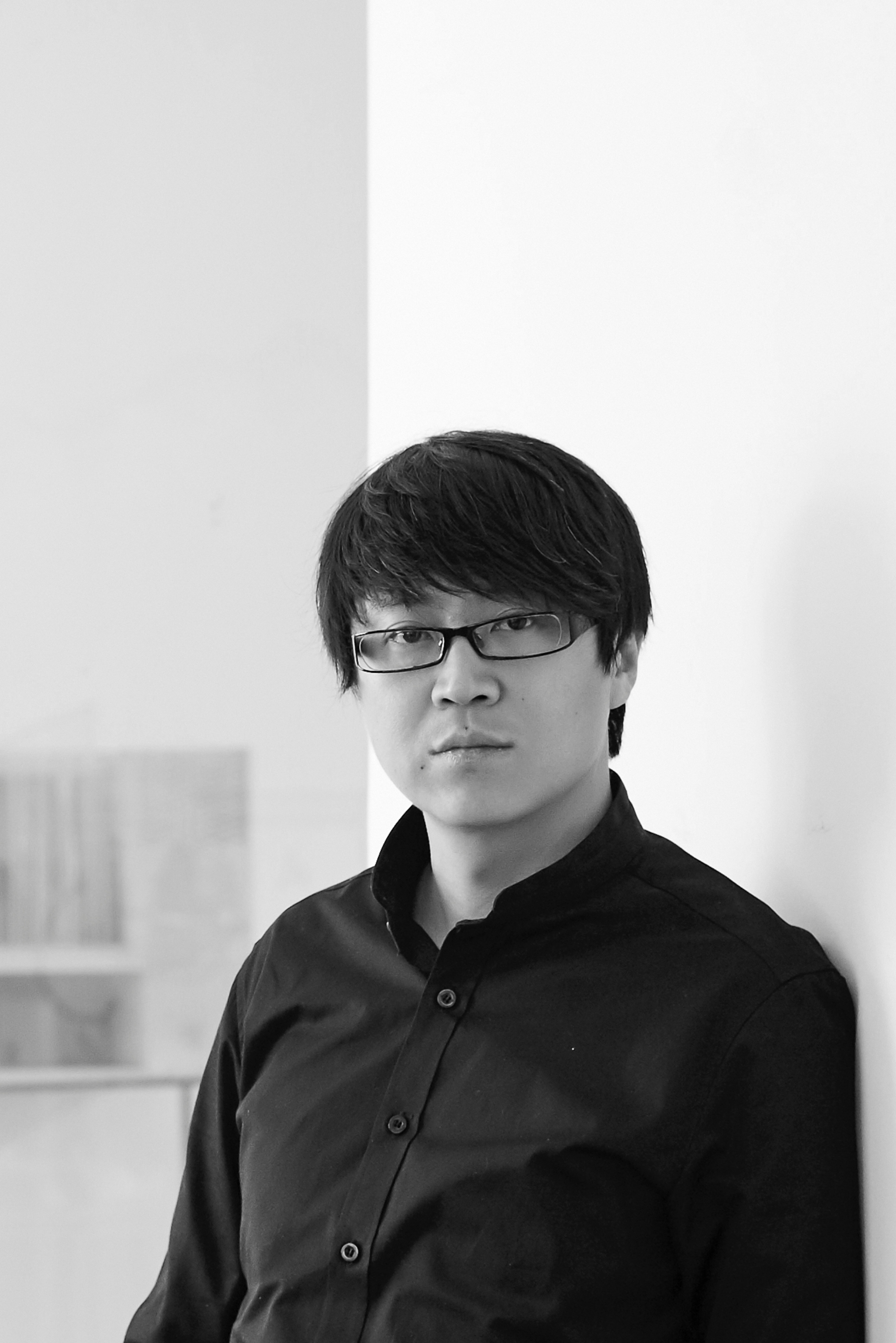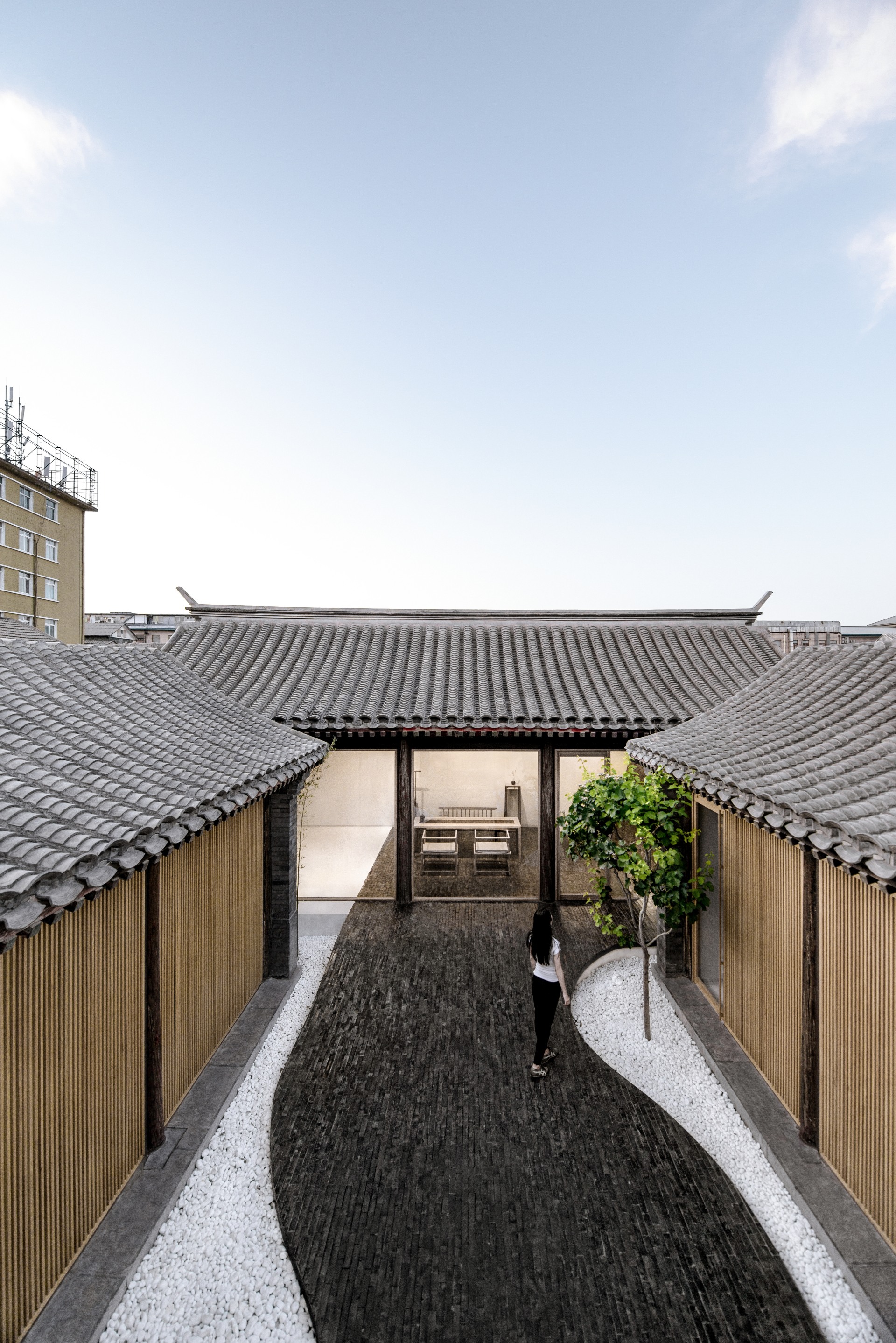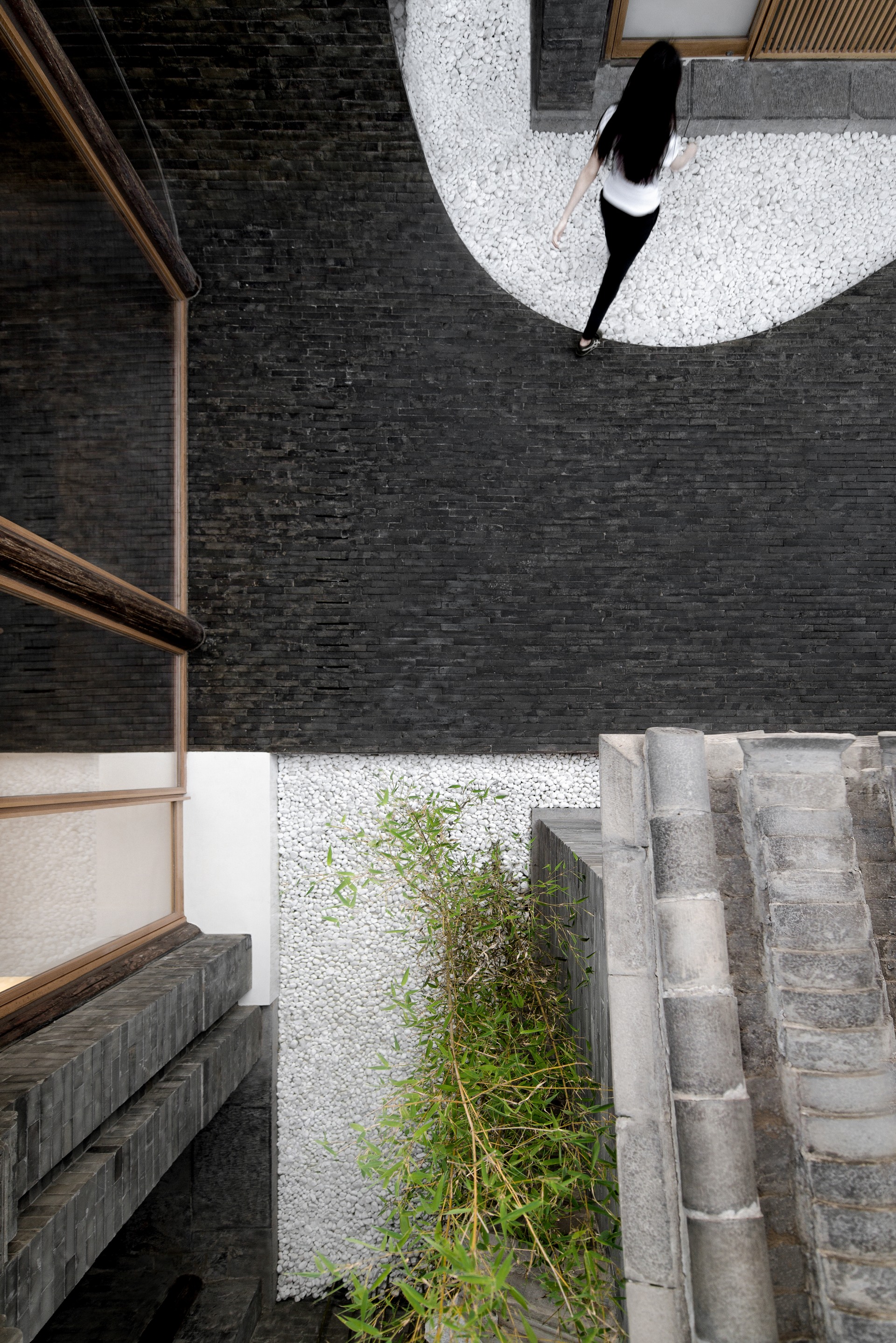 Han Wen-Qiang, the lead architect of the architectural design studio, says: "Based on the existing courtyard layout, we used the undulating ground to connect the height difference between indoors and outdoors, and extended it to the inside of the house to twist into walls and ceilings, creating a new dynamic relationship between the internal and external spaces. Hidden within the curved wall are necessary function spaces such as kitchens, bathrooms, and warehouses; the reception and dining spaces that are visible outside the curved walls are connected to the courtyard as a whole. Both the indoor and outdoor floors are made of gray bricks, and in the original courtyard, a hawthorn tree in the yard is also kept in the twisting landscape."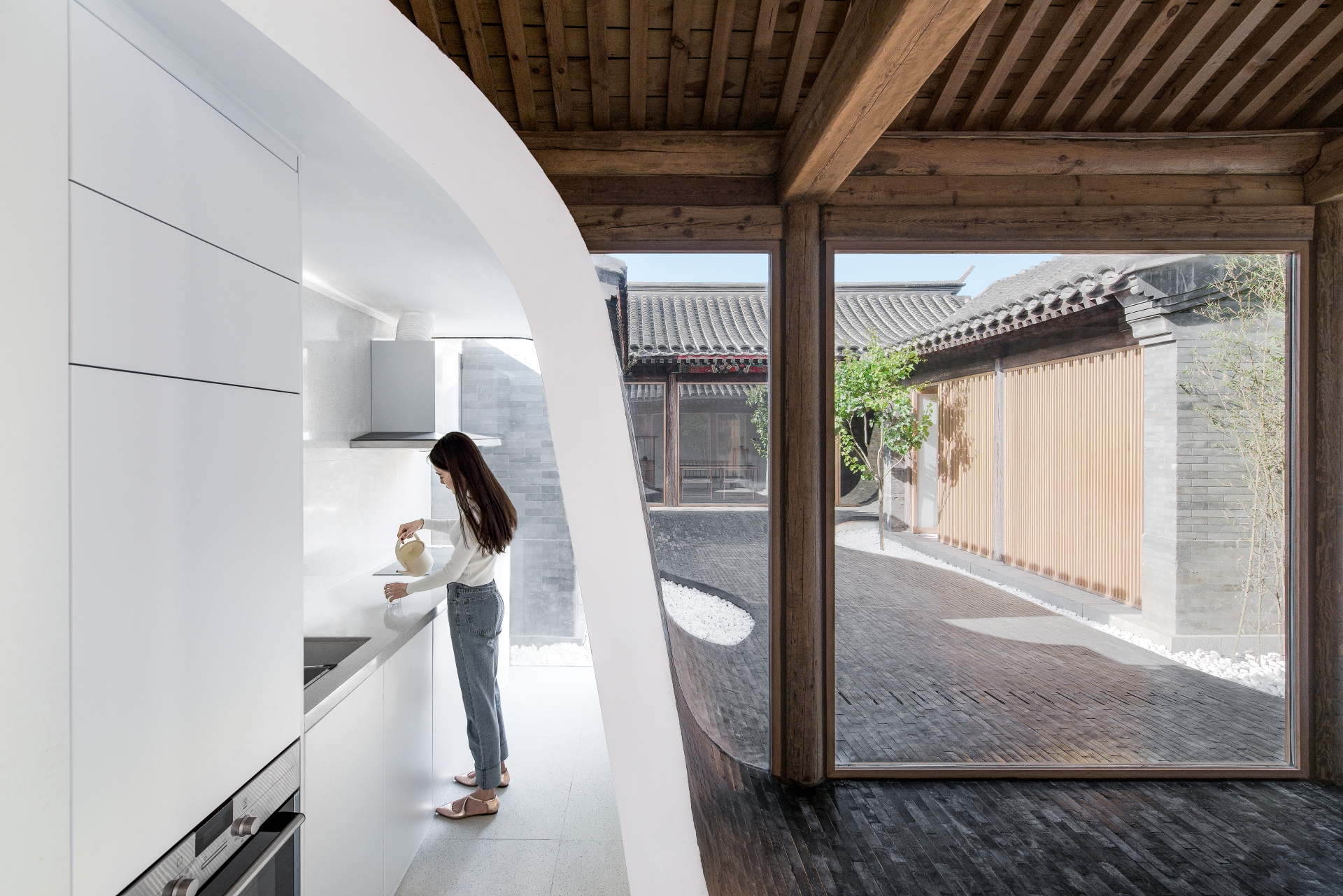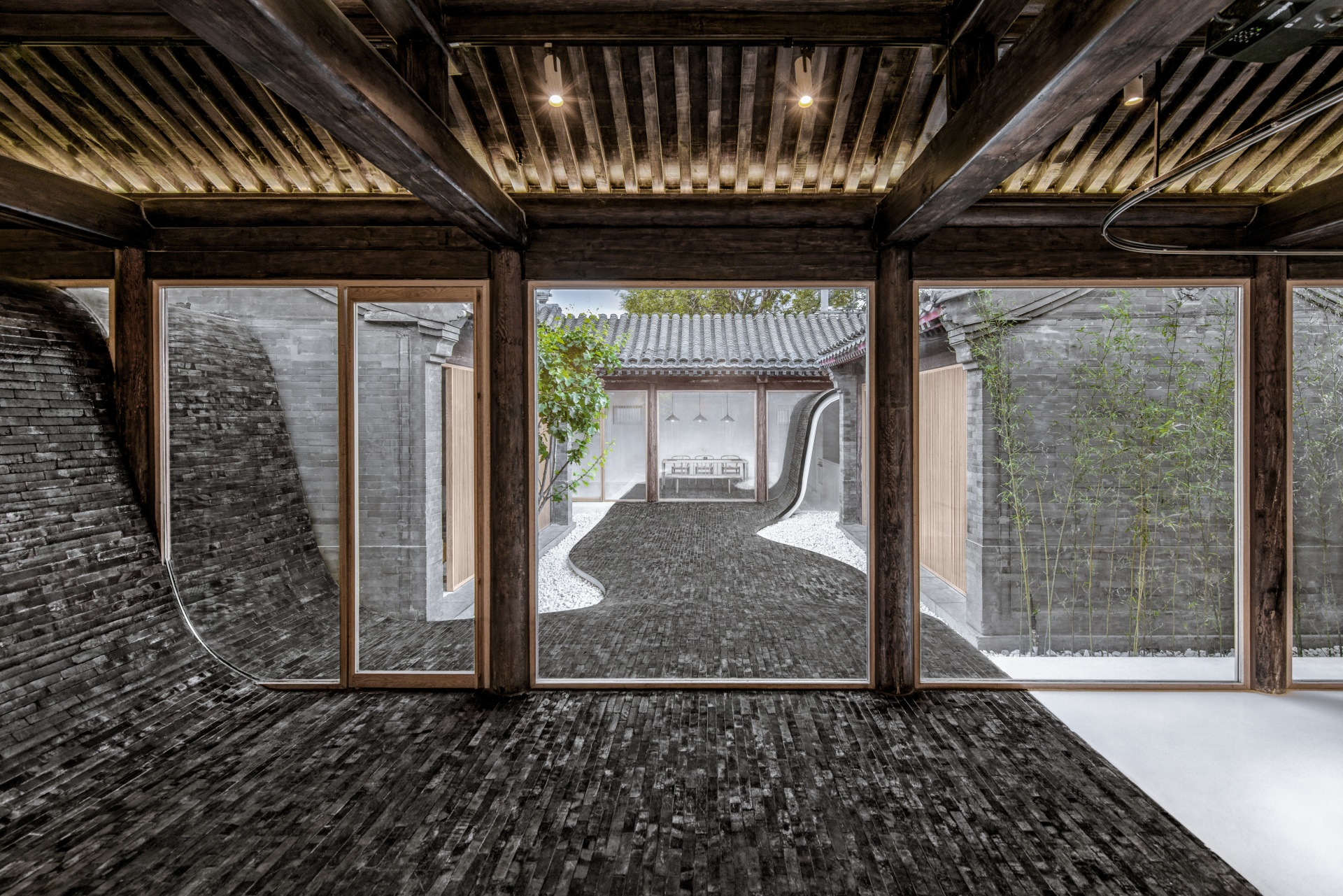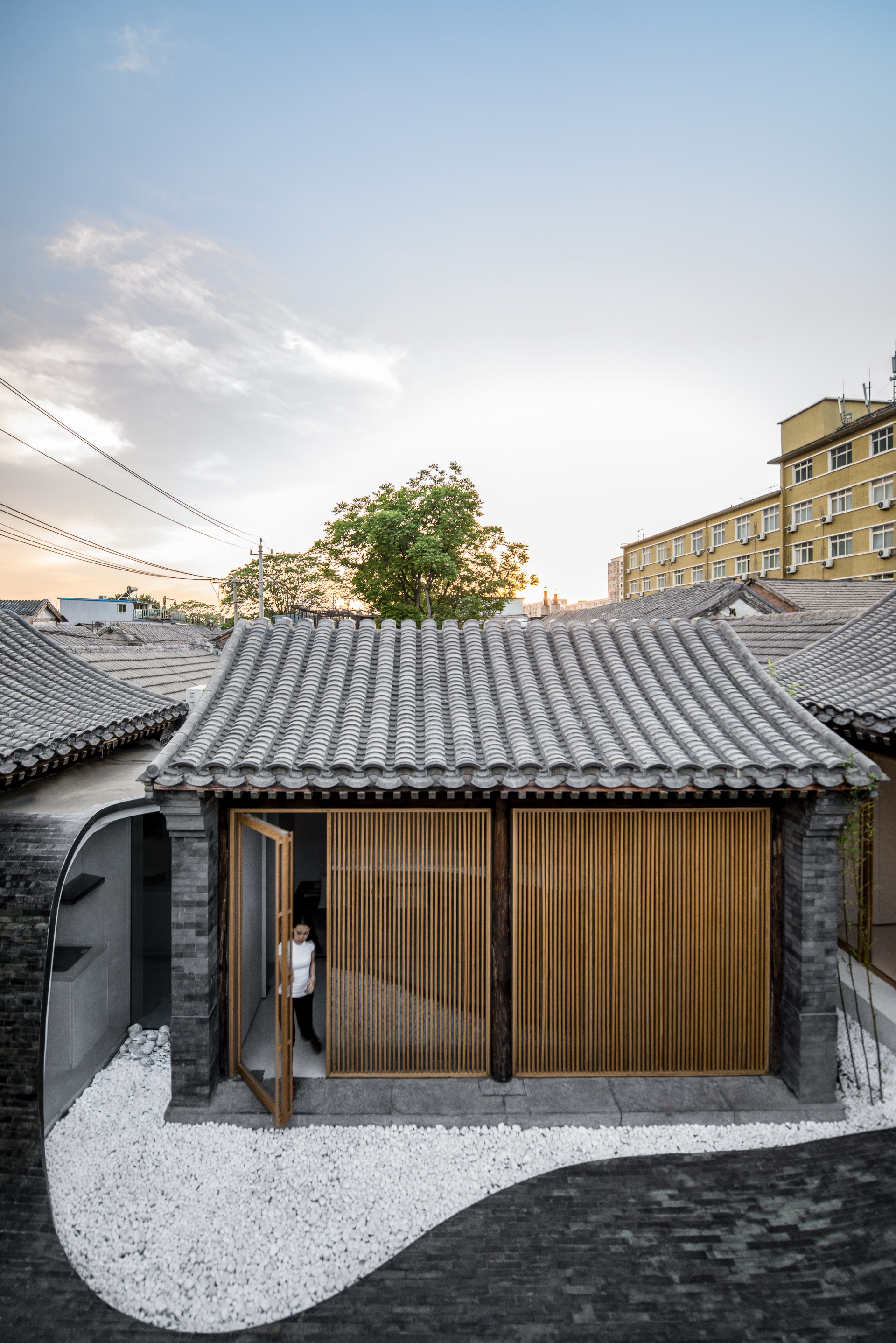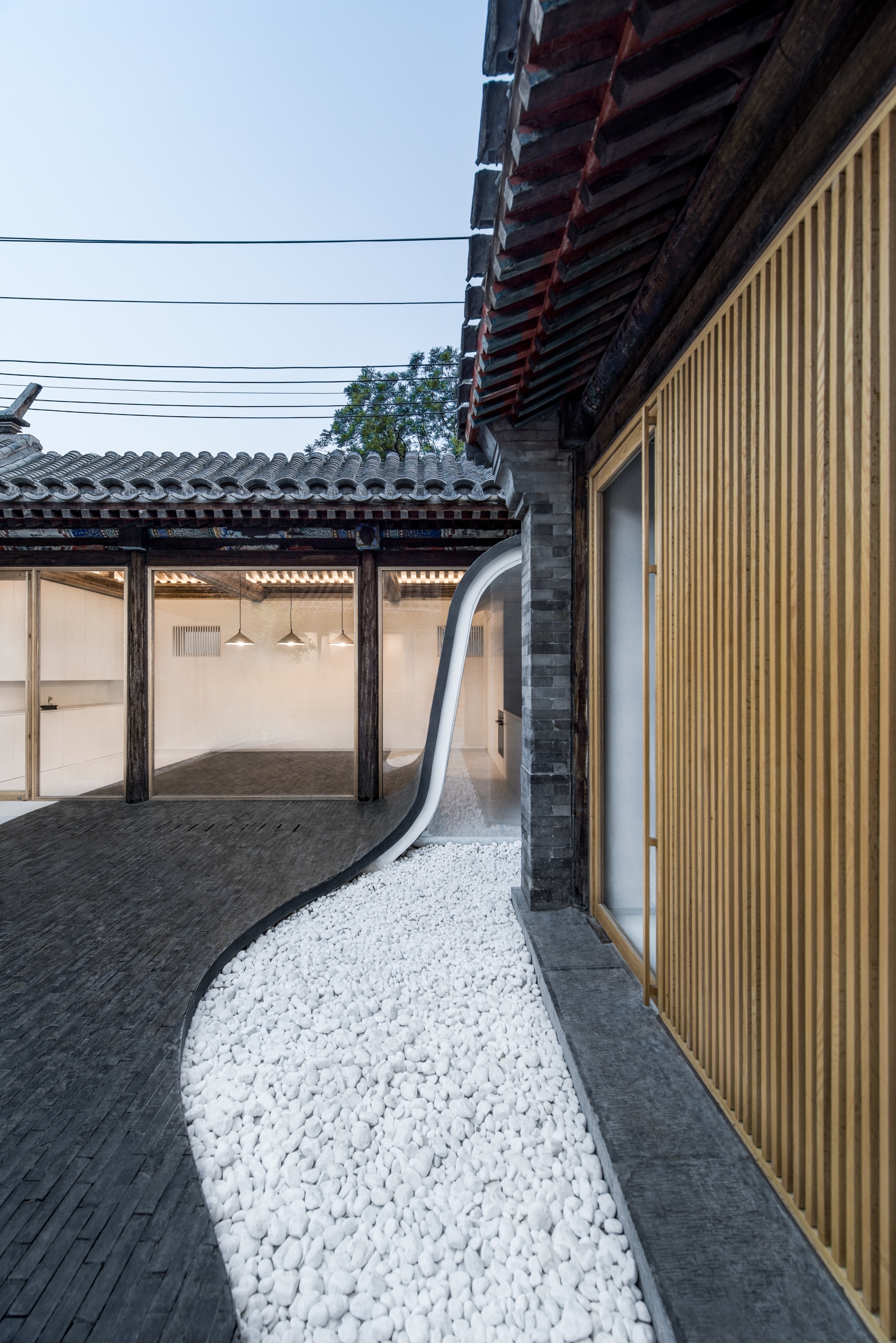 The integrated furniture allow for each space to be utilized publicly or privately. All the while, a considerate balance of tones and materials provides unique calm to the transition from private to public, and from historic past to present. Where the siheyuan was once a tool for seclusion and introversion, the architects have successfully taken it apart to repurpose it as a tool for extroversion and integration. It is a twist so wonderfully executed, so complete in its philosophy and function, that it ends up right where it started, without ever being the same. The original image of the courtyard house, which was previously rigid and solemn in design has been liberated and aptly termed, 'Twisting Yard'.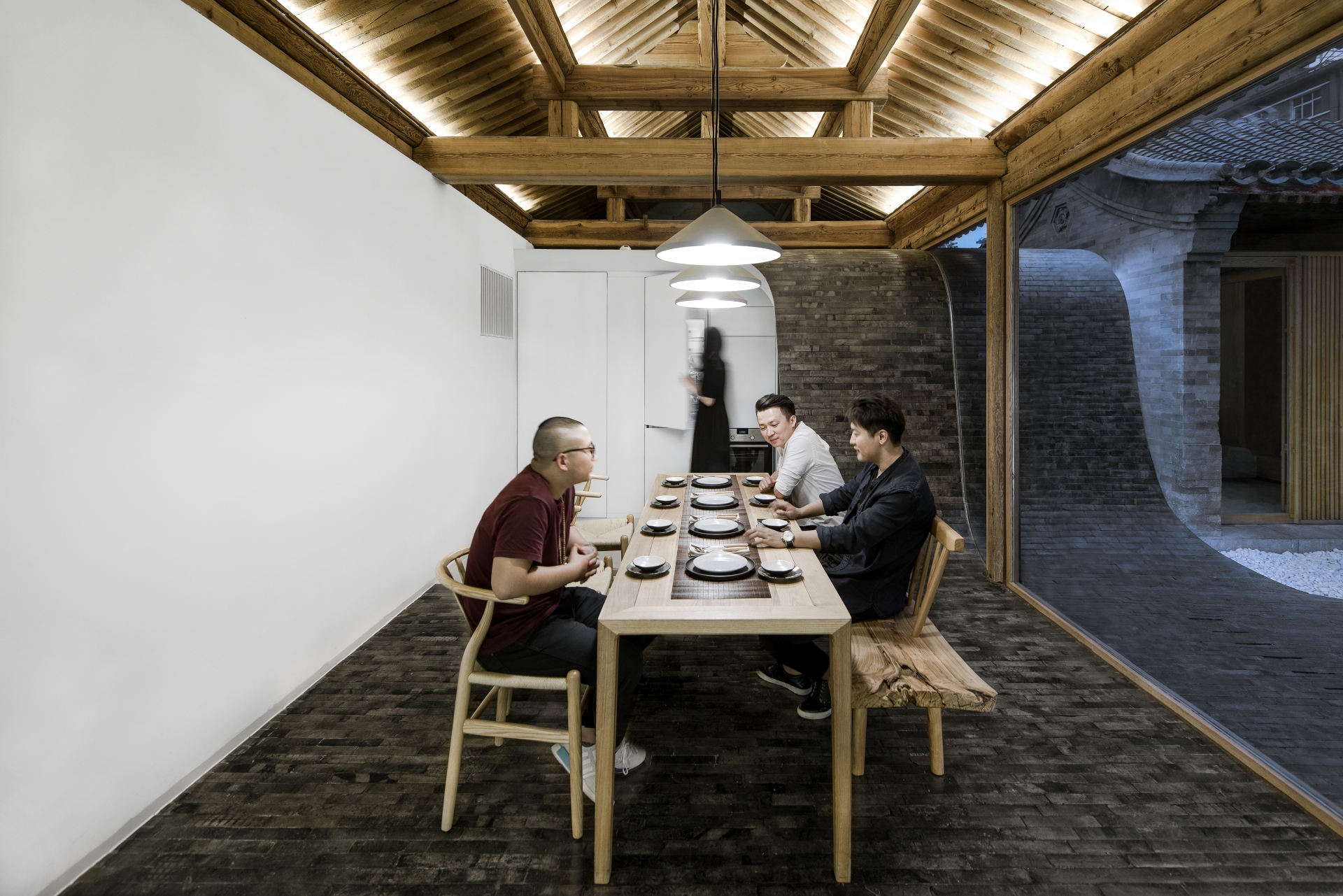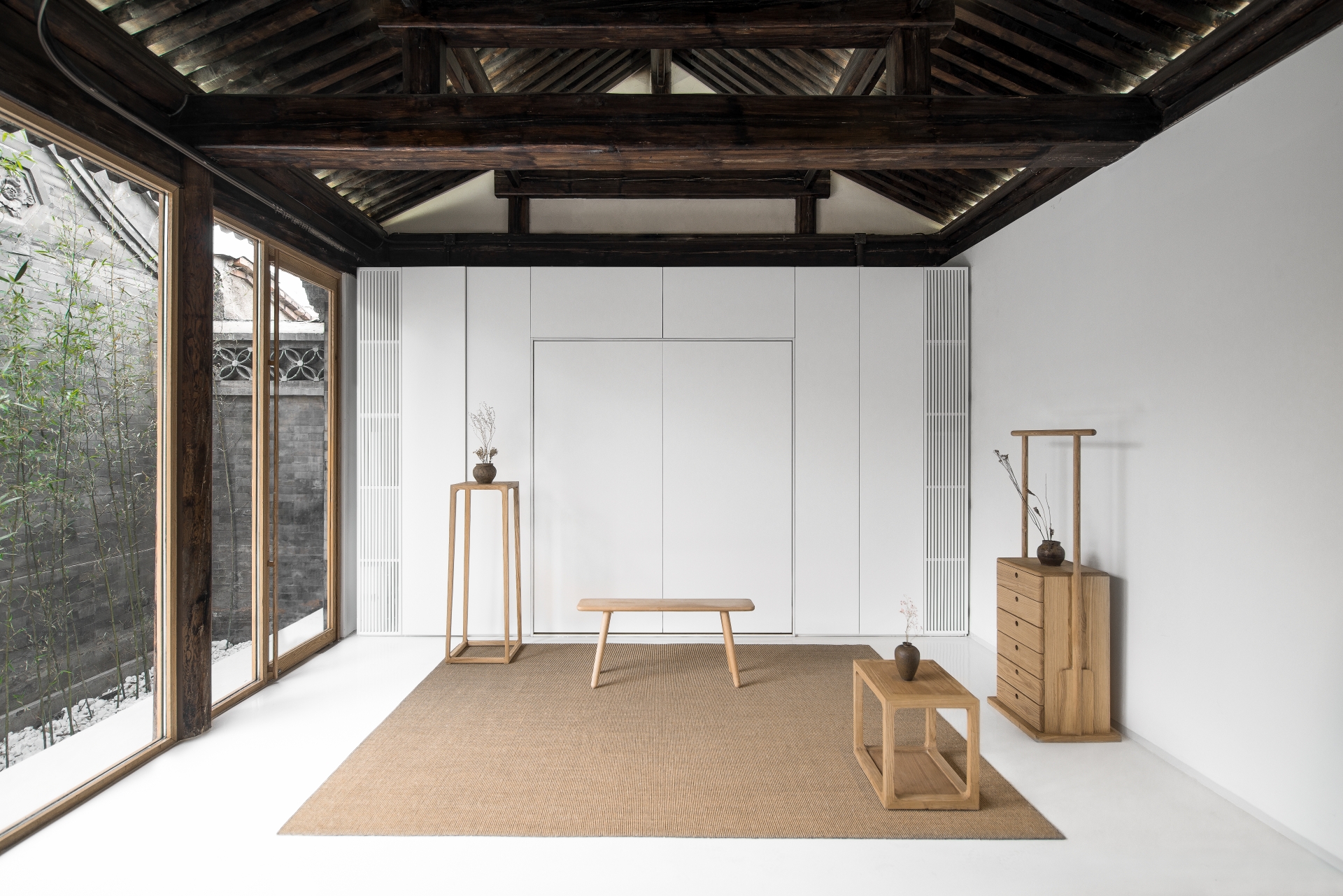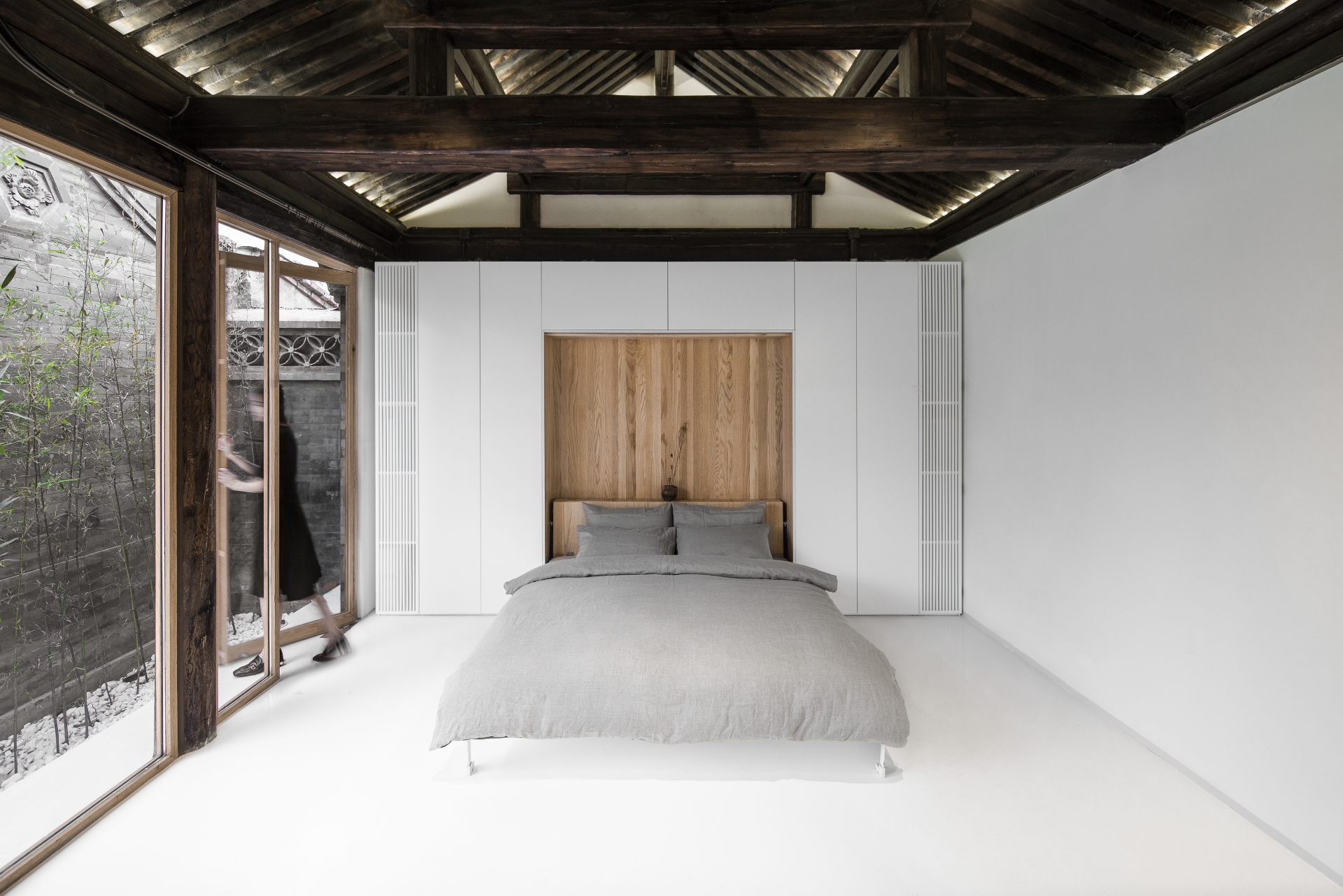 The remodeled courtyard not only assumes the role of urban public activity space, but also retains its original residential function. There are four rooms for easy rental, catering to leisure, meetings, parties and other activities, and the space can double as a family hostel with three bedrooms. Complete furnishings outfitted with dual purposes also allow users to switch seamlessly with different possibilities. For example, the east and west side rooms of the yard are embedded with furniture boxes under the wooden frame. The wooden floor also conceals a tabletop, enabling the room to be used as a tearoom and a bedroom. Truly integrating the original courtyard into the pulse of contemporary urban life, Archstudio's role in design and execution has indeed been indispensable.