Piamrak Hattakitkosol or "Ping Hatta" in short, started off as a lingerie designer before becoming a beloved artist, known for her niche exploring fashion and celebrating womanhood. Her work is humorous and playful, characterized by bold forms, fashionable silhouettes and vivid colours. She has worked across different media, with multi-national brands including Jo Malone London, Sephora and Marriott and her work has been featured in key publications around the globe, yet she remains refreshingly approachable and down-to-earth. She reveals to us her process, her advice and lessons learnt, all contributing to her colourful life.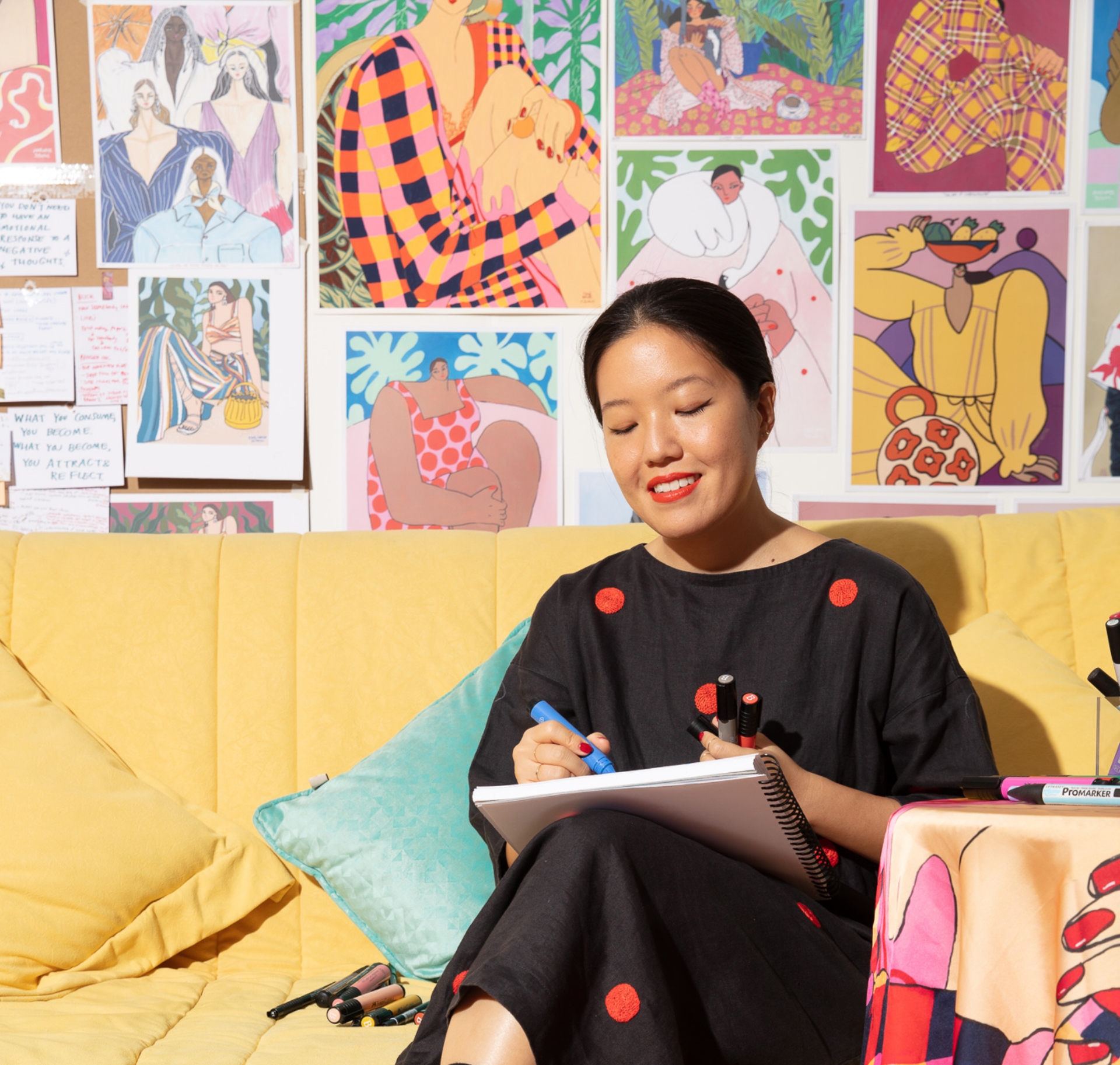 Can you share with us your journey to becoming an illustrator/artist, and a lingerie designer? How do different realms of creativity inspire/influence your body of work?
I'm inspired by many things but most importantly, women and female forms. There's something aesthetically pleasing and comforting about the female form, and I want to celebrate that.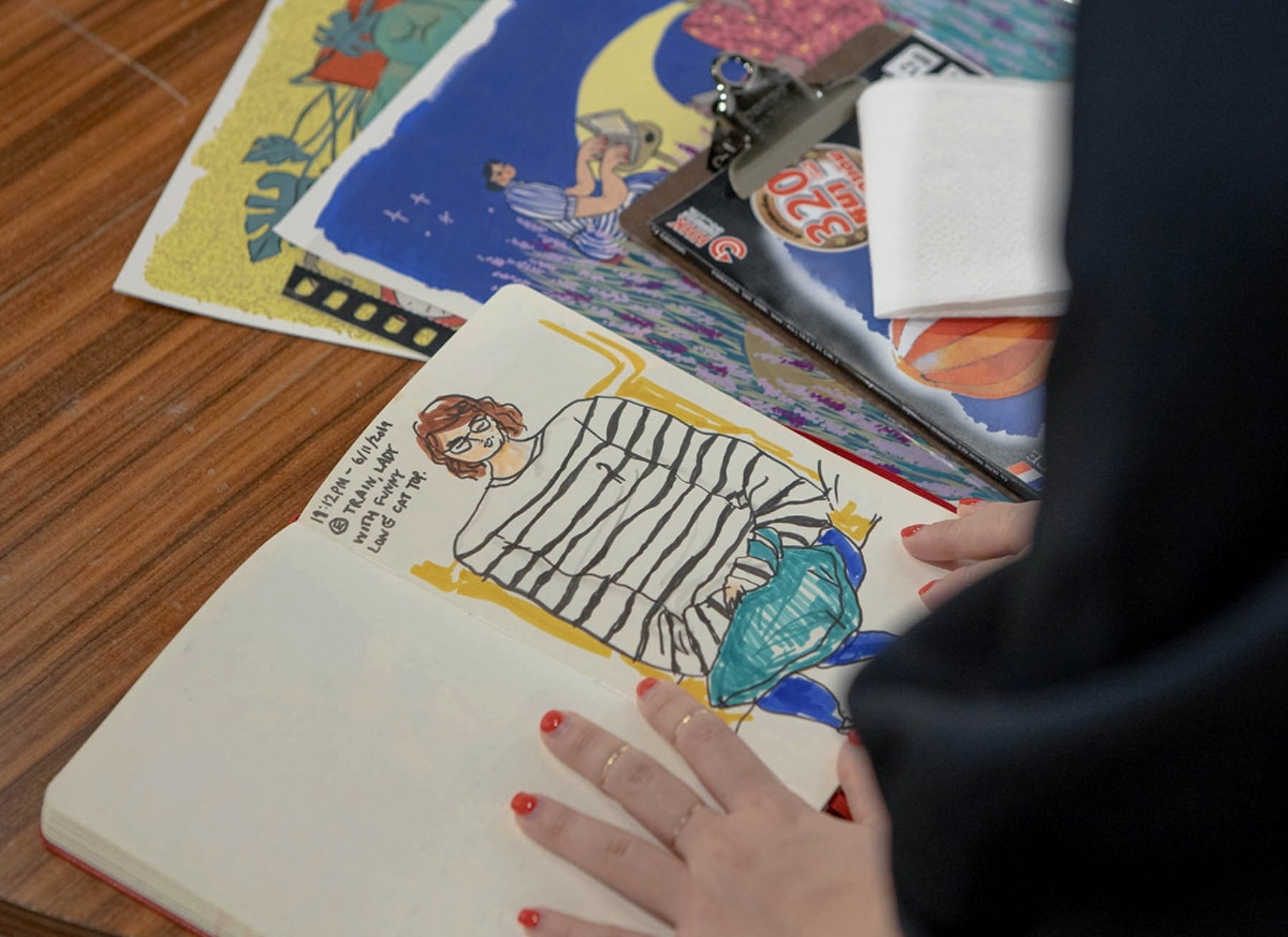 Before I made a career pivot, I was a full-time lingerie designer for a company based in Thailand. At that time, I thought I wanted to take part in helping women feel confident and empowered, and by designing lingerie, it was a way to create a positive impact on how women carry themselves. But the corporate world wasn't for me. I get burned out and drawing/creating something has always been my coping mechanism. Eventually, I figured I can still make a positive impact and empower women by art, so I started calling myself an artist and became an artist. Sounds easier said than done, of course! But in all, I want to create something that's visually pleasing, comforting, and empowers people. I want my work to uplift someone, or to be the catalyst of change for someone. 
In your own opinion, why should art matter? What do you hope to communicate through it?
Creating art is a way to empower women. I am happy to know that someone is happy because I represent them when the main media does not. I make them feel seen. I love that I am able to do what I love every day and that my message resonates with women out there. For me, a woman can be both soft and strong where she can command a space as effortlessly as she can blend into her surroundings. These two dichotomies of strength and softness can coexist harmoniously. I hope that all women to be able to see their beauty and strength mirrored in my pieces. Also by creating and making things, I want my action to empower others to start doing the things they love to do or to have the courage to get things started.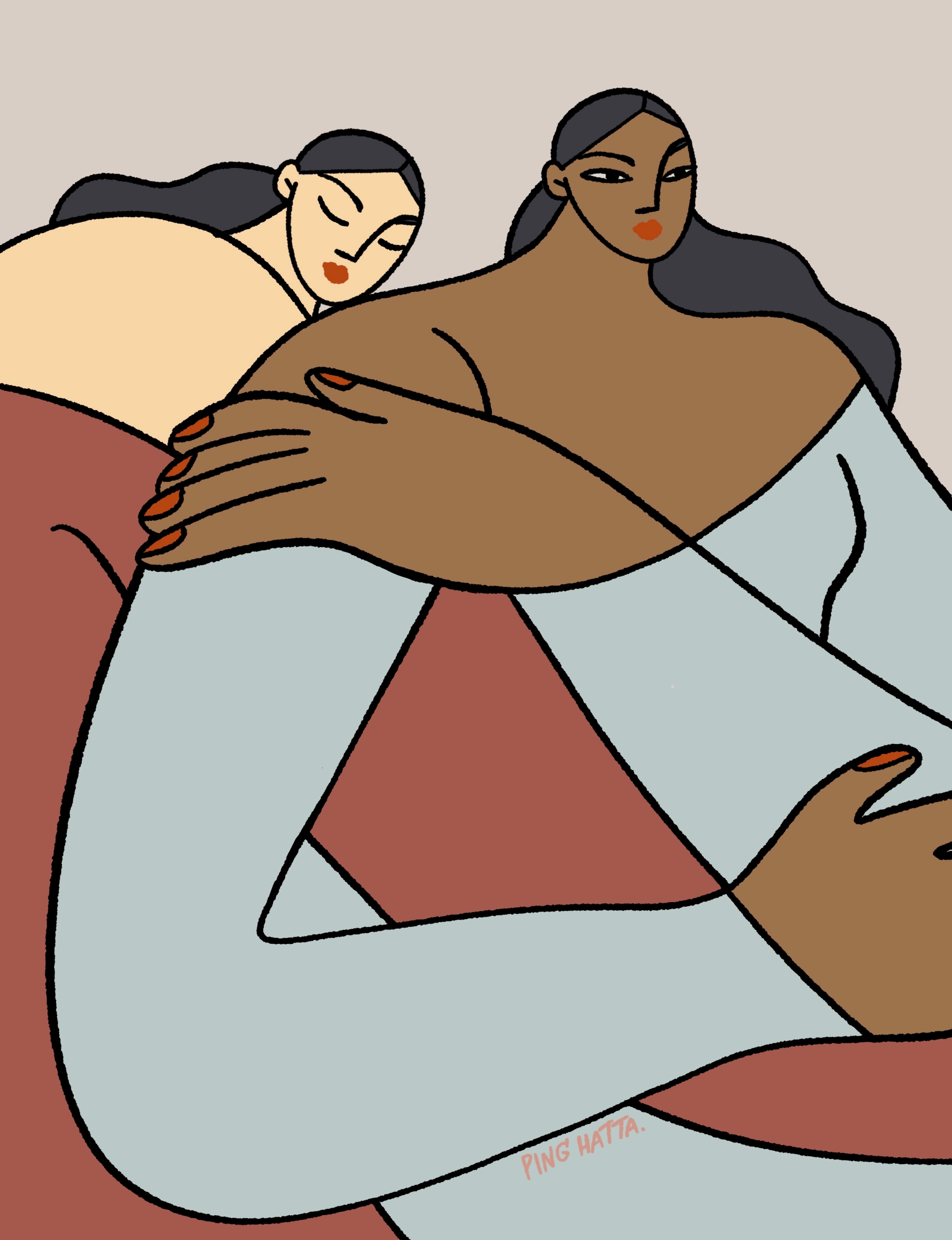 How would you describe your approach as you celebrate life, womanhood, fashion, design and everything in between? How did you develop your aesthetic style?
I guess I'm into many different things that involve using my hands. I work traditionally (gouache paintings), digitally, and with other techniques like printmaking and fiber art.
My aesthetic style has evolved over time. Recently, the pandemic was a catalyst for me to re-examine my works and my personal life. I personally have been practicing a minimalistic lifestyle for a couple of years and that has a great positive impact on my quality of life. Through years of decluttering, buying less, simplifying, seeing the essential from the excess, I think it is time for me to incorporate a minimalistic approach into my artistic practice. Simplify, Declutter, Don't overthink. Be in the flow. This new approach has made my process of creating art so much fun and meaningful as each line comes closer to my true self.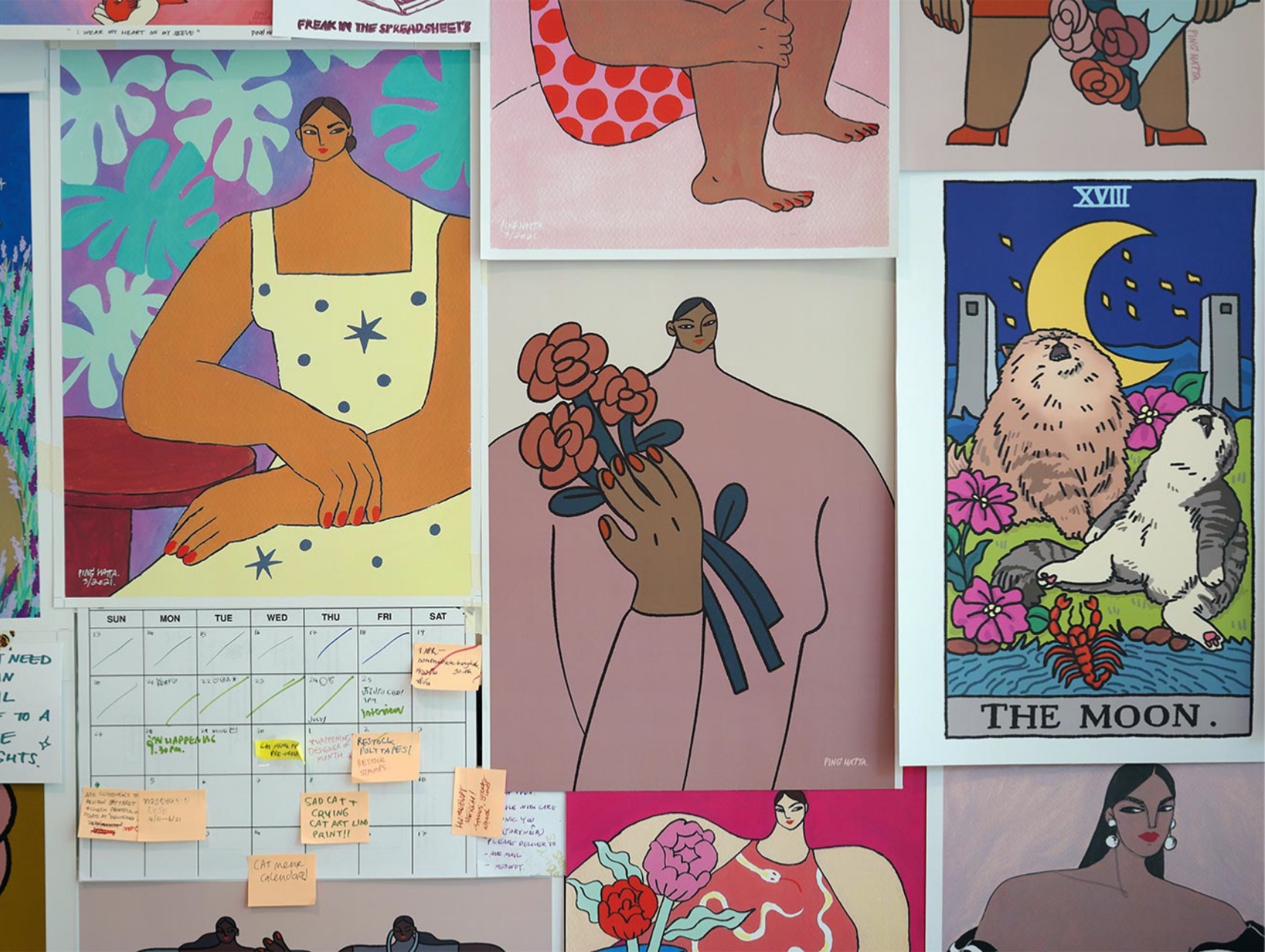 One of your personal projects - the Homebody series - is absolutely stunning. What was your inspiration behind the collection? Has COVID inspired/reshaped/informed your work in any way?
Homebody stemmed out from the pandemic. Homebody is a continuation of my artistic journey in trying to find my authenticity through different phases of my life. Through years of working in the fashion industry, specifically lingerie, I felt that my past works and my approach in creating art no longer resonated with my personal values. Women have been and are still sexualized a majority of their lives starting at a very young age and I no longer want to contribute to the normalization of that culture. 
The inspiration behind this collection still revolves around women, but this time, I want to play within comfort and bodies at leisure. The domestic settings of the paintings—a couch, beach, or luscious plants—are done in warm, soft neutrals that contrast with the bold silhouettes and large flat bodies. For me, a woman can be both soft and strong where she can command a space as effortlessly as she can blend into her surroundings. These two dichotomies of strength and softness can coexist harmoniously.
For me, the scale and purposely off-proportions of the figures removes the impulse to sexualize the female form and instead brings out a sense of comfort and a touch of humour. I paint large figures because I think they look beautiful and strong, emphasizing the strength in the shoulders. There is something playful and visually beautiful about these proportions and silhouettes to me.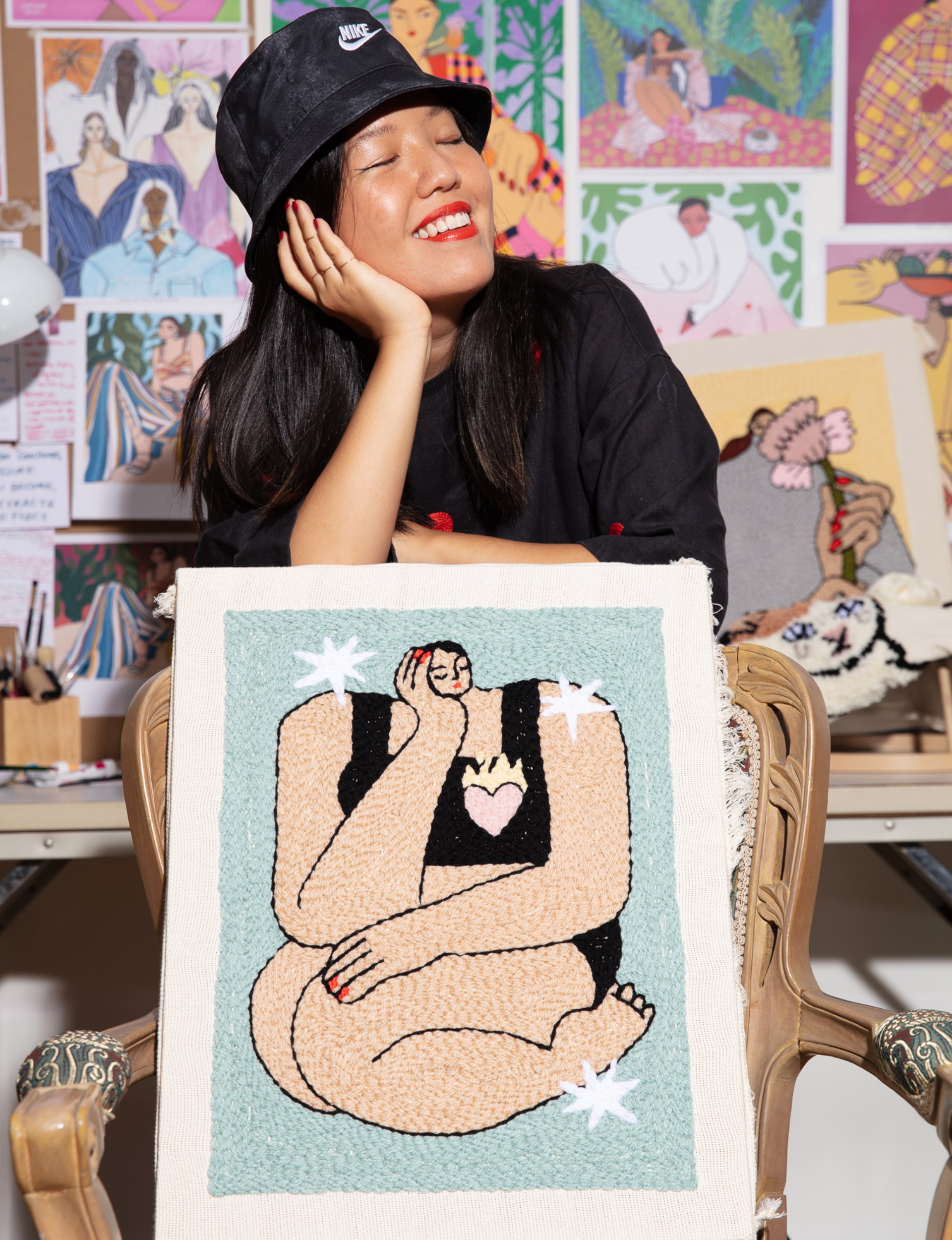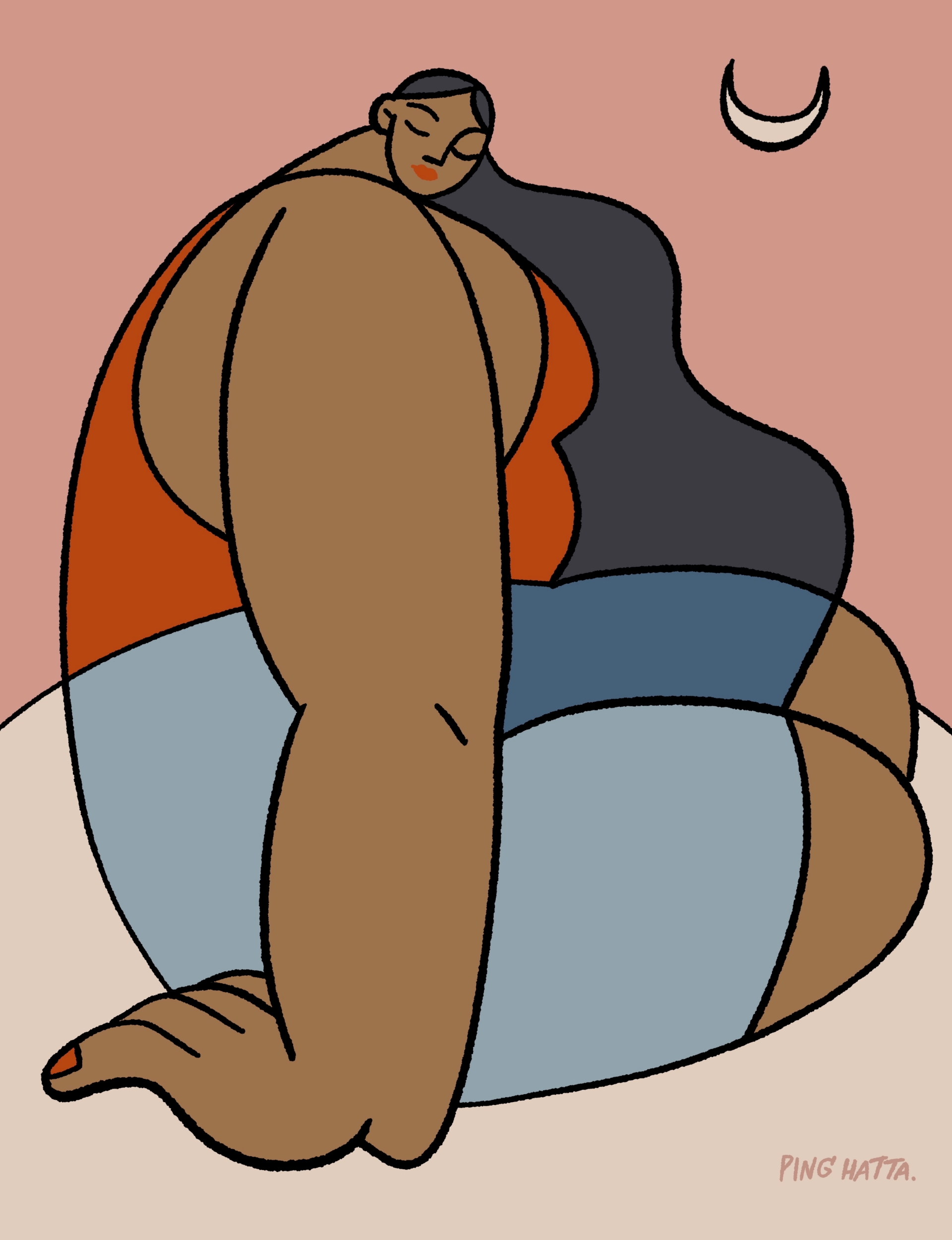 You've collaborated with a lot of prestigious brands. Which project(s) hold(s) a lasting meaning/memory to you?
So far NIKE has been the project that means a lot to me. Not only do they let me take control of my creative direction, we have the same value and goal of empowering women and representing diversity and embracing different body types. They understood my vision. For me, being able to draw large figures without being told by the brand to "slim down" is so liberating, because honestly, many big brands out there are still holding on to narrow beauty standards (even though they claim that they are aiming to represent diversity), and the main media still does not represent diverse women enough. Together with NIKE, we show women out there whose appearance and bodies do not fit the 'main standard' that they matter, and they are more powerful than they think.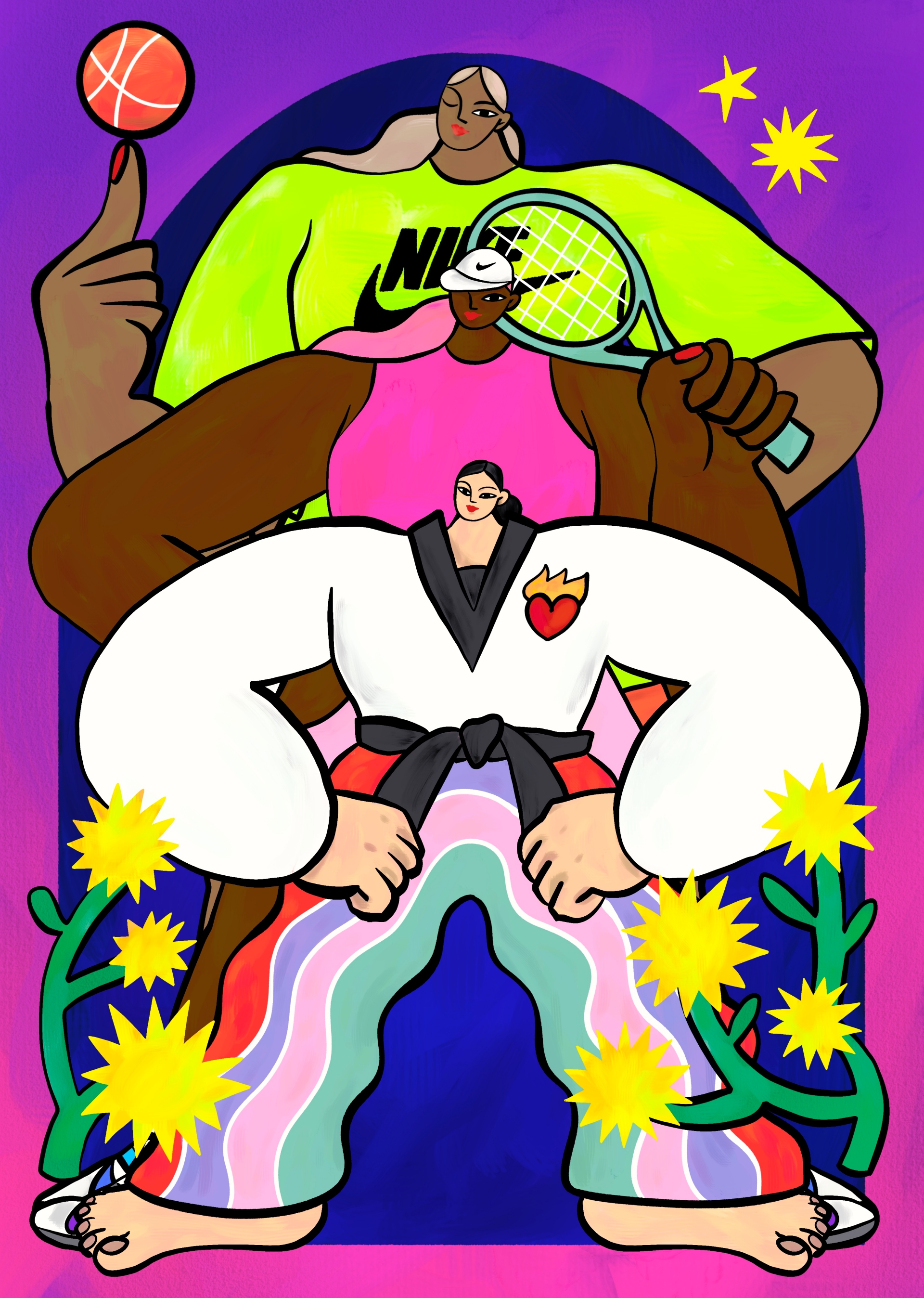 What advice would you give to artists wanting to cultivate a sustainable career?
There is so much good advice out there. Aside from what many artists would say – work hard, have discipline and grit, and use social media as a way to connect/promote your art– I would say, have fun with creating. Creativity will not come to you if you are in a survival mode. What I mean is, when we are worrying and stressing over bills and rent fees, ideas will be hard to come by. I really believe that it's not us that have the idea, it's the idea that have us. It's the other way around. We are a willing vessel, and when we are in a good mood or when we are in a play mode, creativity sees us and knows we are open to receiving the next great idea. That is how ideas get translated into art or a piece of poetry. When I started out, I constantly worried about not having enough money to sustain this career. I would waitress or take jobs that will take care of money just so I can have time to play with creativity. I hope that make sense.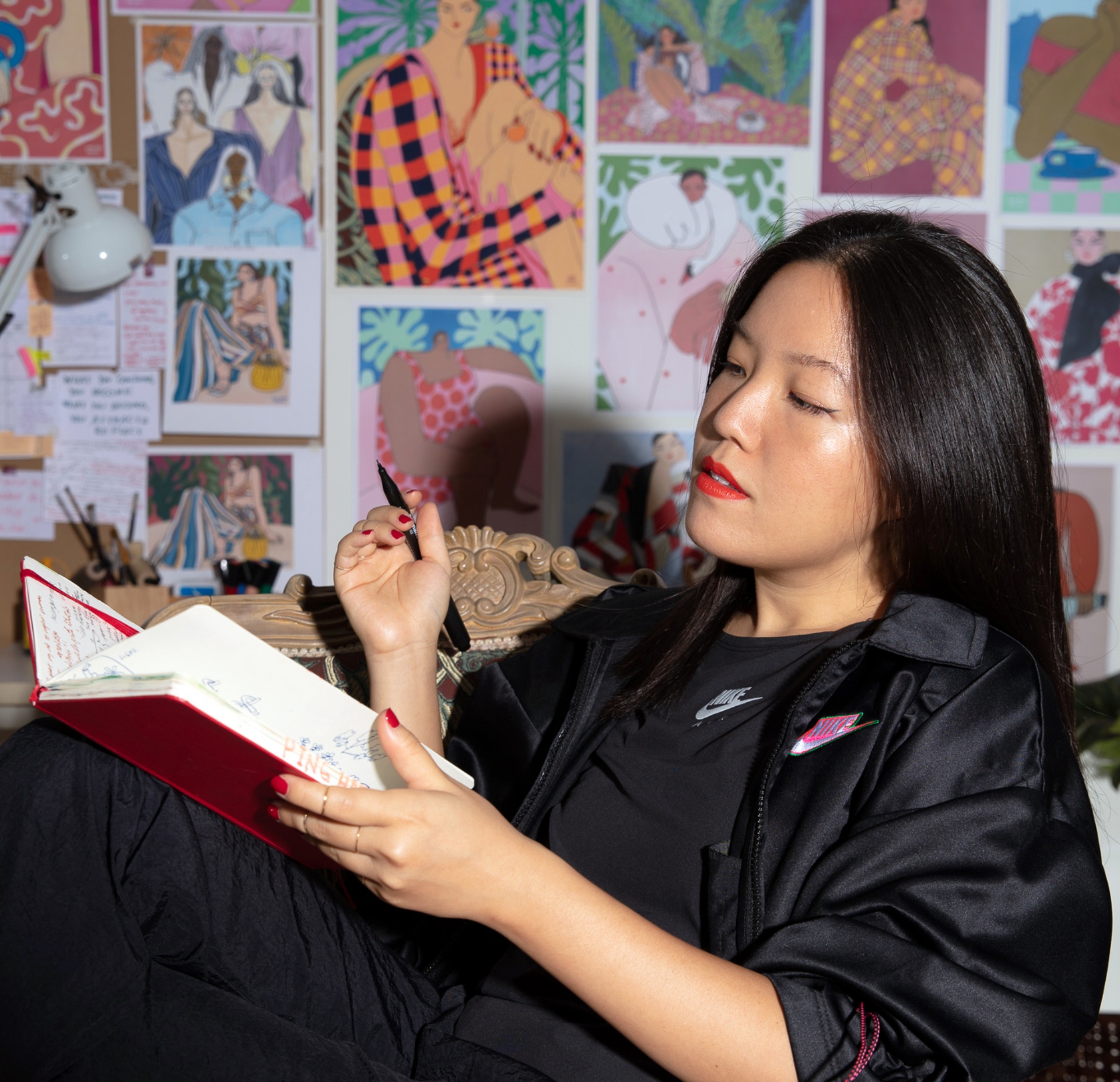 Is there anything you know now that you wished you knew when you first started in illustration? Any hard lessons learned?
There are four things you can't avoid in life: death, taxes, clients never paying you on time, and people stealing your work from the internet. So having contracts and knowledge about intellectual property/copyright law will help protect you from the headaches and stresses in the future!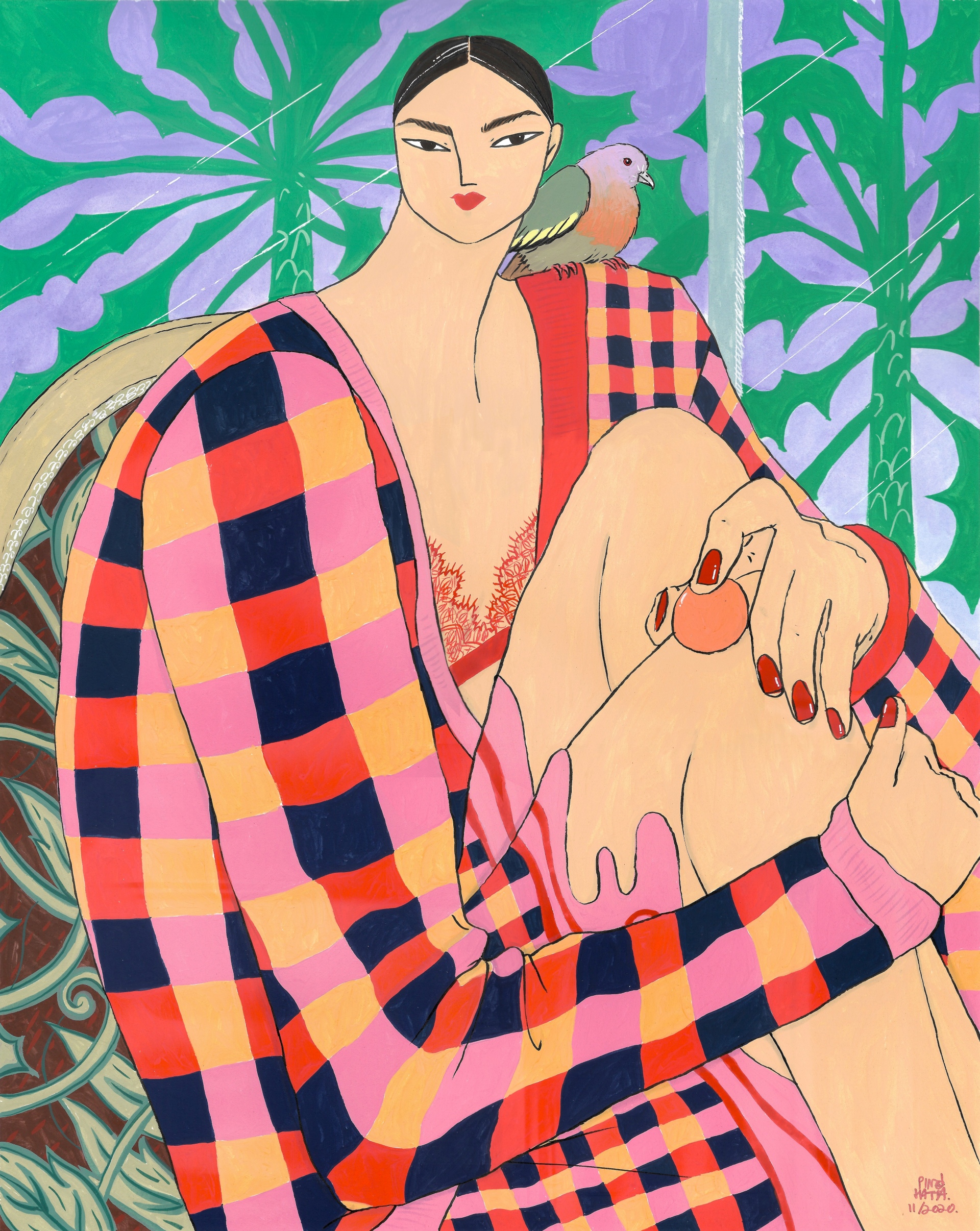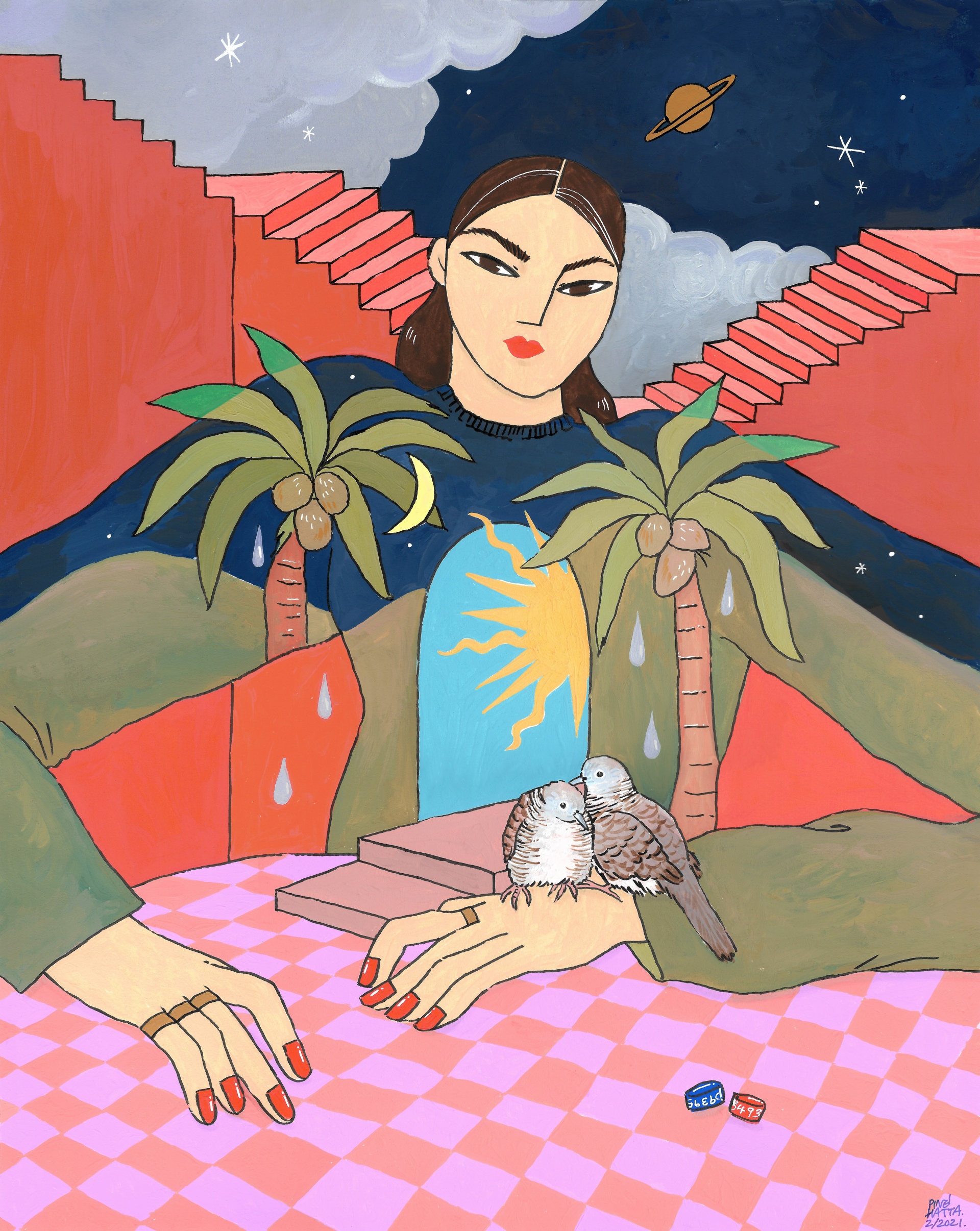 What do you do to decompress and stay inspired?
I take breaks, especially when I have just finished a commissioned project that takes up my energy and time. (Again, easier said than done!) I was so caught up in the hustle culture for so long, so it took me years to learn that resting is an active way of taking care of my mental health. I rest by doing non-art stuff like swimming, walking around the park, or taking time to feed the bird friends in my garden. They helped me slow down and be present.
My source of inspiration comes from the ordinary, like people in my life, nature, books (and memes) I read. With the pandemic and travel ban, Instagram and Pinterest can be a source of inspiration but I think these things start to mess with my mental health. It is so easy to compare myself to what other artists have accomplished, and so easy to feel overwhelmed once I spend 30 minutes mindlessly scrolling. So limiting my use and doing social media detox is necessary.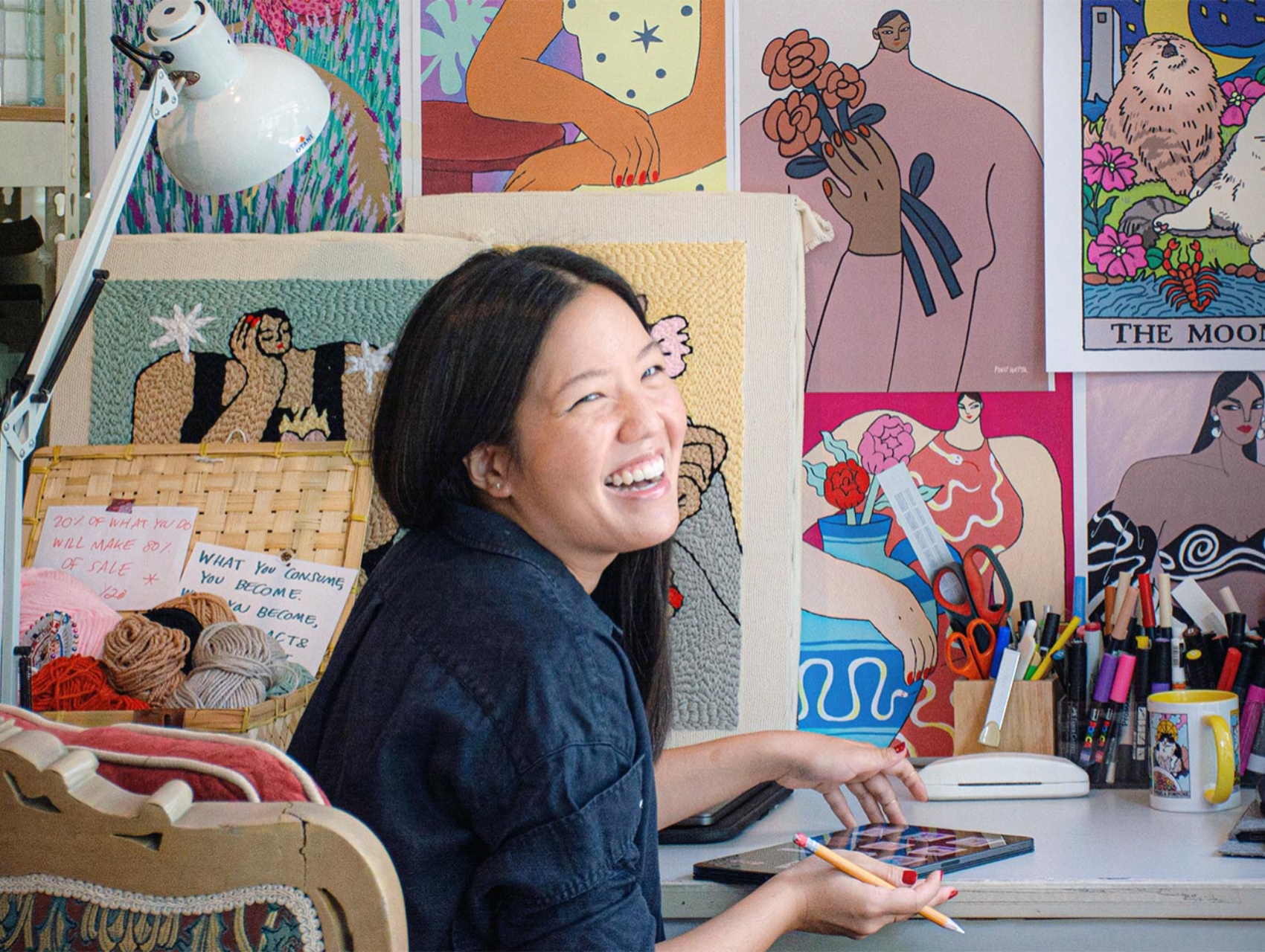 Could you share with us one of your recent favourite books/movies/songs/music albums/exhibitions?
Books: 'The Big Magic' by Elizabeth Gilbert is a required reading, especially if you are an aspiring creative person. Some books that forever changed my life: 'Grit' by Angela Duckworth, 'Becoming Supernatural' by Dr. Joe Dispenza.
Music: I'm into many genres, but since 2021 I've been stuck on Natalia Lafoucarde's Mexican folk music. I'm living vicariously through her songs.