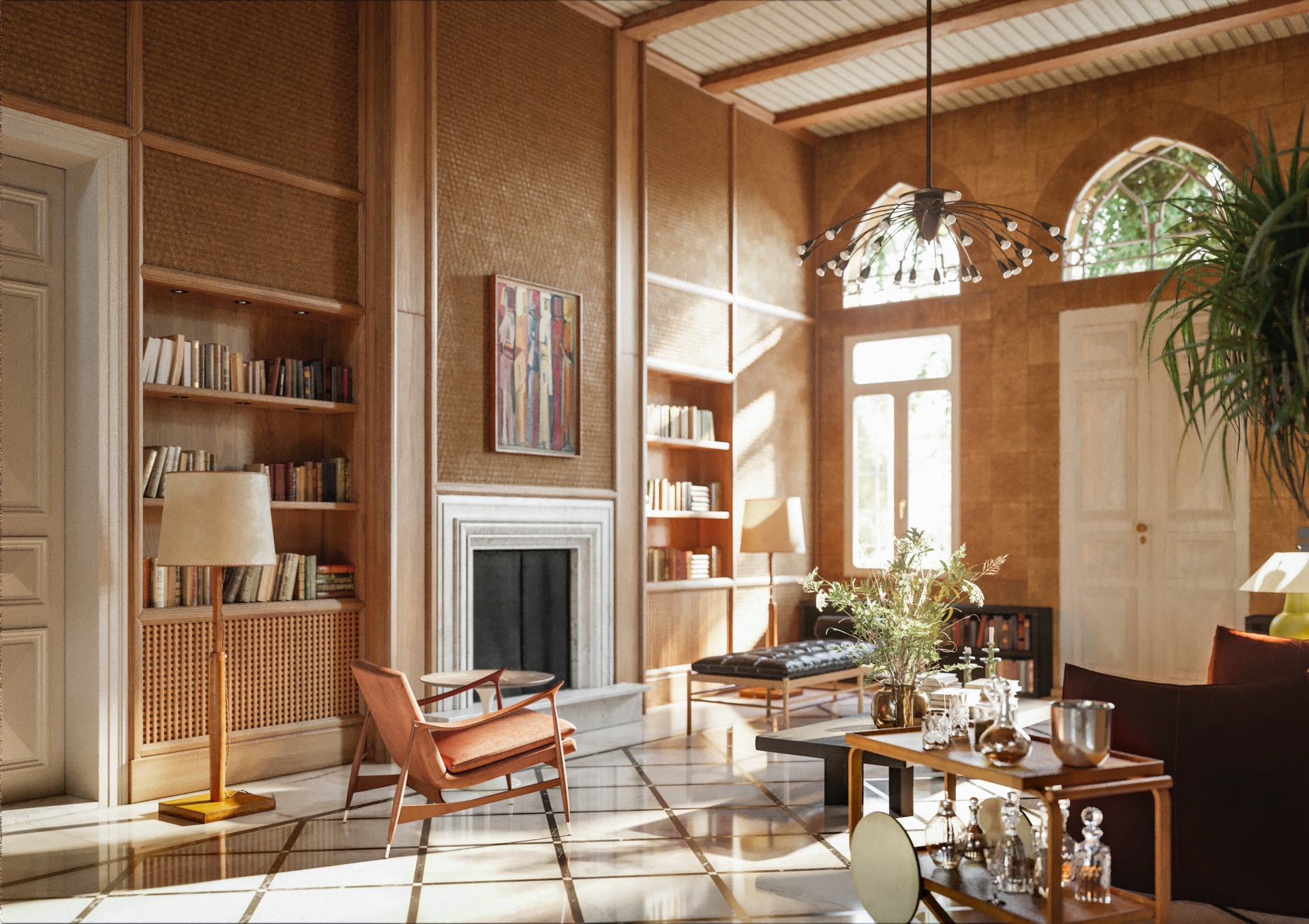 The rehabilitation concepts and techniques adopted for this project envisioned by award winning architecture and design studio Carl Gerges Architects embrace a deep desire to preserve the natural aging effects and historical layers of this stately residence. With the house's main facade privately slumbering behind bougainvillea and pine trees, the red tiled roof and the triple arched windows unobtrusively perch themselves above this sheltering barricade. Upon entry, one is greeted with an orchestra of scents from orange blossom, jasmine and citrus trees, as an ode to plants found in traditional Lebanese gardens.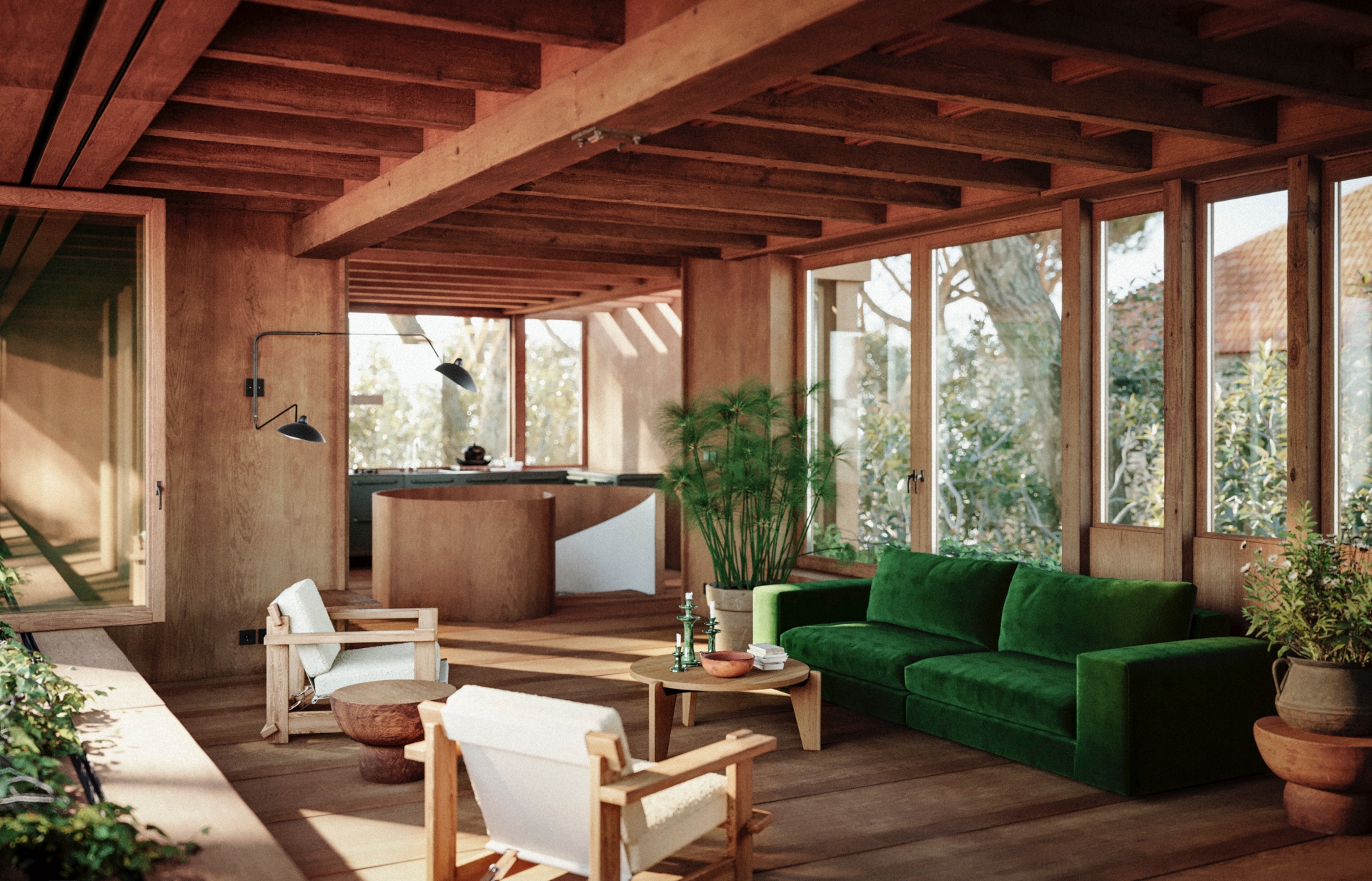 Filtered by the lush greenery from the exterior pergola, a subtle green tinted light makes its way through the windows, bathing the naturally colored main hall. Timber profiles on the five-meter-high ceiling and walls clad in cane matting add an intricate grid and a sobering light radiance. Walking past this living space through timeless arches, the dining room displays warm opulence and ample sunlight shining through the main hall as well as the neighboring jardin d'hiver. In reminiscence of the original papier peint, the walls are upholstered with a taupe green fabric and ornamented with gold leaf plated Orthodox Russian icons, fostering a spiritual and serene atmosphere.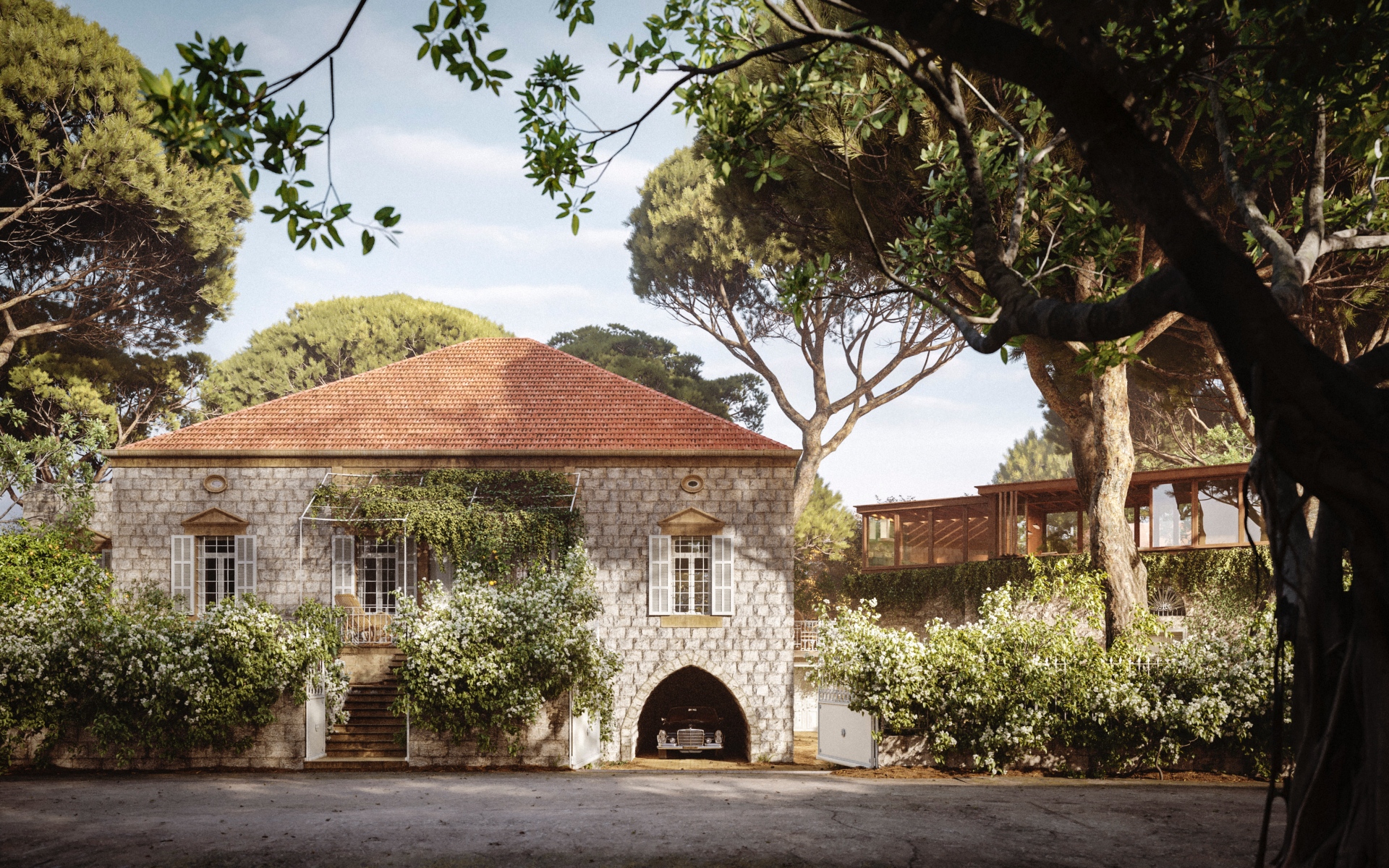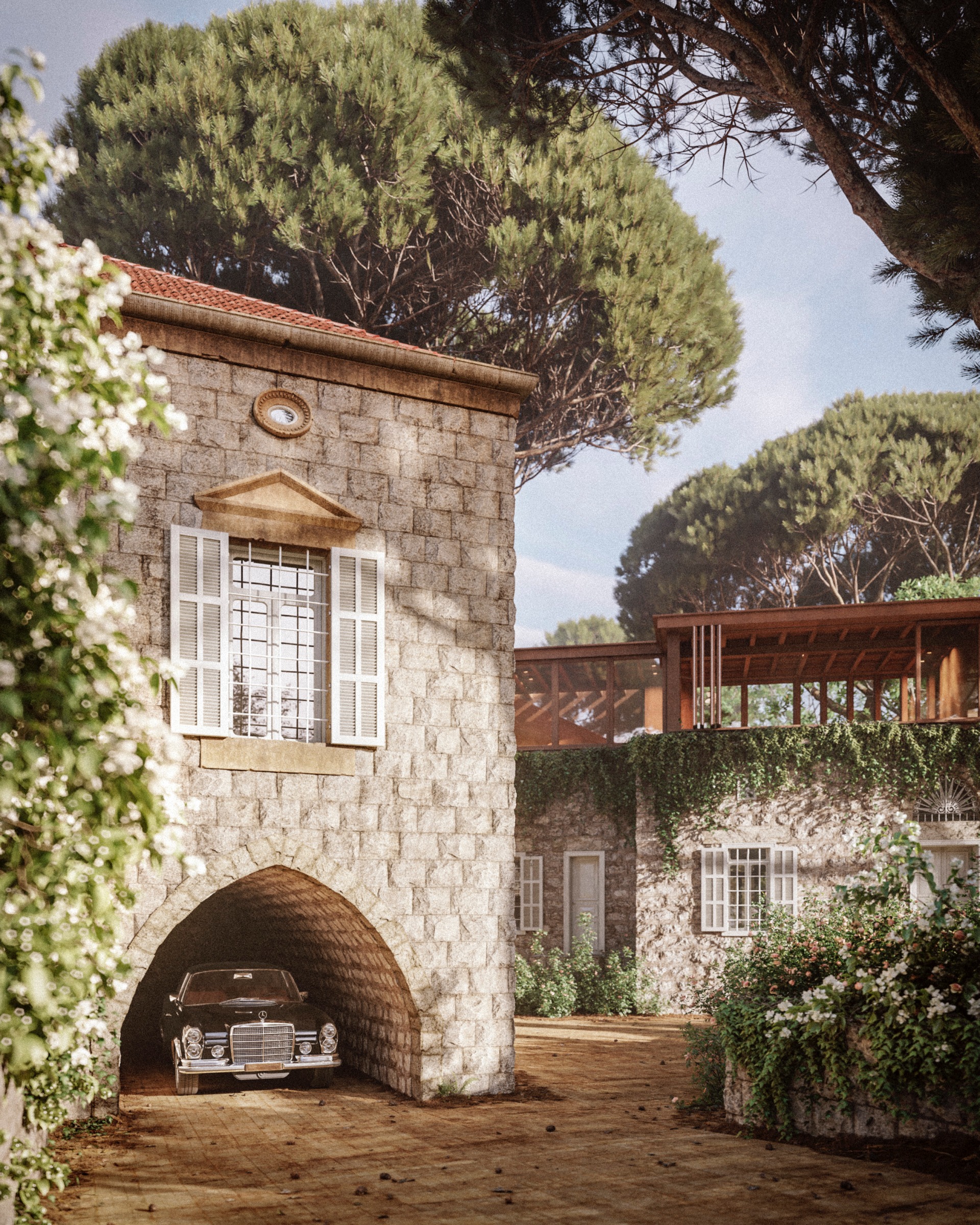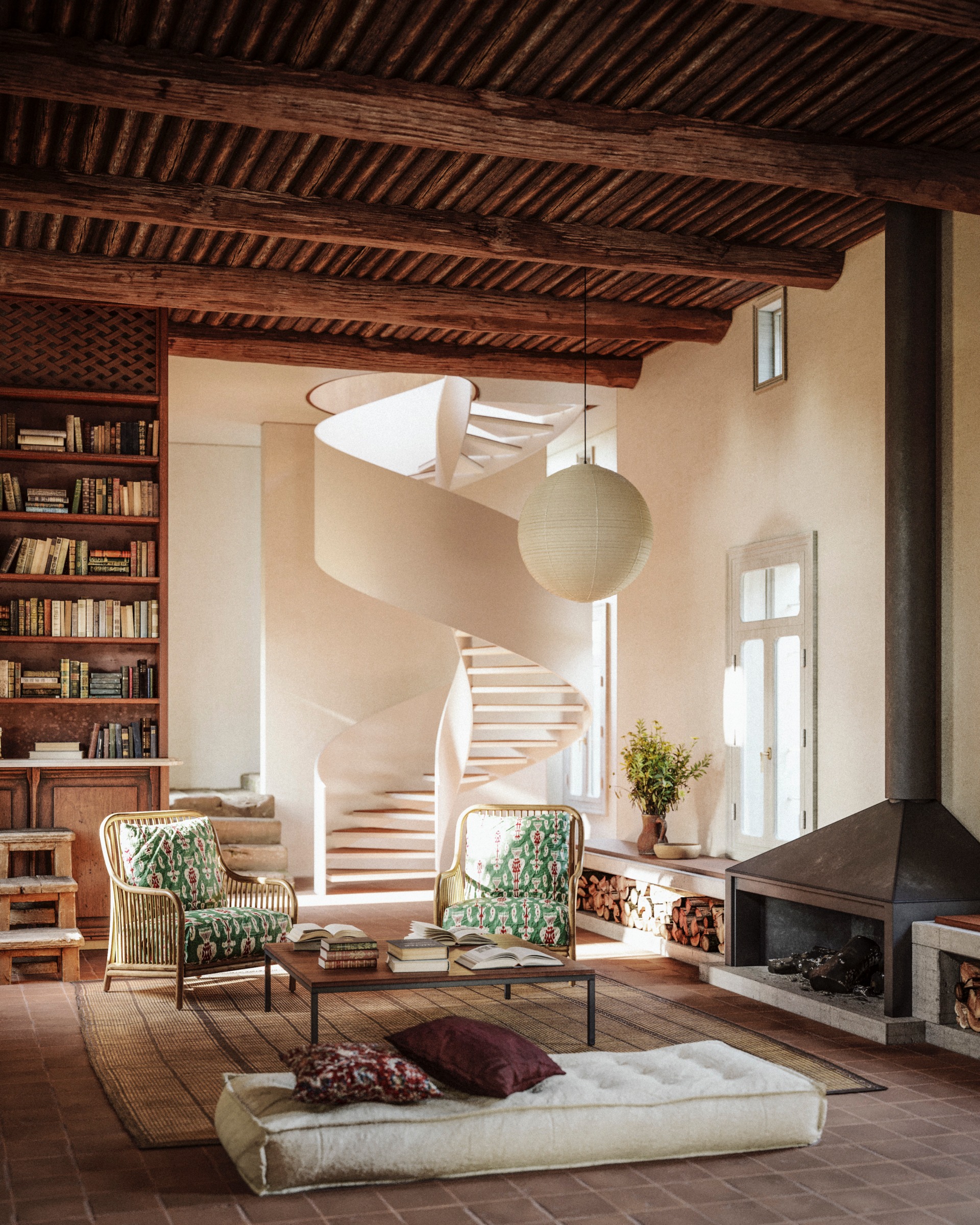 Facing the dining area, the sun and secluded botanical garden host an enchanting invitation into the jardin d'hiver through an eclectic selection of native and tropical plant species. The glass house, which sits privately as a celebration of the generous and lush greenery nurturing the entire property, is complemented with a harlequin patterned floor. The library, previously the house staff quarters, takes on a slightly less embellished nature, allowing for a more rustic and organic energy to flow. Built with natural pine tree barks and branches, the ceiling further borrows from the adjacent earthly outdoors, while the terracotta floor and Moroccan Tuareg mat introduces more natural attributes. The only element that takes on a contemporary quality, is the white steel spiral staircase which leads to the top floor guesthouse. Designed with the nature of a modern tree house, the guesthouse is souled with a contemplative unison of wood and bright greens. Nestled within high-rise pine trees, lush ivy and gorgeous sunlight, the bedroom offers a tranquil day's retreat. Pine trees, garden and sun rays charm their way through the living room's glazed facades, taking a mindful rest on a deep green velvet couch.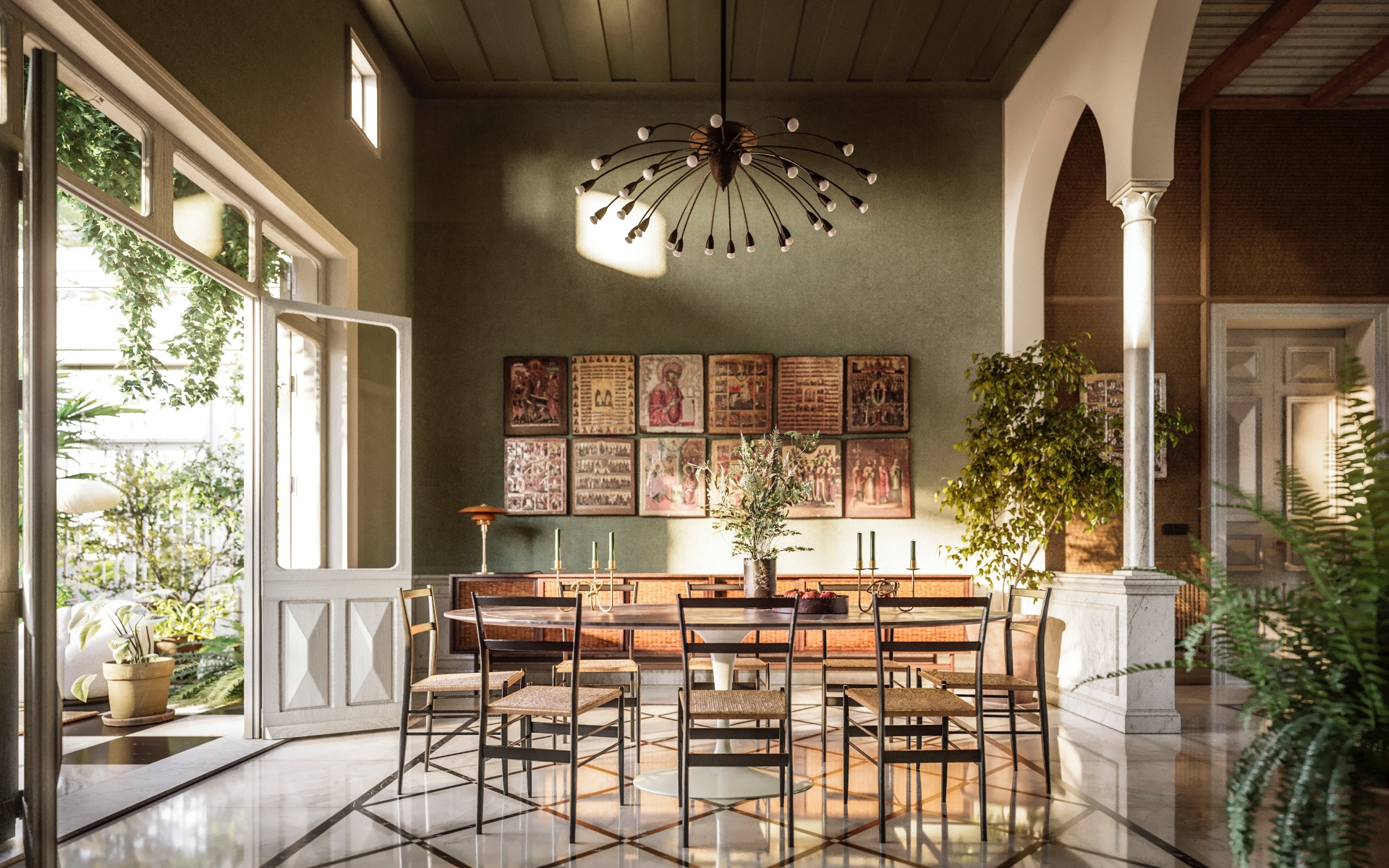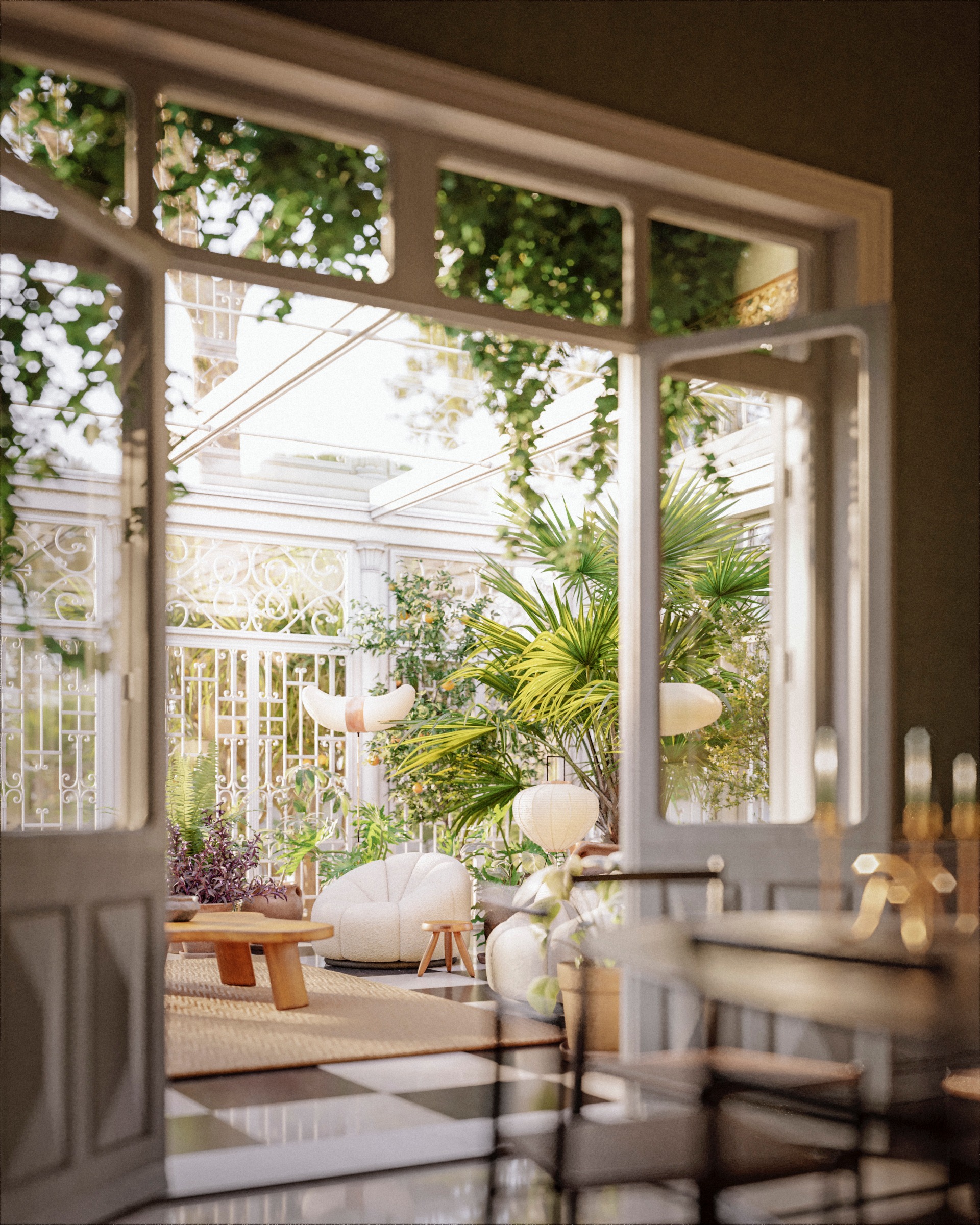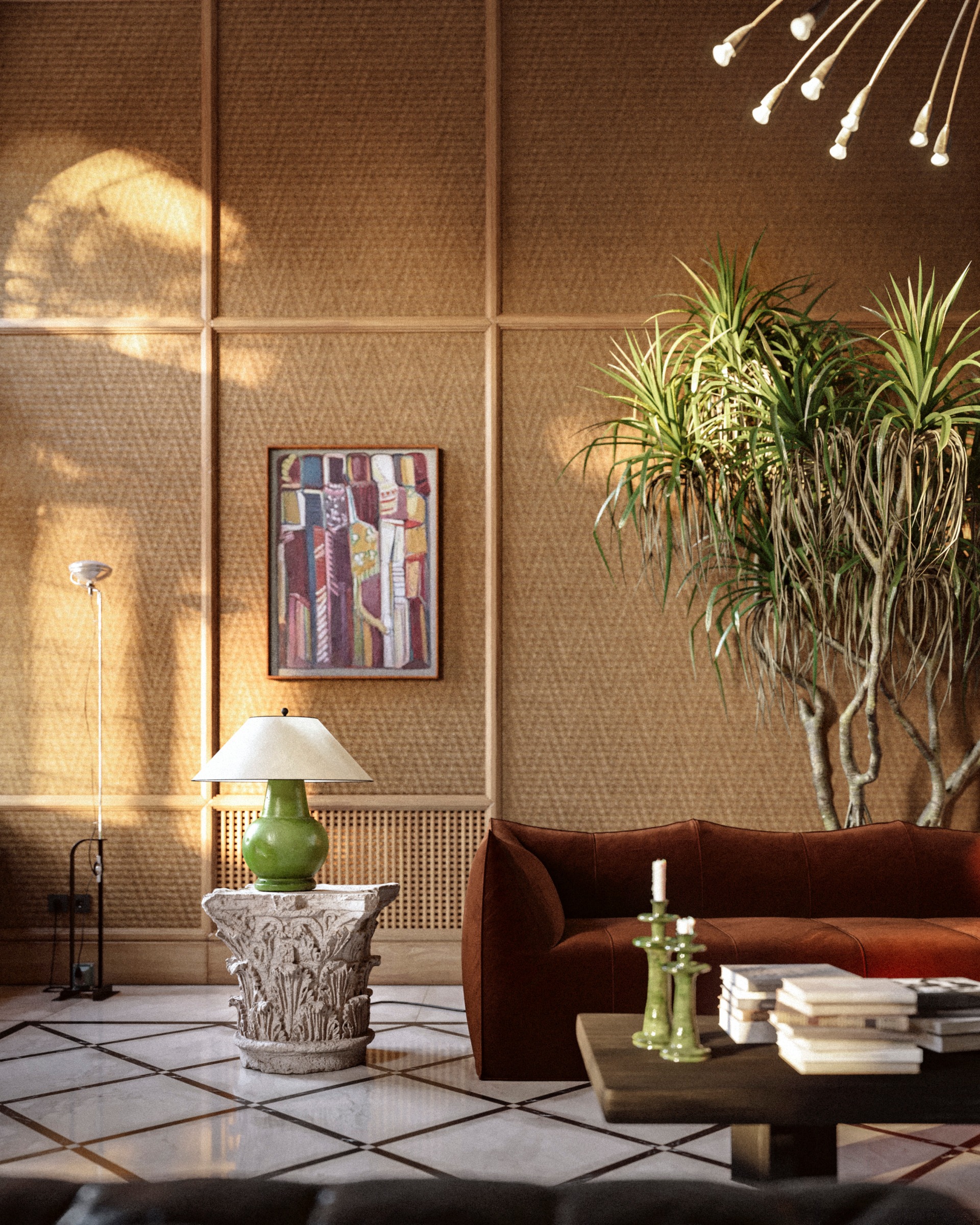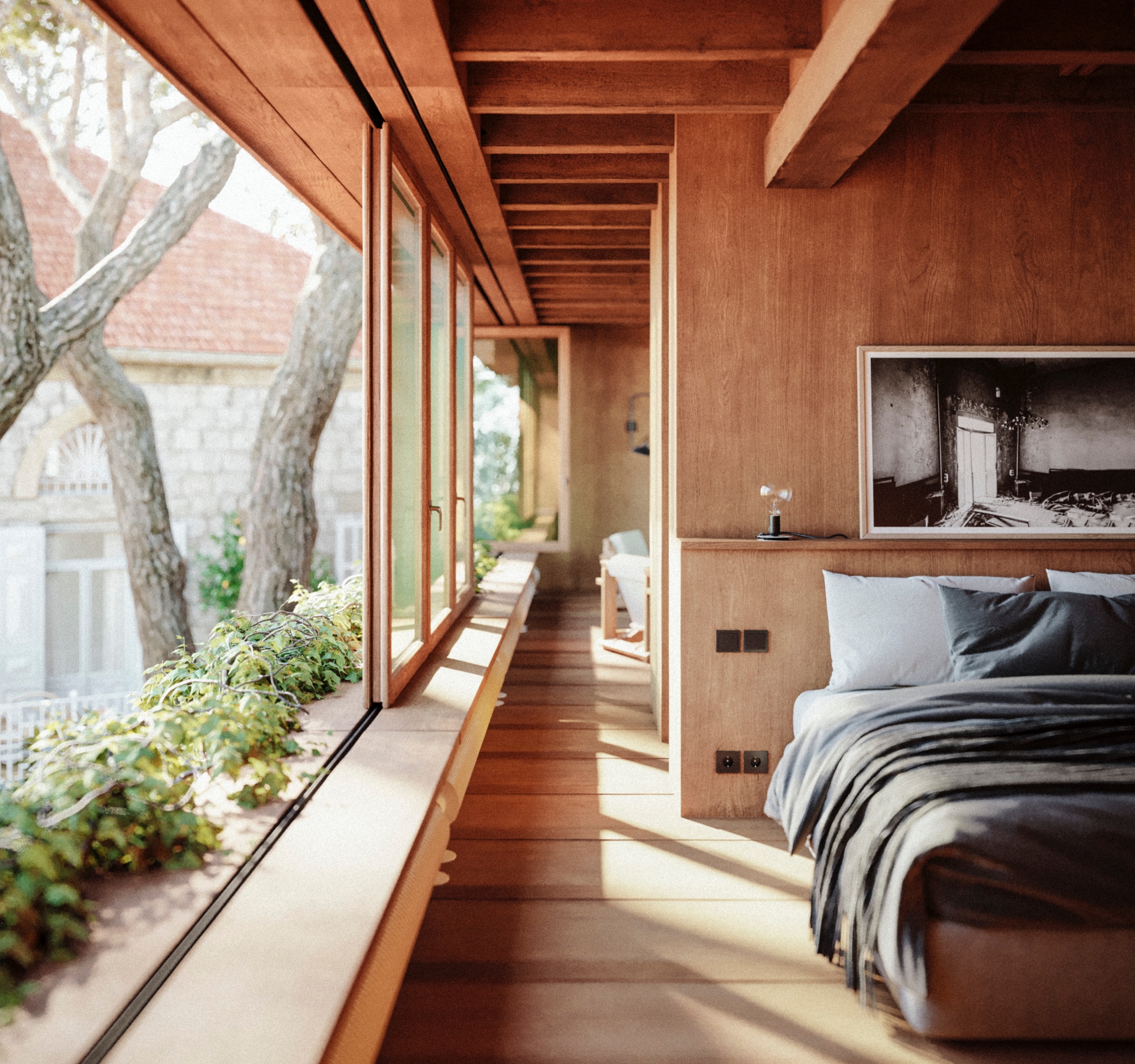 In the vaulted basement, the one meter thick walls completely isolate the space from sound and light, creating an ideal setting for an intimate earthy spa. Walled and floored with reflective tadelakt plastering, this elemental space emits feelings of being cocooned within an age-old shimmering cave. Centrally throned under the cross vault like a delicate treasure, an emerald pool entrancingly steals attention with its bright aura glowing all over the smooth surfaces of the entire spa. Two solid Carrara marble slabs retire as massage benches behind this majestic pool. A custom-made American walnut wood sauna, a steam room and showers seamlessly blend into niches within this environment. Breathing more life into this vault, flickering candles illuminate the space with a solemn and animated light. This light-play, the luminescing pool and the shimmering tadelakt choreograph a gently stellar and grounded ambiance.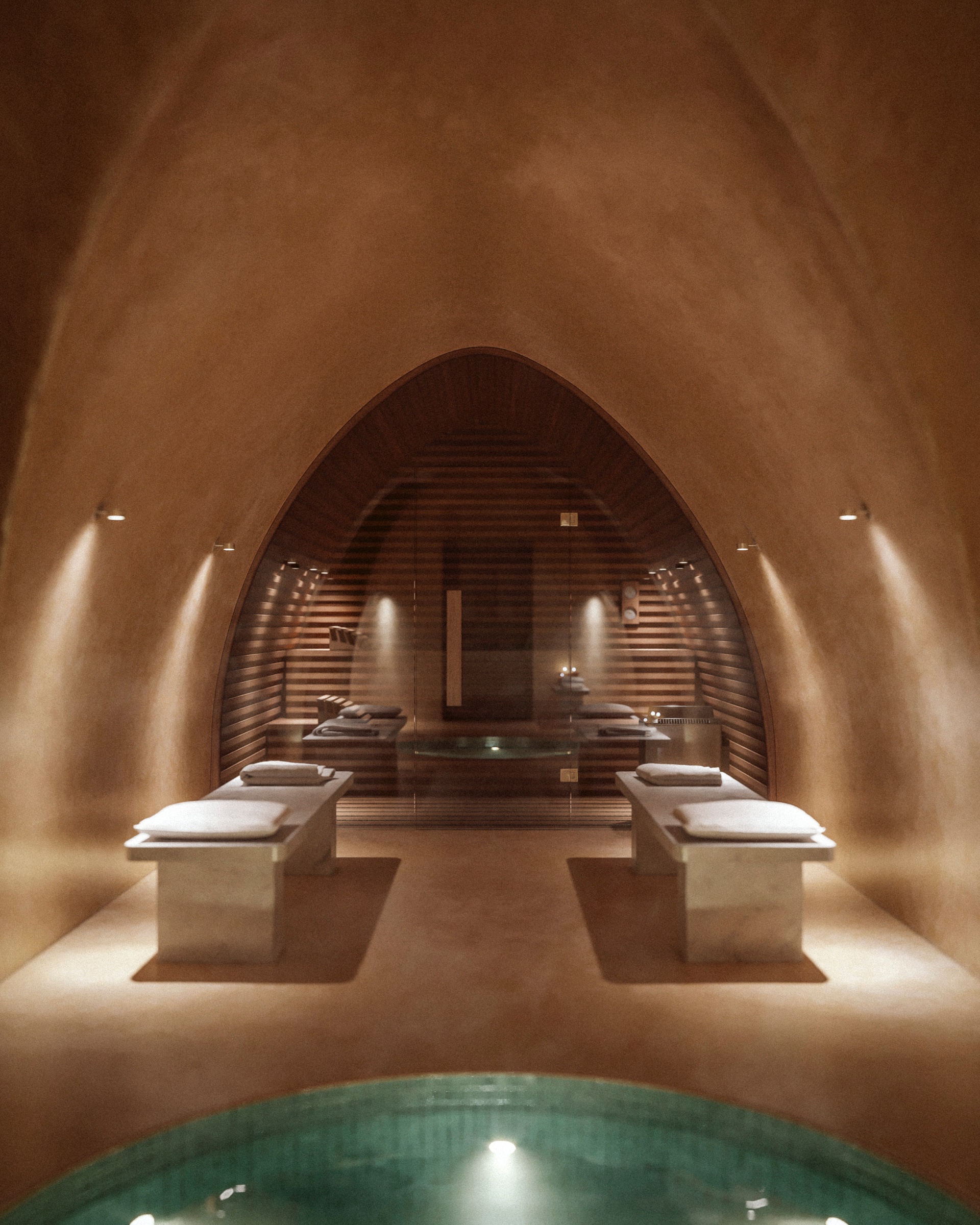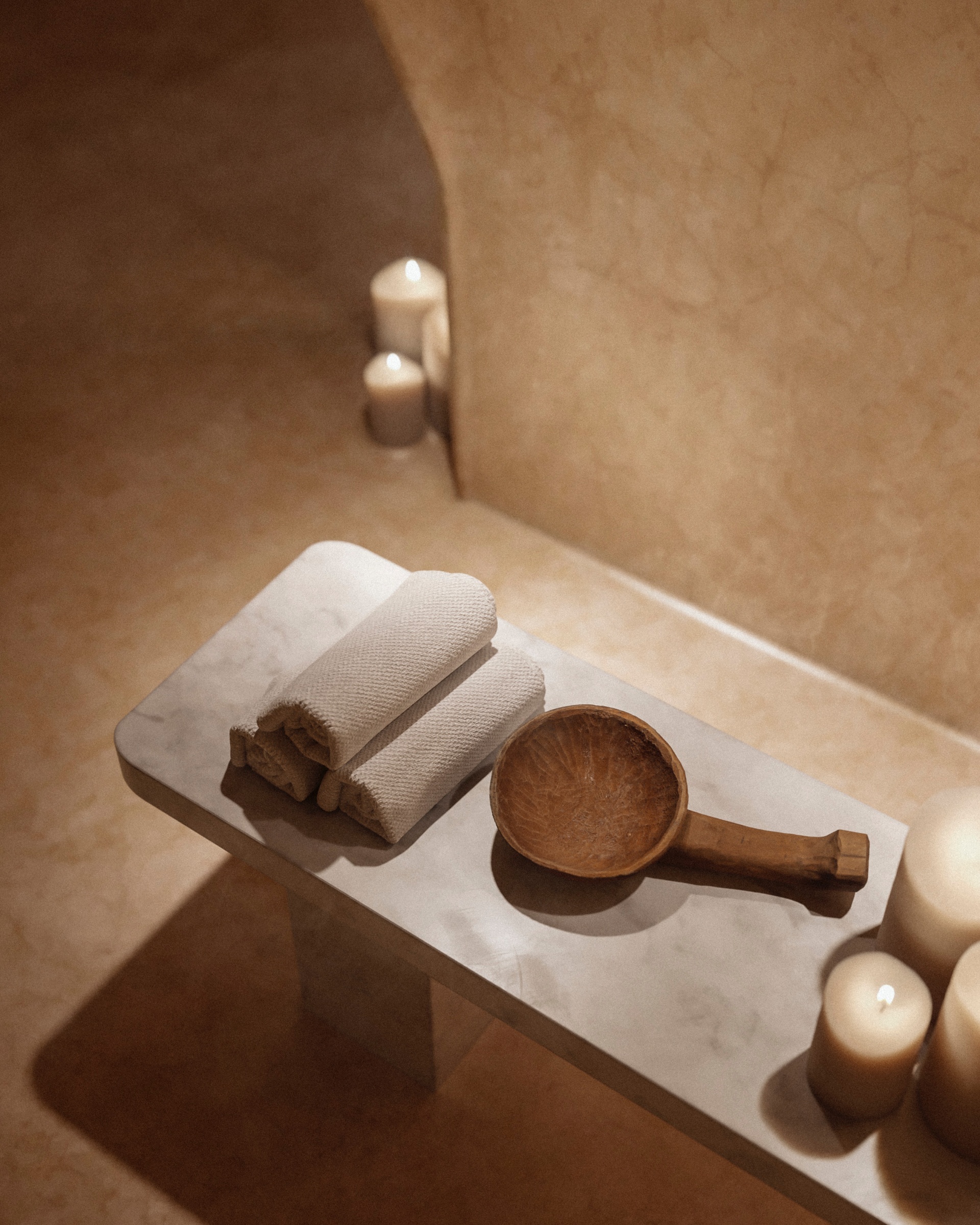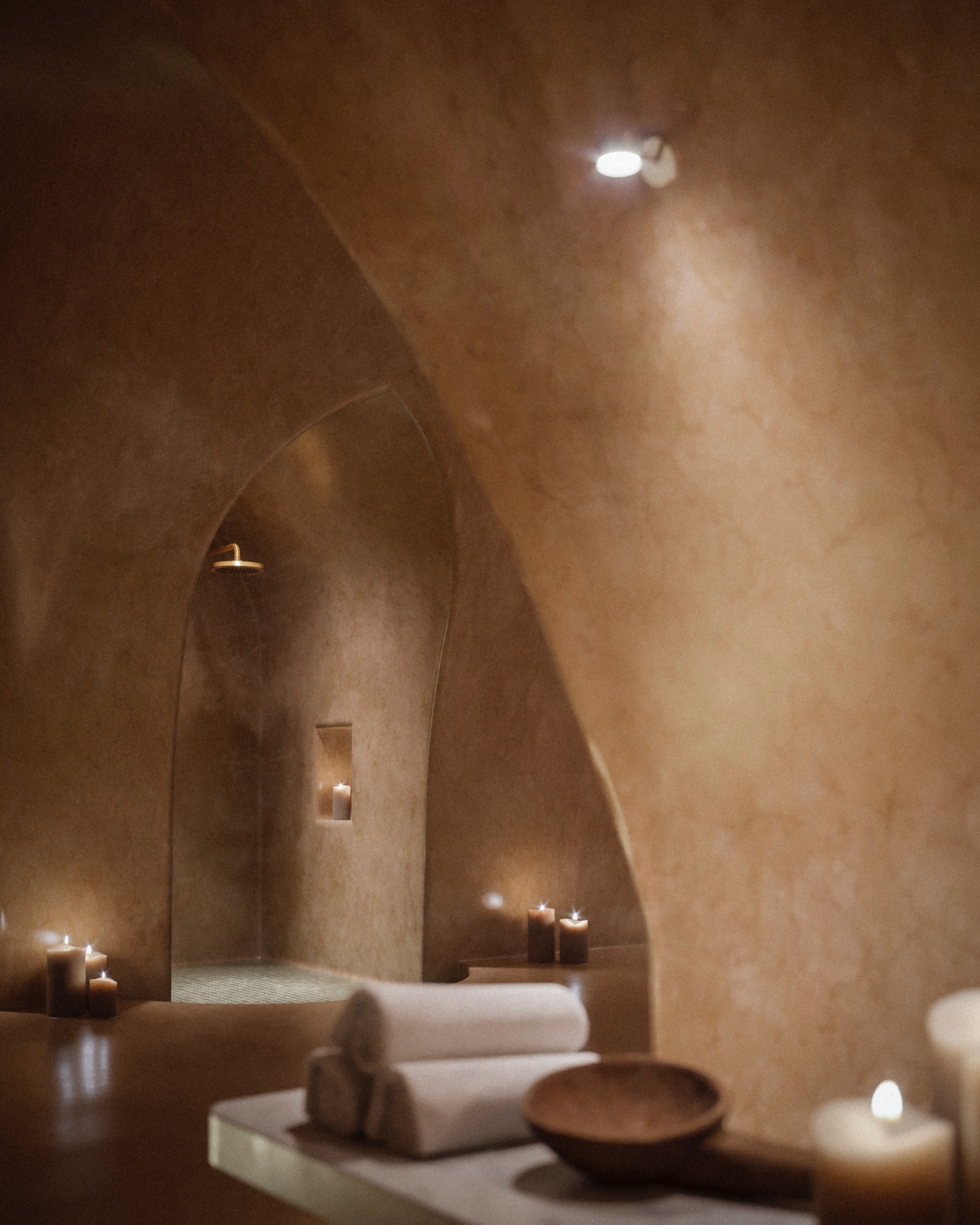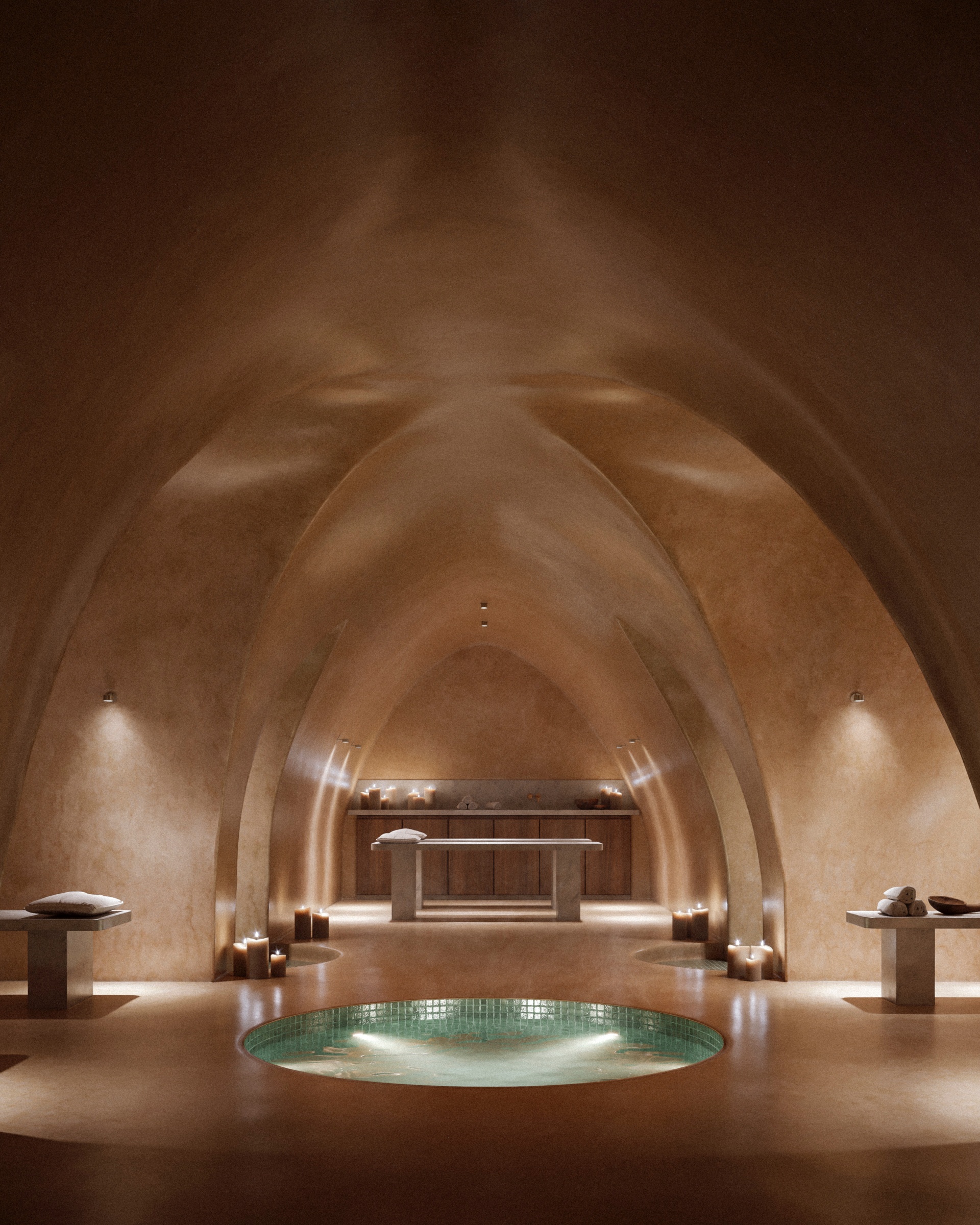 With a name meaning hope and delicacy, Villa Nadia proudly re-emerges from a rich history, with novel extensions and a dignified stance on Lebanese heritage. Arches, stone vaults and orange blossoms return to recite an heirloom of tales on this life quenching Mediterranean soil.