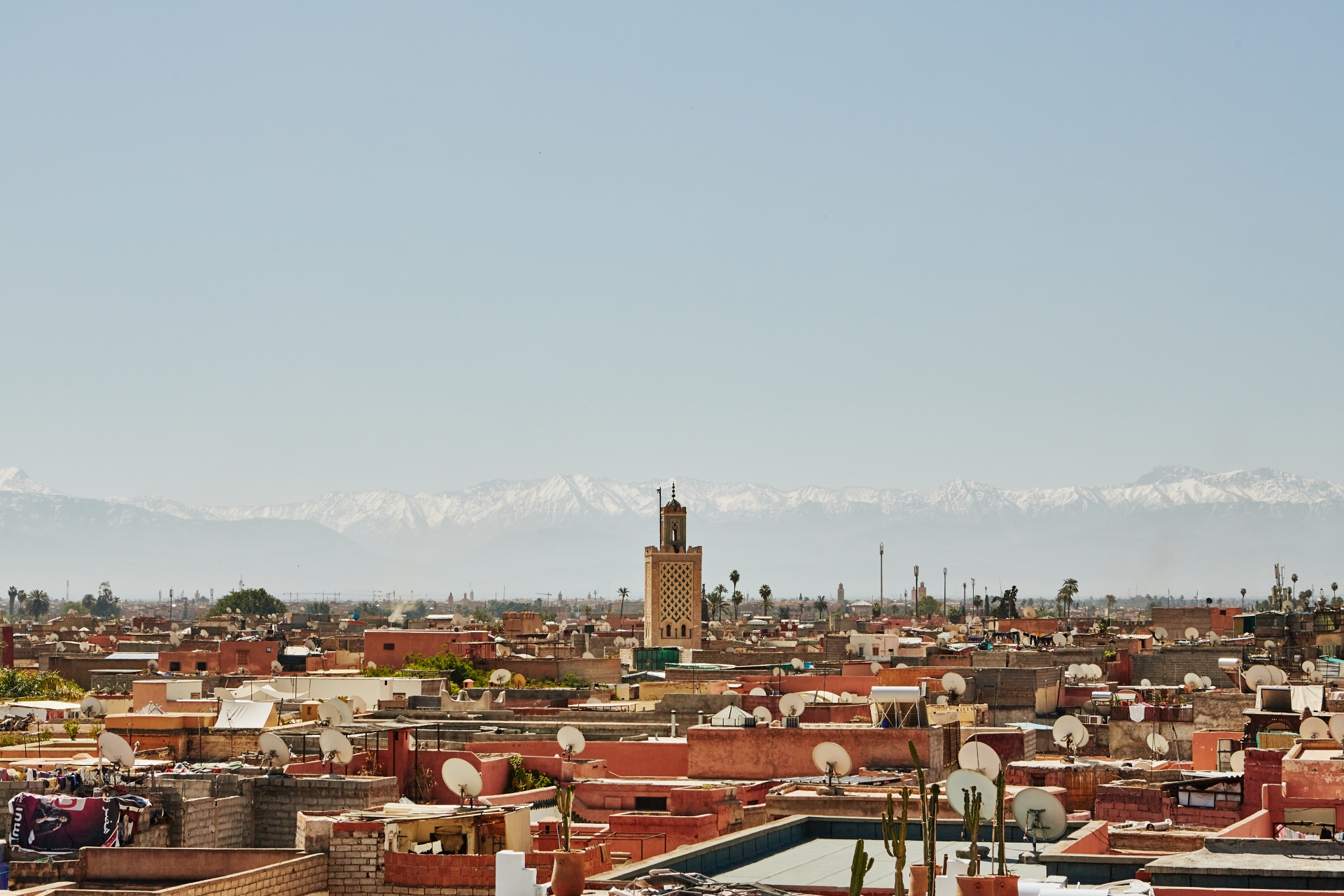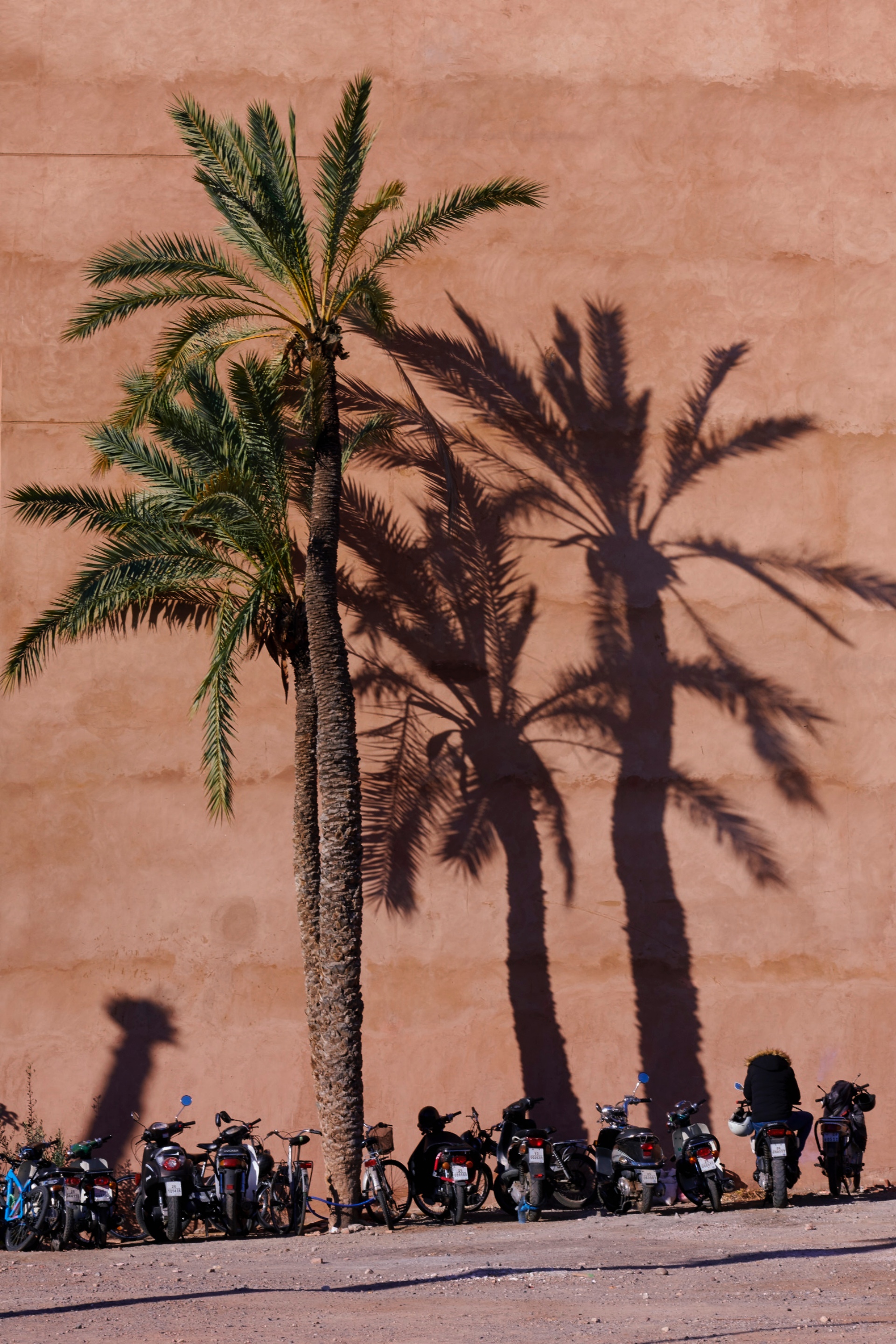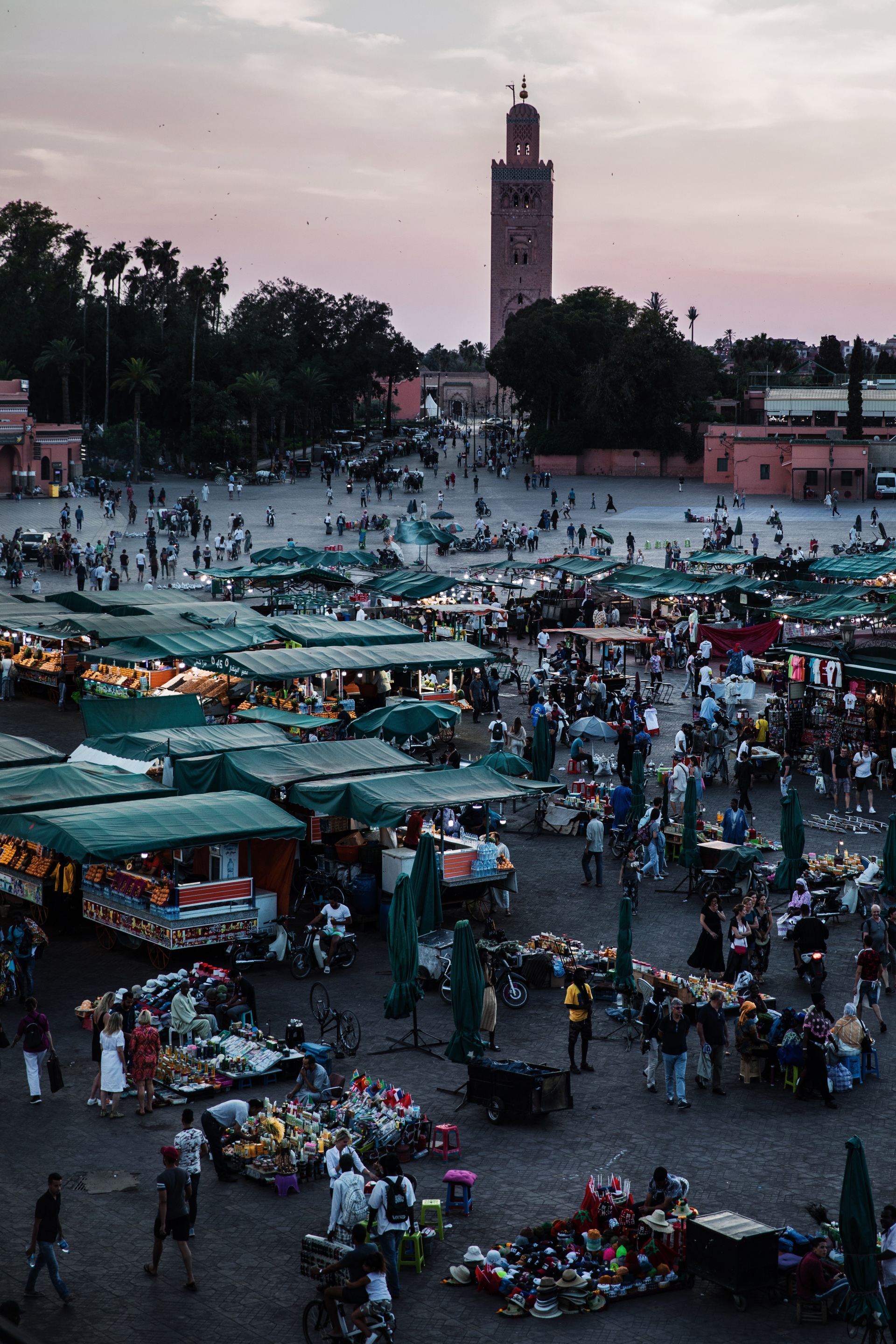 Eclectic, authentic, relaxed, casually chic, sleek, and very boutique, this gorgeous riad hotel - El Fenn - is imbued with joyful colour filled with modern British art and ancient Moroccan craft. Designed by co-owners Vanessa Branson [sister of Richard Branson] and Howell James with the help of architect Amine Kabbaj, El Fenn's saturated hues of cherry reds and pomegranate pinks, warm saffrons and azures scream pure Moroccan decadence. Whether you're looking for a private haven of tranquillity, a place of renewal, a romantic getaway, a place to think better, or a place of hedonistic pleasure, El Fenn offers all this,  as and when you need it. It's the perfect bolt hole from which to enjoy and discover the beauty of Marrakech. I first visited El Fenn in its early days and found it just as intoxicating. It has a deep sense of place and an authentic voice that has stood the test of time. El Fenn has the feel of a private house rather than a hotel. Its playfulness, colours, daring, positivity, and enlivening spirit remain irresistibly charming.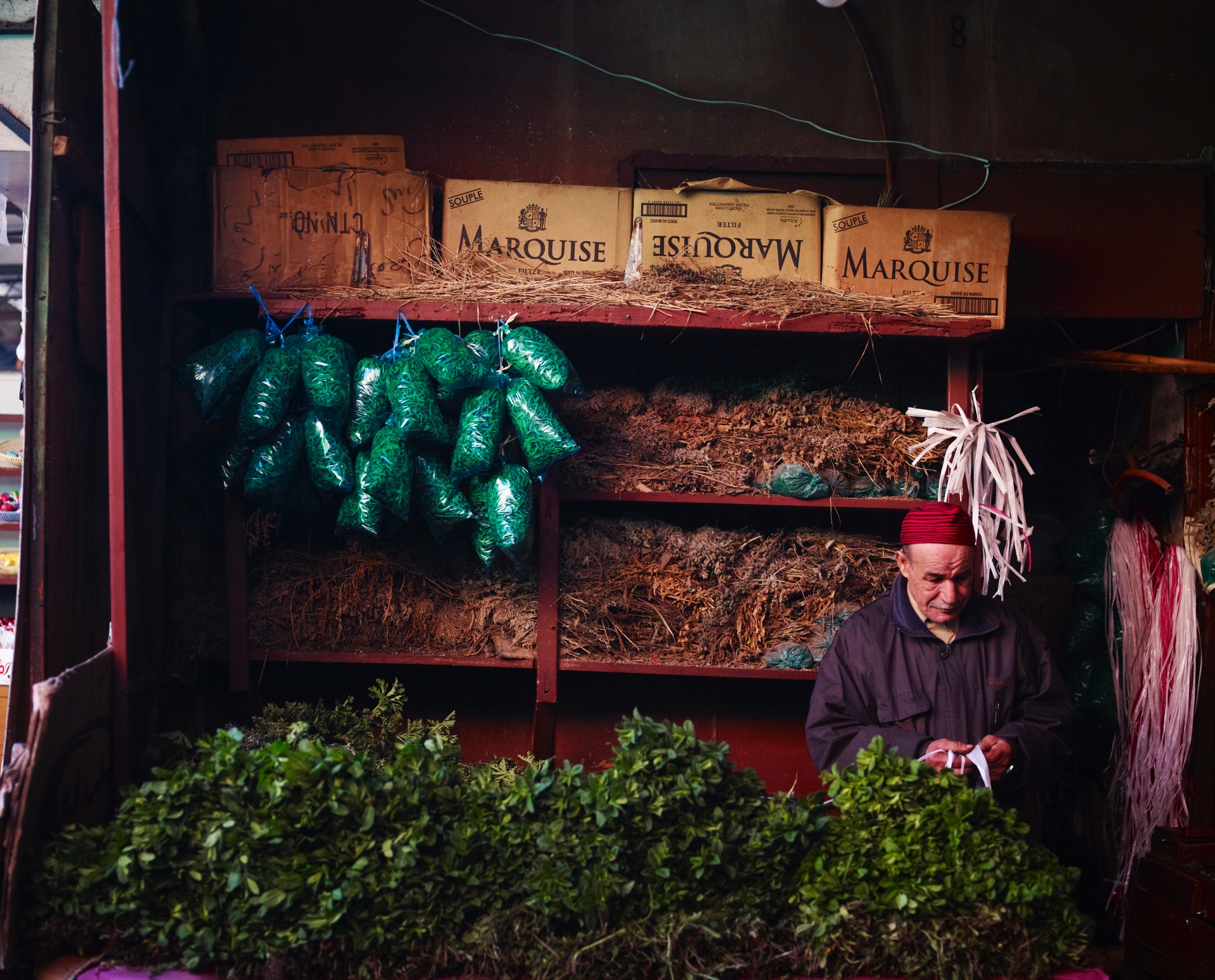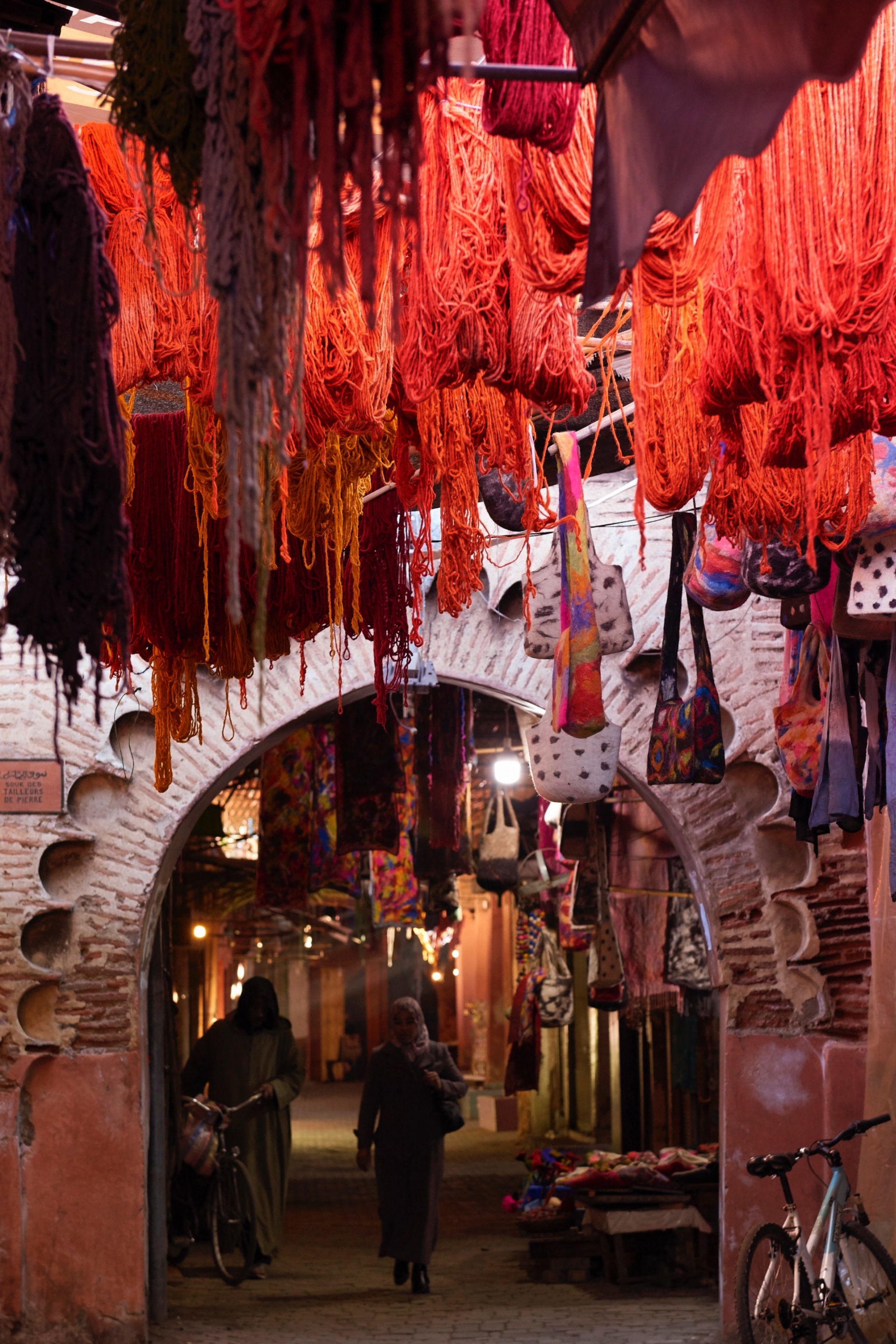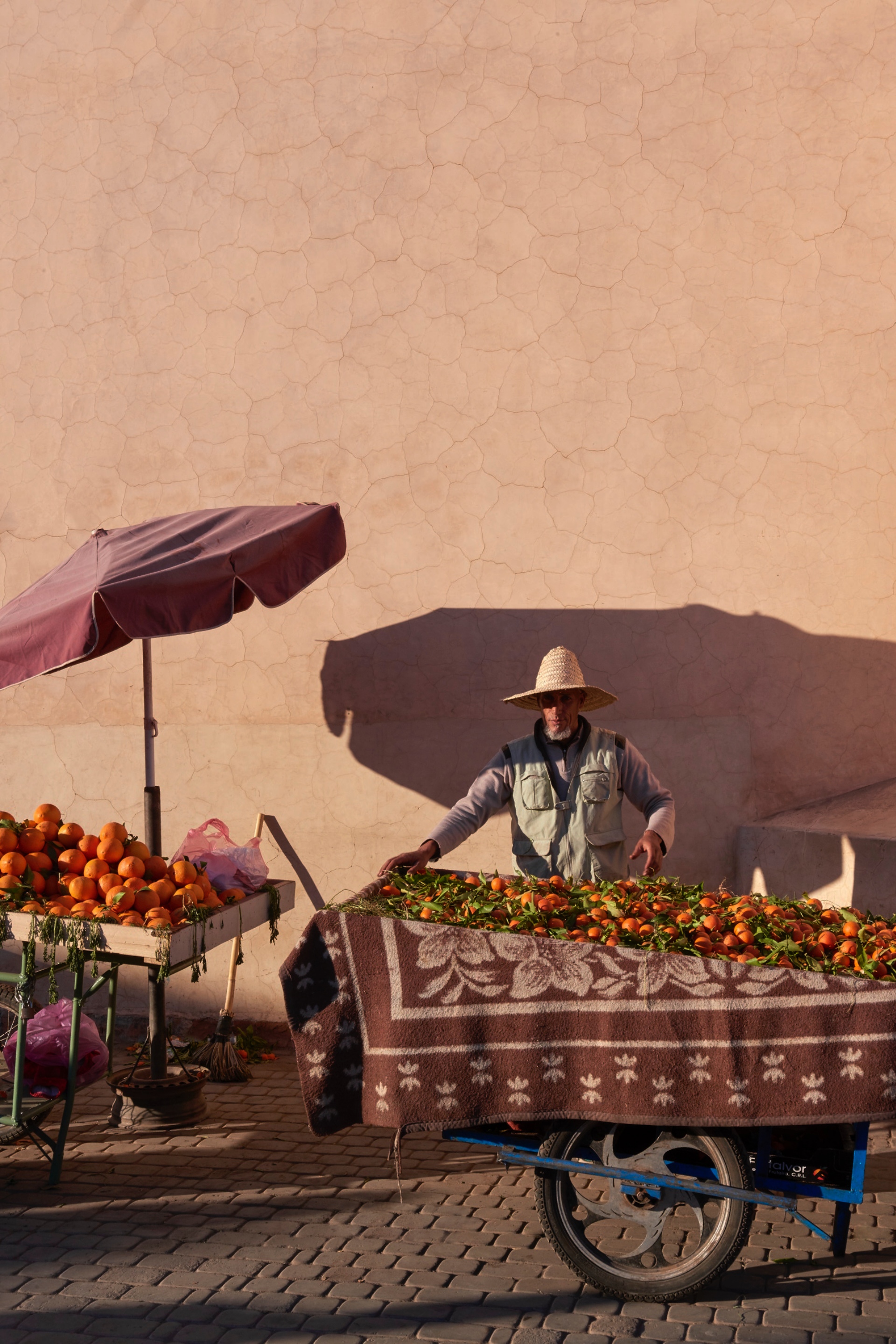 This Moorish hideaway is a jewel-coloured haven of patterns and textures in a riot of colour. The décor is Moroccan with both contemporary and retro twists. Located by the Bab El Ksour gate, on the edge of the city's bustling Medina, a short walk from Djemaa El Fna square and its bustling souks, Riad El Fenn translates to "house of art", and certainly lives up to its name. It is a design enthusiast's dream. A blend of contemporary fused with the elegant spirit of old Marrakech's African, Arabic and European influences. Restored 19th-century wrought iron, carved wood, and filigree plasterwork with seductive modern touches, graphic prints, avant-garde artwork, and striking mid-century modern furniture in vibrant Marrakech colours.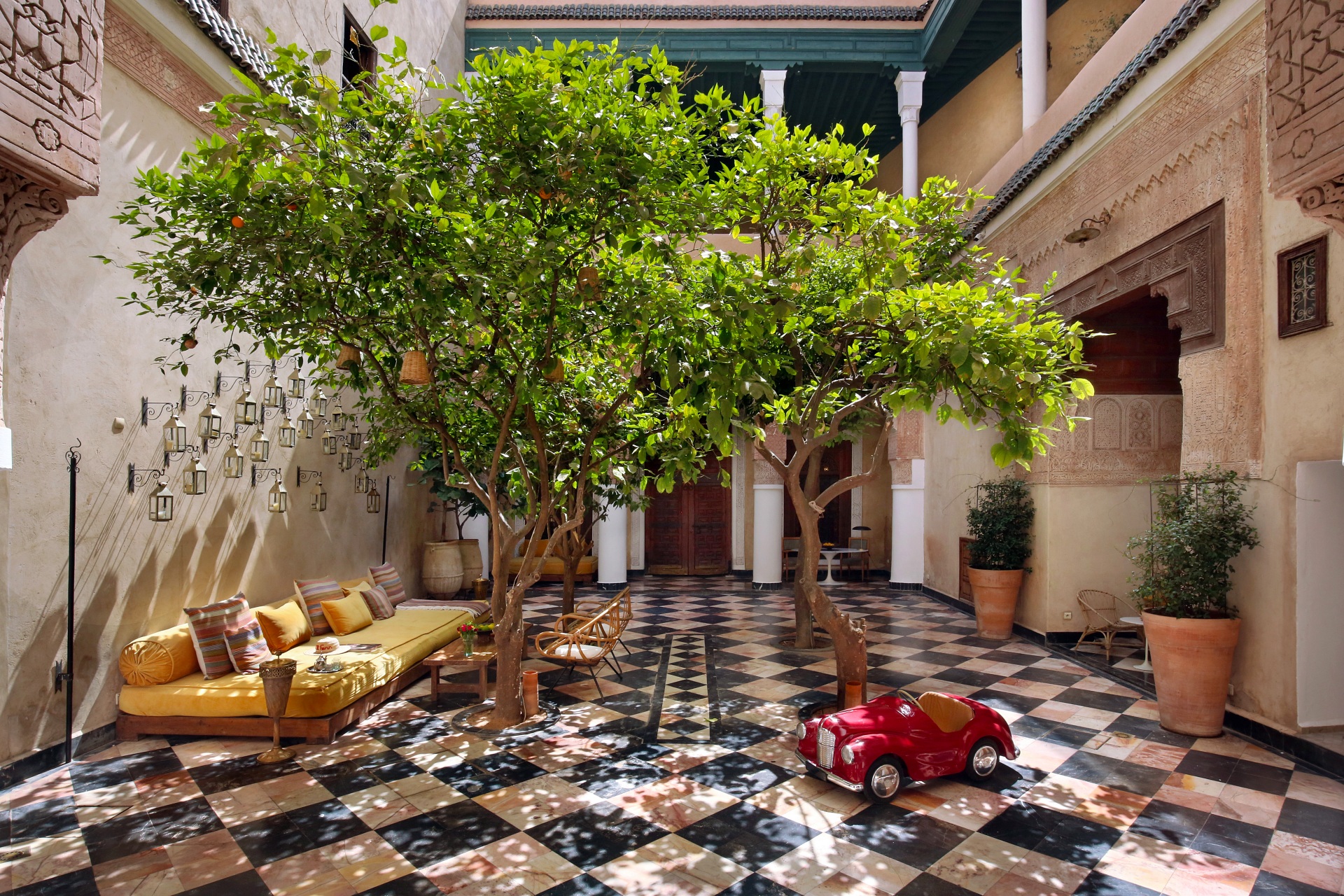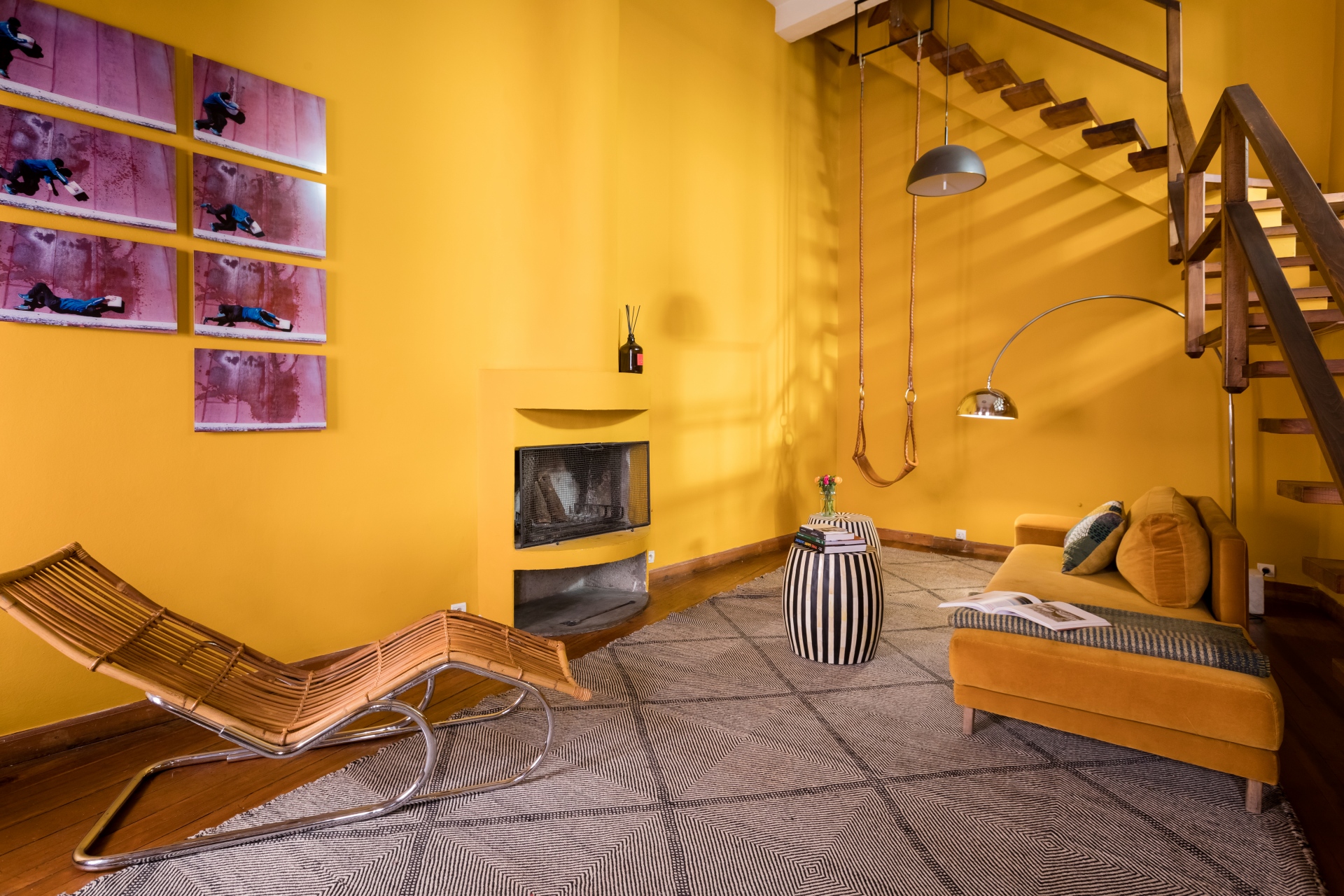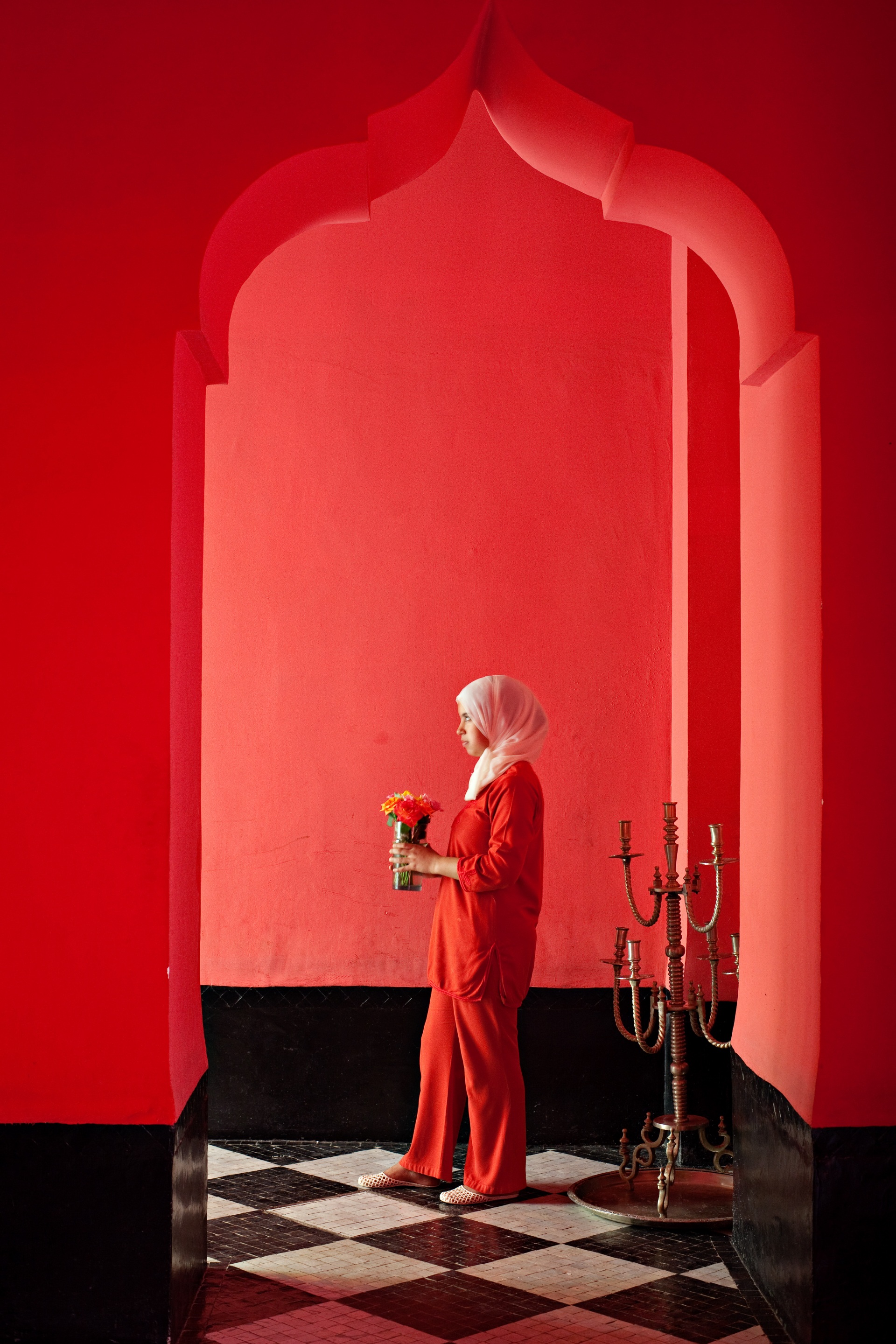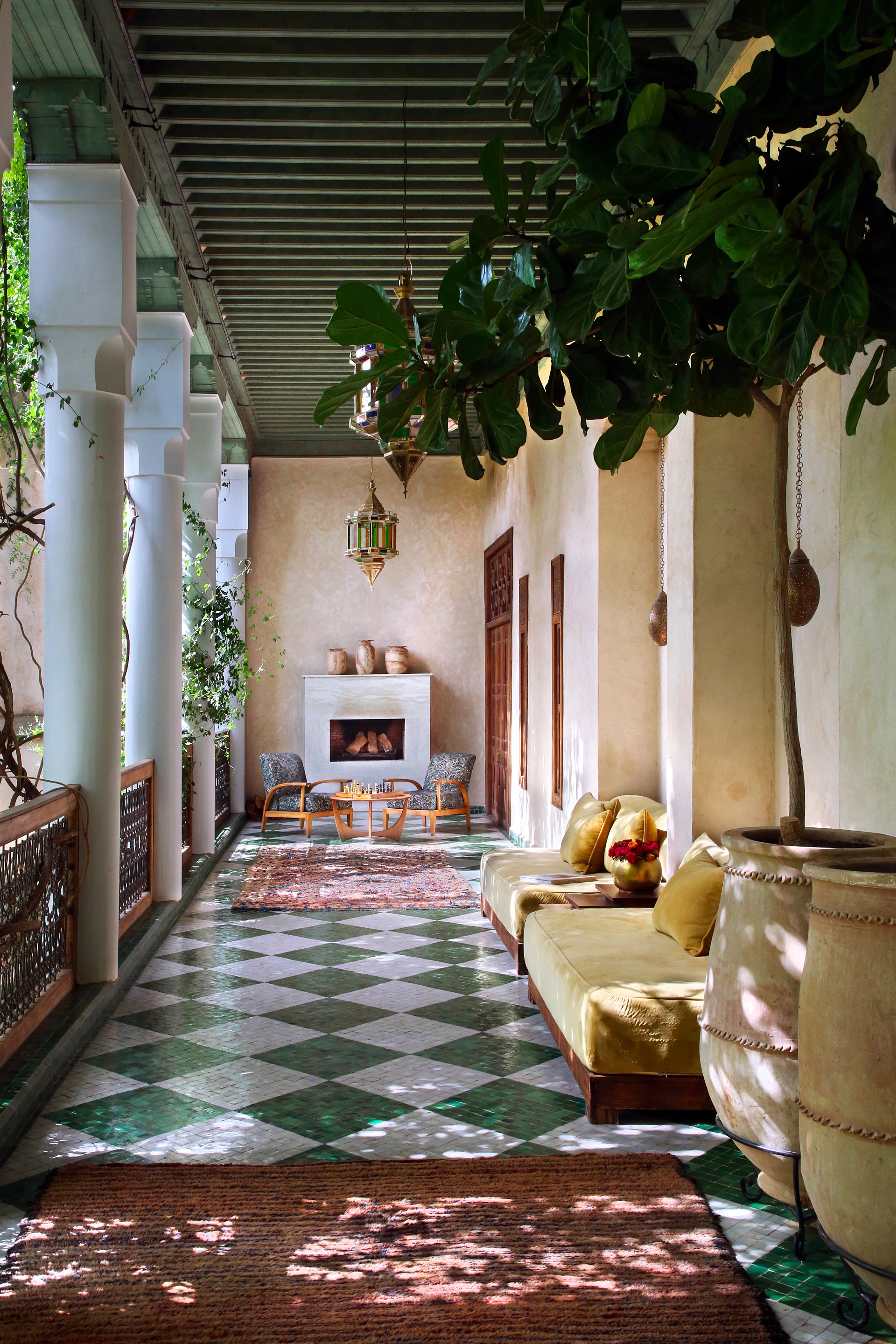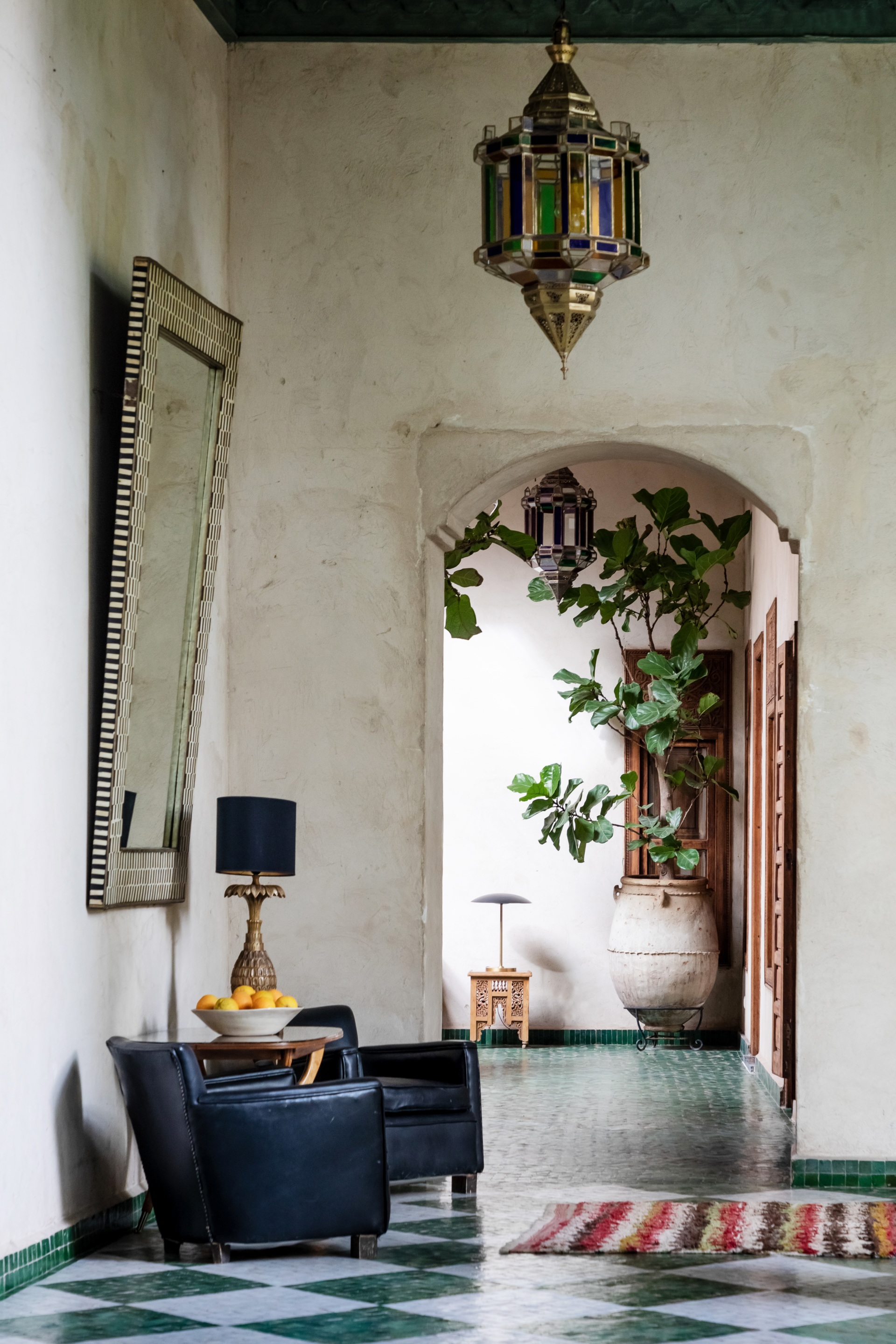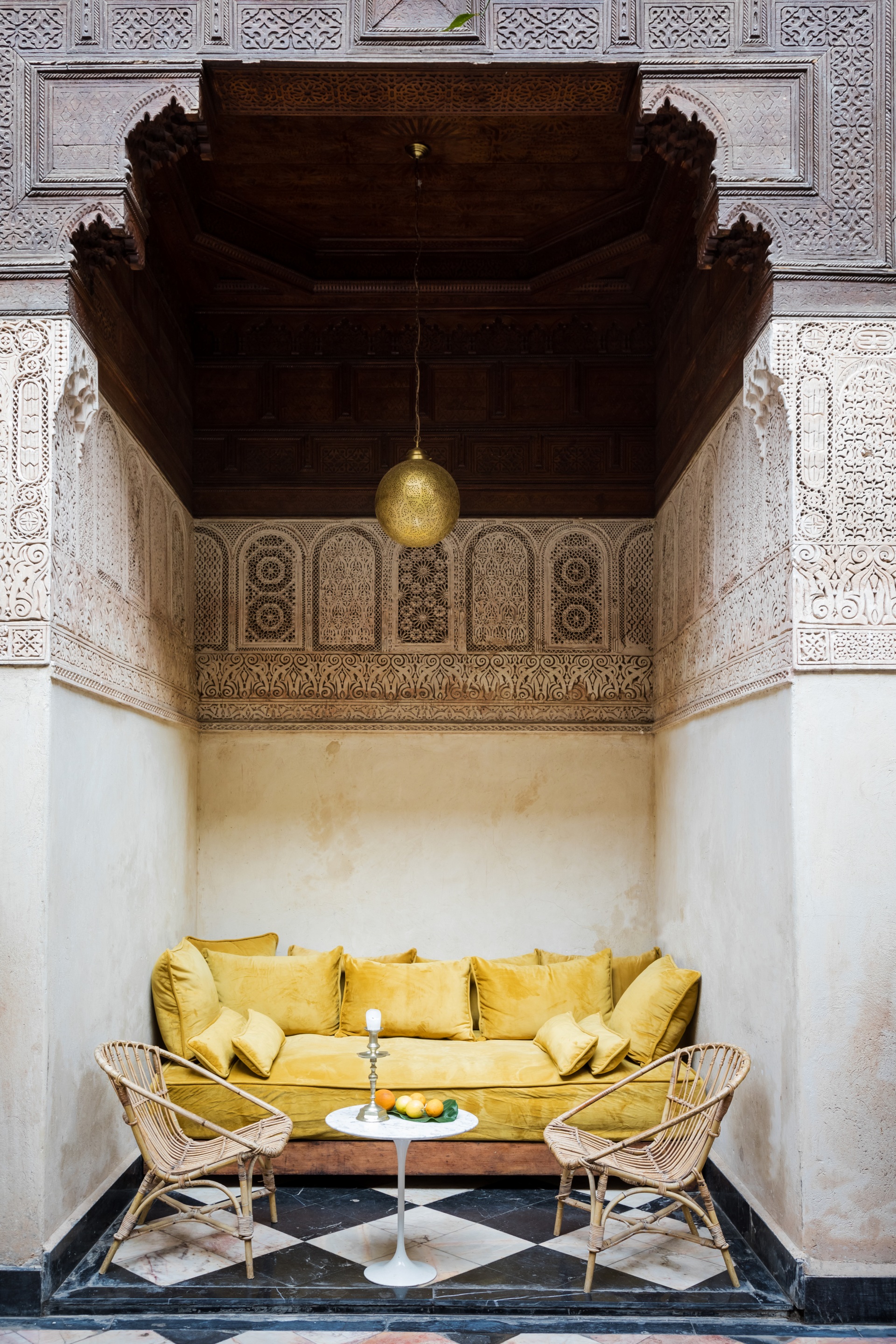 El Fenn is a sprawling complex of interconnected riads, luscious inner courtyards, collonaded balconies, sun-dappled patios, and marble fountains with rose-petal-filled basins, and gorgeously inviting cushioned alcoves. Antique carved wooden doors, bold colours and Brandon's impressive striking contemporary Moroccan art collection. The jewel on the crown - a sprawling roof terrace with fantastic views over the Atlas Mountains and the Koutoubia Mosque - is pure magic at night with a pool, hanging gardens, scattered daybeds piled with cushions, and secluded lounging areas. The stunning sight is replete with a plunge pool, a grassy yoga deck and dozens of secluded lounging areas with unimpeded views of the Koutoubia and the snow-capped Atlas Mountains beyond. Plus, there are two heated marble swimming pools, a spa, a fabulous bar and restaurant, as well as a hotel shop, artwork from the owners' collection, and an army of red-suited staff to cater to your every need.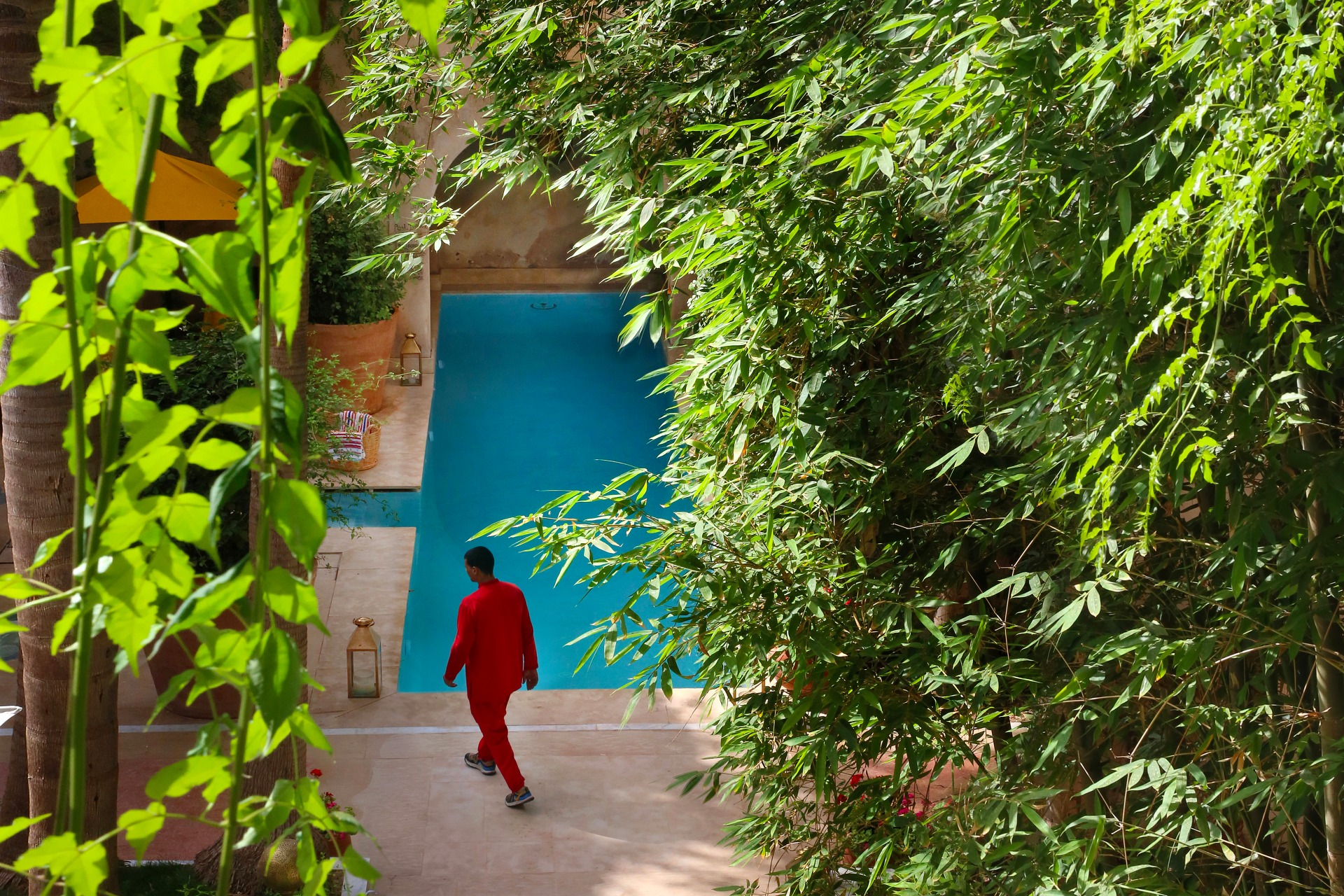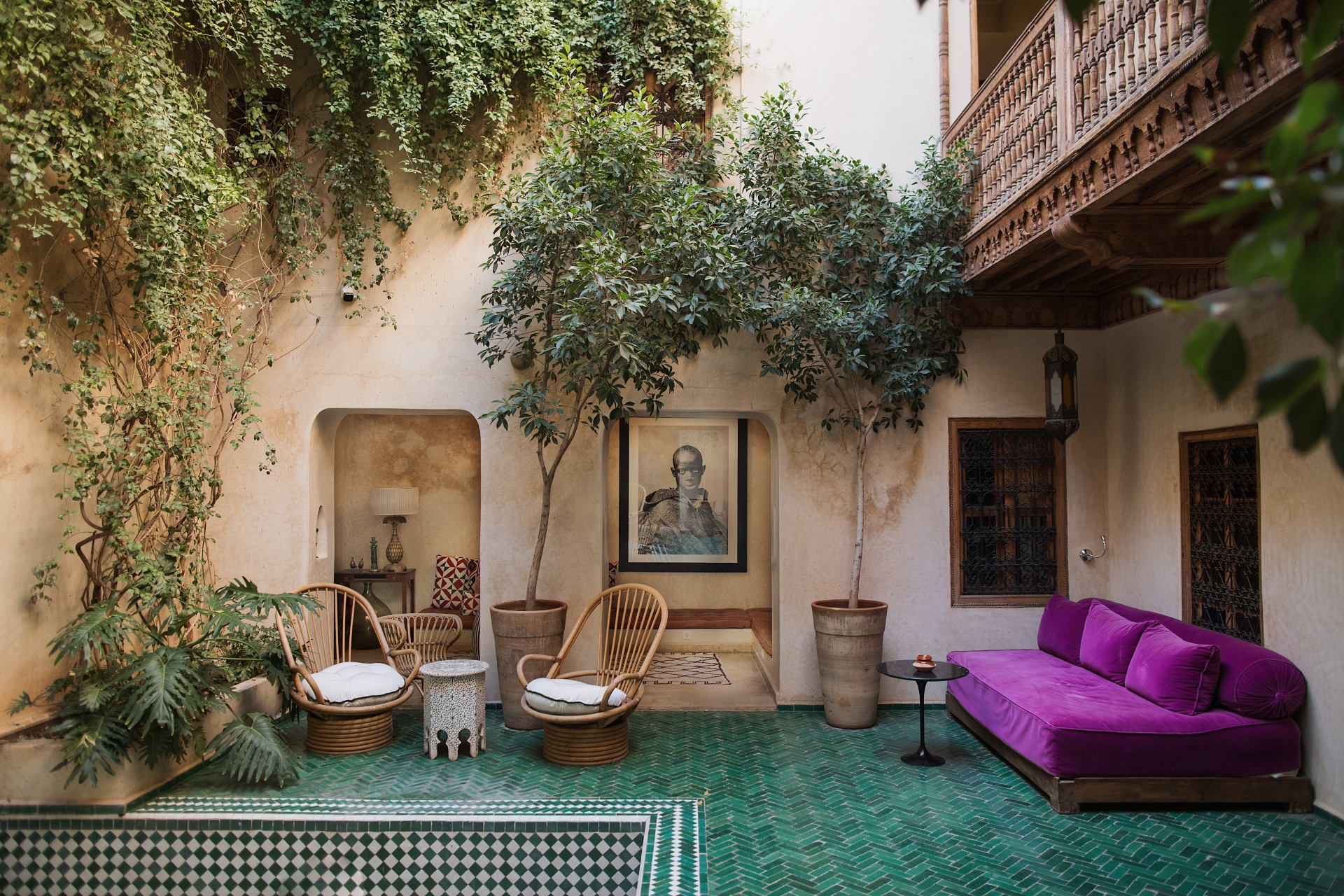 ROOMS AND SUITES
Rooms range from Medium doubles to huge Plunge Pool Rooms and two or three-bedroom suites, all individually decorated with jewel-coloured tadelakt walls. The rooms are full of treasures, Moroccan fabrics, hand-stitched camel leather floors, locally sourced antiques, traditional tadelakt bathtubs, and unique contemporary artworks. Room 20 has a delightful baby pink tadelakt. Rooms 6 and 19 have a plunge pool. Most rooms have fireplaces, and many have roll-top bathtubs in the bedroom. All have hand-stitched Egyptian cotton linen and leather babouches.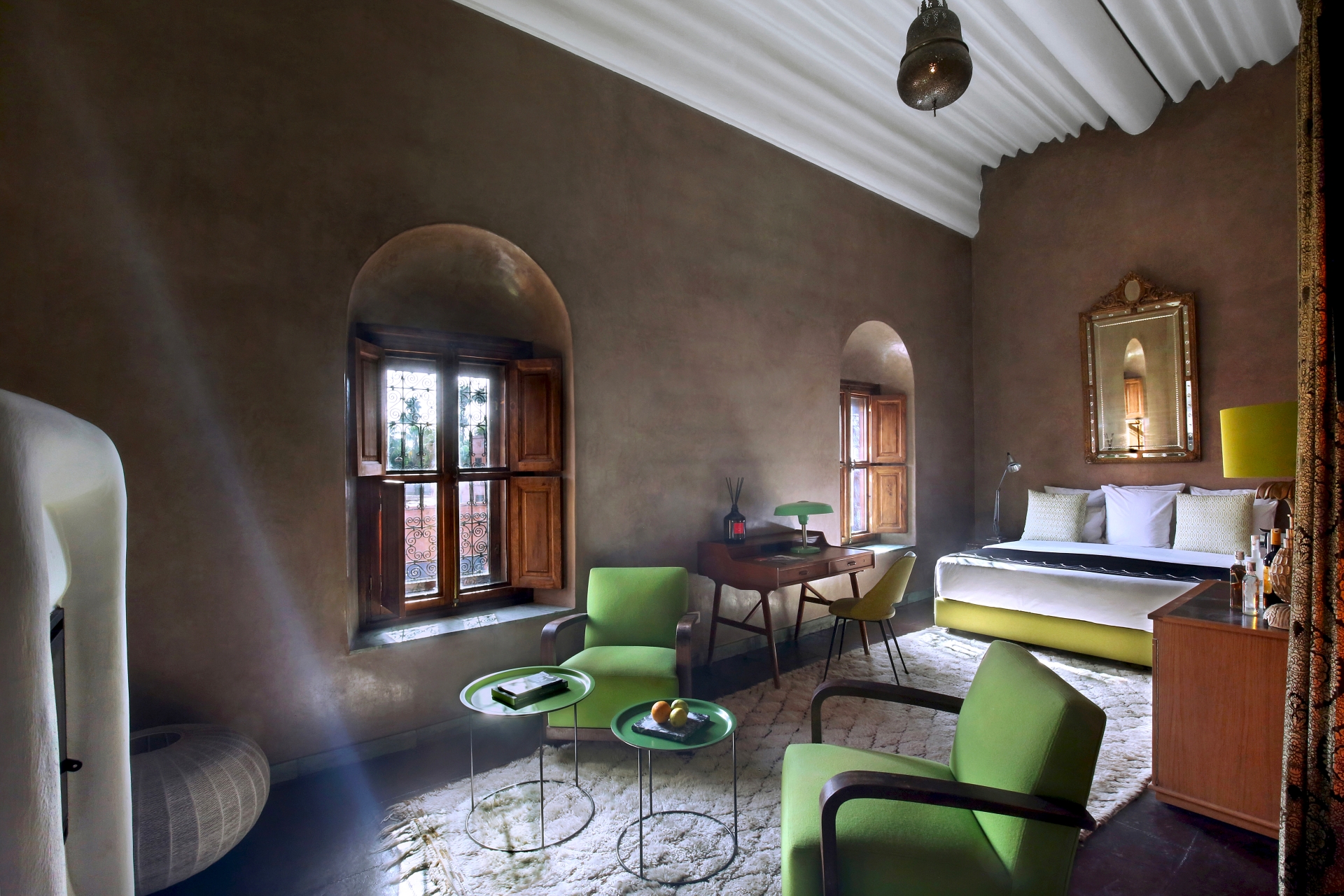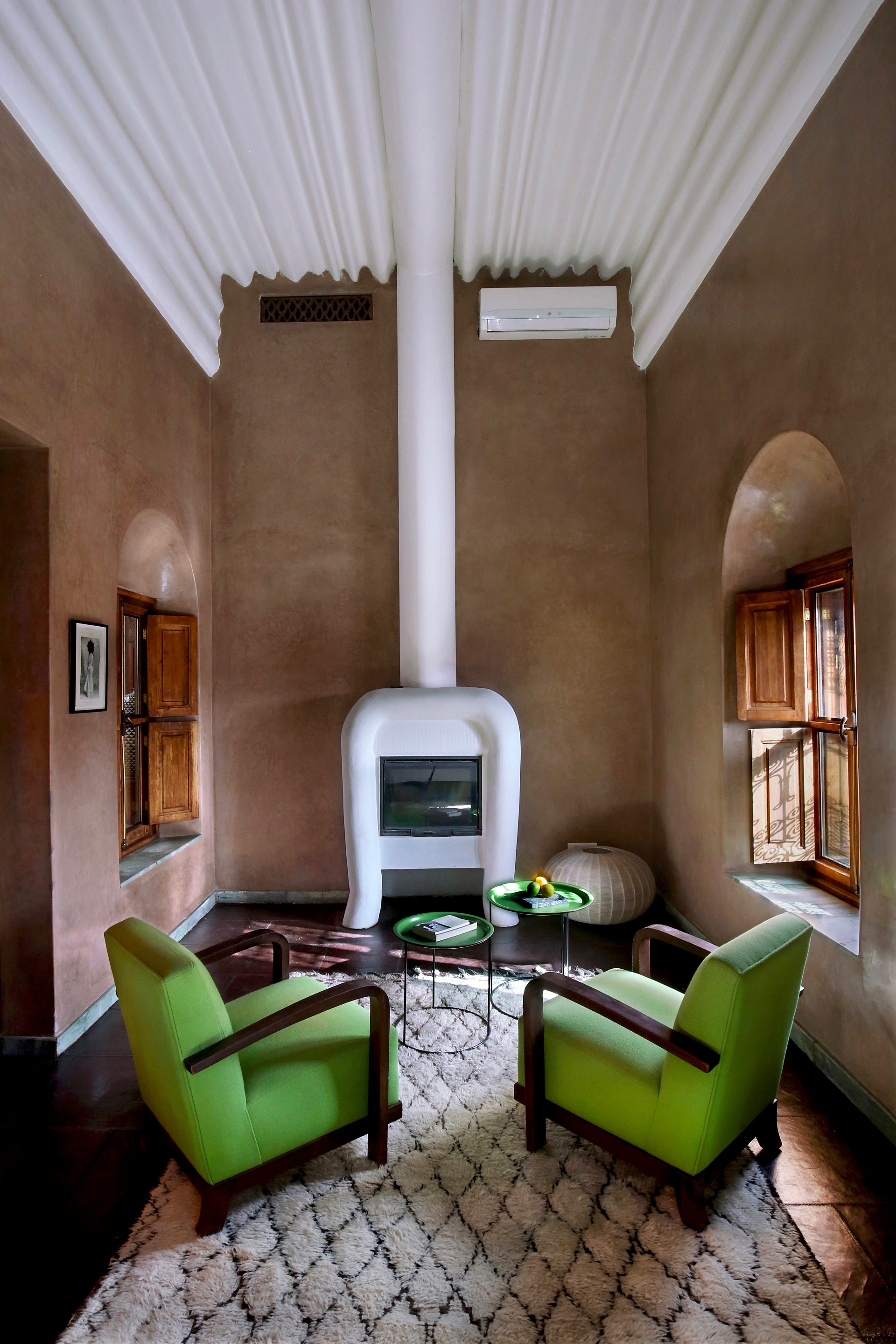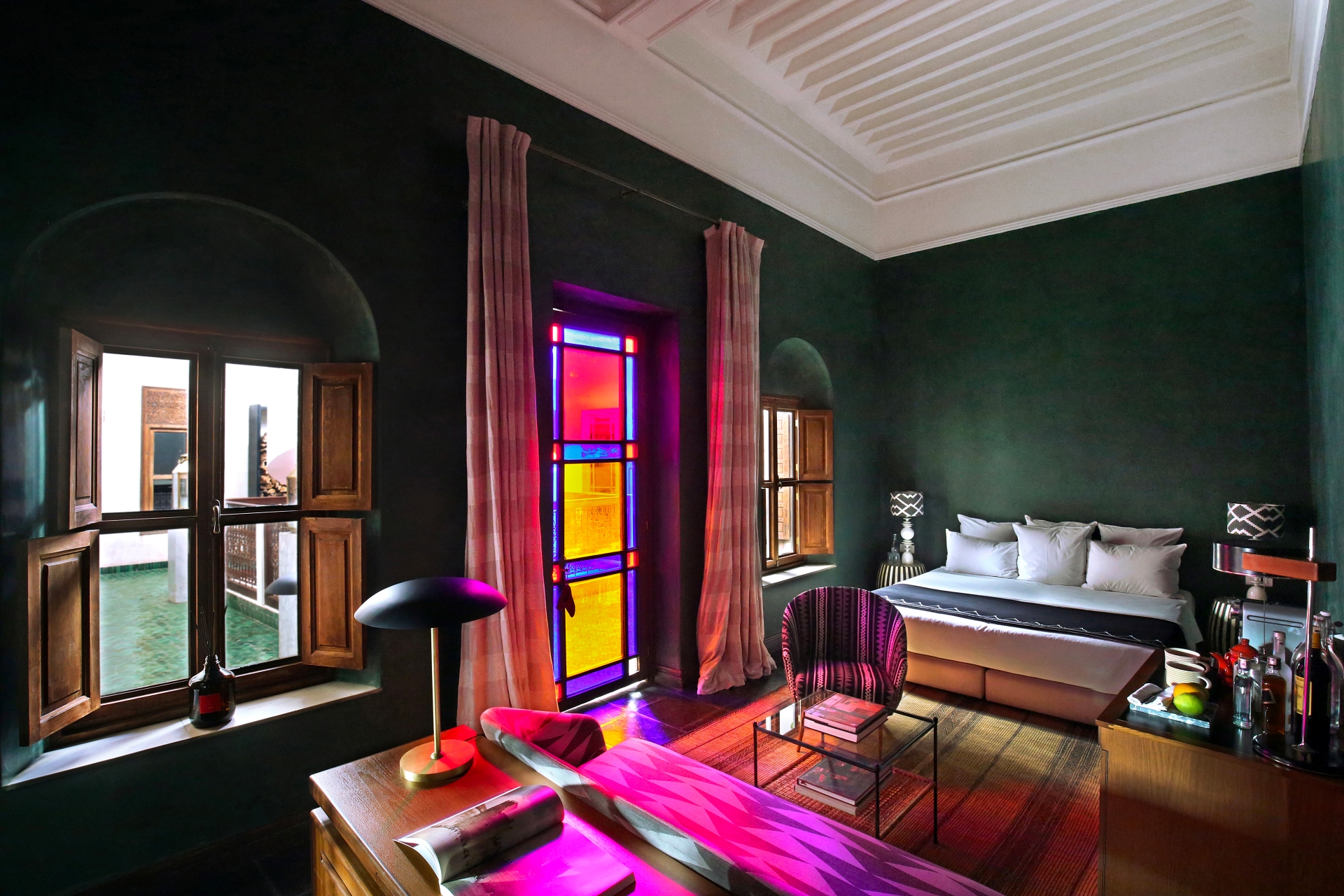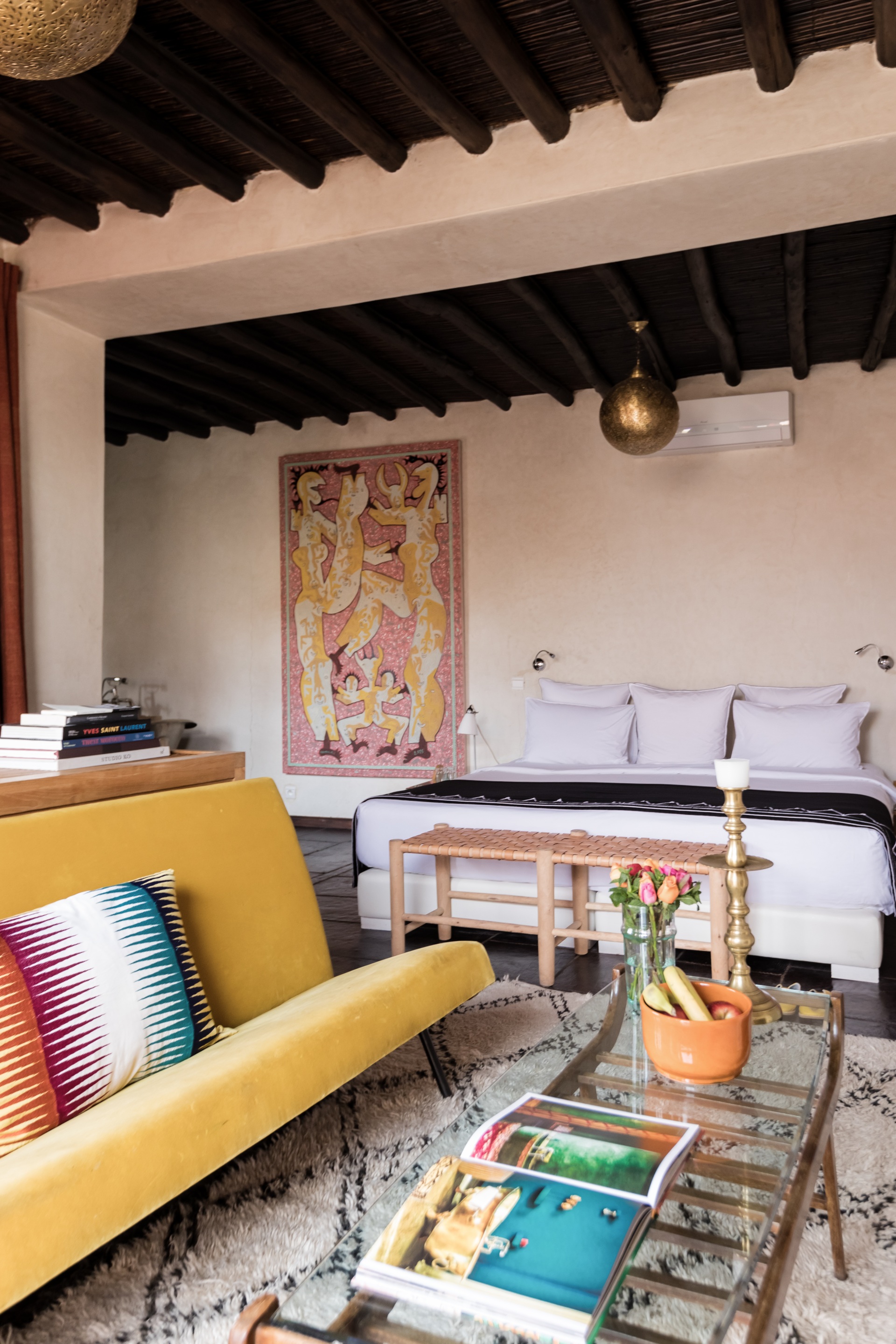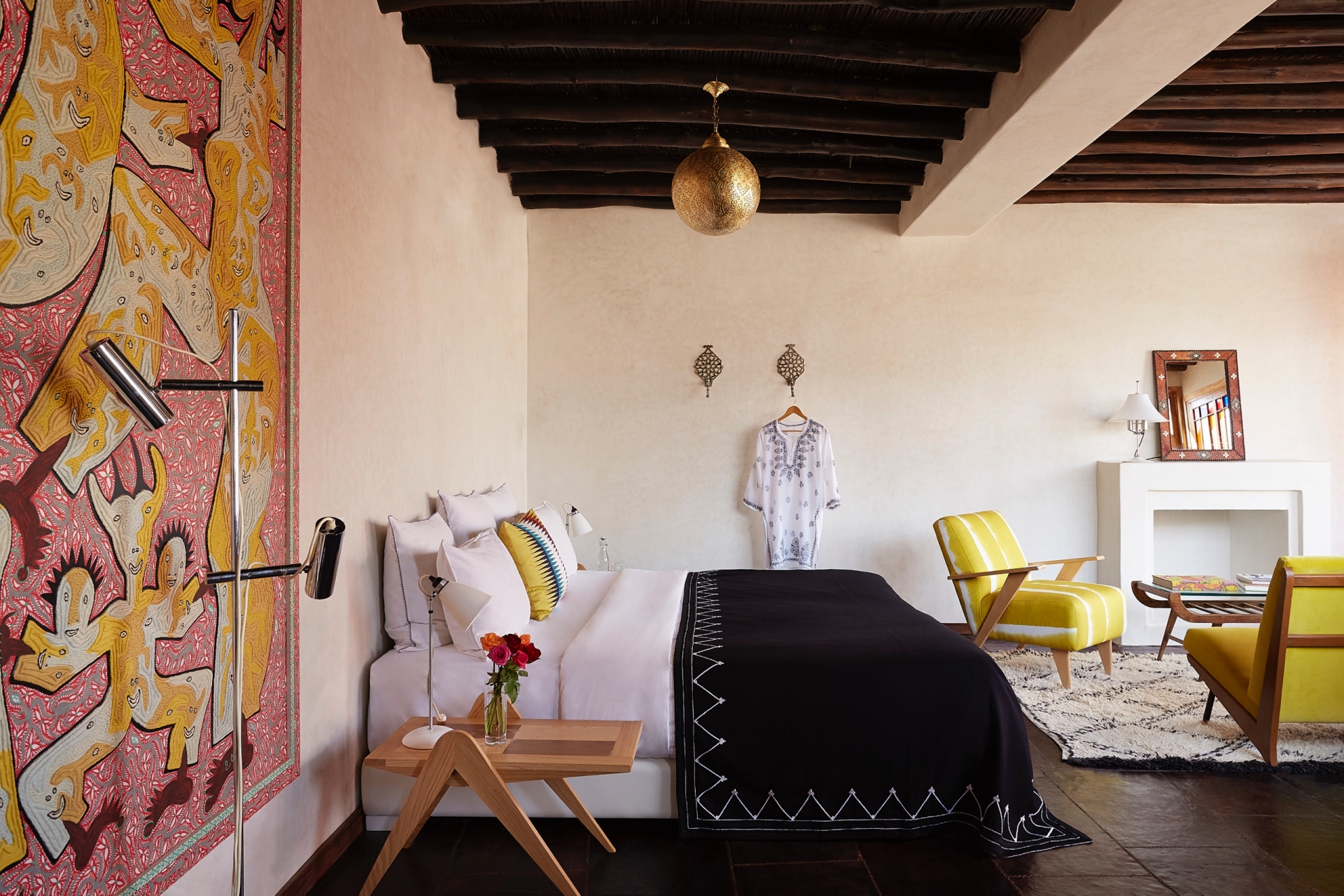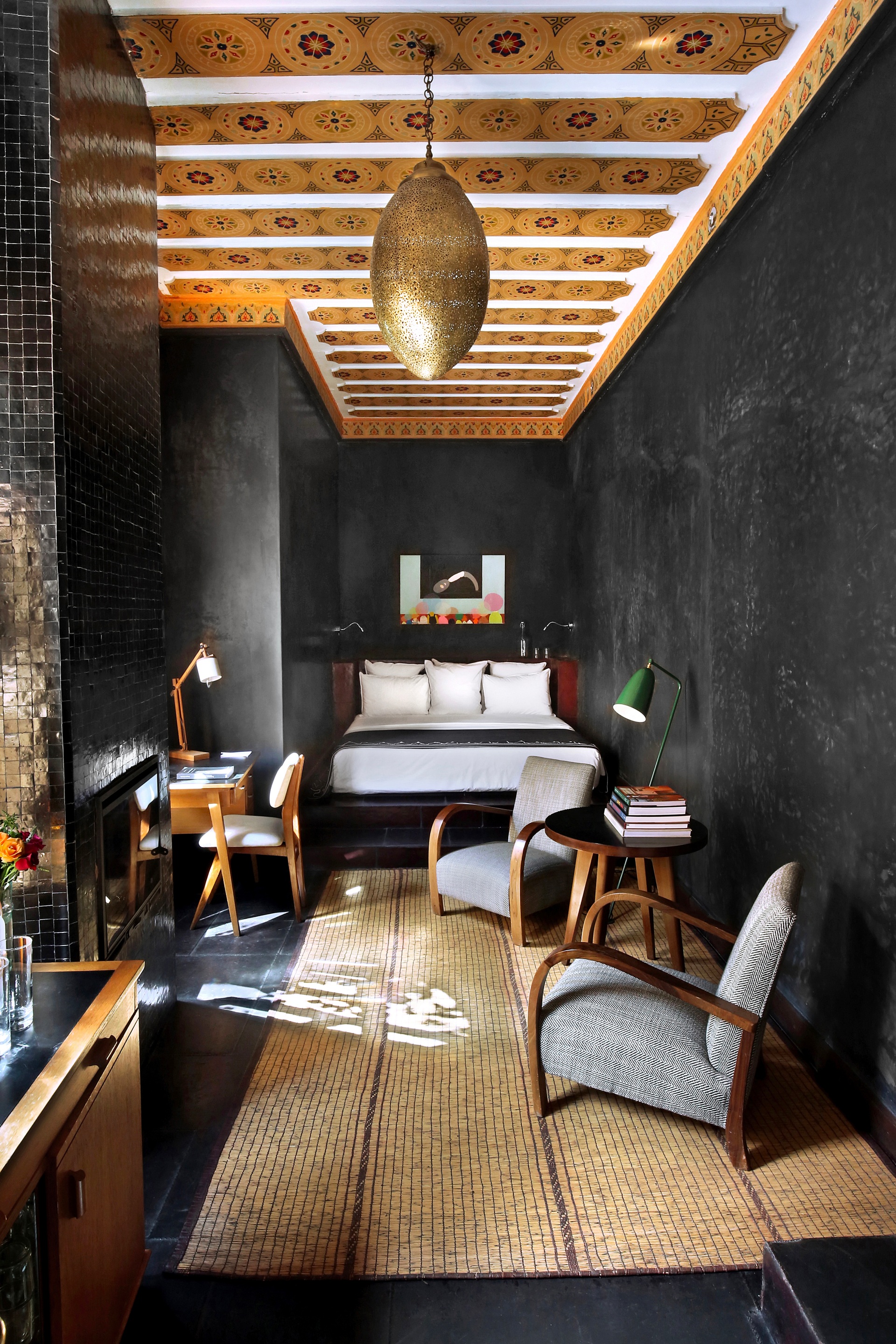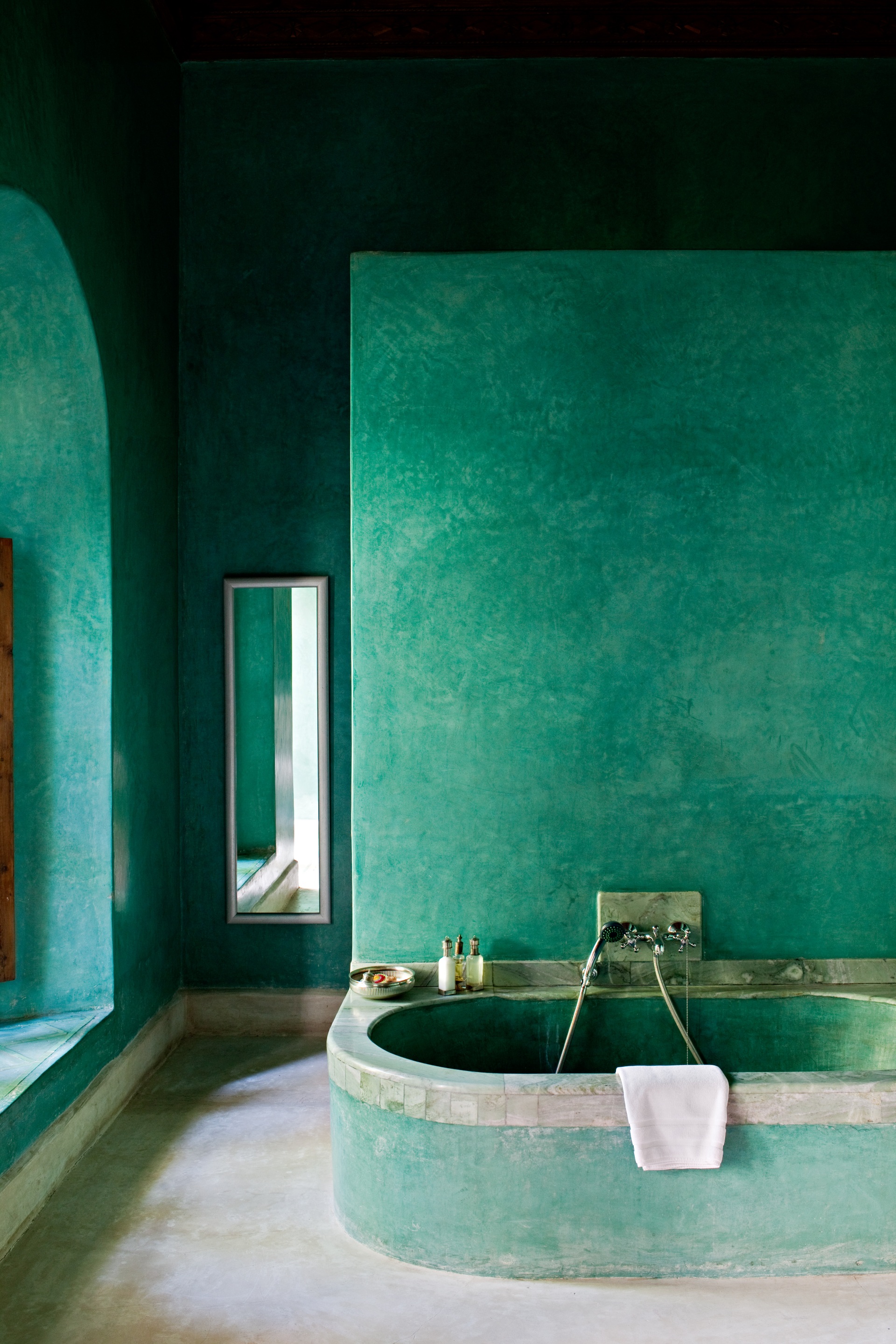 POOLSIDE
There are our pools in serene and shaded open-air courtyards. Two Carrara marble-lined pools have daybeds and a fire-pit on the roof, there's a plunge pool and an additional 13m rooftop pool with a Berber-tented sitting area and sweeping views of the Atlas Mountains and the Koutoubia mosque.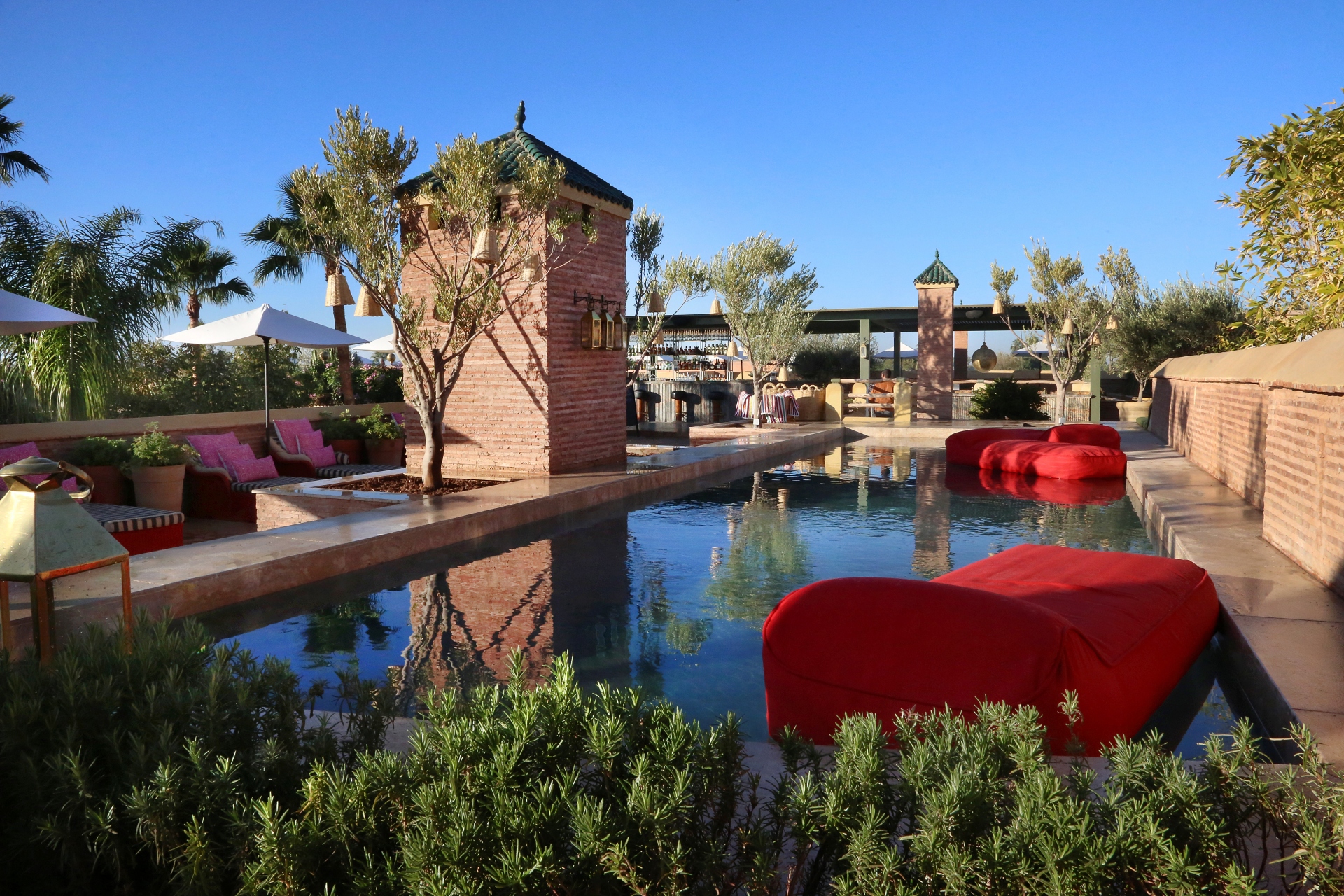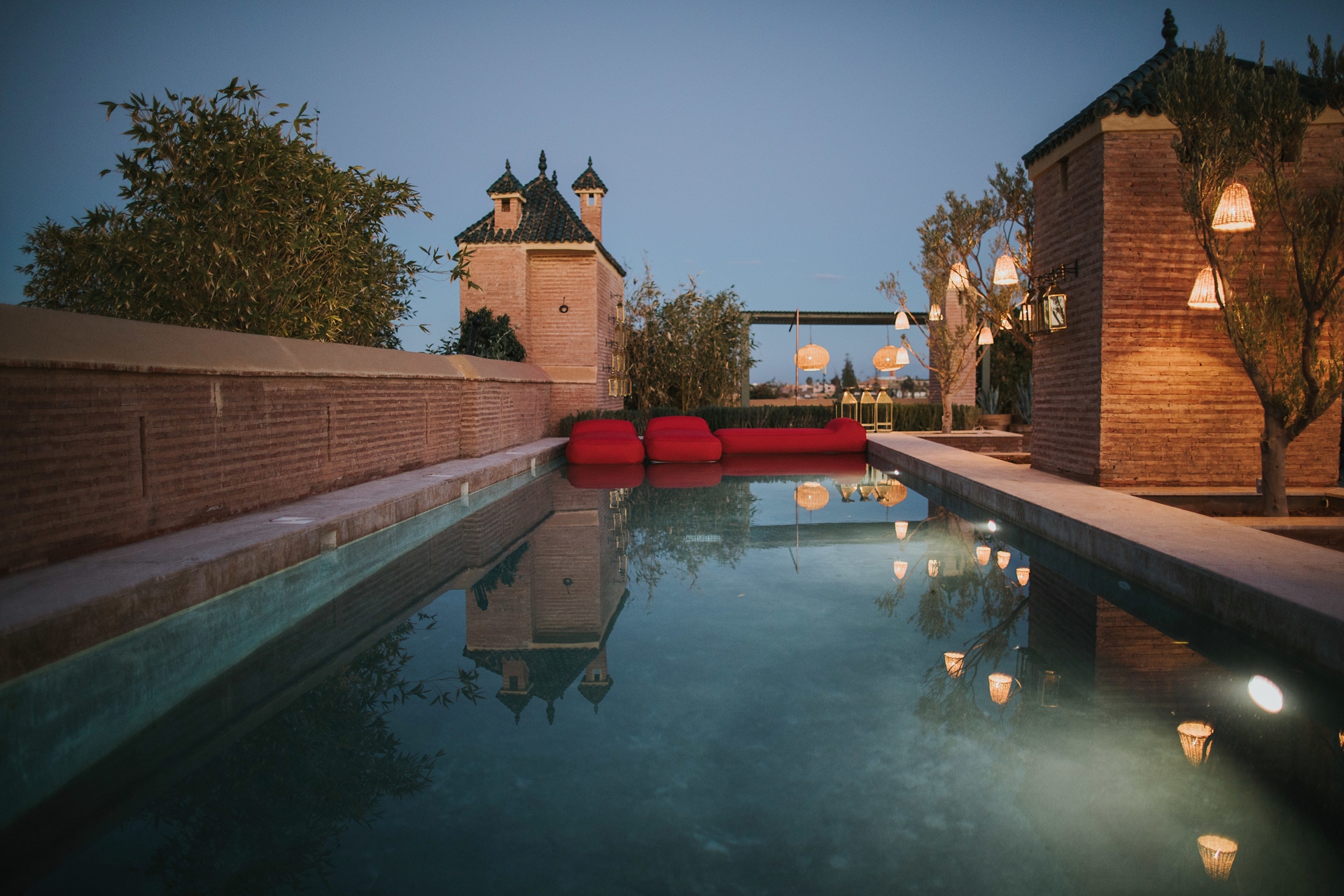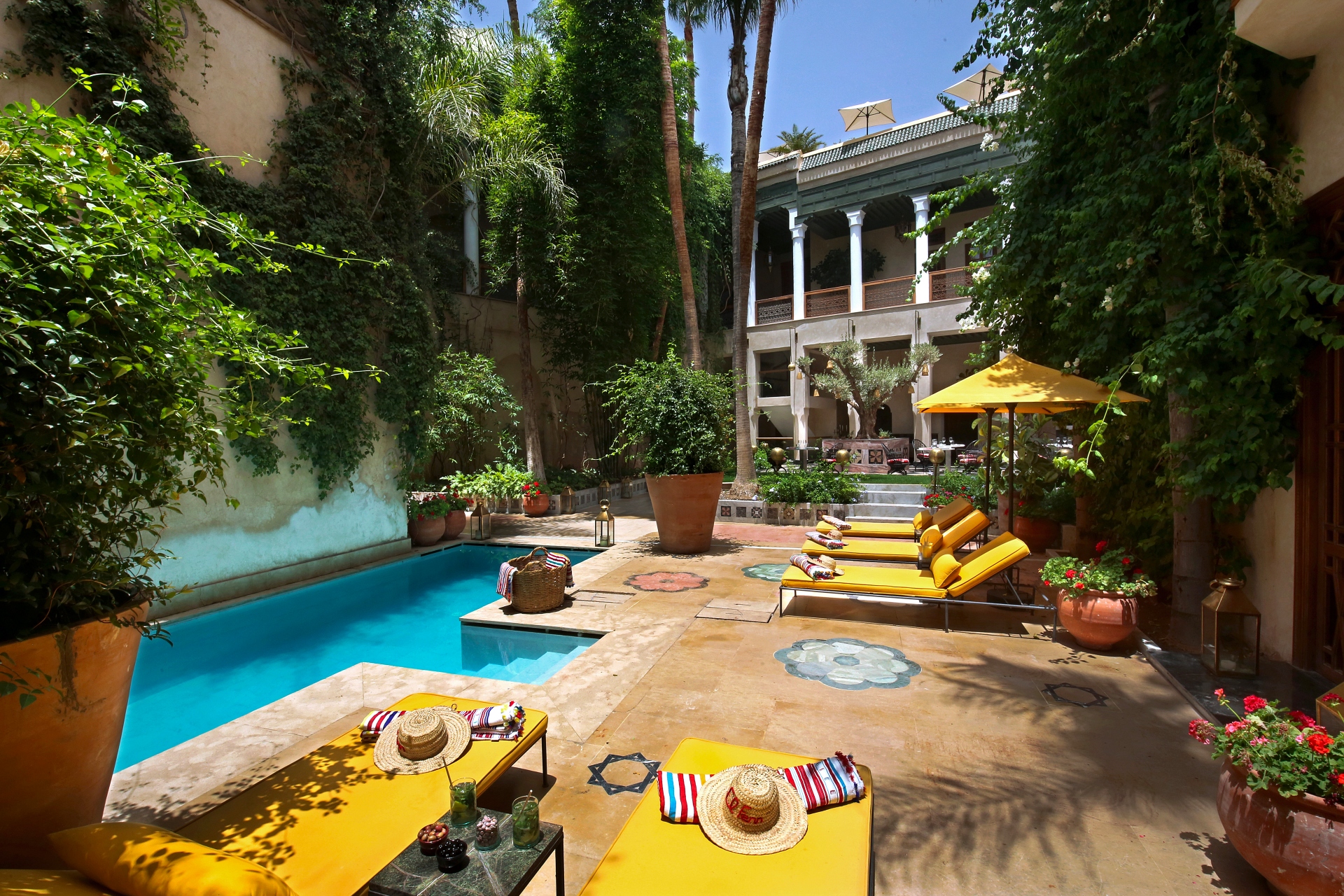 SPA
The spa is tucked away in its own serenely shaded courtyard with its pool to lounge alongside it between treatments.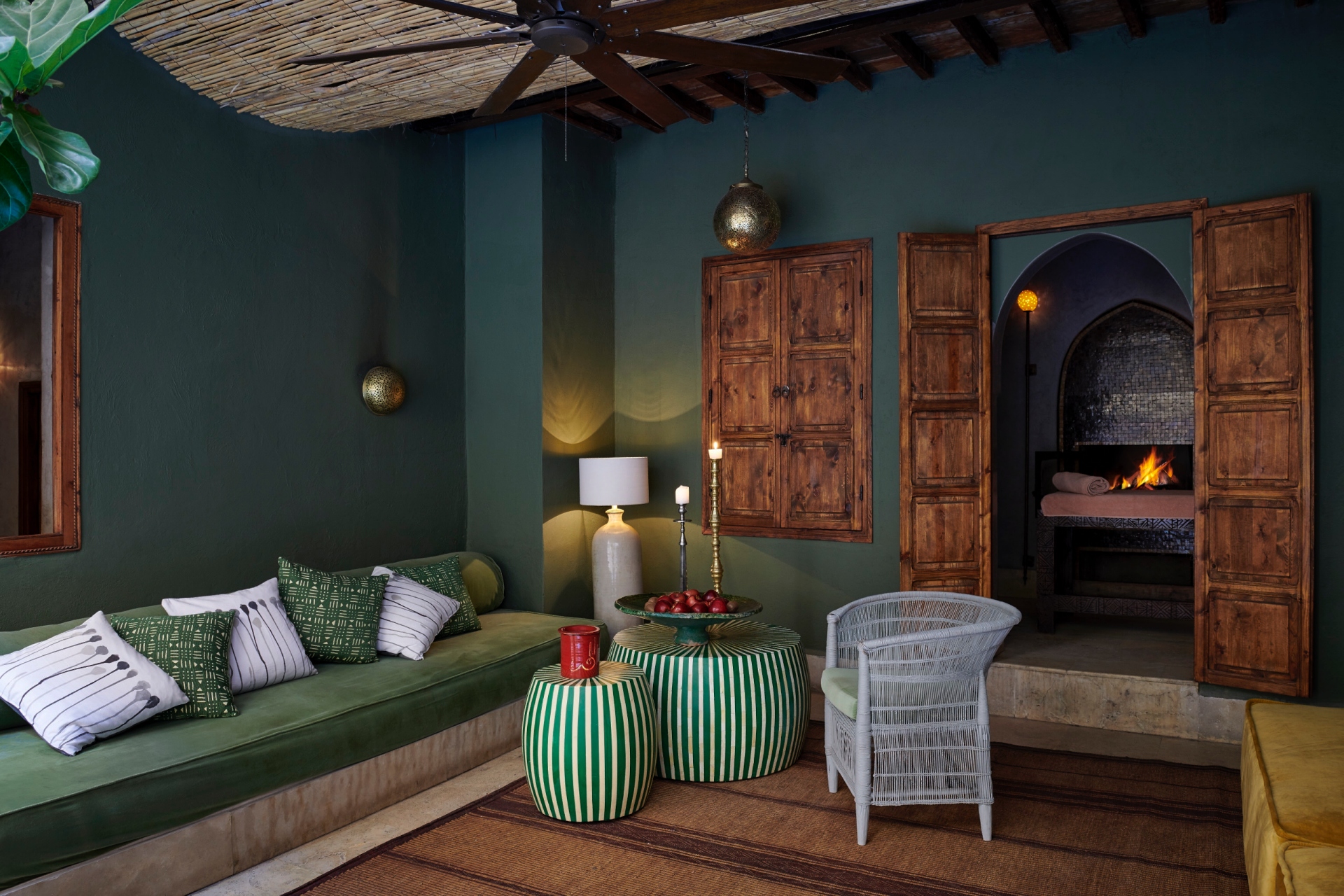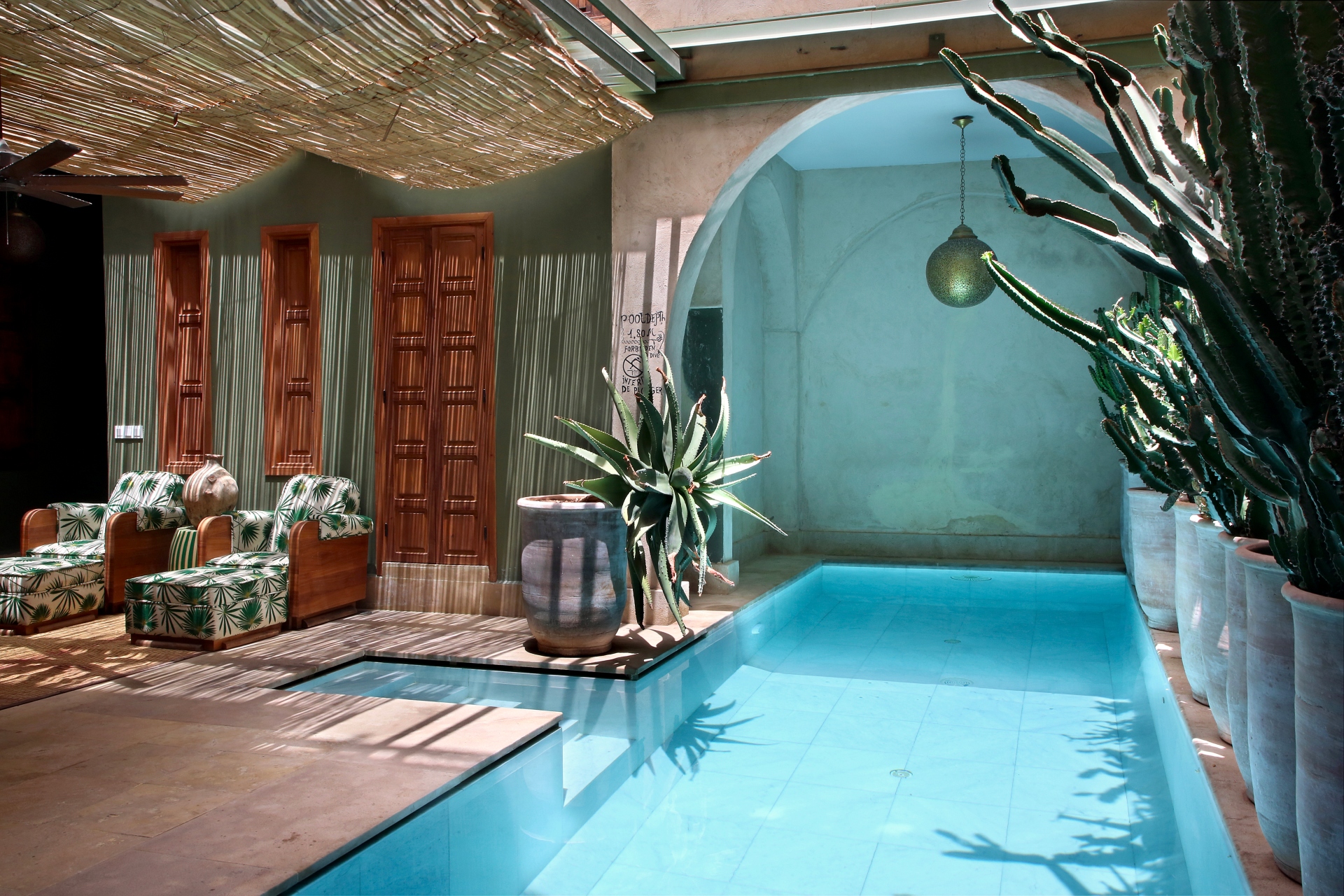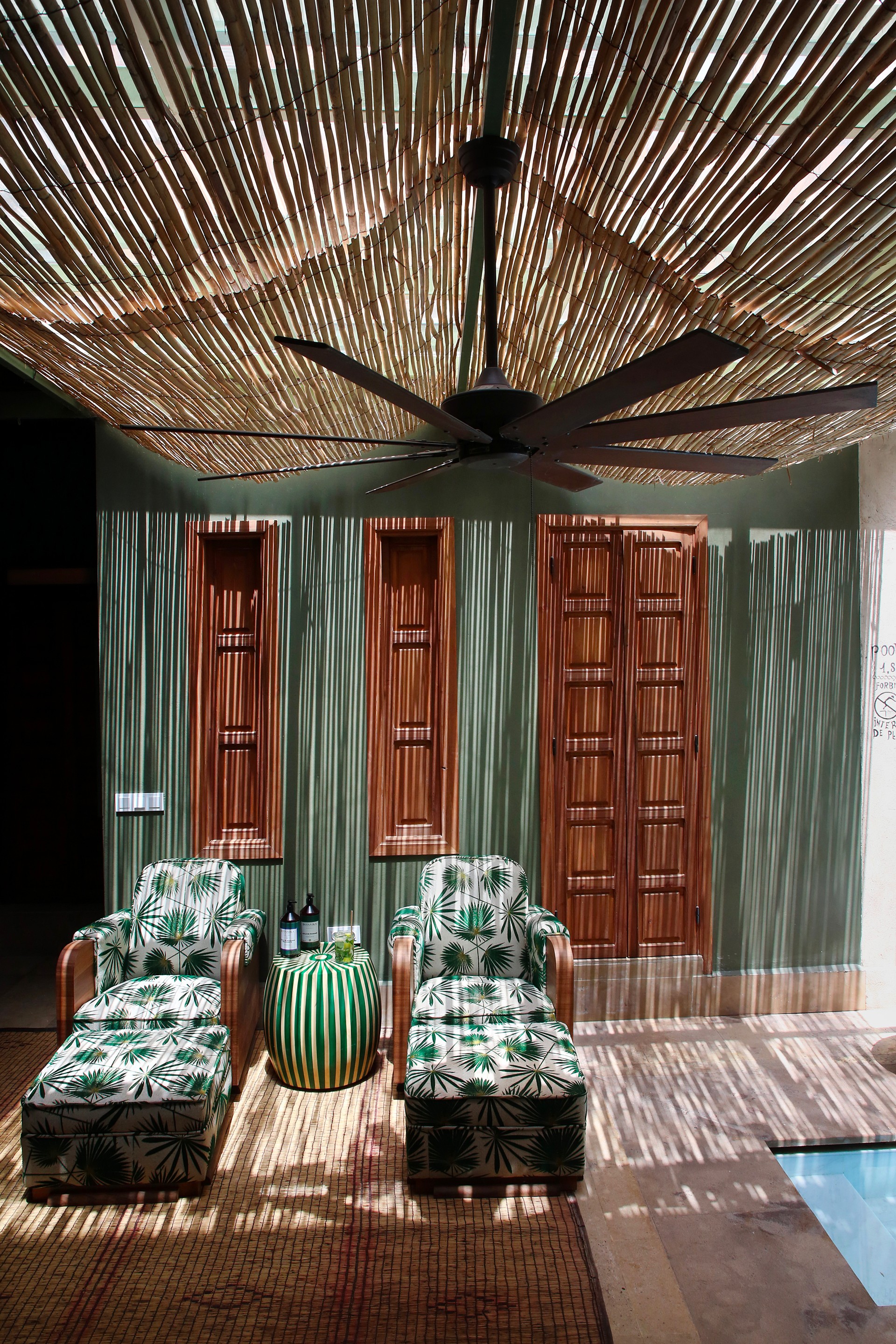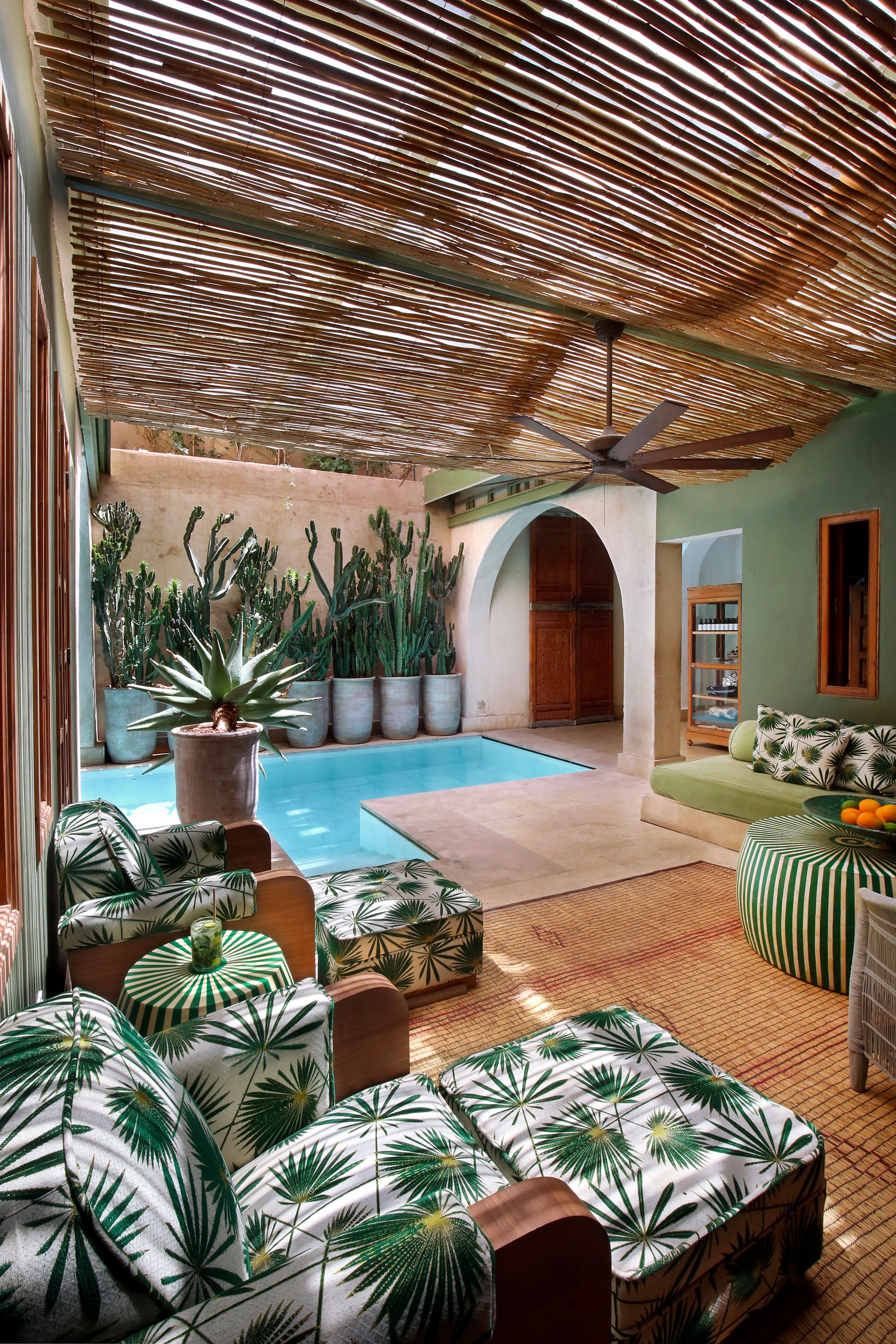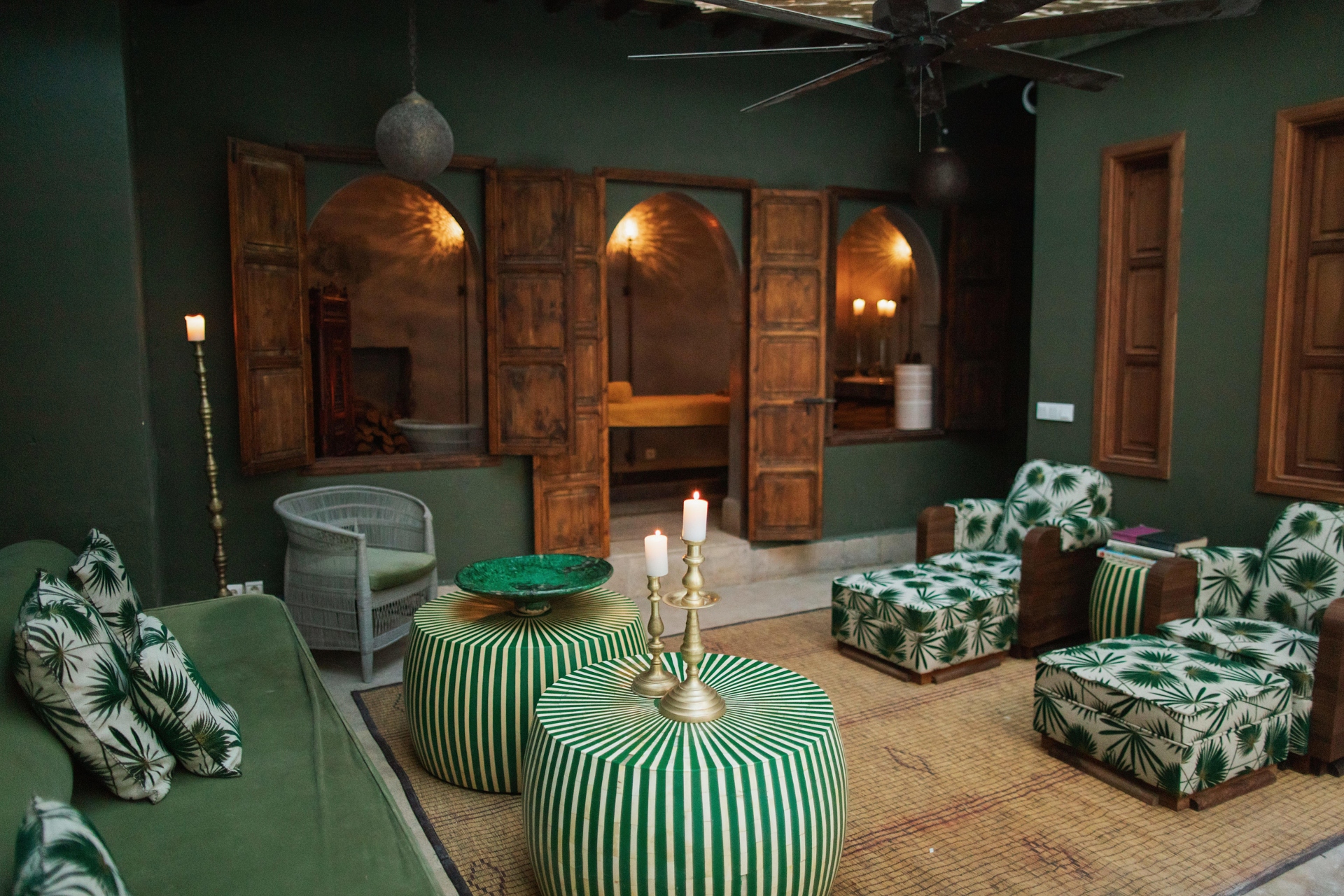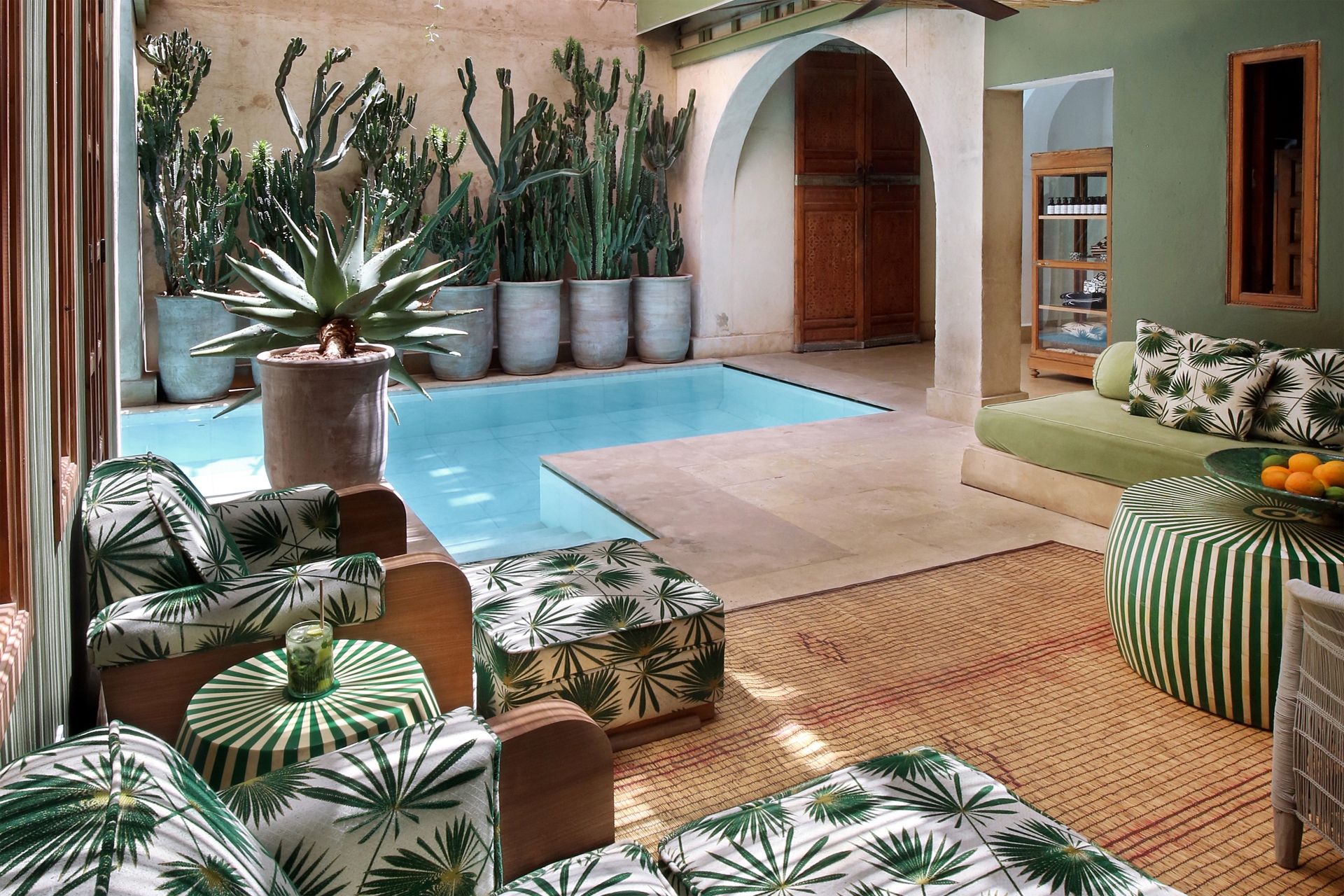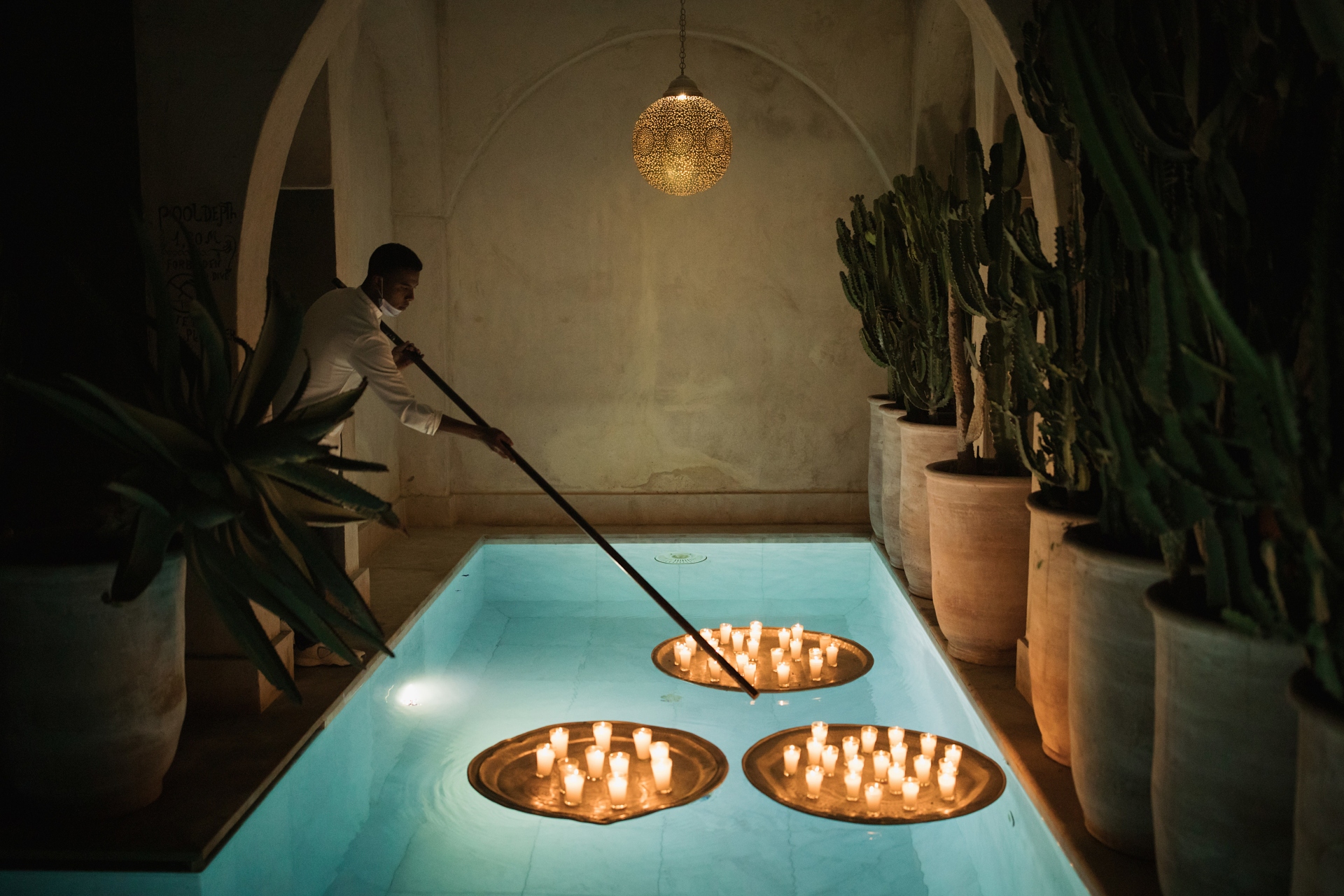 FAVOURITE ROOMS
The Pool Suite, Room 6, is a split-level retreat with a 600-foot private terrace with a little (unheated) pool. Room 11 has a dramatic, scarlet-upholstered headboard, white marble fireplace, and private veranda. Room 10 is similar but turquoise. In the main riad, most of The 'Pink Room', an Extra Large Suite, has shades ranging from fuchsia to soft pink, contrasted with a grey-marble bathroom, a mini hammam and a bathtub lined in marble shot through with rosy hues.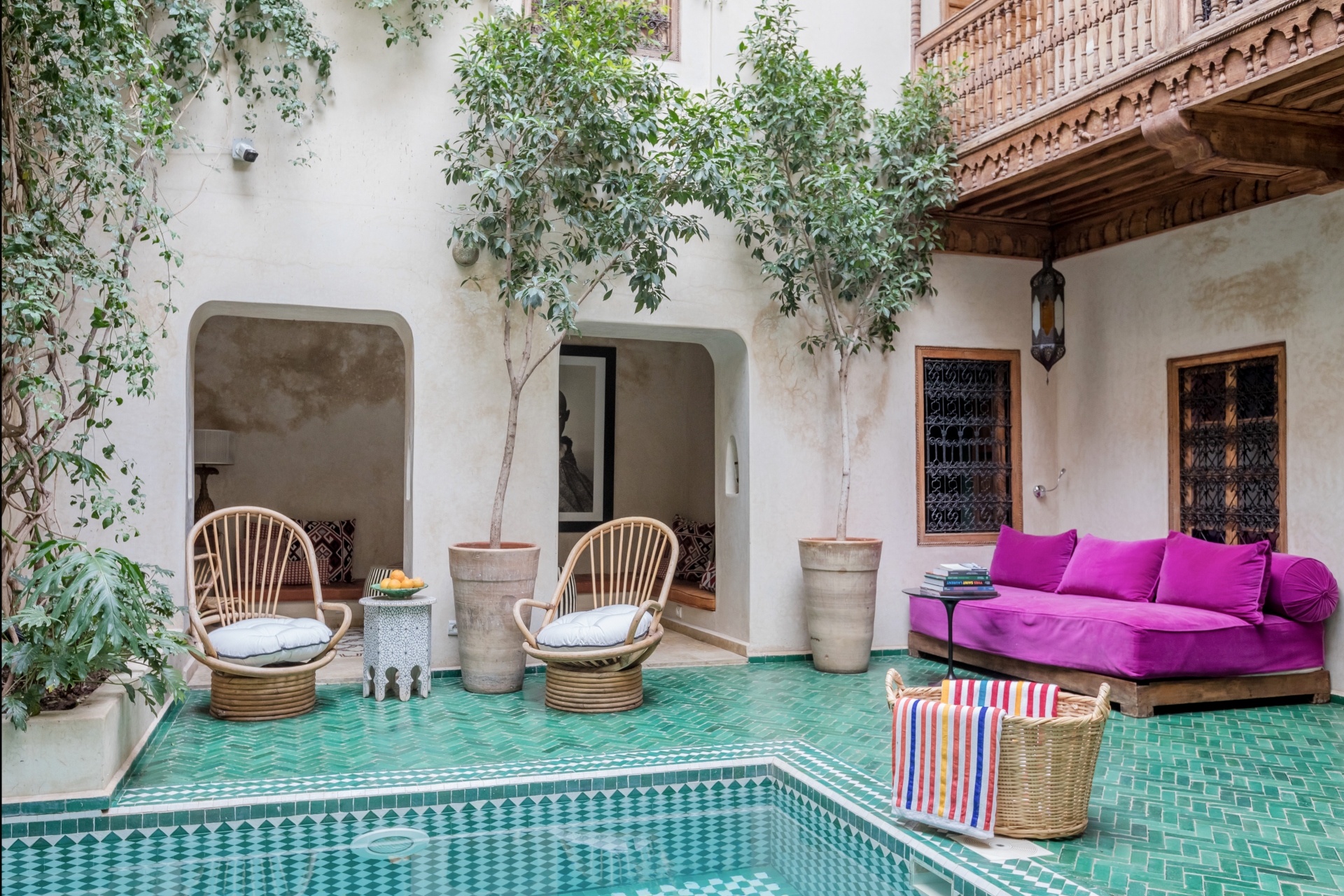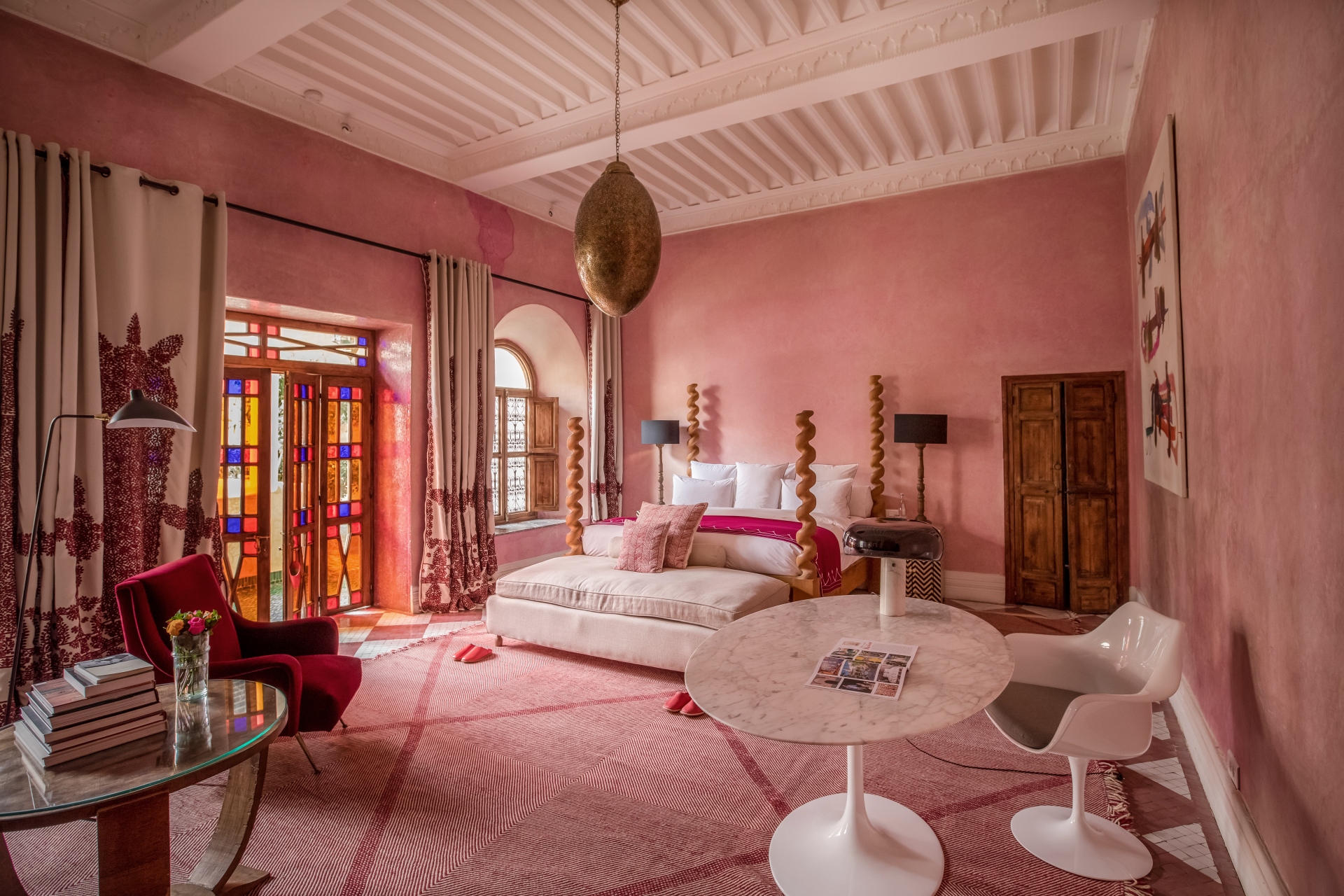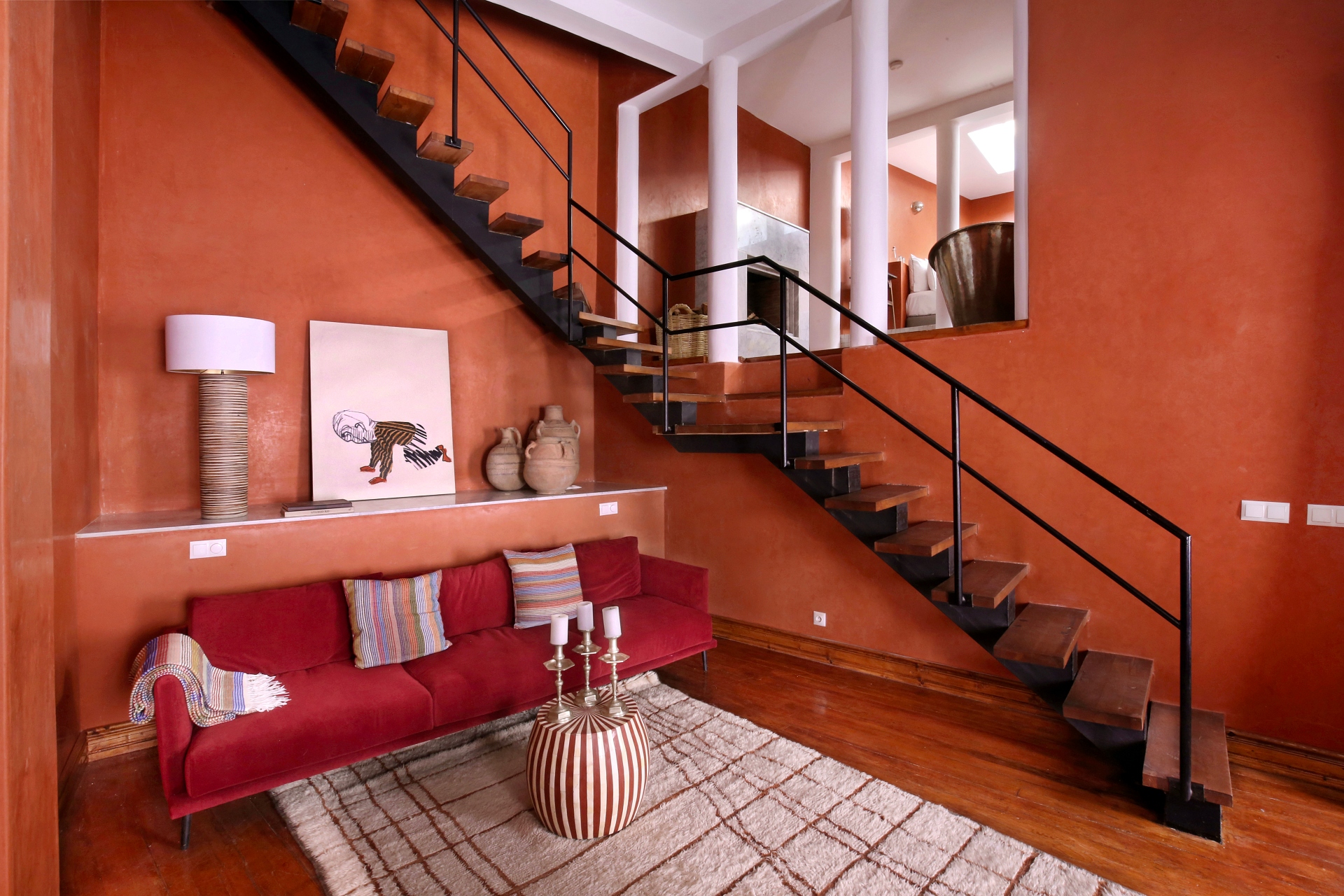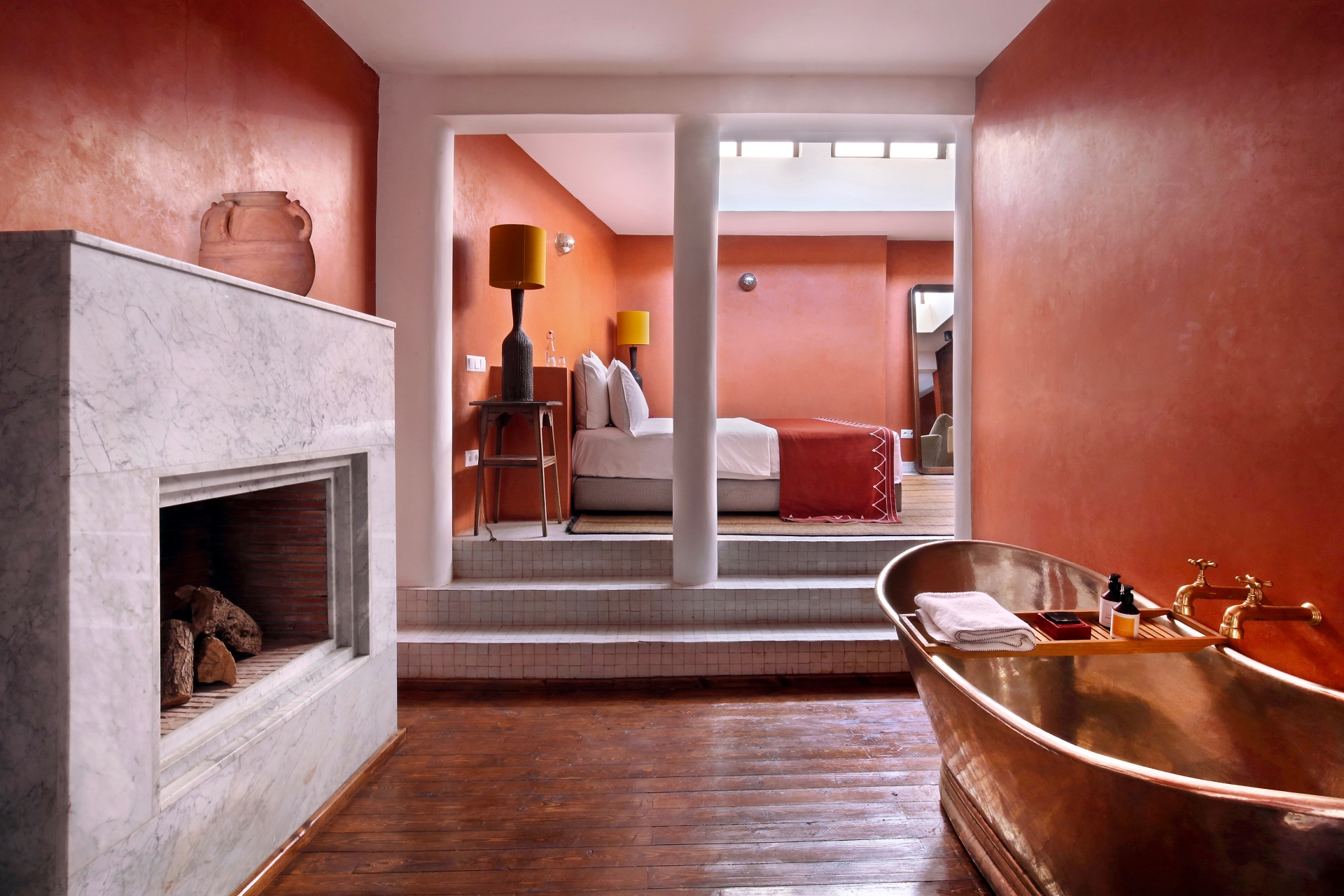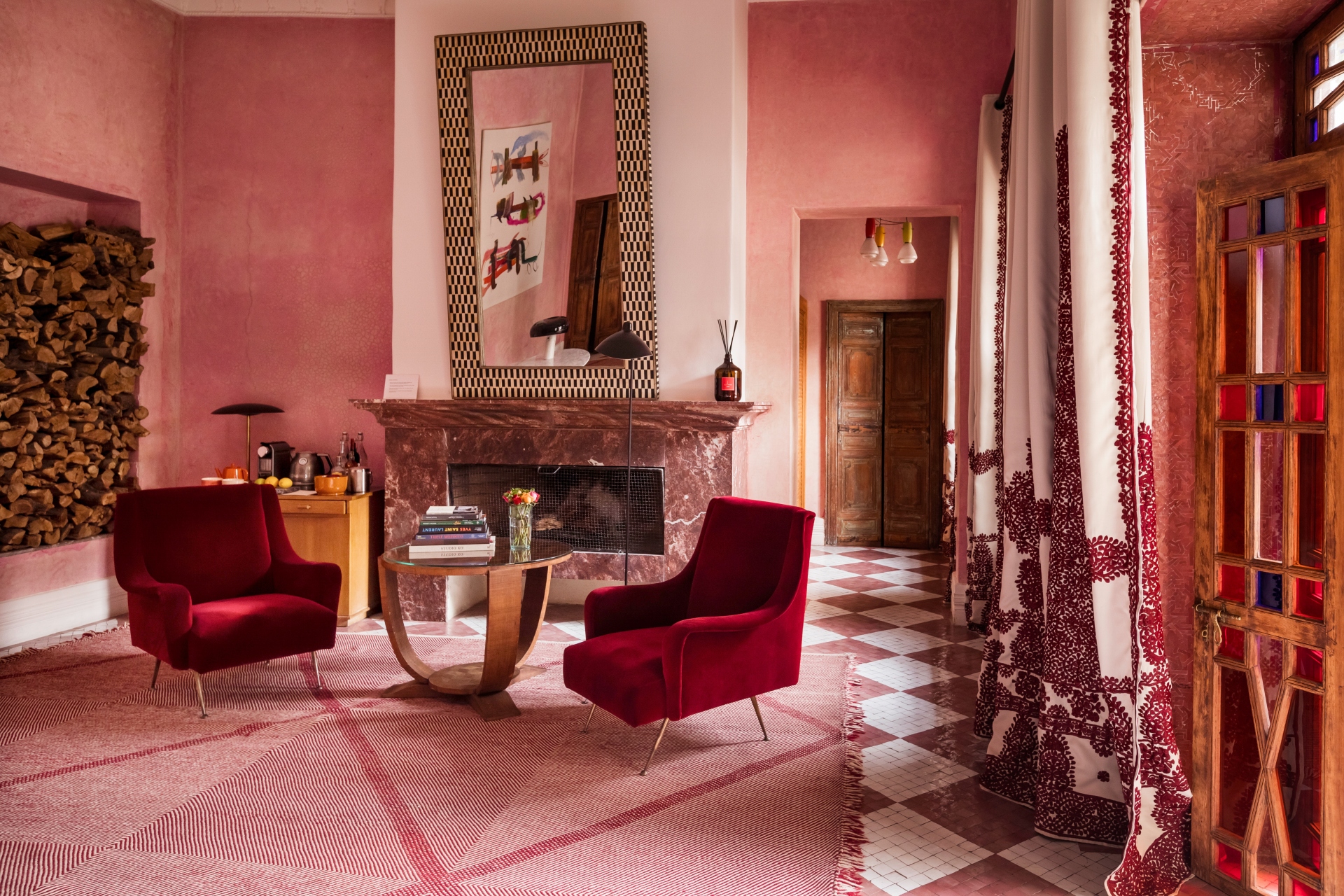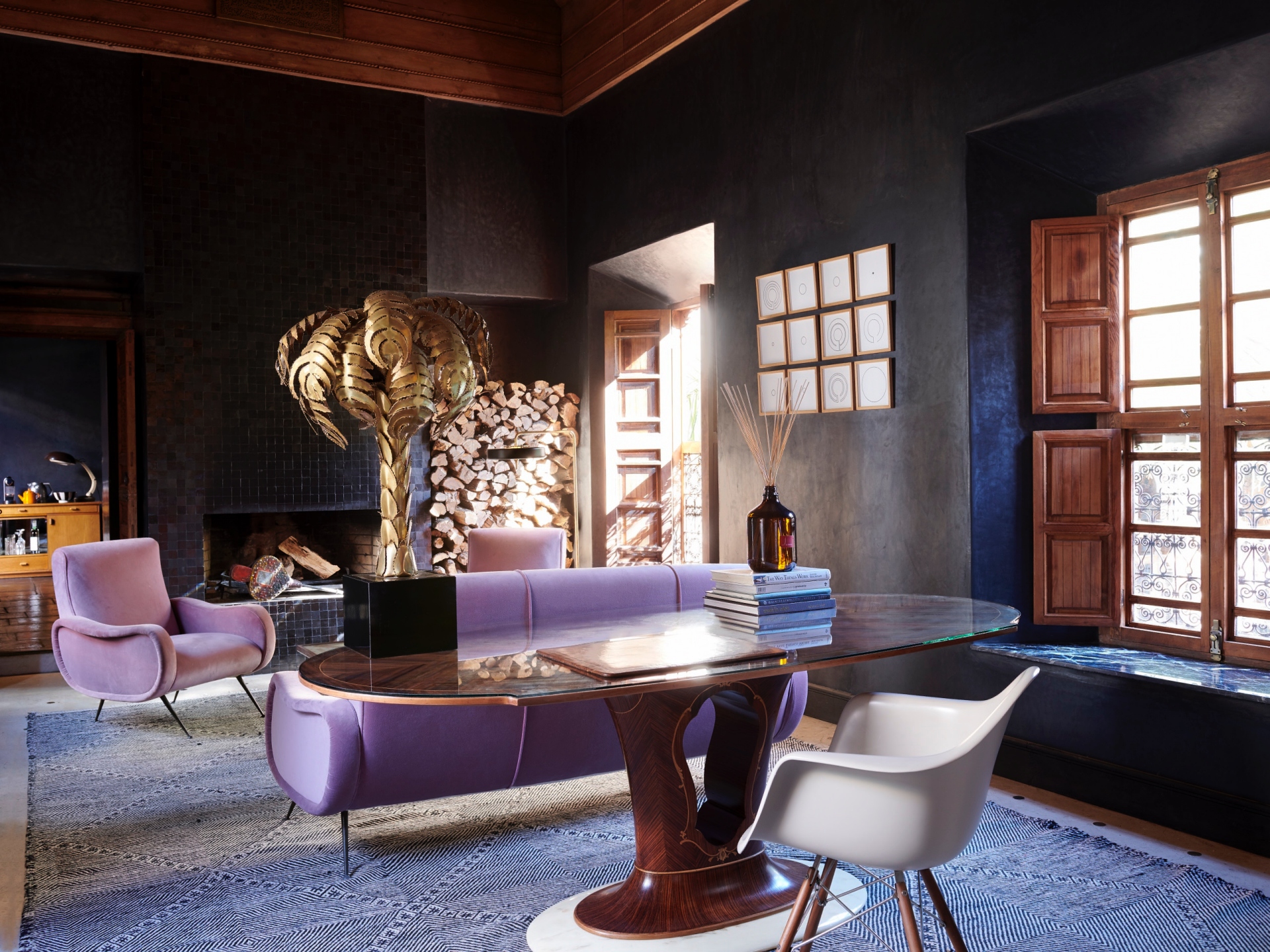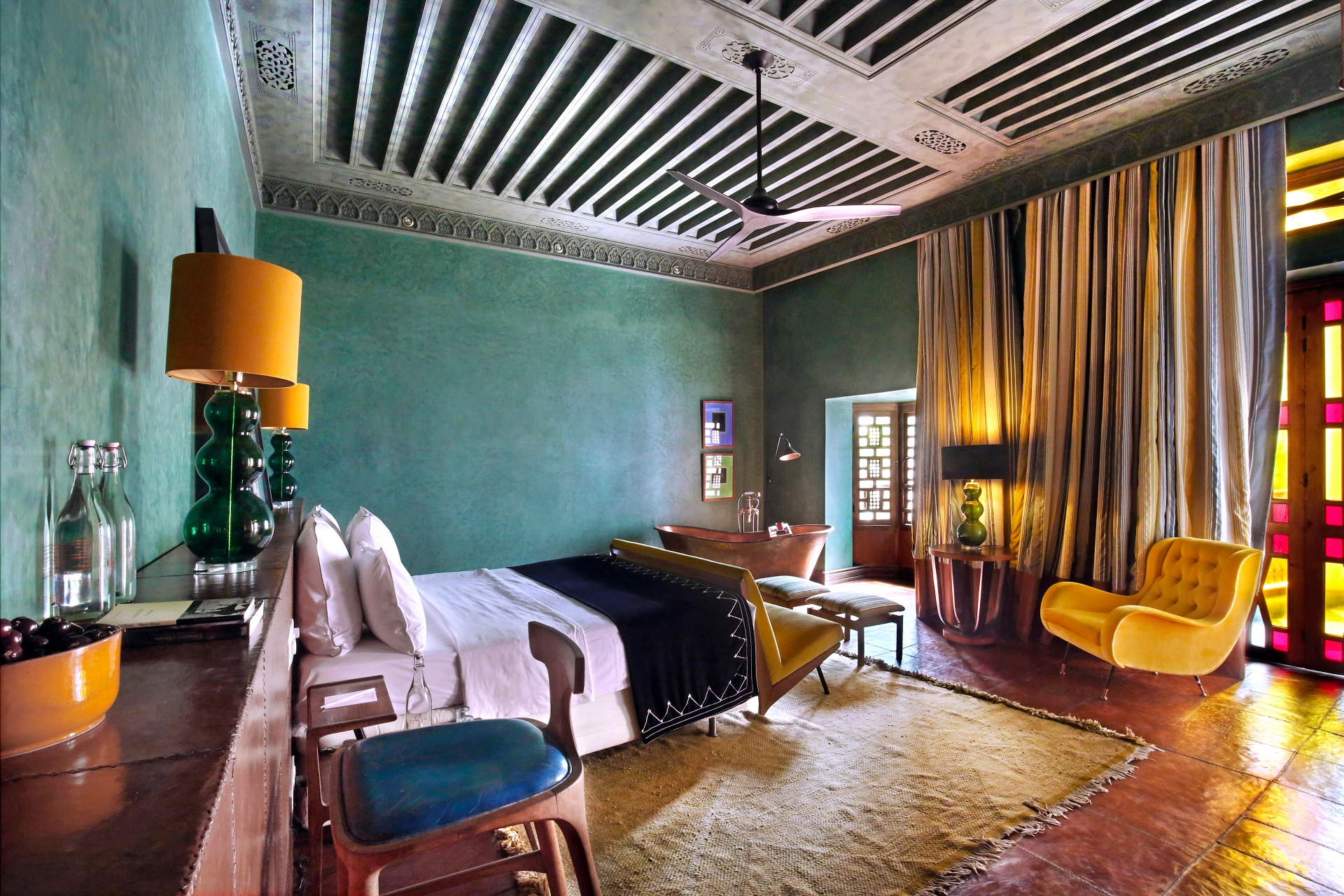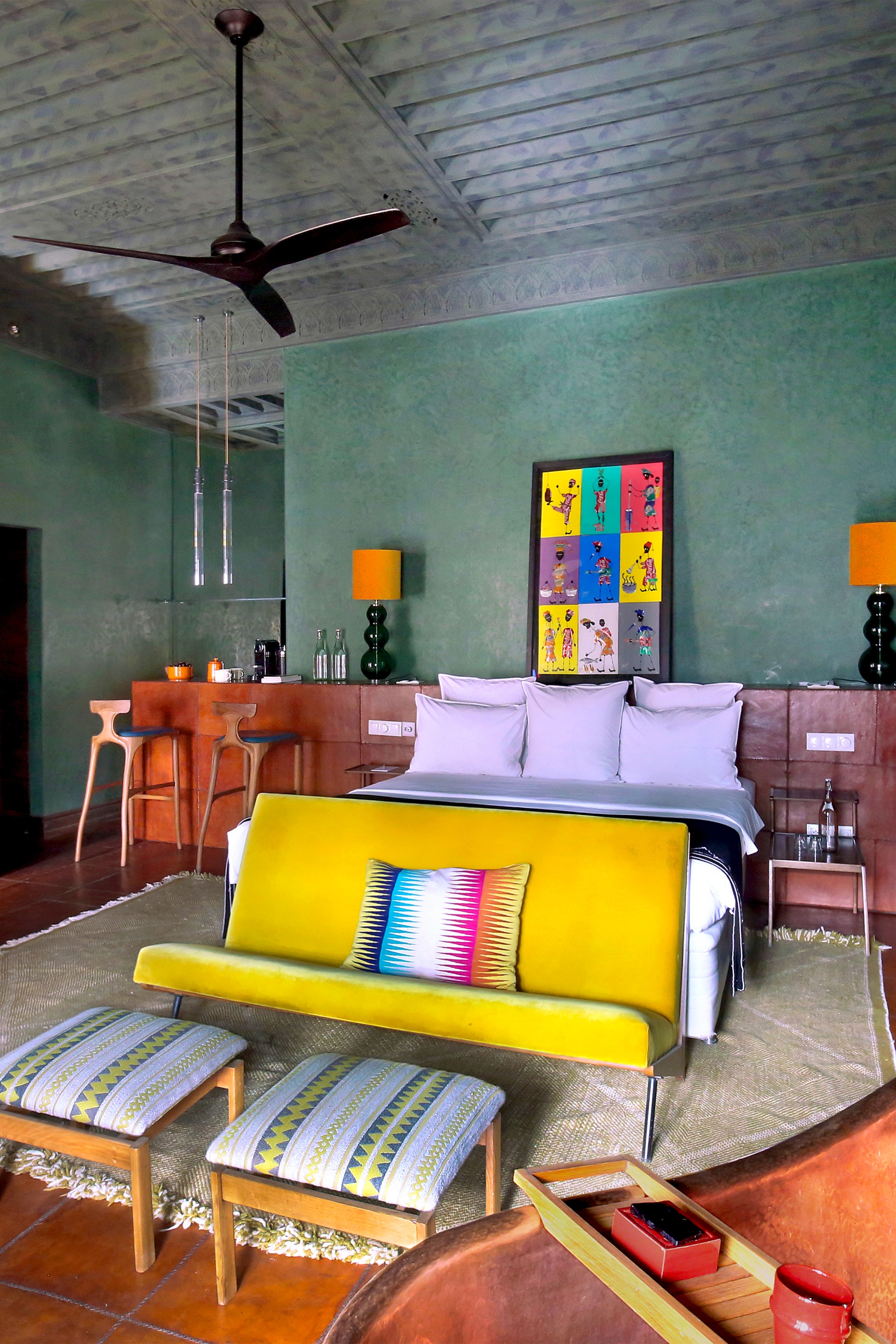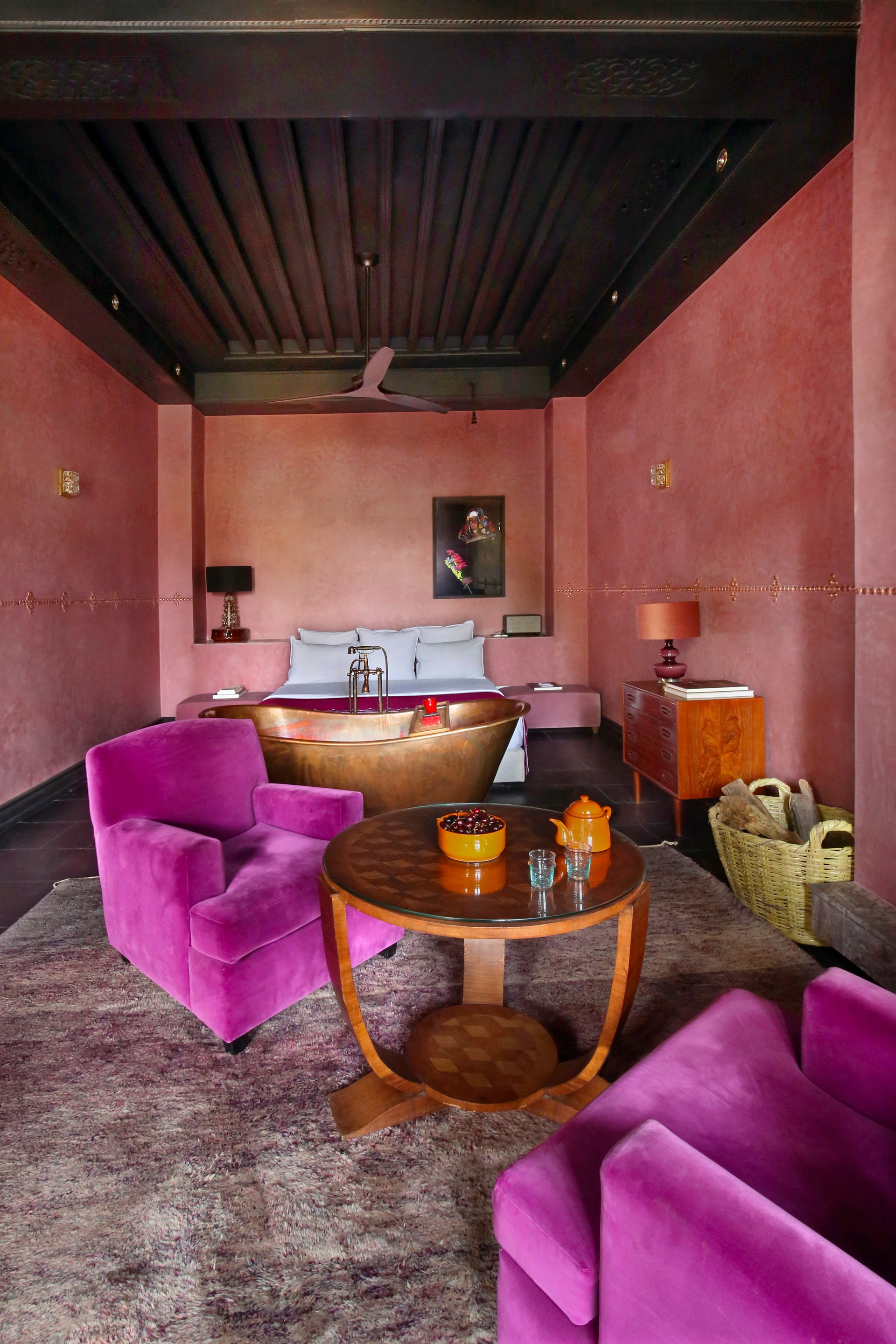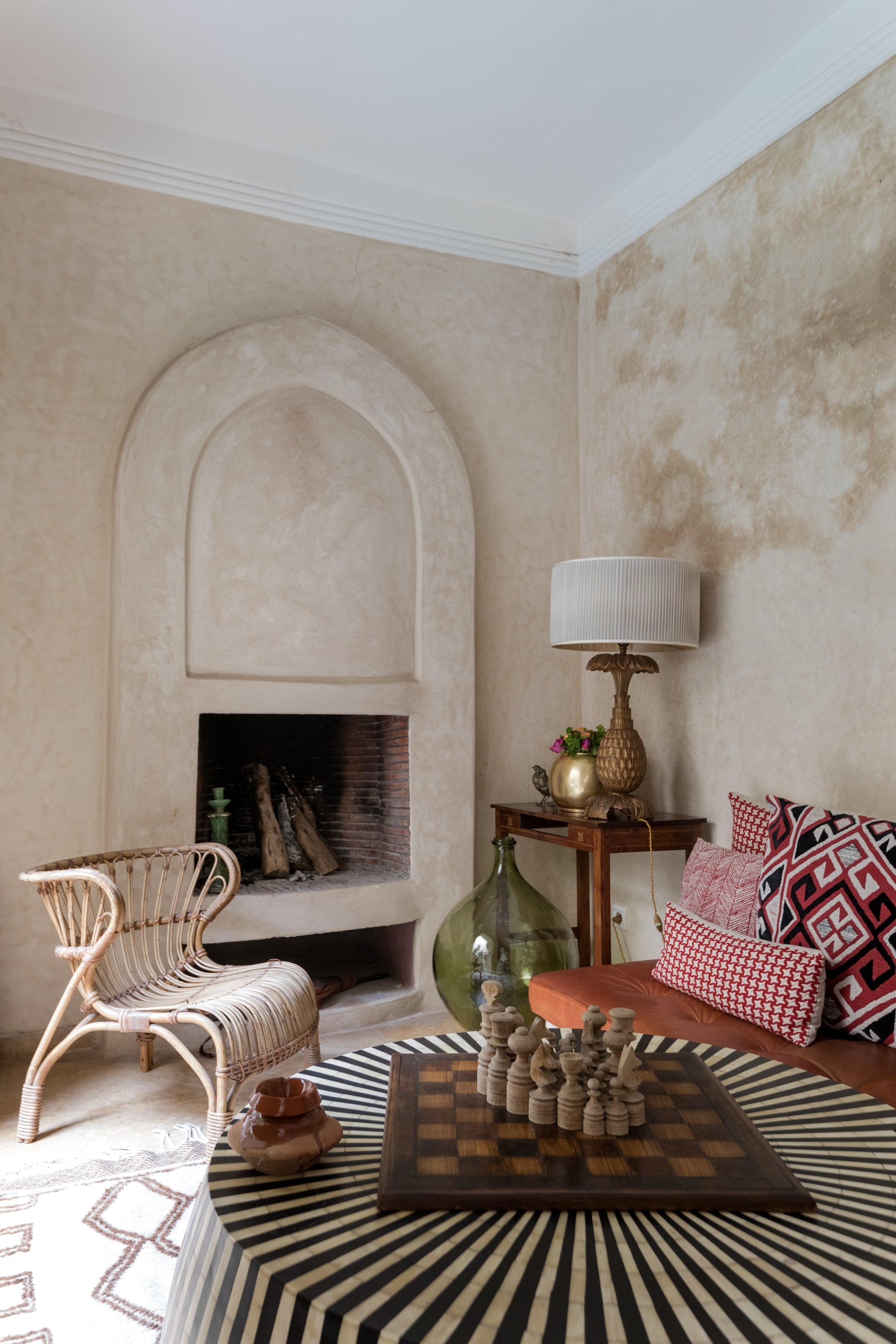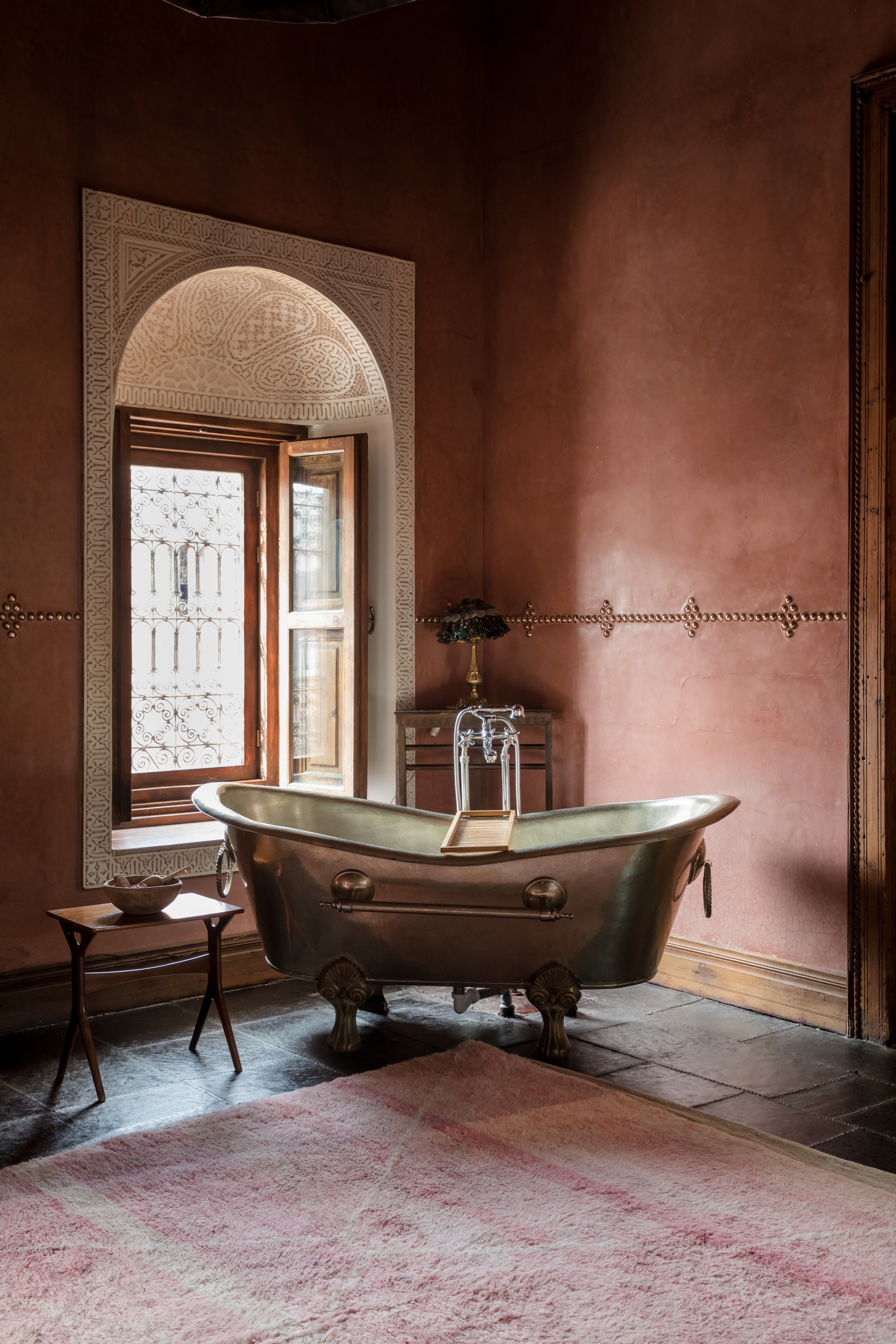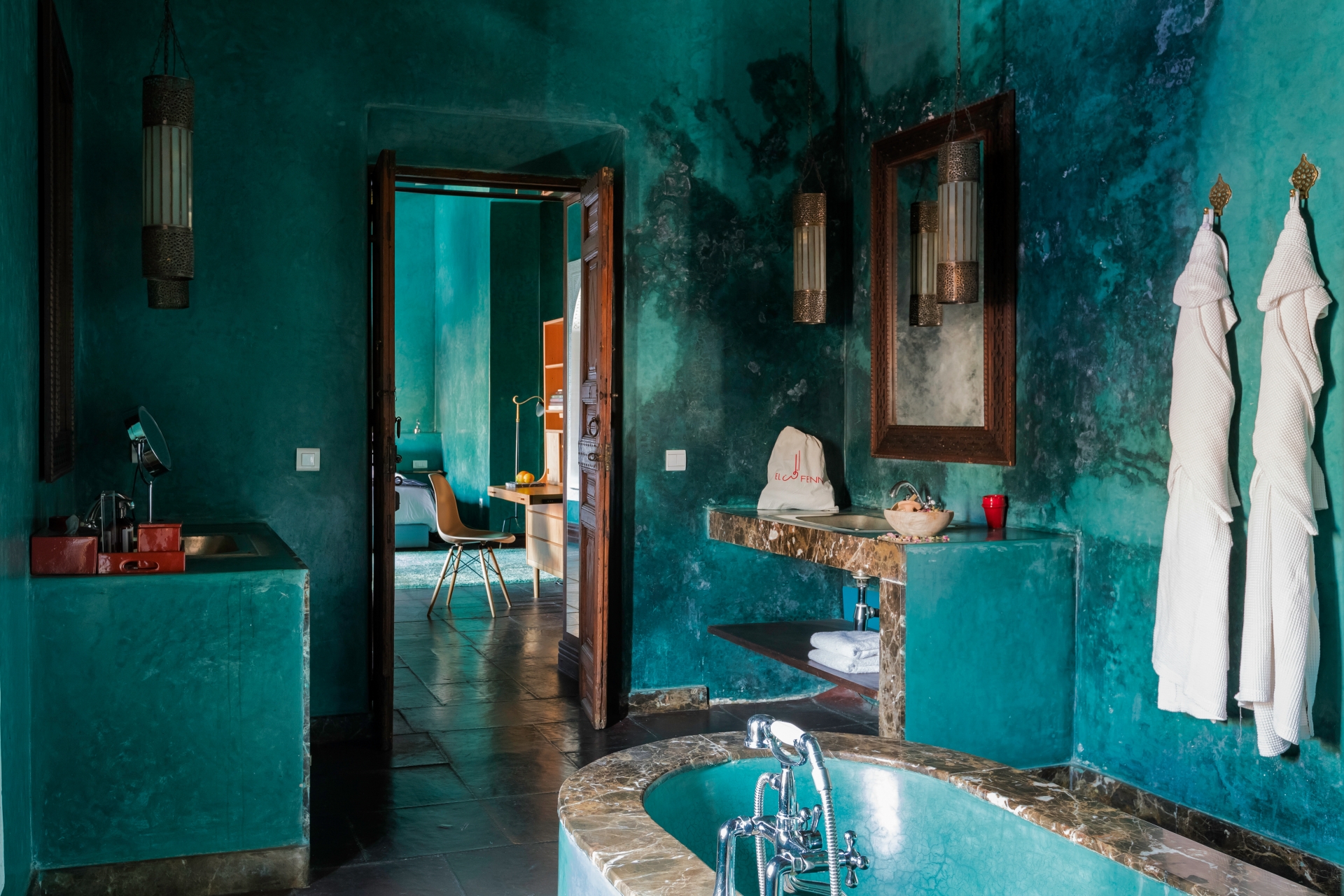 THE ART
Vanessa Branson is an avid art collector who opened her first gallery in London in 1986. Her curated collection for El Fenn includes works by artists including William Kentridge, Fred Pollock, David Shrigley and Bridgid Riley, and Anthony Gormley is considered one of the best contemporary art collections in Morocco. Photography, sculptures and paintings form part of the rolling exhibitions they host several times a year, and Branson also included pieces from her private art collection. El Fenn is the hub for the Marrakech Biennale.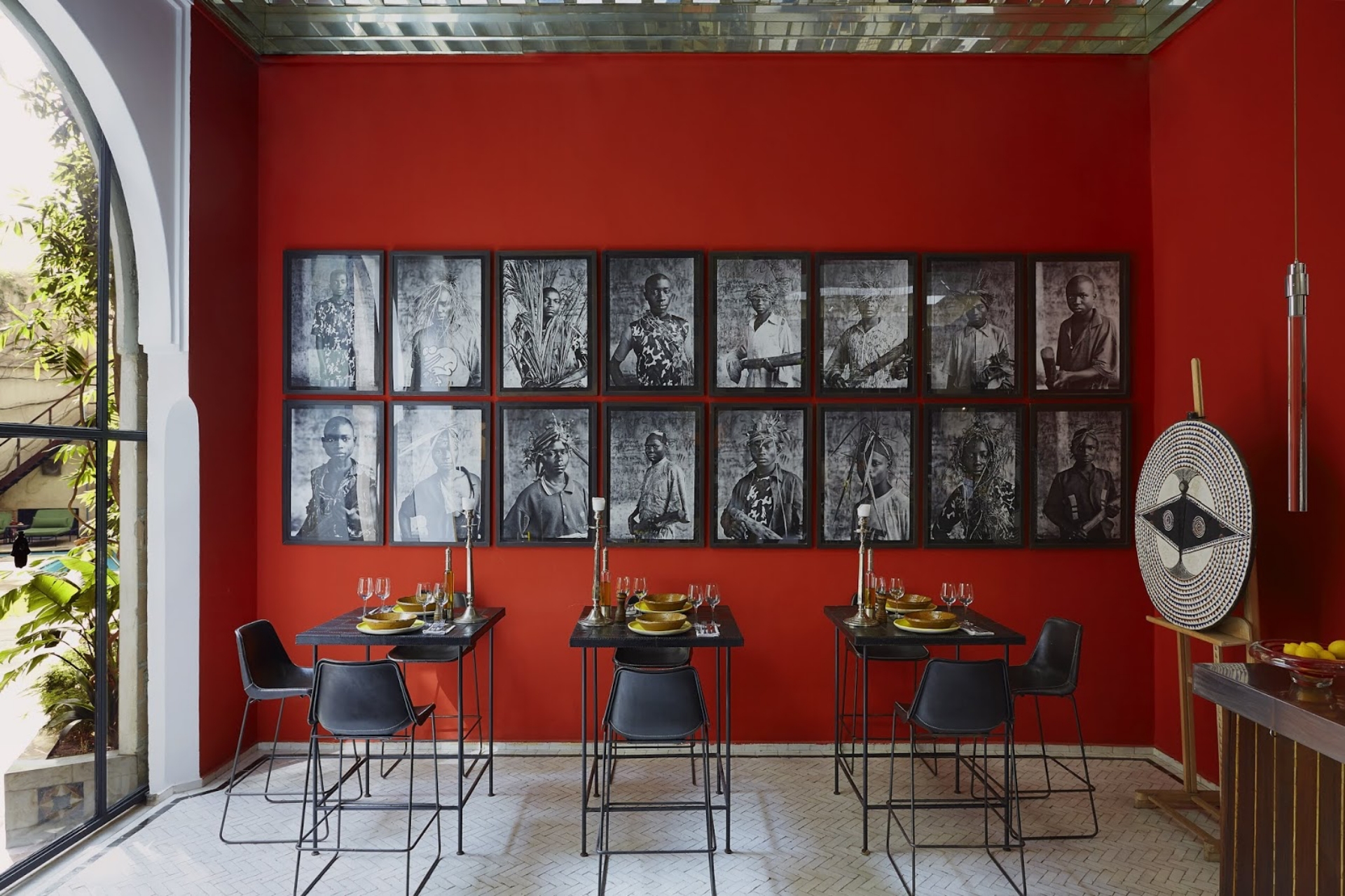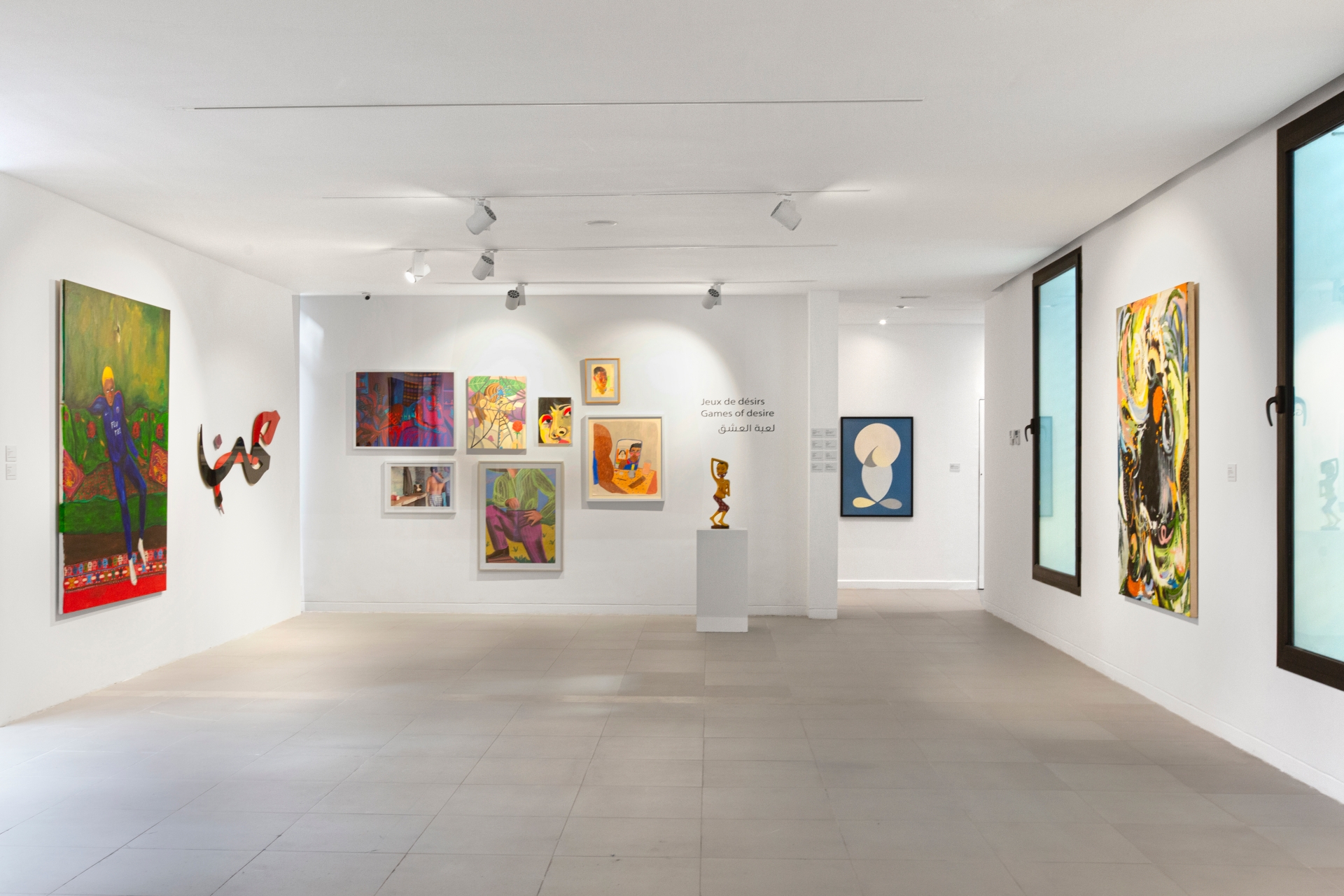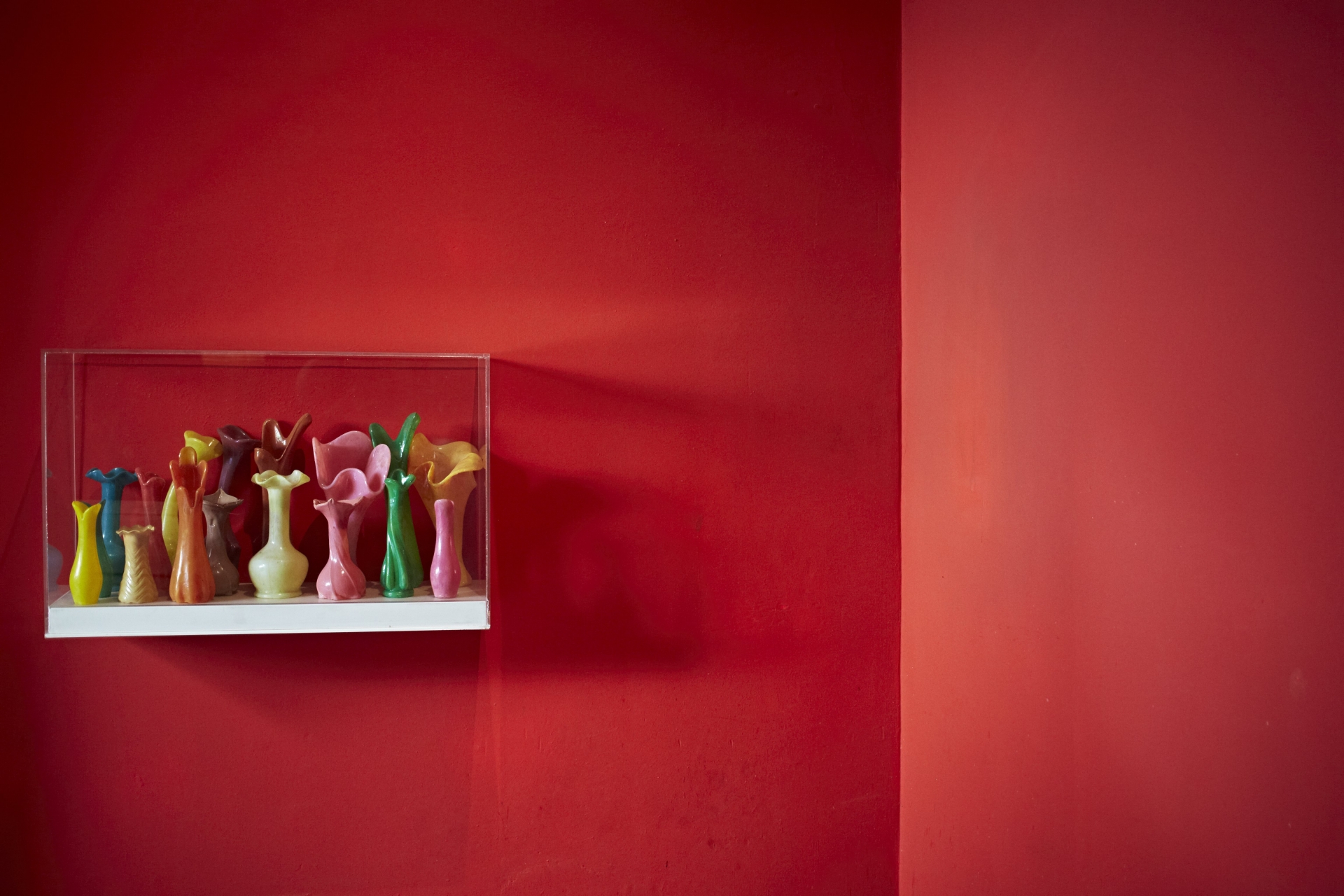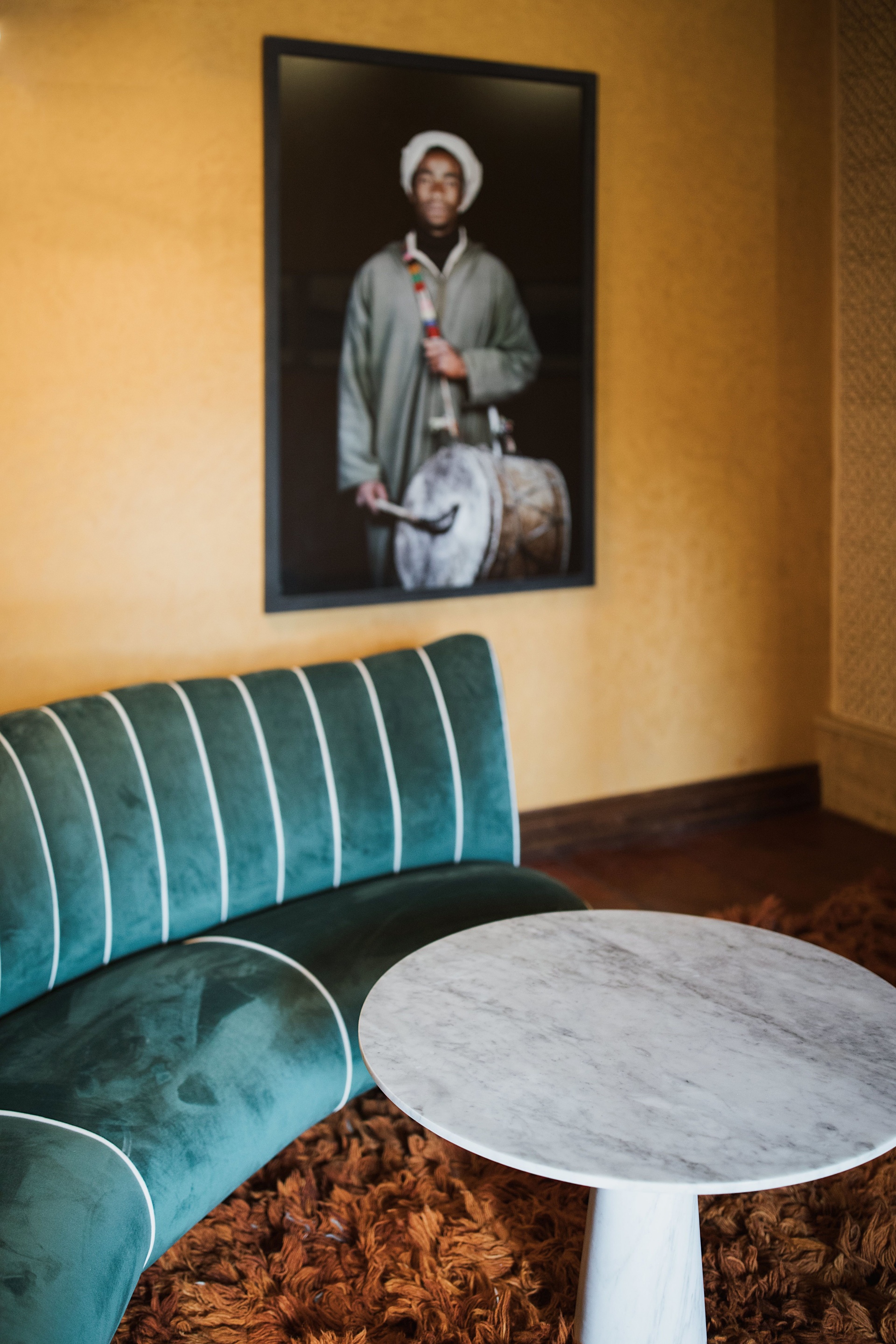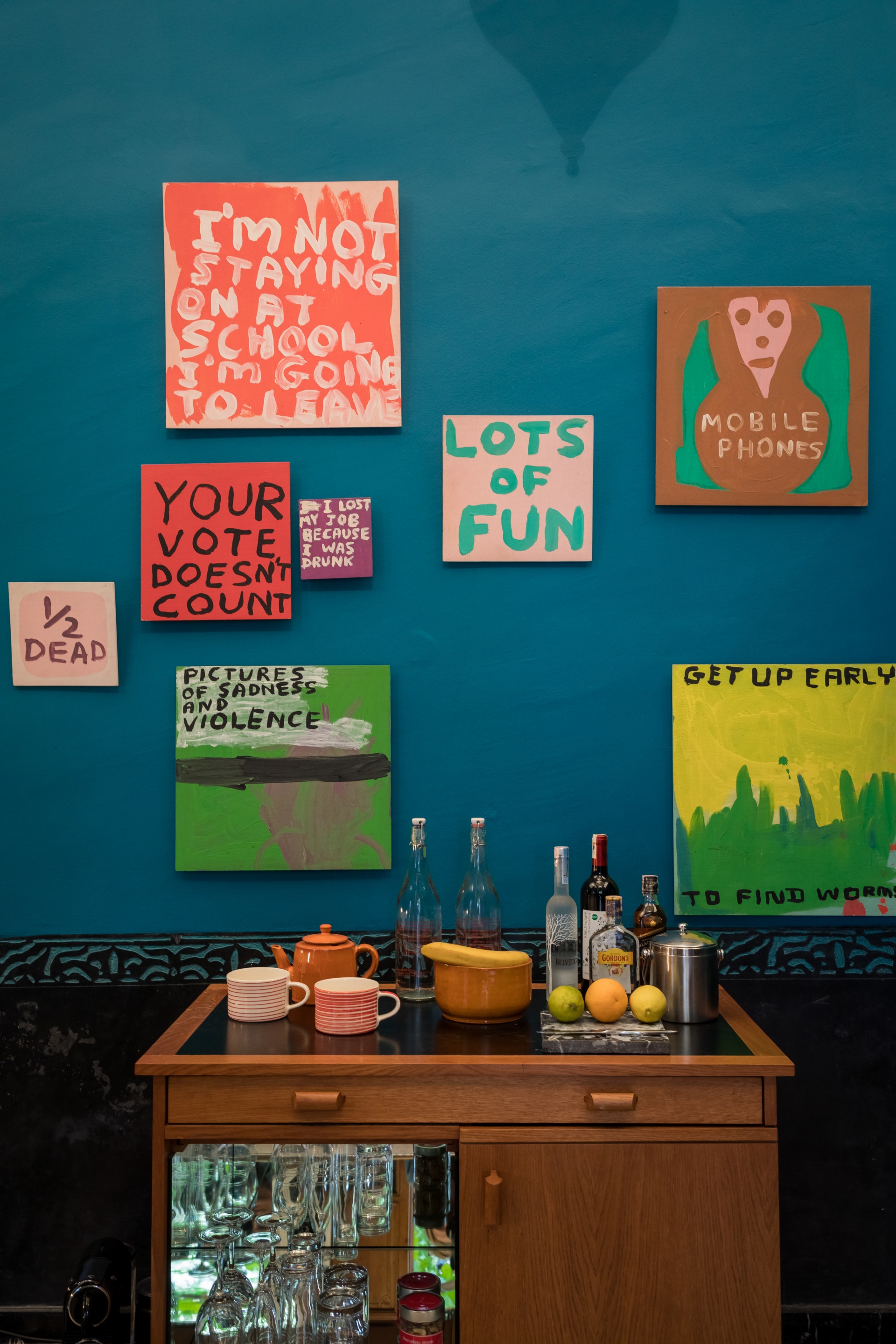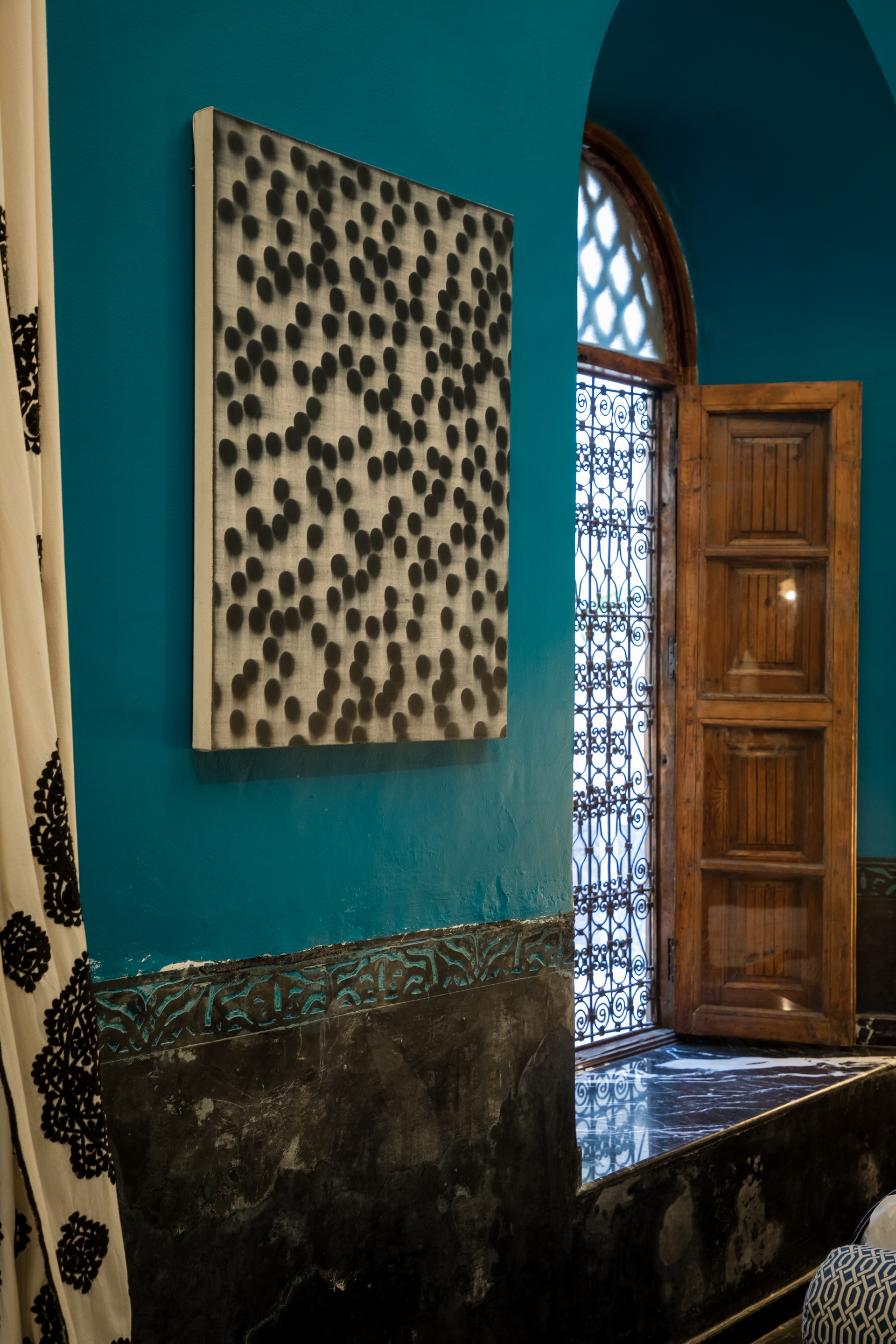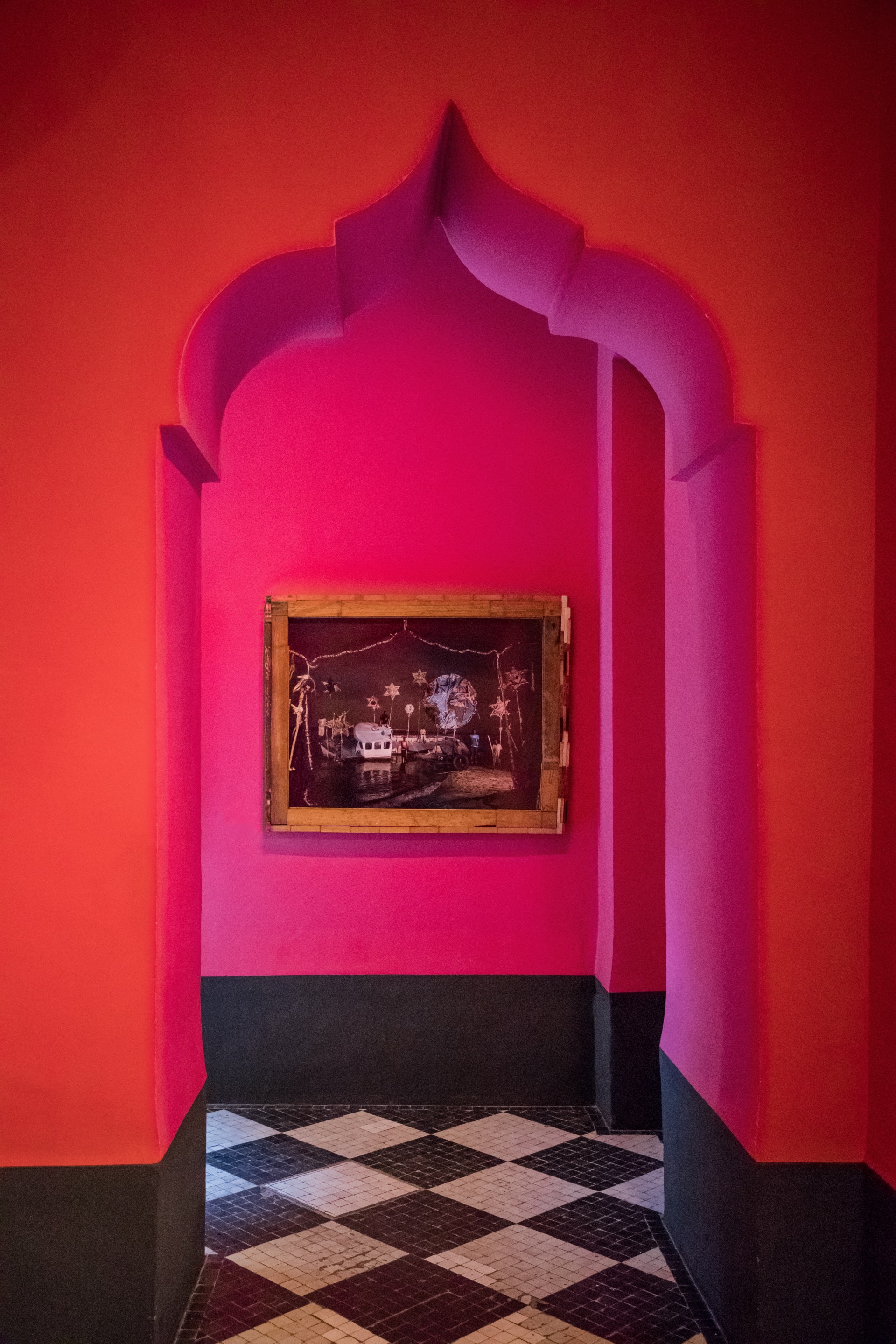 THE BOUTIQUE
The shop behind the lobby has a curated selection of super-stylish Marrakchi delights capturing Marrakech's new energy and fusing traditional artisanal techniques with a modern aesthetic. You'll find a curated selection of rugs, cushions, throws and ceramics, contemporary and vintage fashion and jewellery by young local designers who use age- old artisanal techniques. Plus a selection of international designers whose products have their heart in artisanal techniques.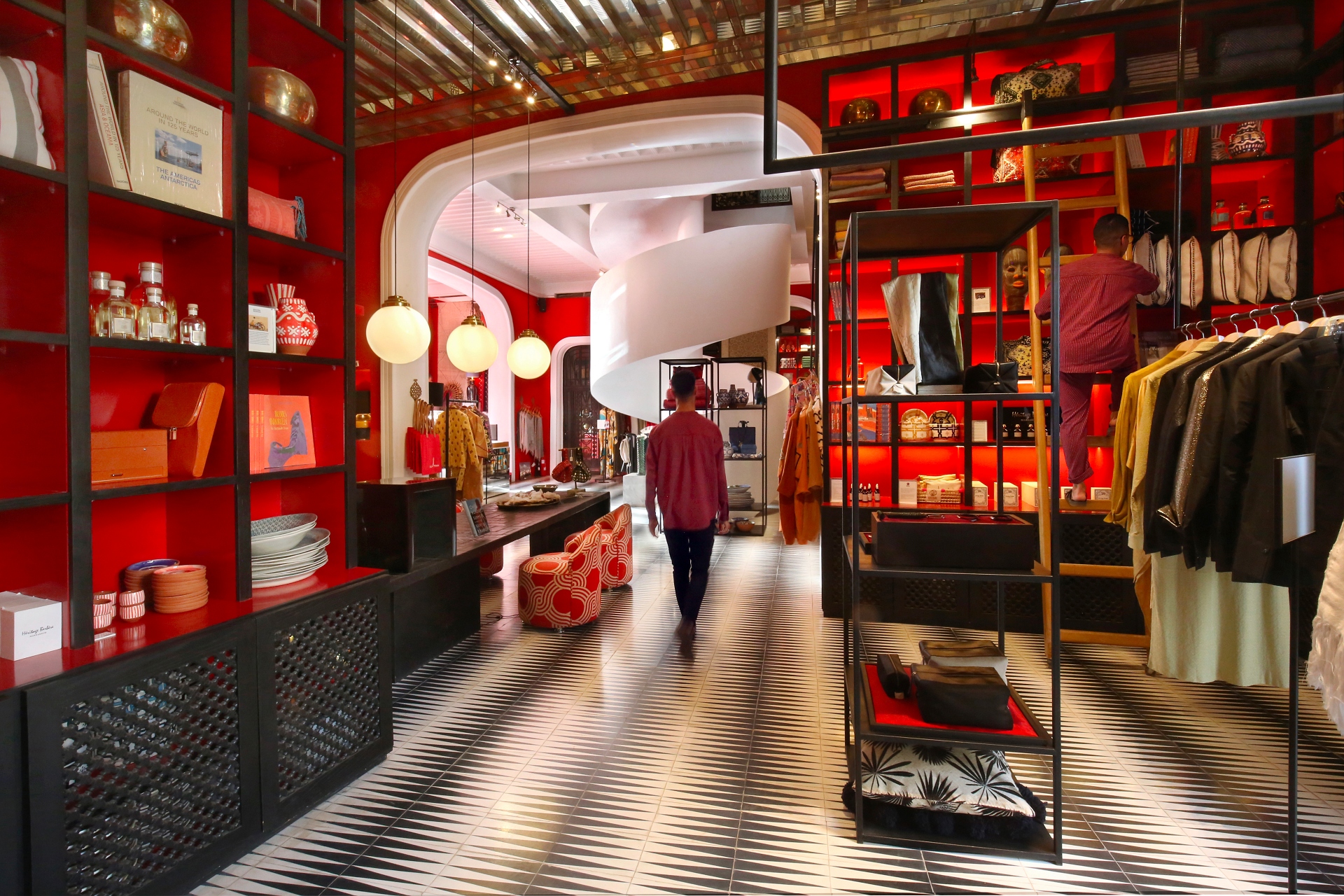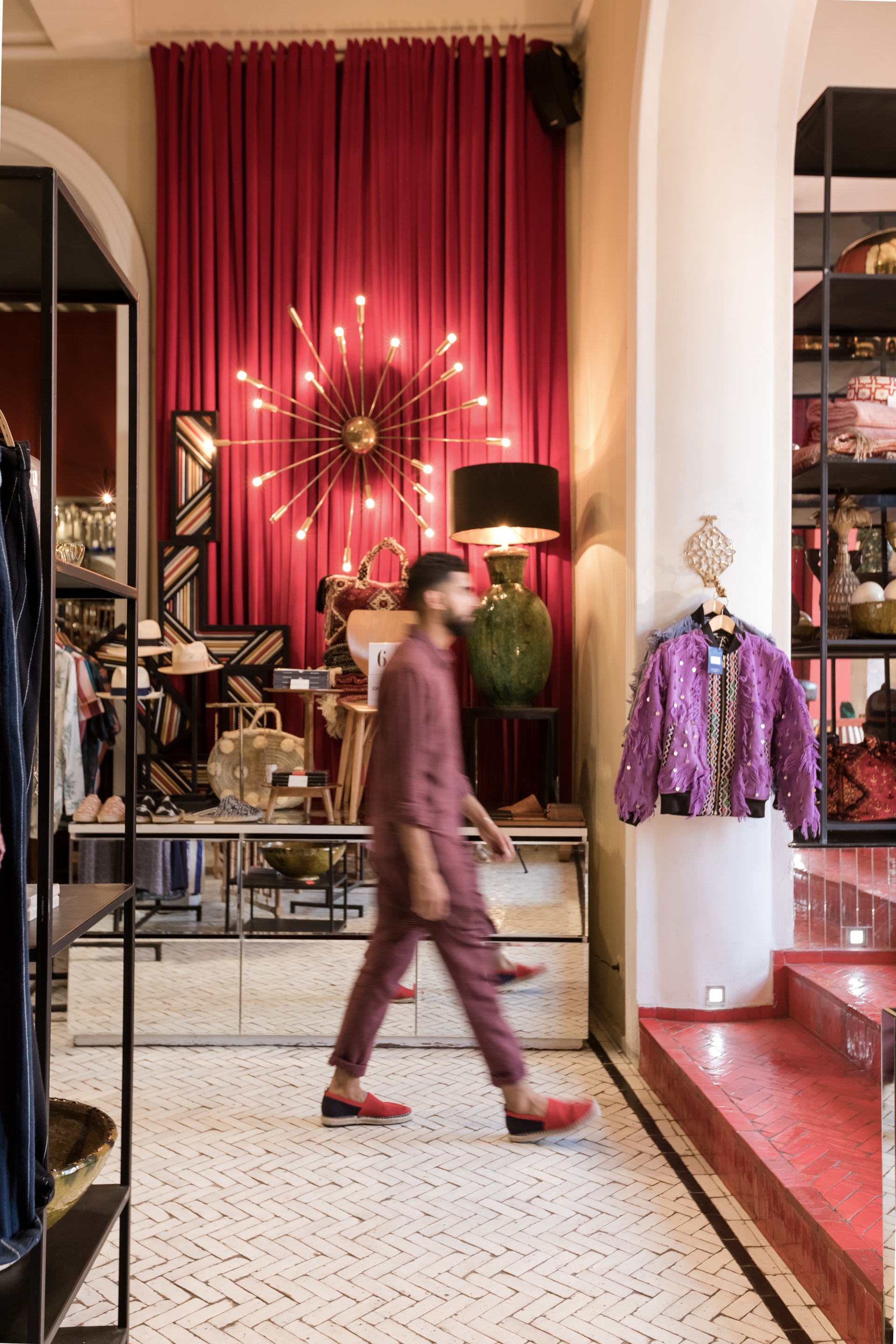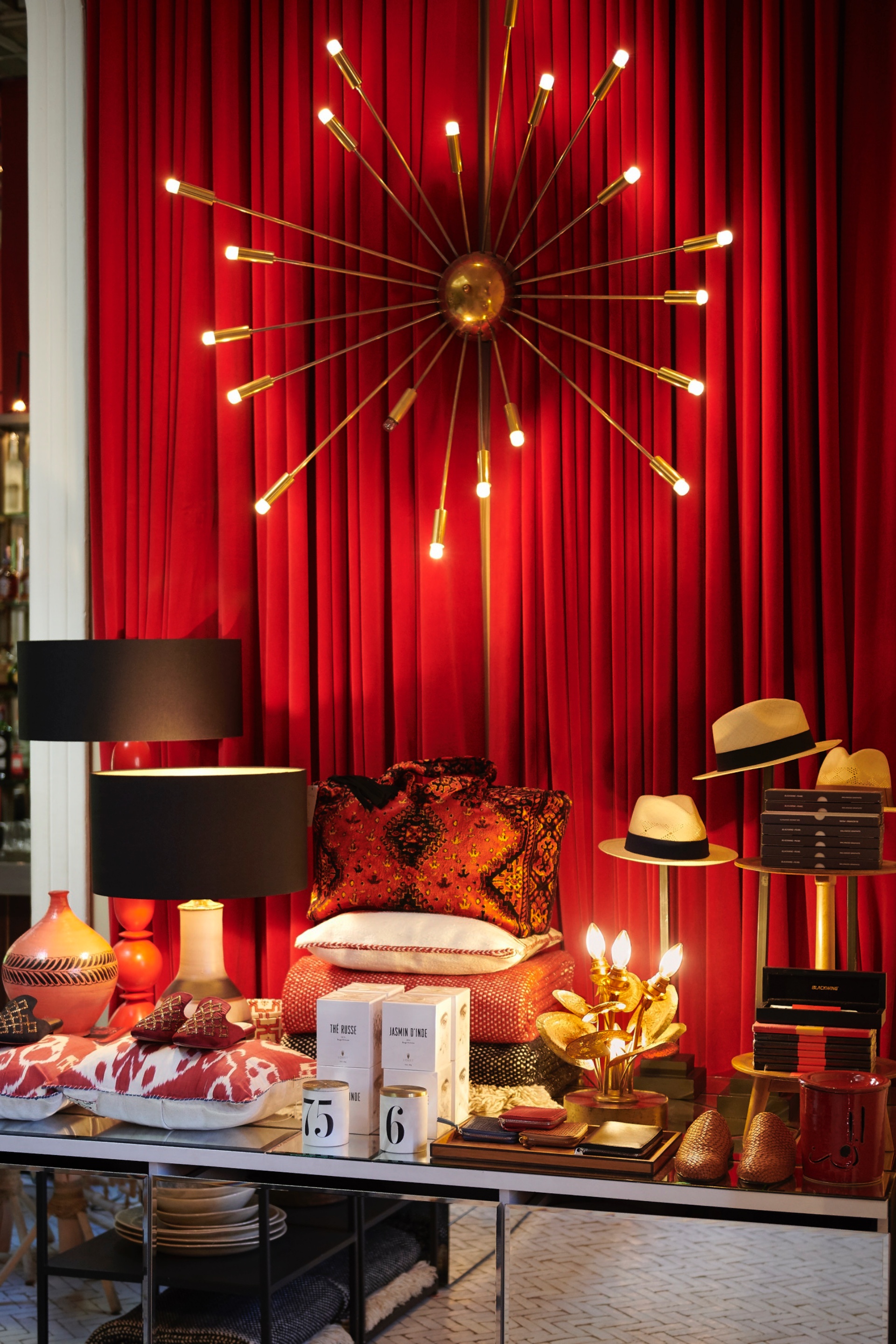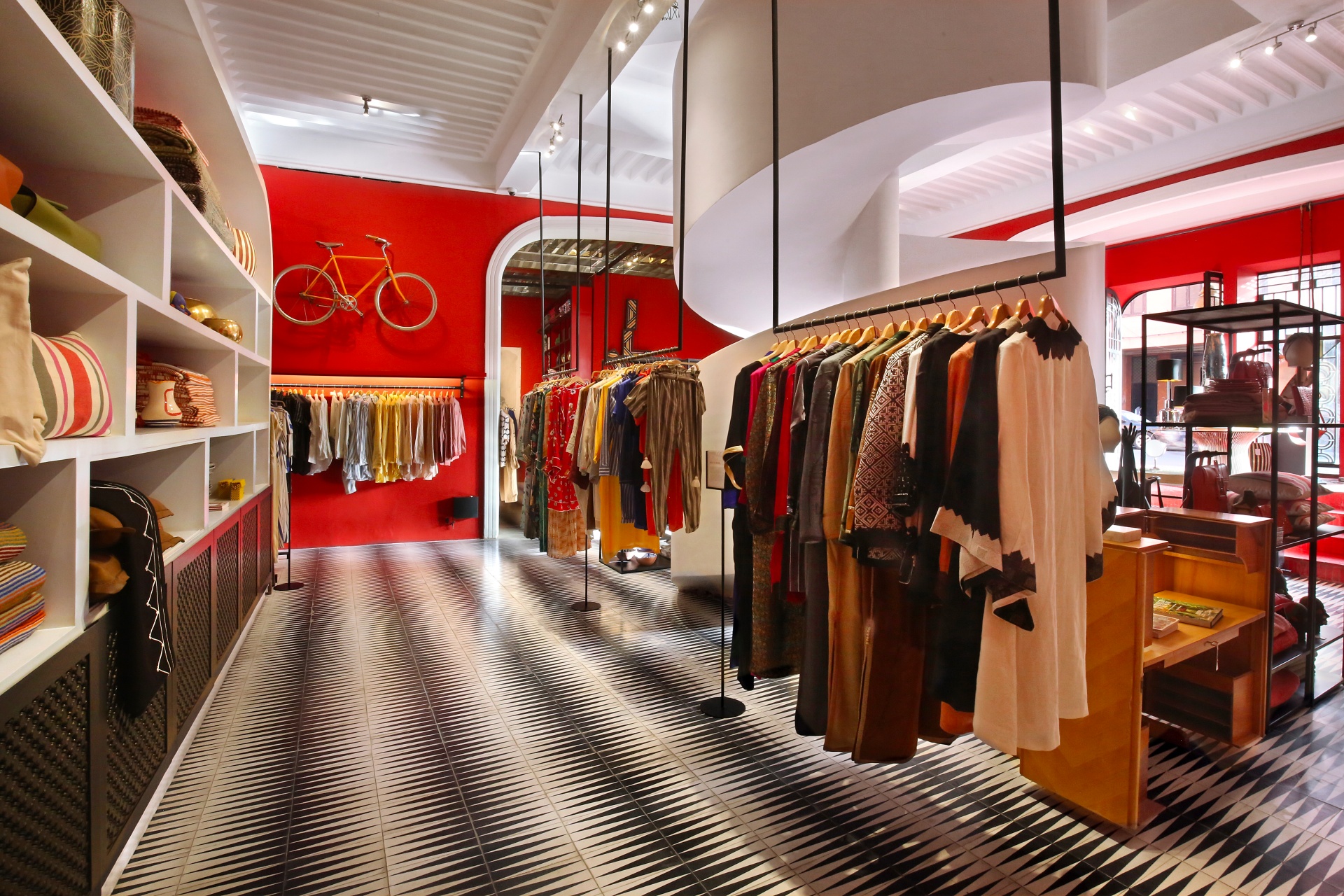 FOOD AND DRINK
El Fenn's food is as relaxed as the place. It's fresh, flavourful and packed full of goodness, emphasising local, seasonal plant-based food, meat and fish, freshly harvested fruits and vegetables, and herbs from local farms and markets. Start the day with breakfast on the roof terrace or in your room with a spread of yoghurt and granola, fresh fruit, cakes, pastries, breads, Moroccan pancakes, and eggs cooked to your taste. Their house Shakshouka is a not to miss dish. Enjoy lazy lunches of market-fresh salads, grilled meat, fish, burgers, salads and light bites. There's a help-yourself high tea of cakes, sweet pastries and mint tea in the afternoons. For dinner, there is a more inventive 'new-wave' Moroccan menu such as fillet steak with coriander couscous, chicken ballotine tagine with preserved lemon, and caramelised duck breast with ras-el-hanout-spiced vegetables and nougat for dessert.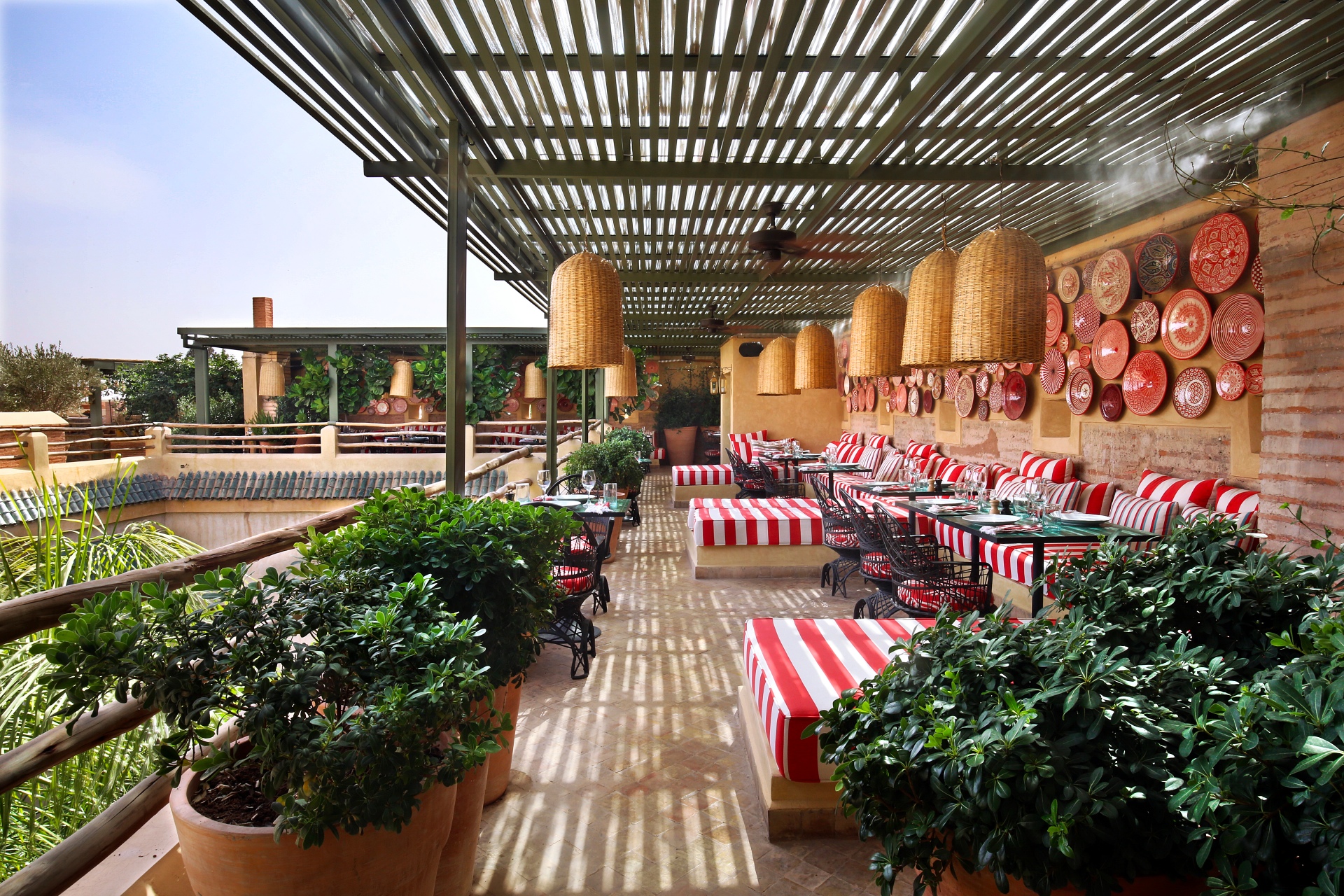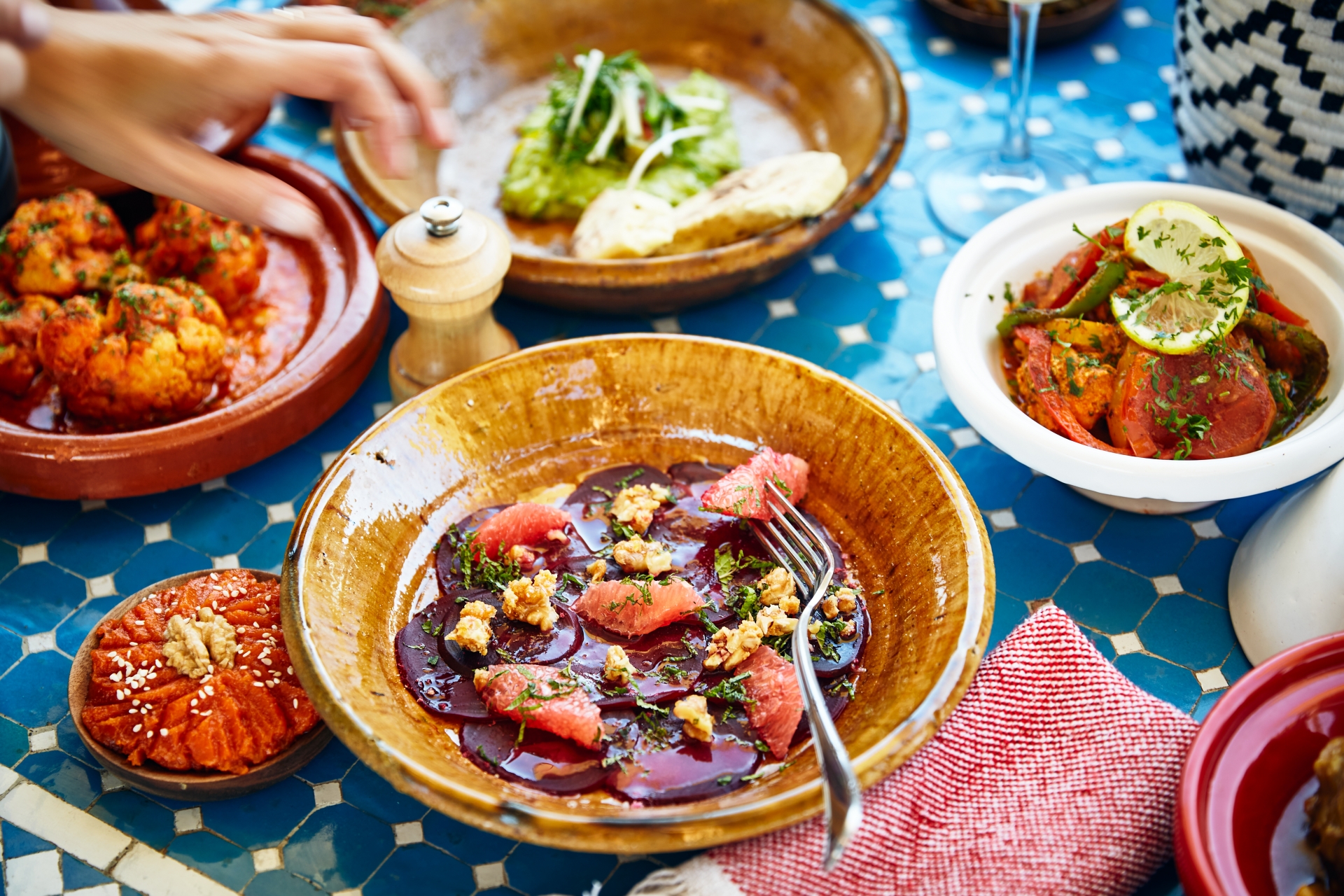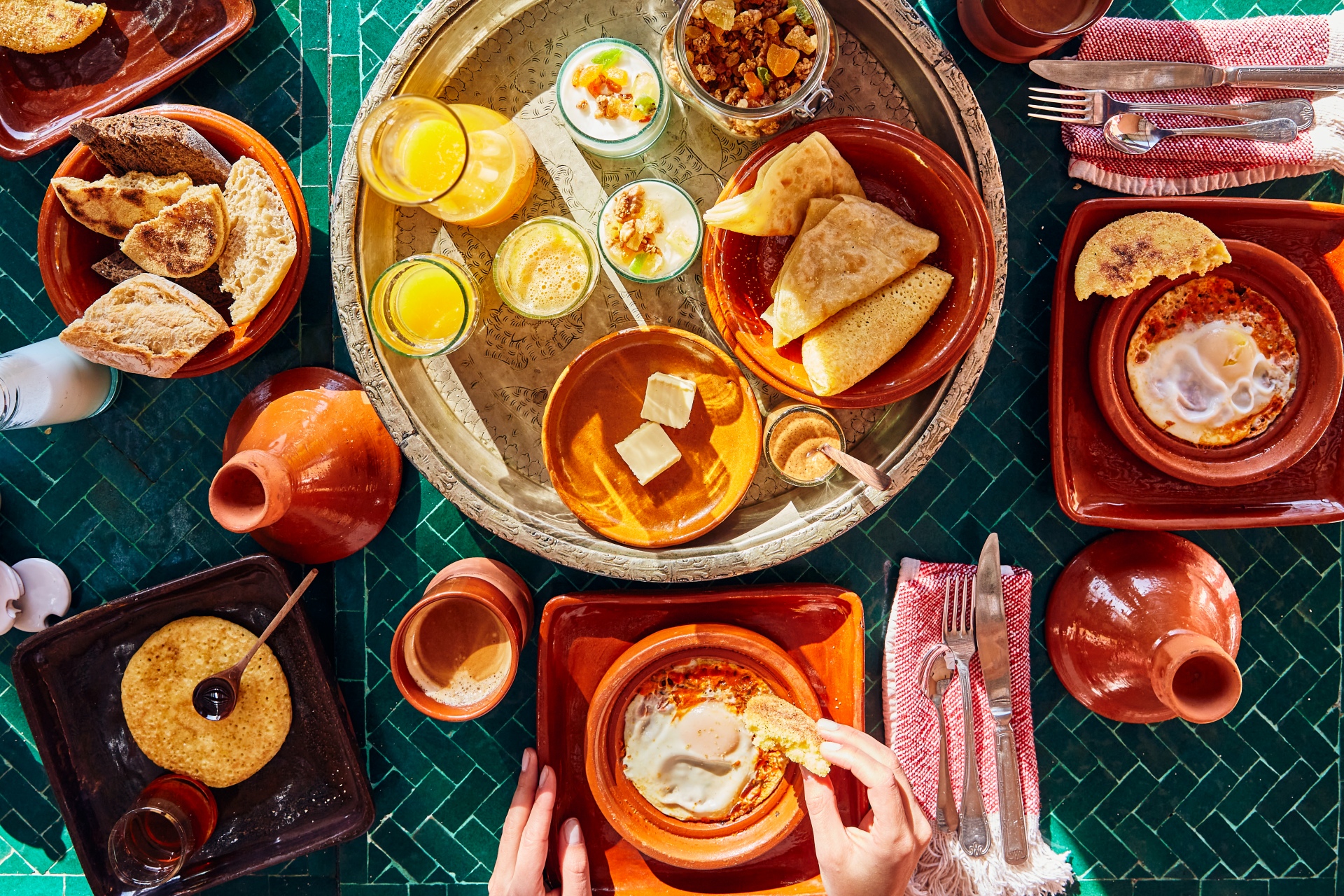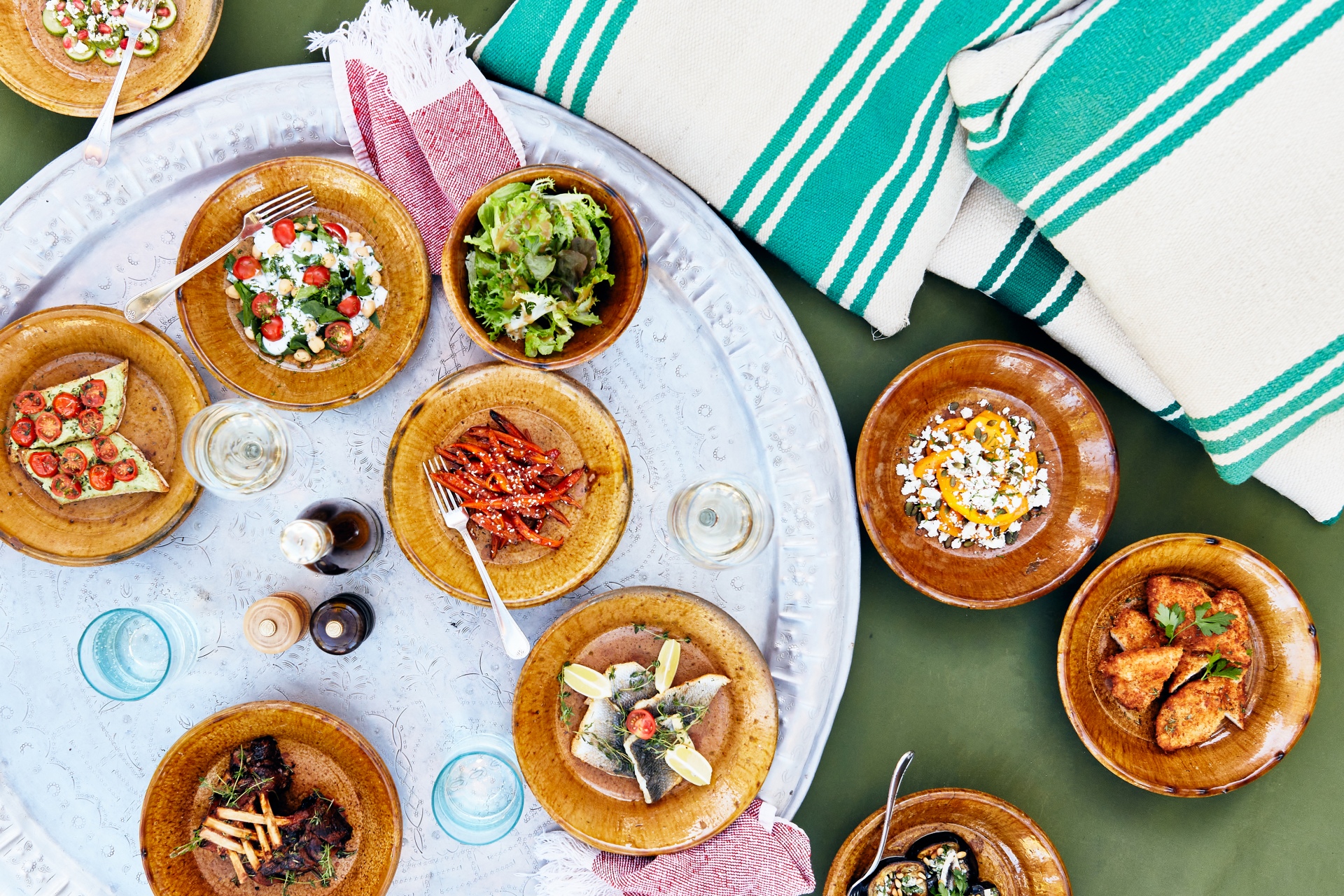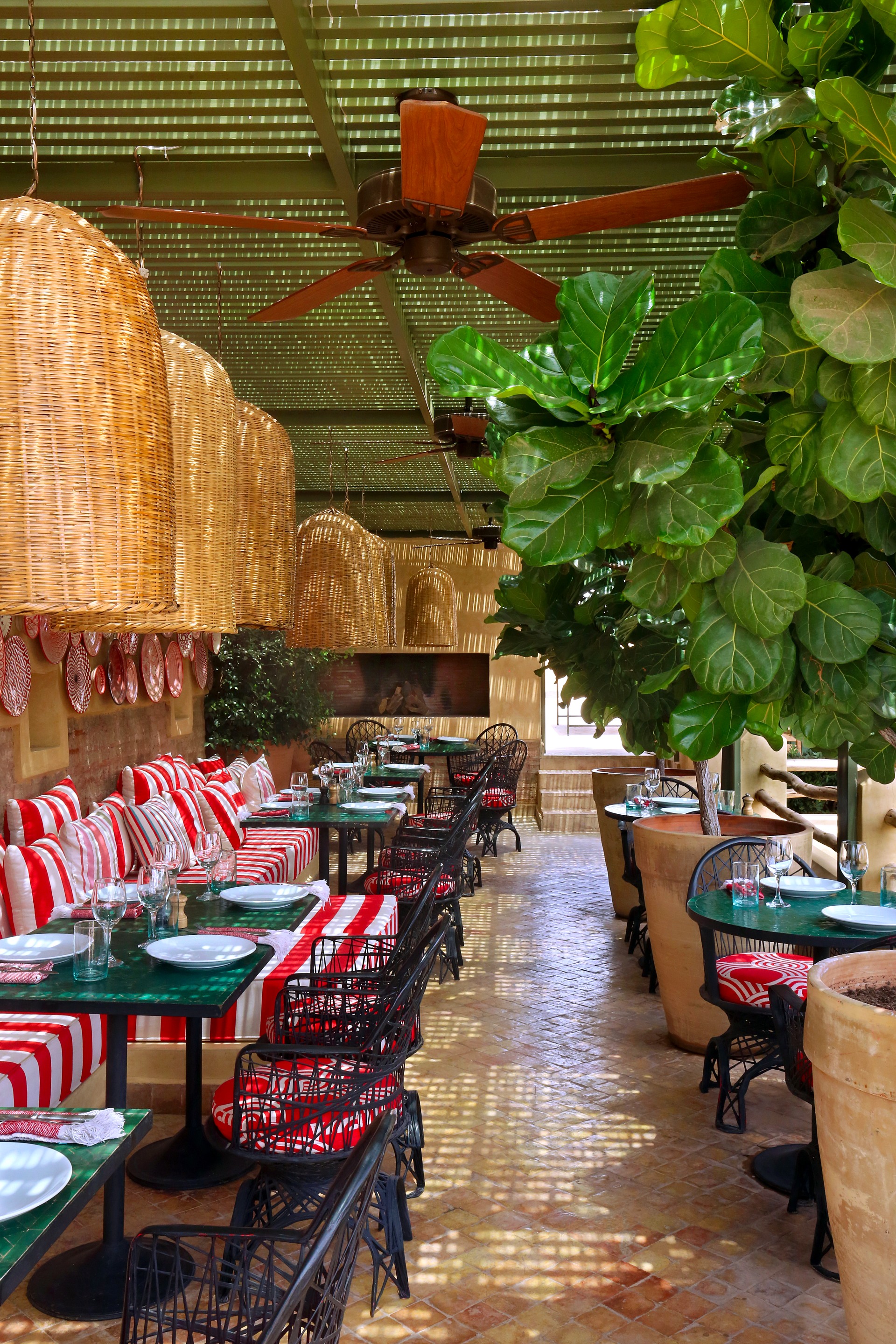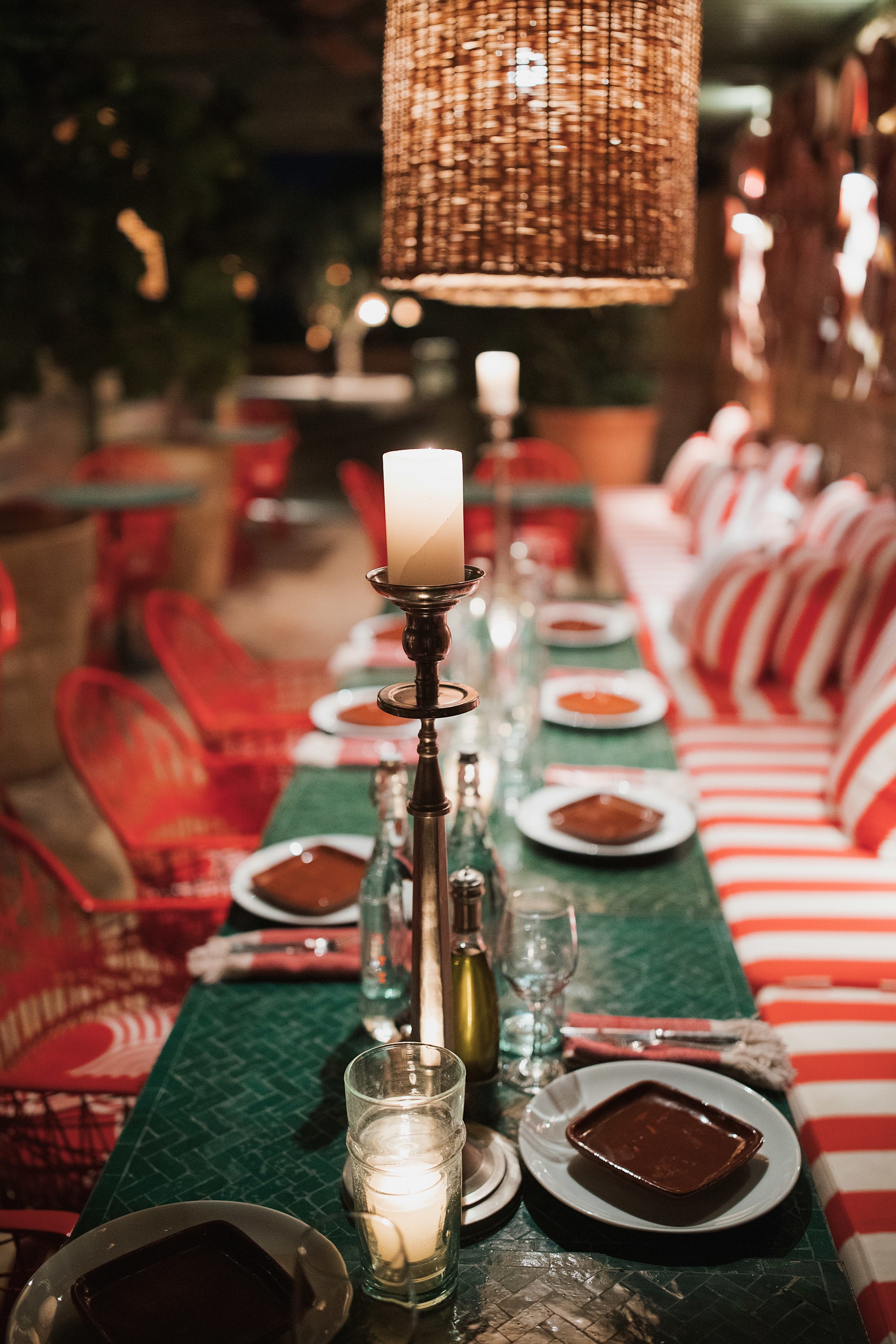 THE ROOFTOP BAR
El Fenn is open for friendly conviviality, and a fabulous roof terrace provides a little bit of groovy alfresconess! Chill on one of the rooftop soft banquettes and gaze out over the city and Atlas Mountains and the Koutoubia Mosque, drink in hand, while you listen to the house sound of Moroccan and jazz, interspersed with the muezzin's call to prayer echo across the Medina watching the sun go down.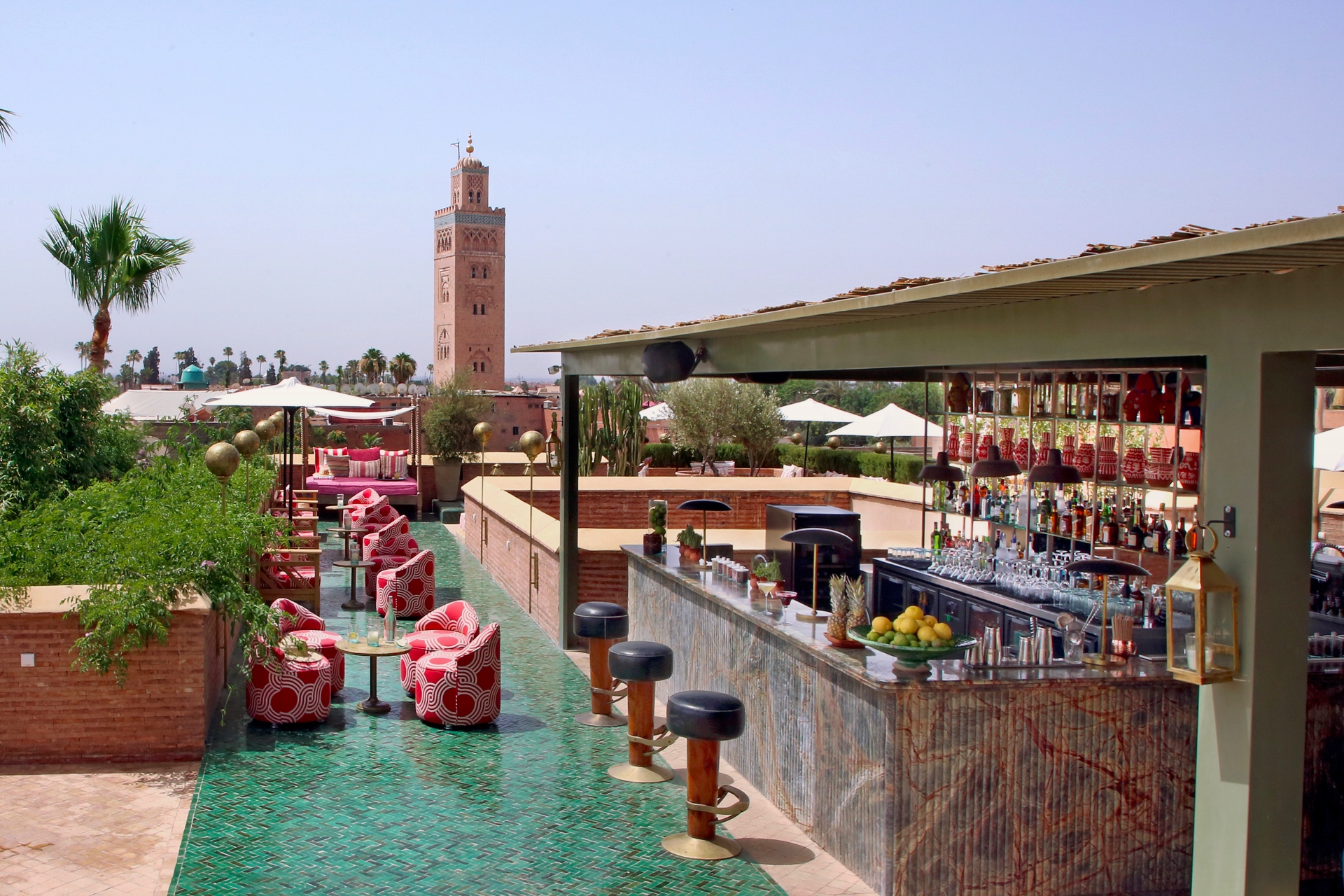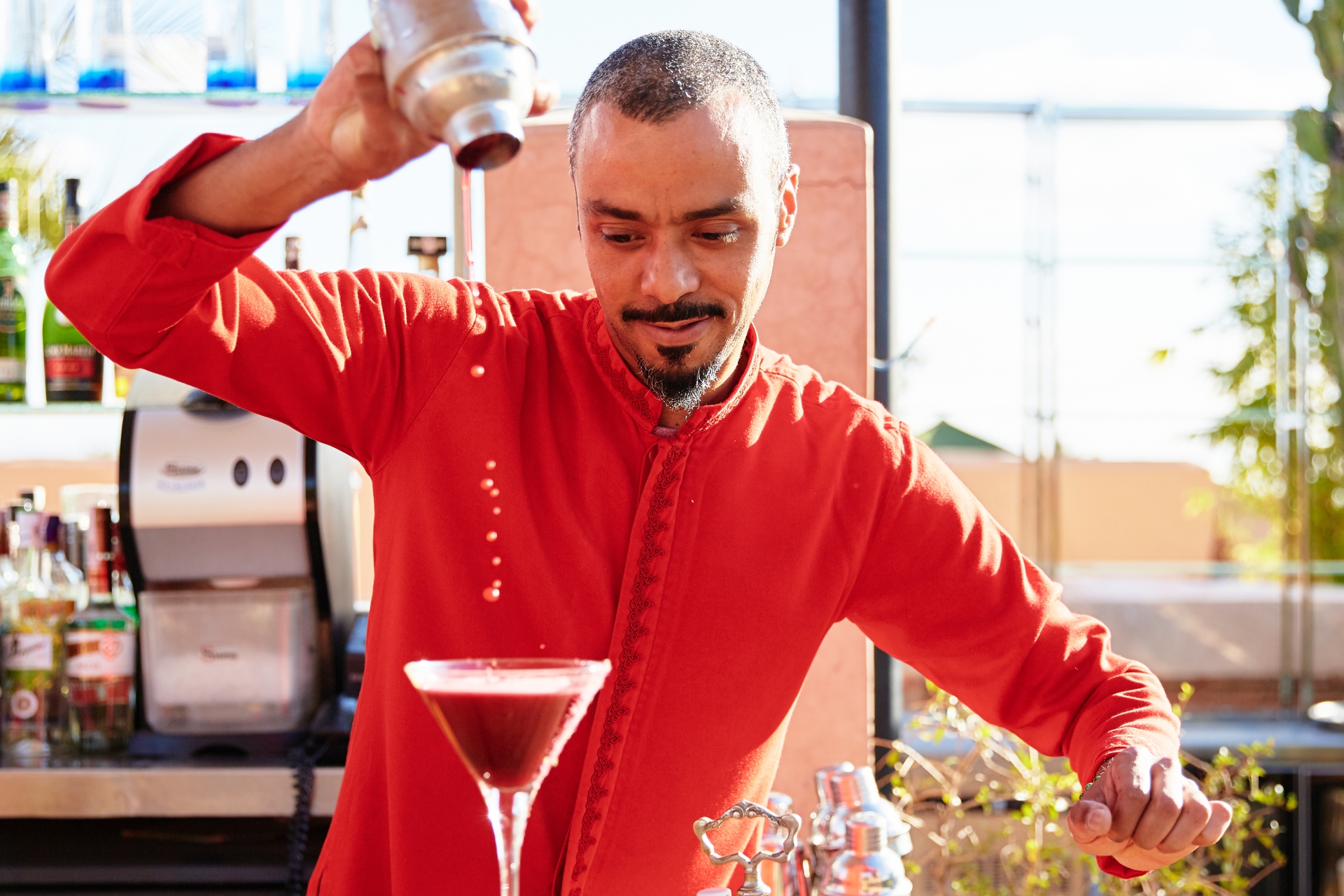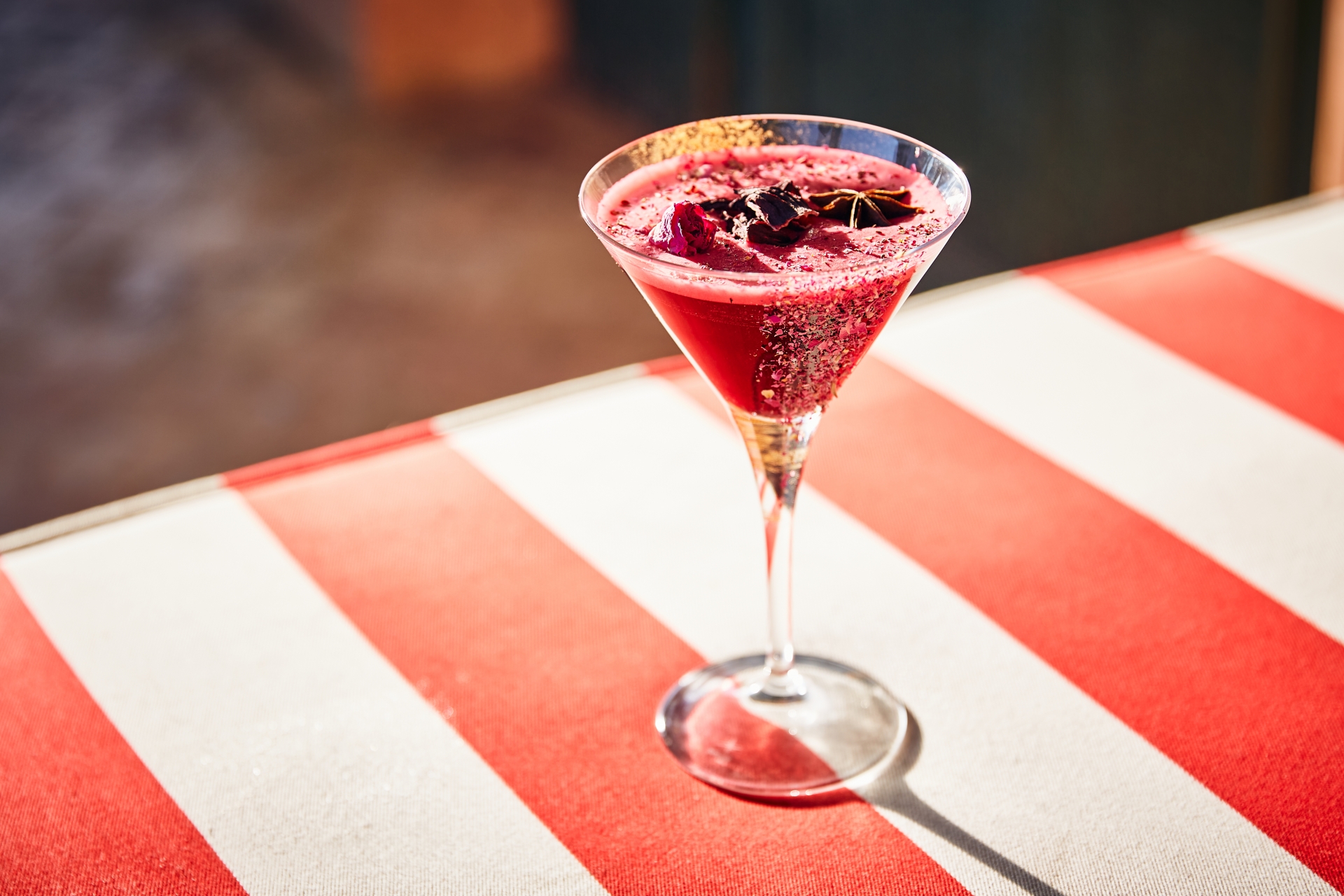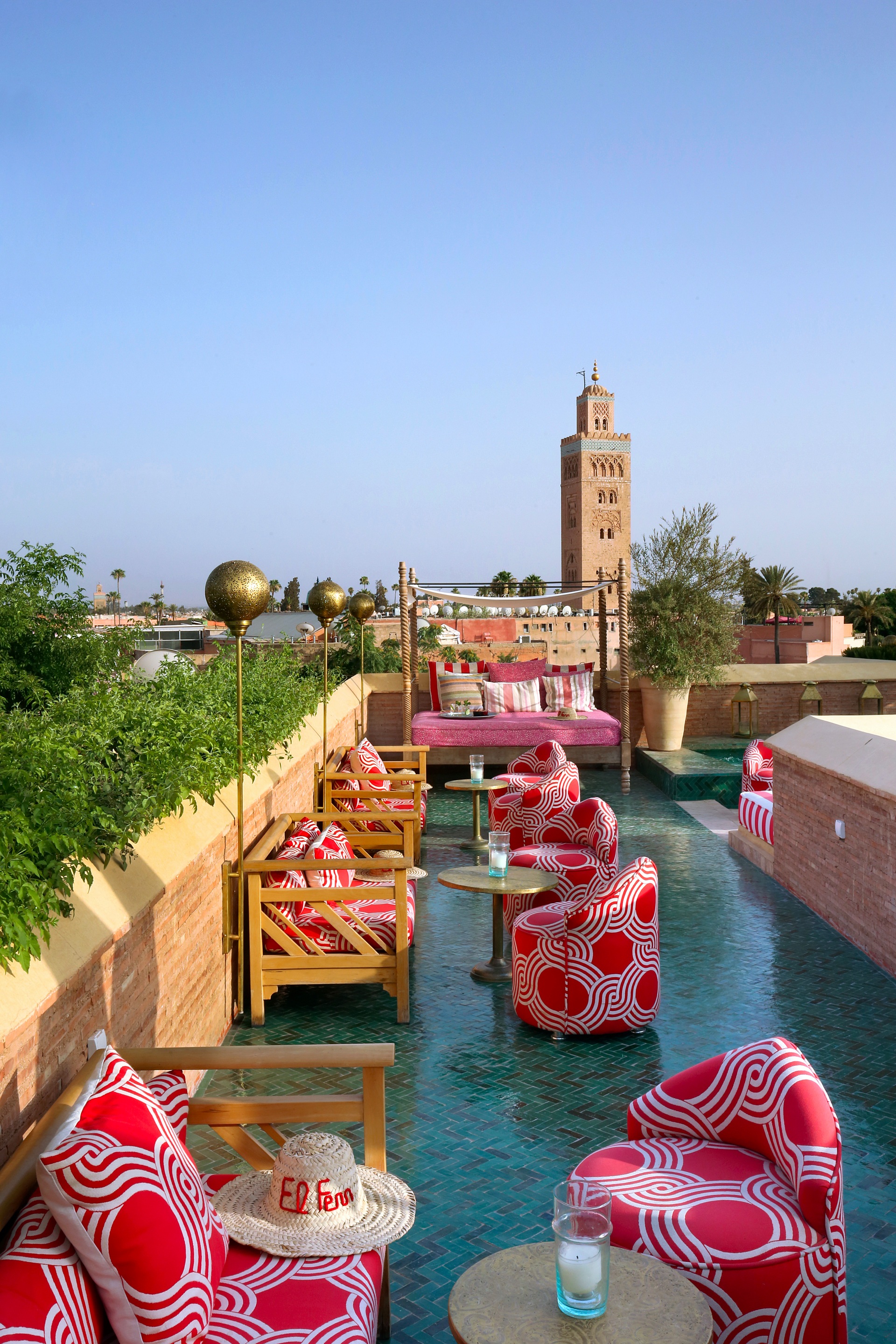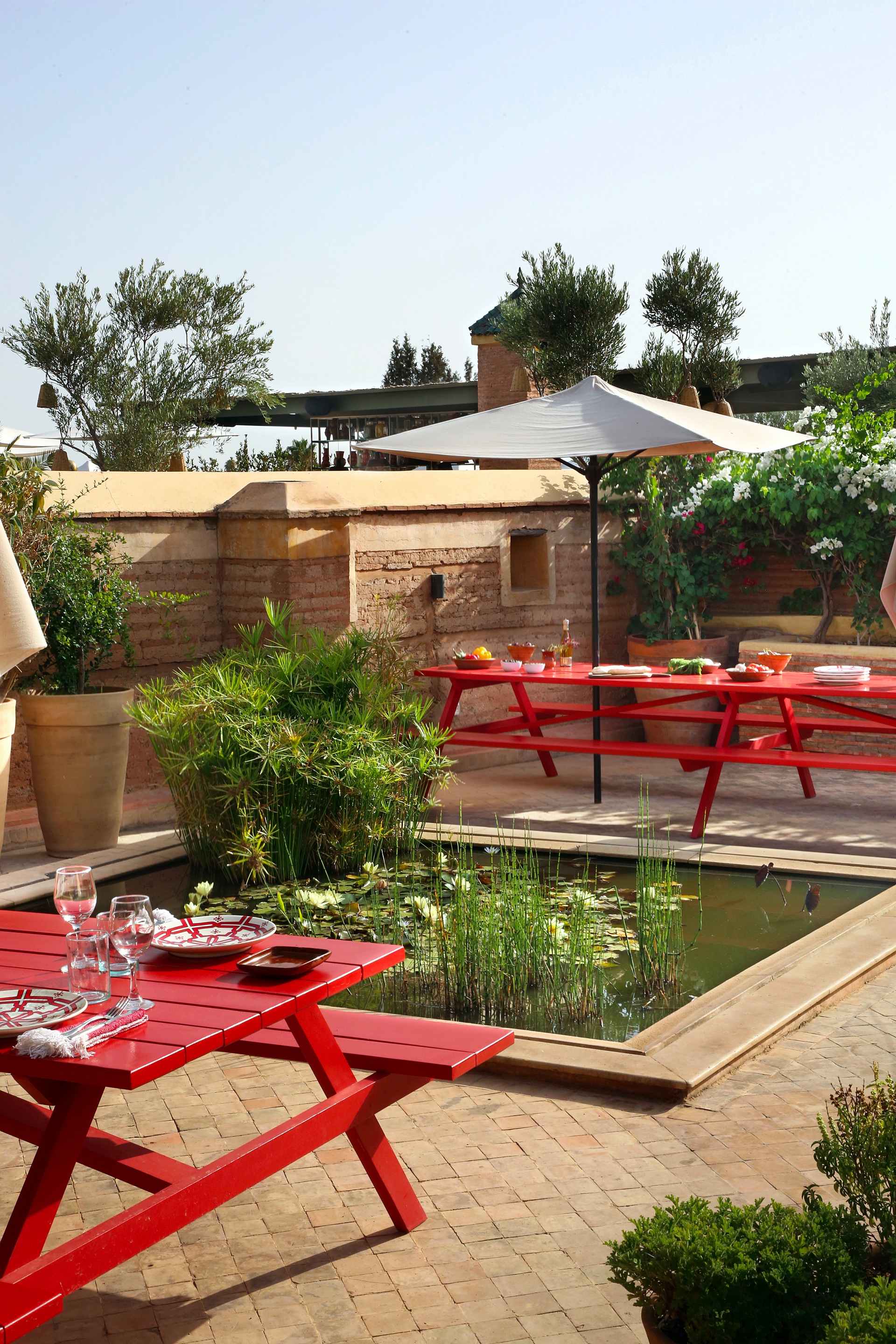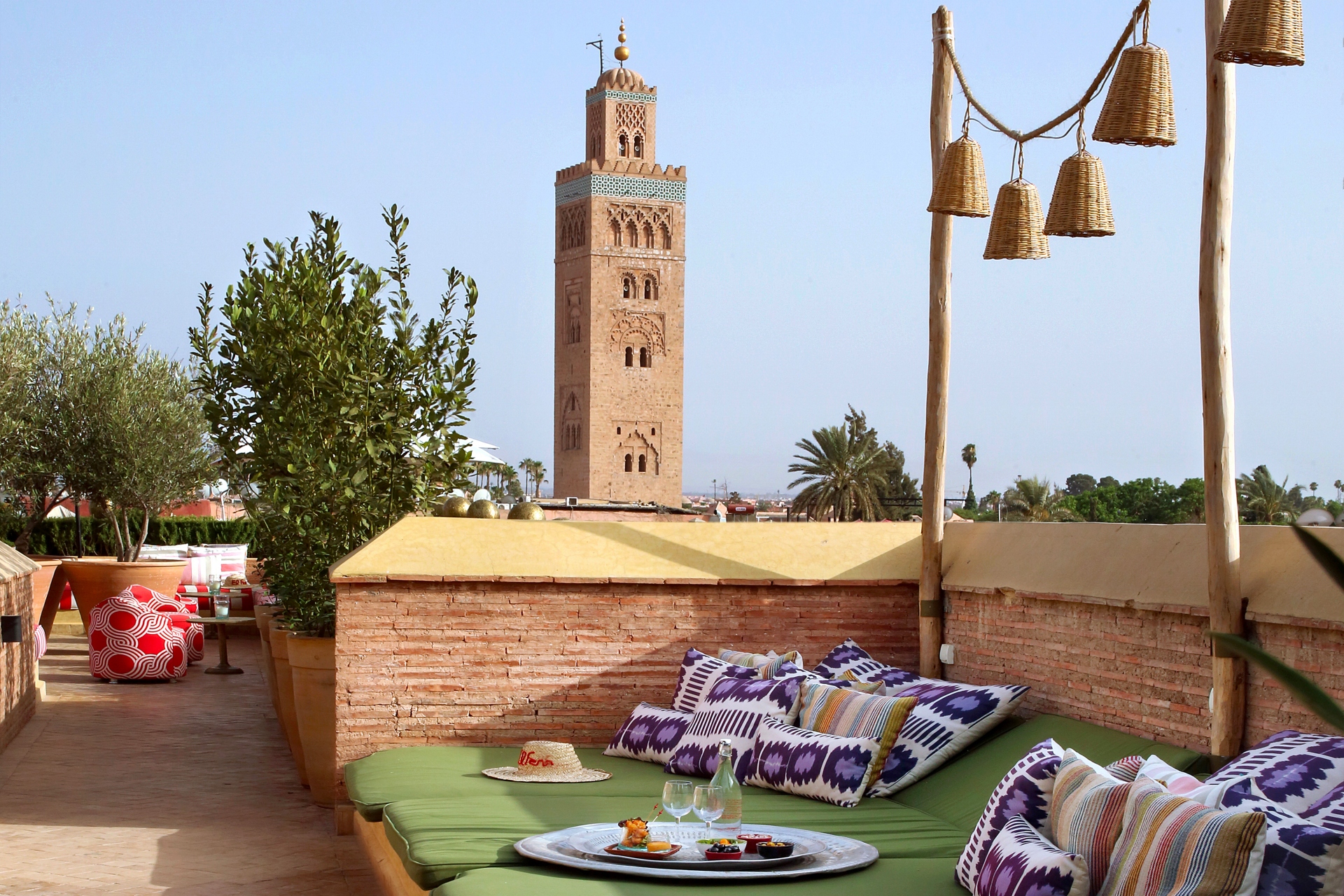 THE COLONNADE BAR
Downstairs, set in a courtyard of tumbling vines, there is also the Colonnade Bar, which is for in-house guests only. Drinks come four ways: tall, short, tropical or shot, and are served anywhere you like in the riad.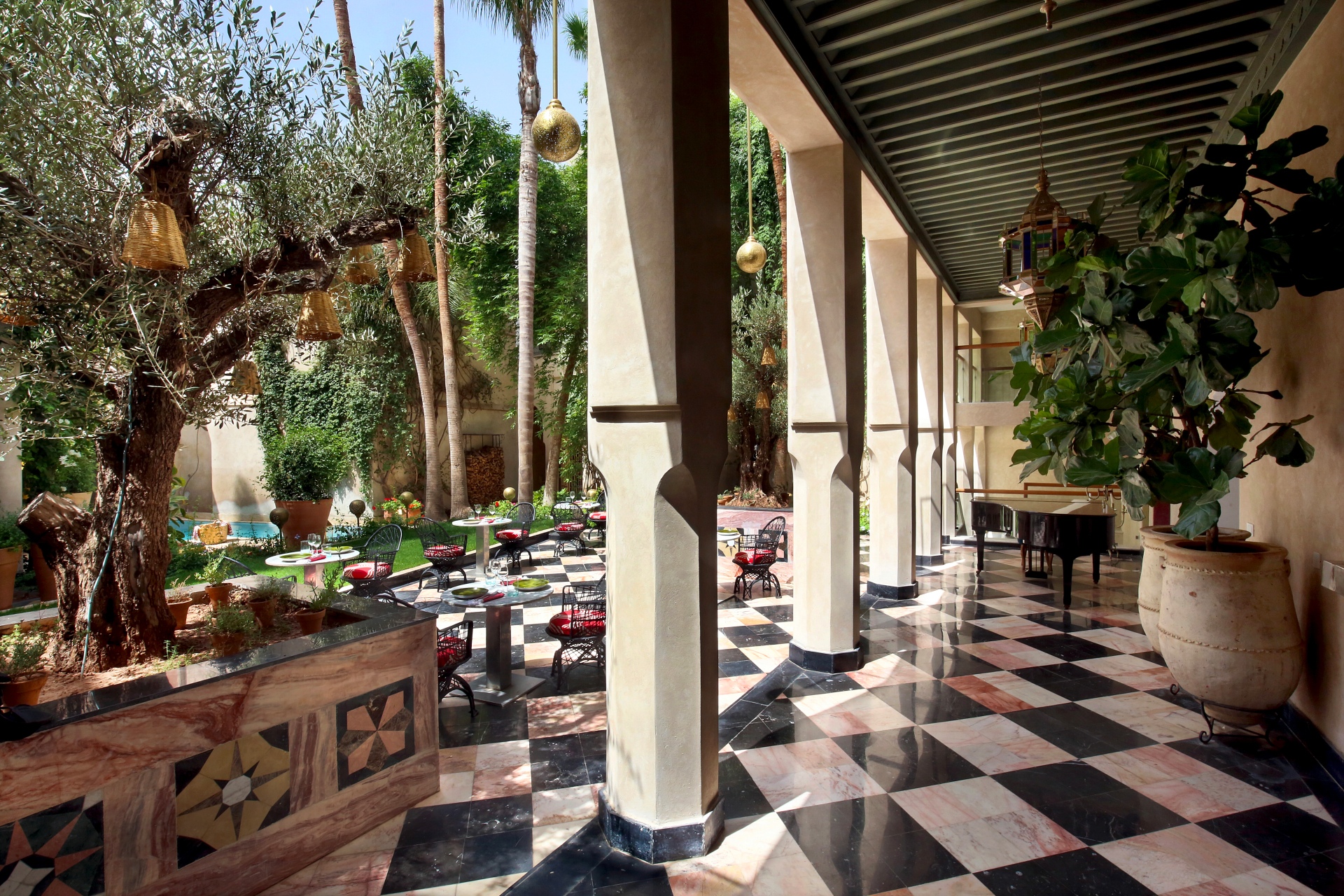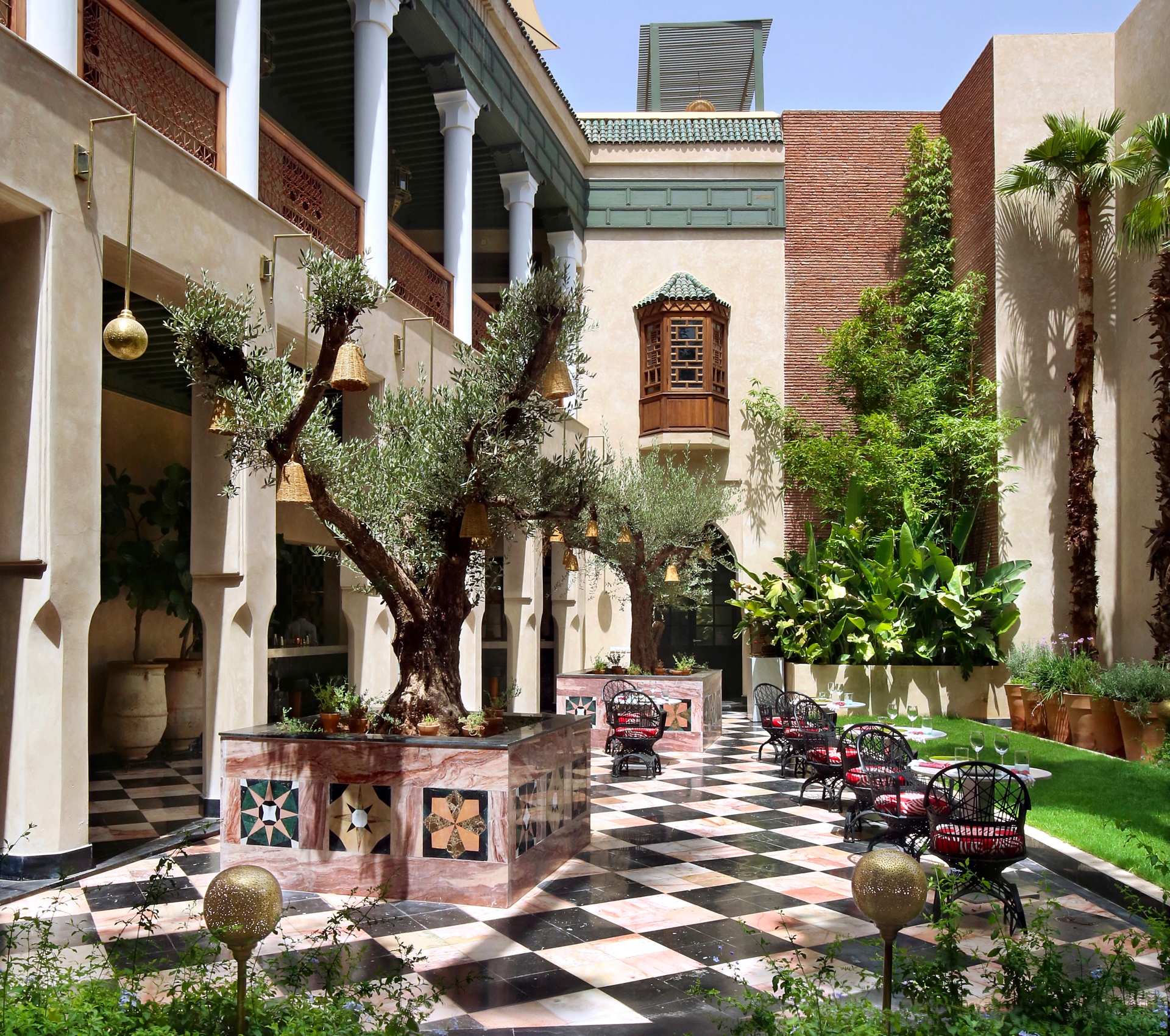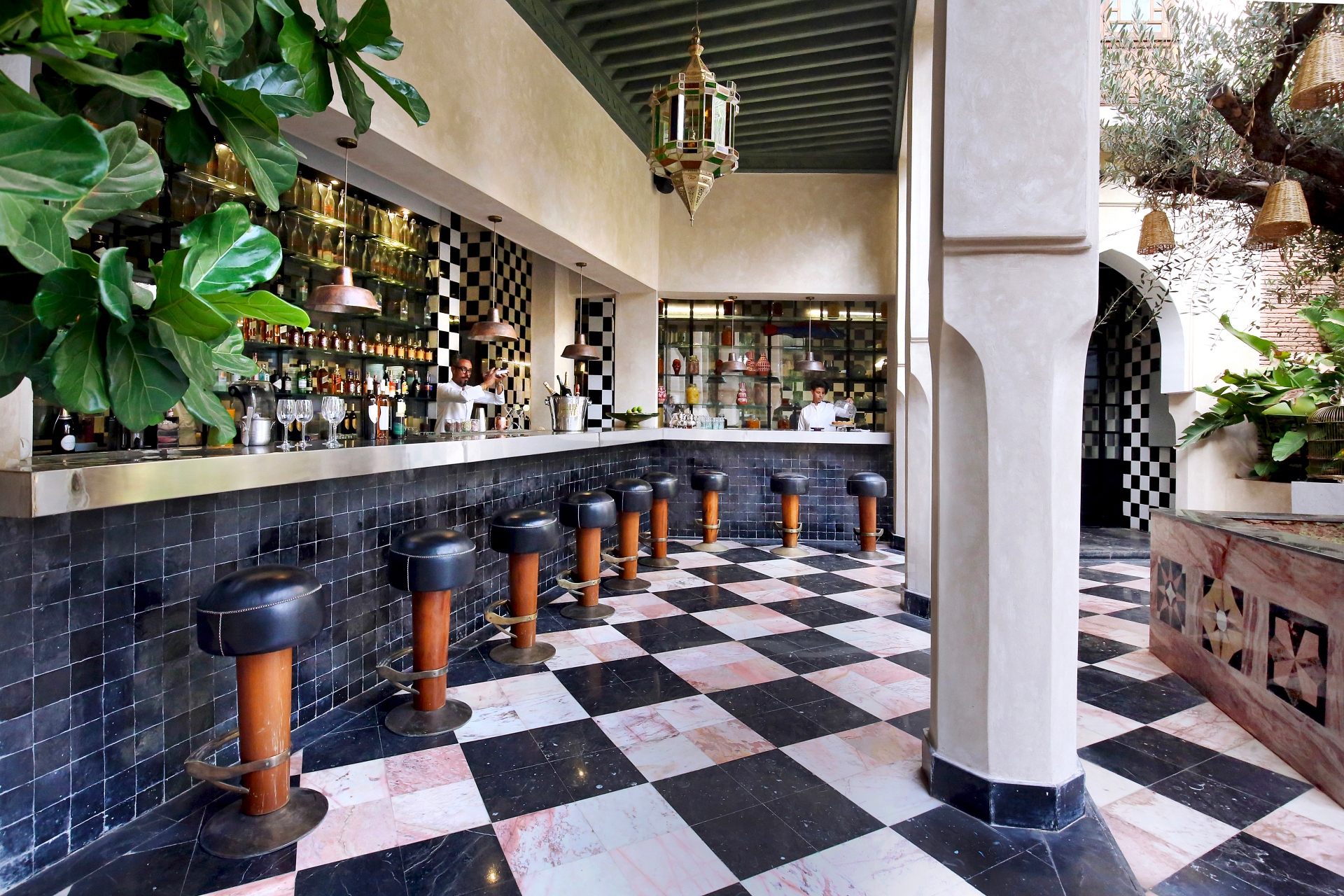 El Fenn is a labyrinth of evocative spaces in which to cocoon yourself within the ancient walls, immerse yourself in the tranquillity of the courtyards filled with bougainvillaea and birdsong, or curl up with a book on a sofa in one of the many hidden nooks found throughout the hotel. You may never want to leave.