Acclaimed architect and interior designer Ashiesh Shah is an expert at creating spaces integrating global design aesthetics and culture, all the while lifting interiors with his masterful manipulation of light. Commencing his career in New York City in the mid 2000's after graduating from the Parsons School of Design, Shah always finds that balanced semblance between art, architecture and design. He is the founder of his own firm, Ashiesh Shah Architecture + Design, focusing on high-end design projects in India and beyond. More unique is his practice's deep rooted belief in the Japanese philosophy of wabi-sabi, which influences Shah's vision of space and his choice of materials. He believes most strongly in 'relevant design', which to him, is design that fits within the context of space, surroundings and light. In fact, one of Shah's key design tips is to always look at where the light is coming from.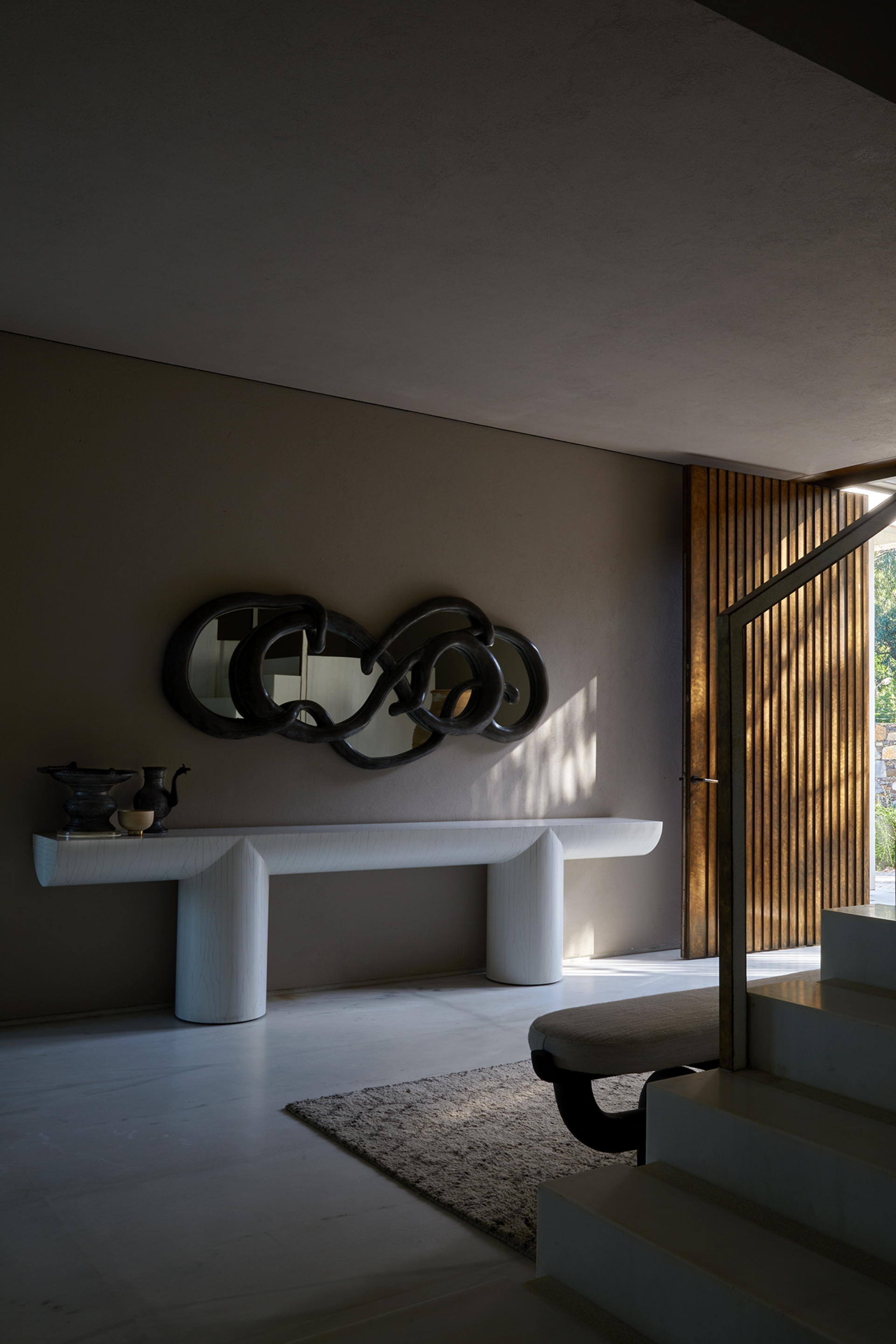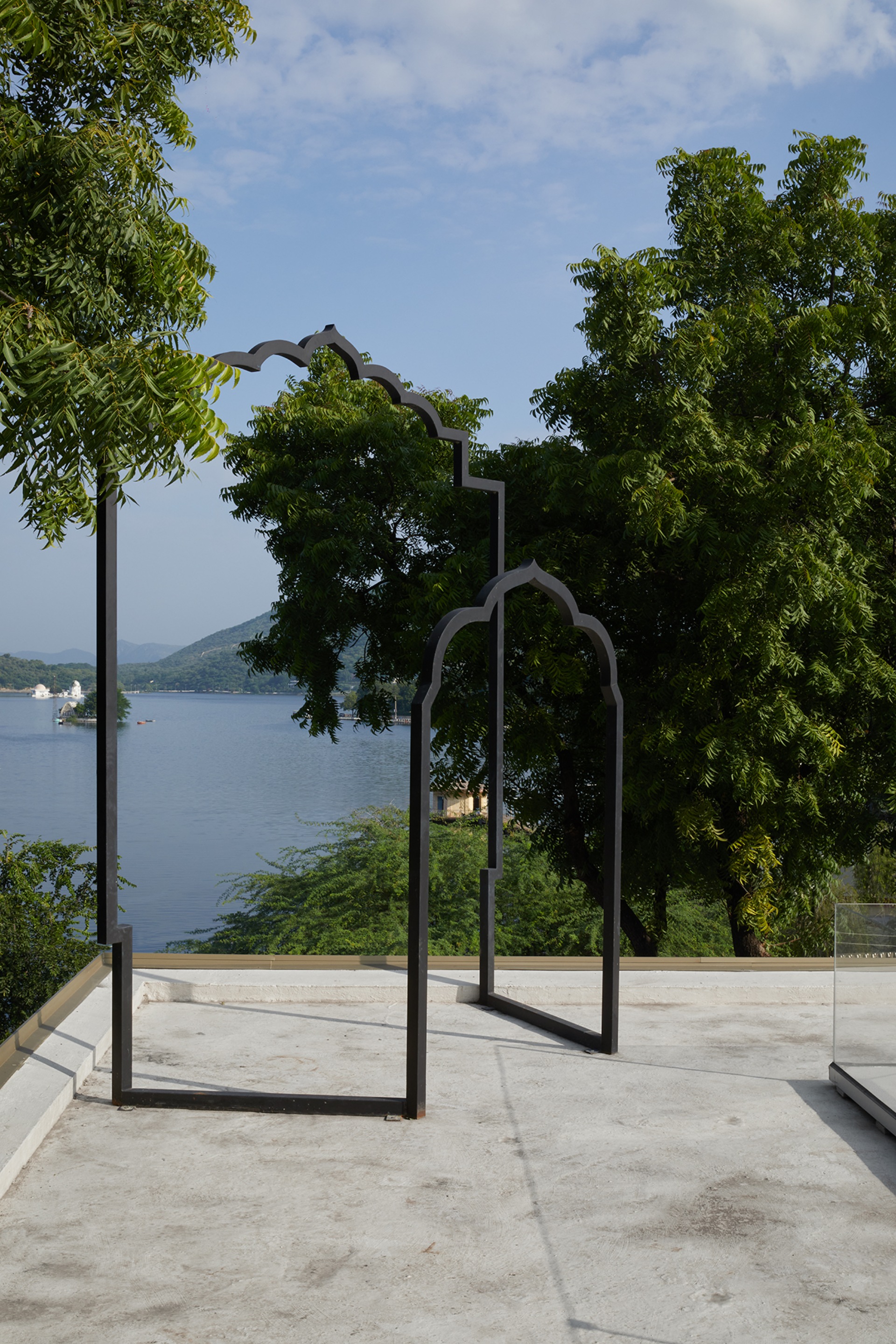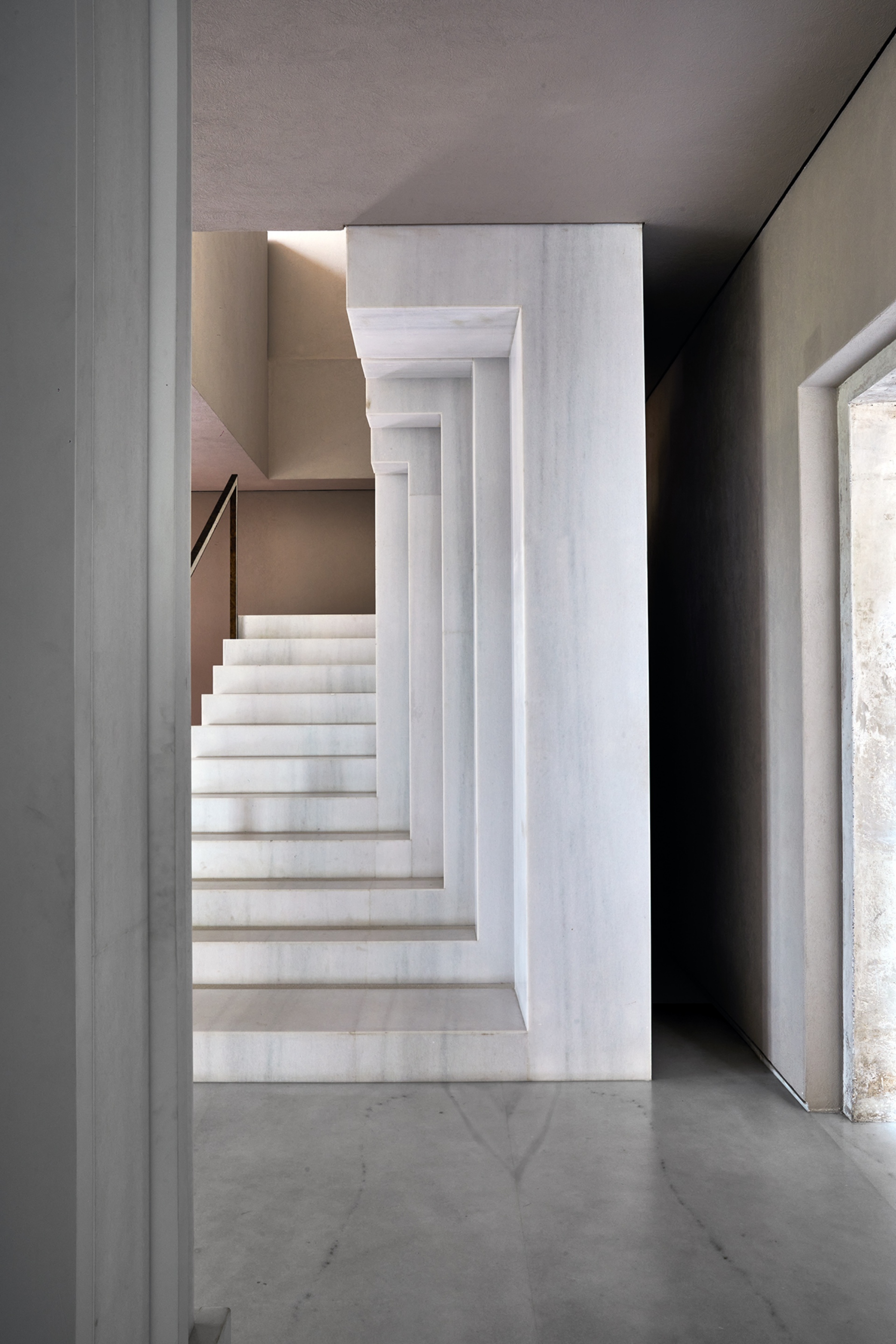 This Lake House residence is the embodiment of simplicity, sophistication and the wabi-sabi philosophy. Overlooking stunning vistas of the Fateh Sagar Lake, it's a modernist masterpiece of an expansive family home encompassing 12,000 square feet of three blocks interlinked with one another, adorned with a colonnaded facade and columns in a precast white concrete. White marble flooring and walls clad in a pale American oak marry art to lend a distinct character and warmth to the space. With a combination of open and enclosed areas and a series of vanishing thresholds, the house is well lit and seamlessly brings the outdoors in.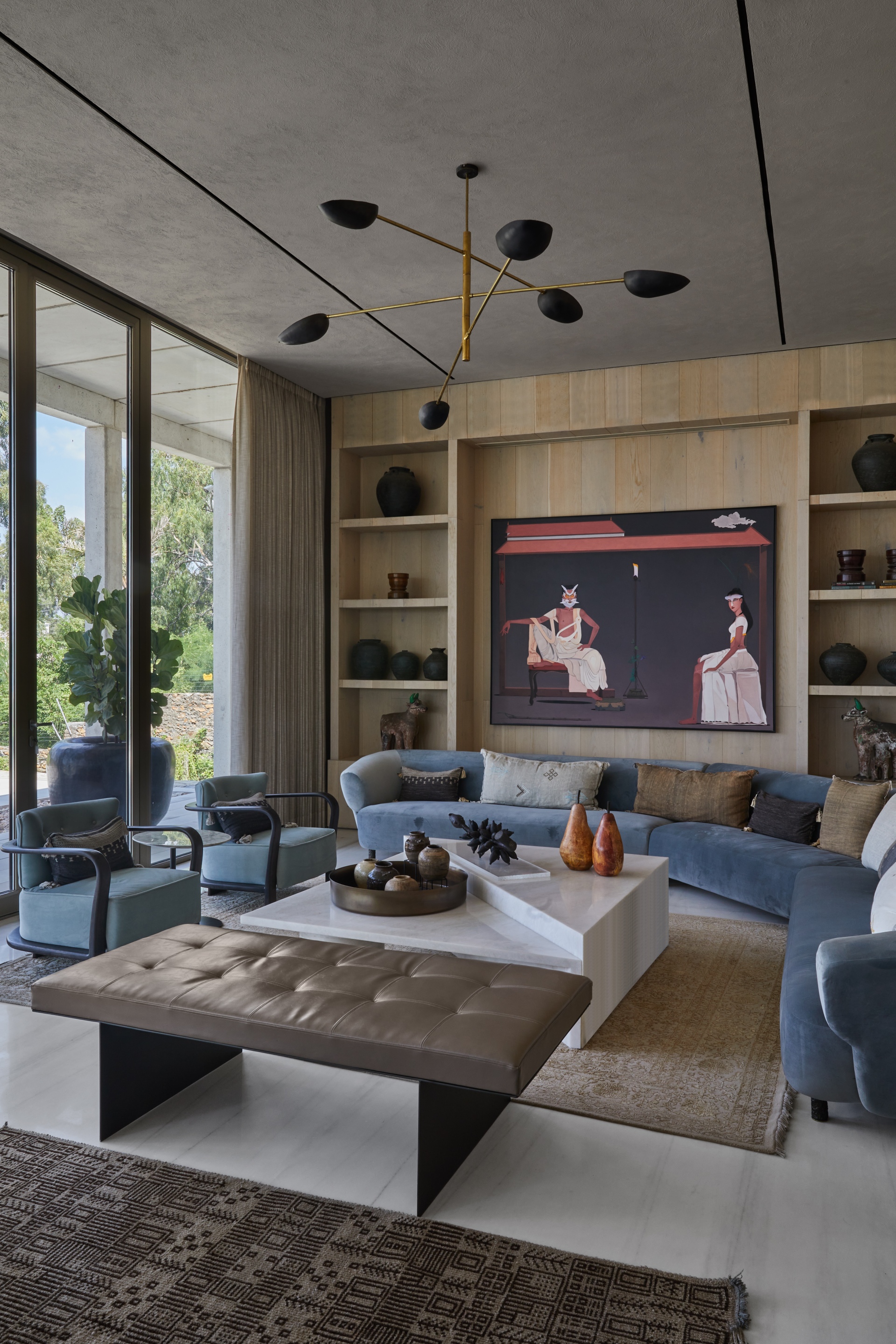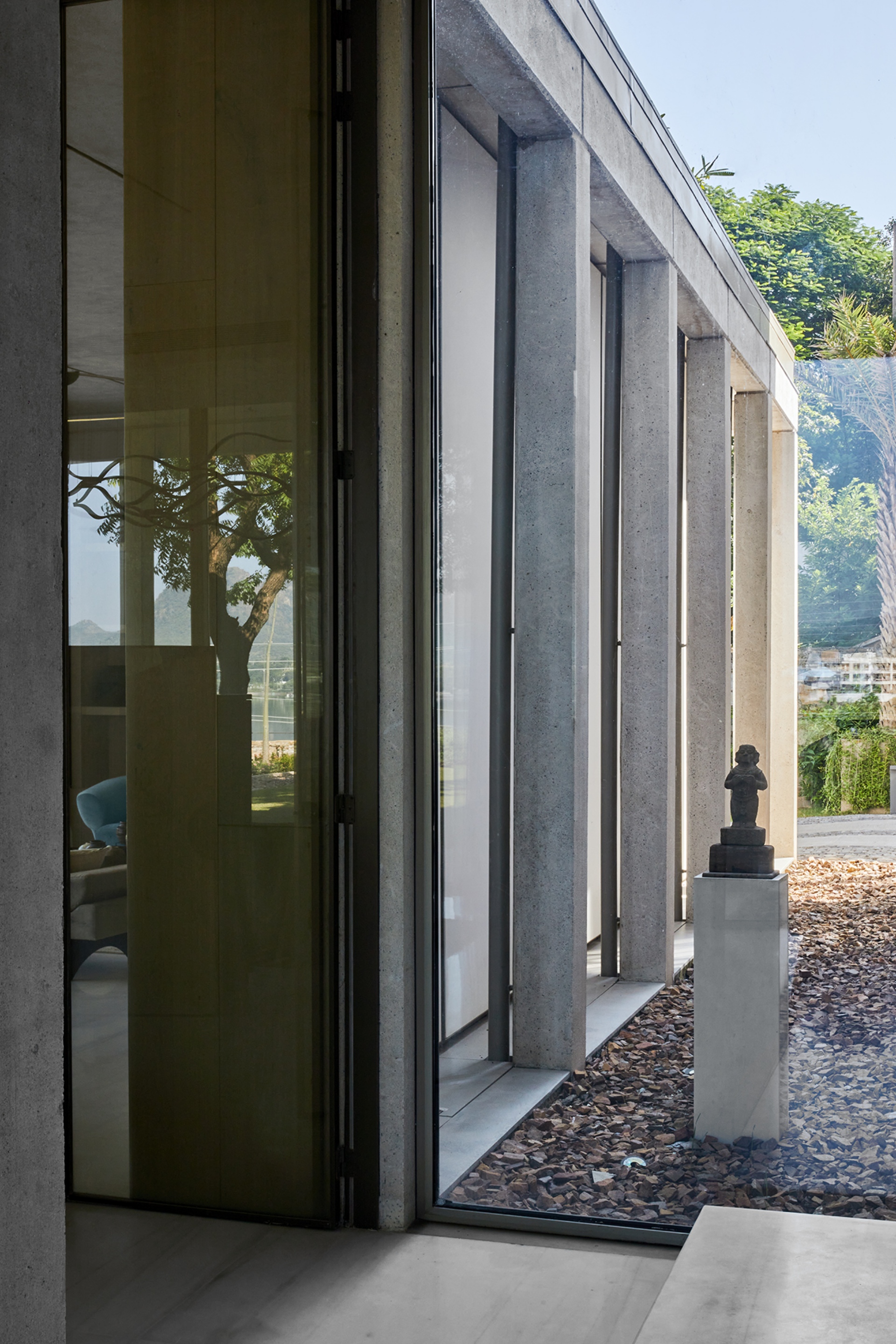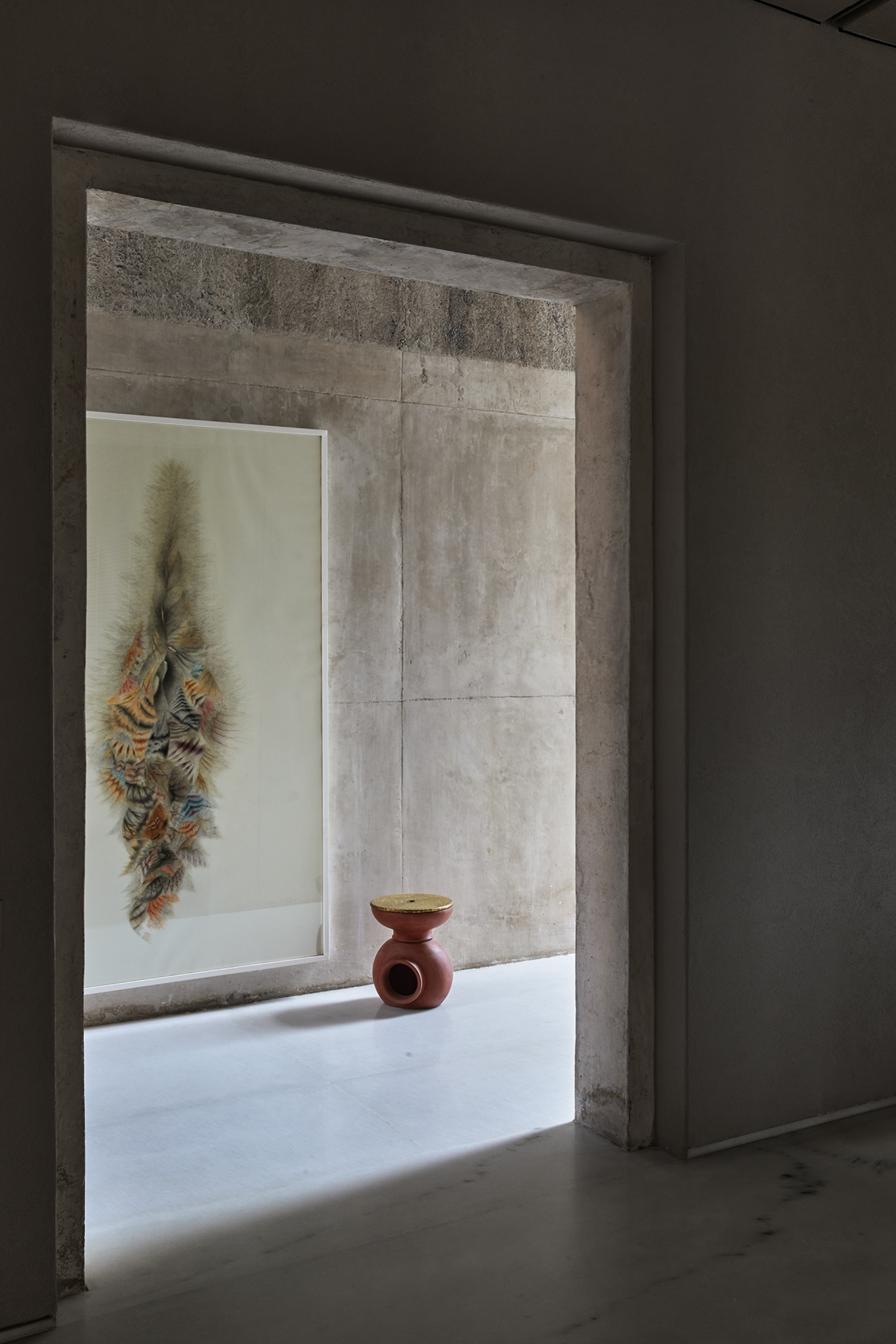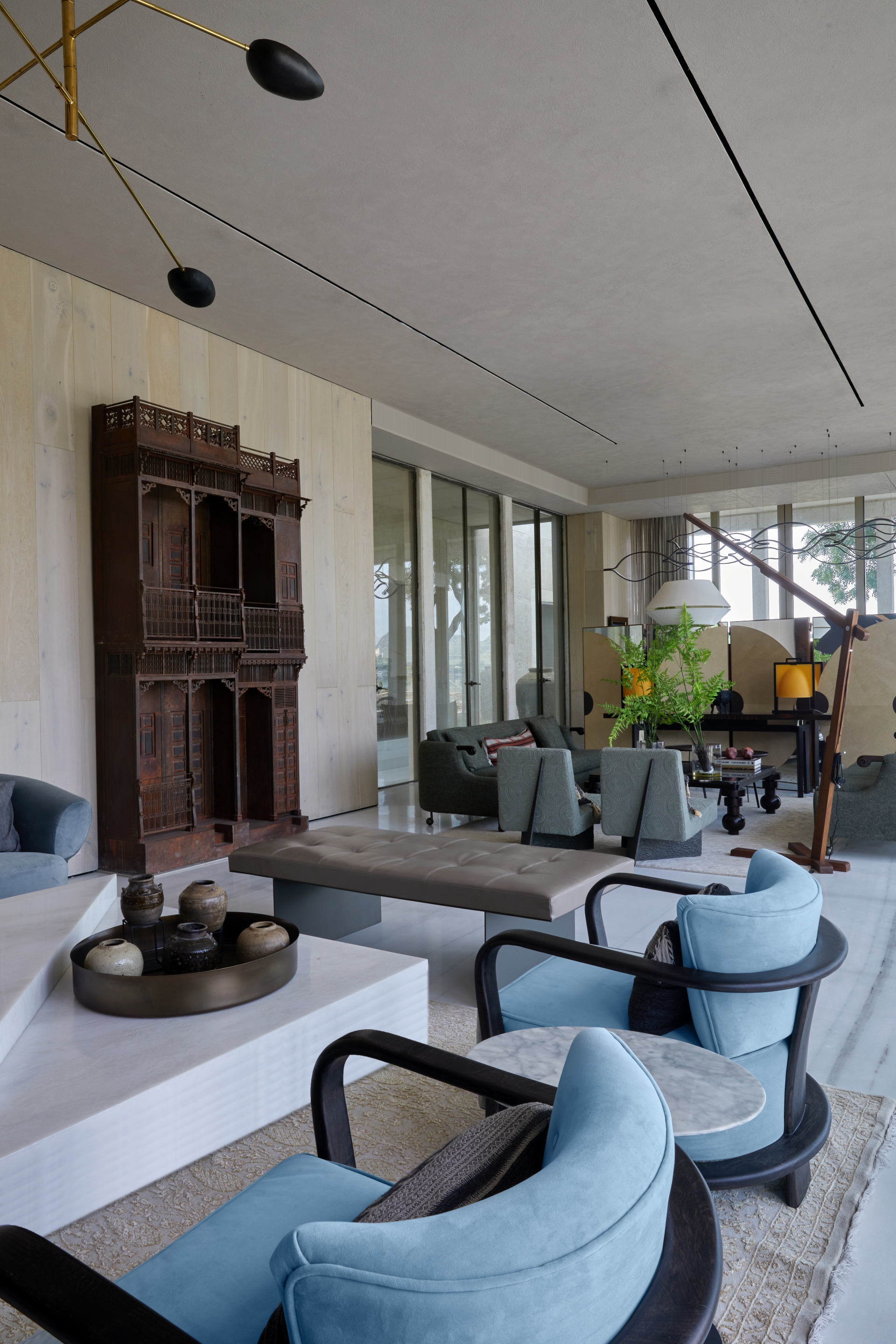 The interiors within the five bedroom construction pay homage to its surrounding context. Meanwhile, other spaces such as the pooja or prayer room, a library, an entertainment room, seating, a bar, a dining room and the terraces serve the requirements of all three generations within the family. Embracing a modern, chic aesthetic throughout, the design team have carefully considered a curation of furniture, finishes and accessories to bring the entire space together. A hint of subtlety coupled with clean lines and impeccable detail allow every dimension of the home to have its own identity. Moving through the residence, the epitome of wabi-sabi is intact - one can sense a meditative calmness through the use of tactile textures merging with spectacular views of the picturesque lake and surrounding hills framed by floor-to-ceiling glass windows.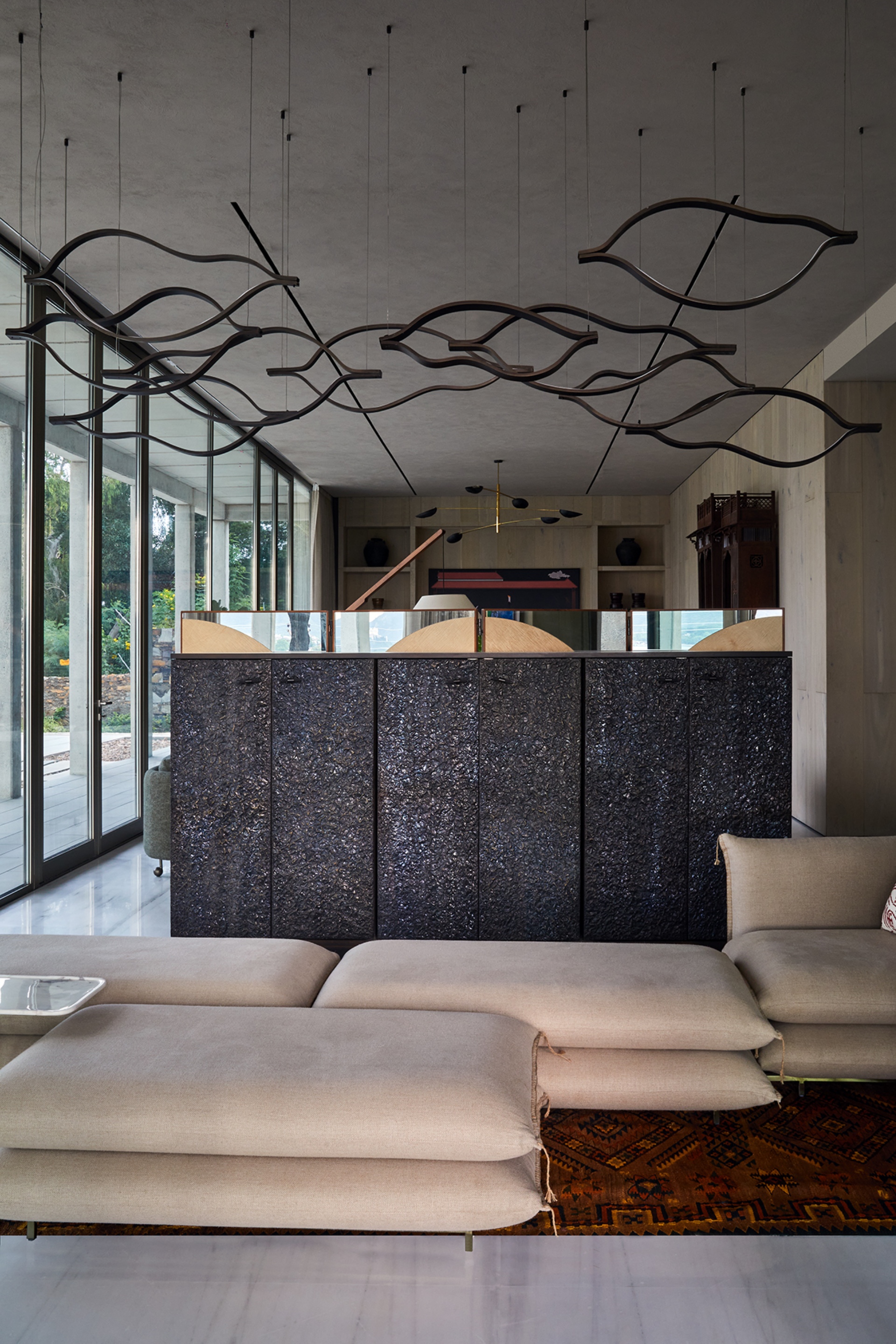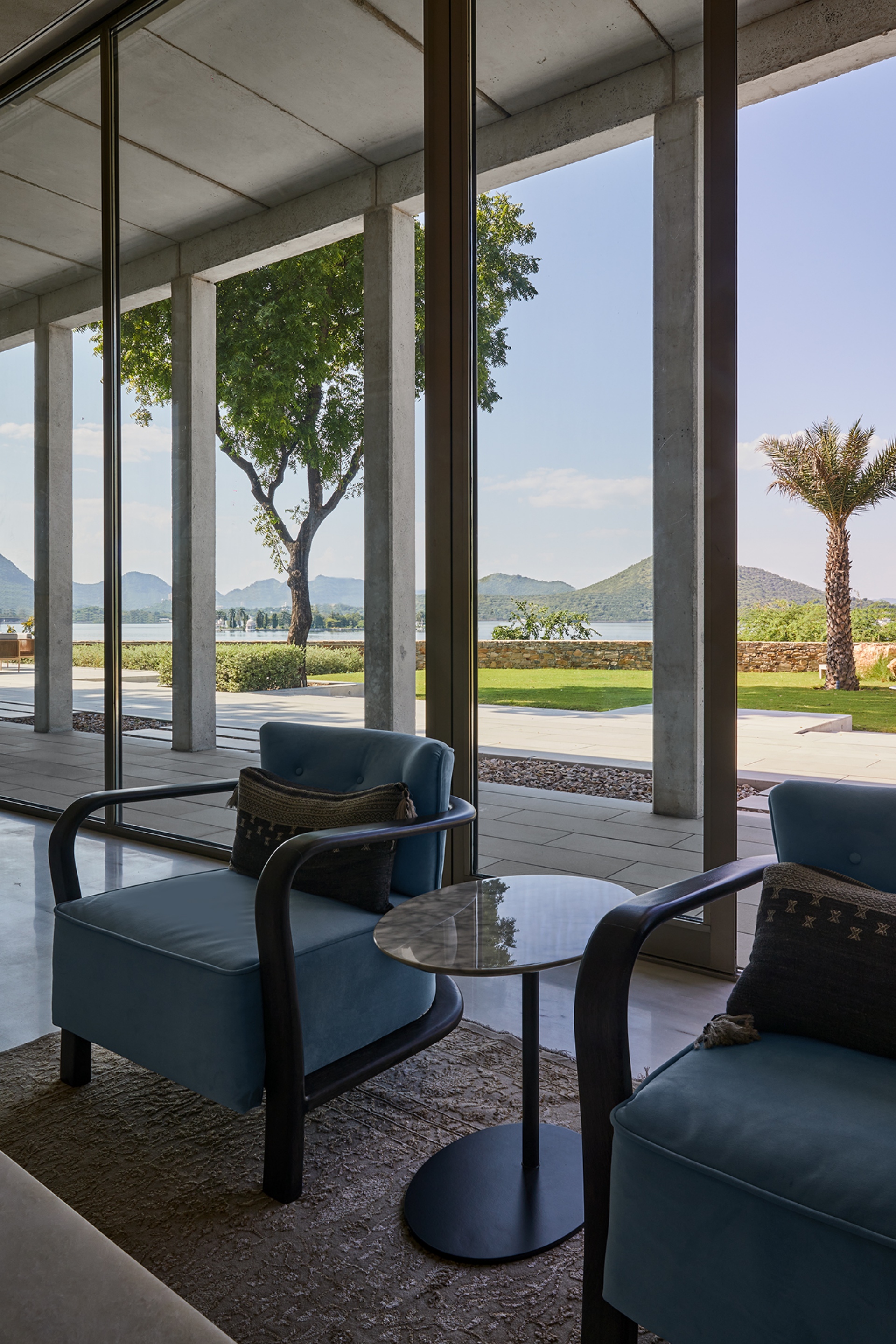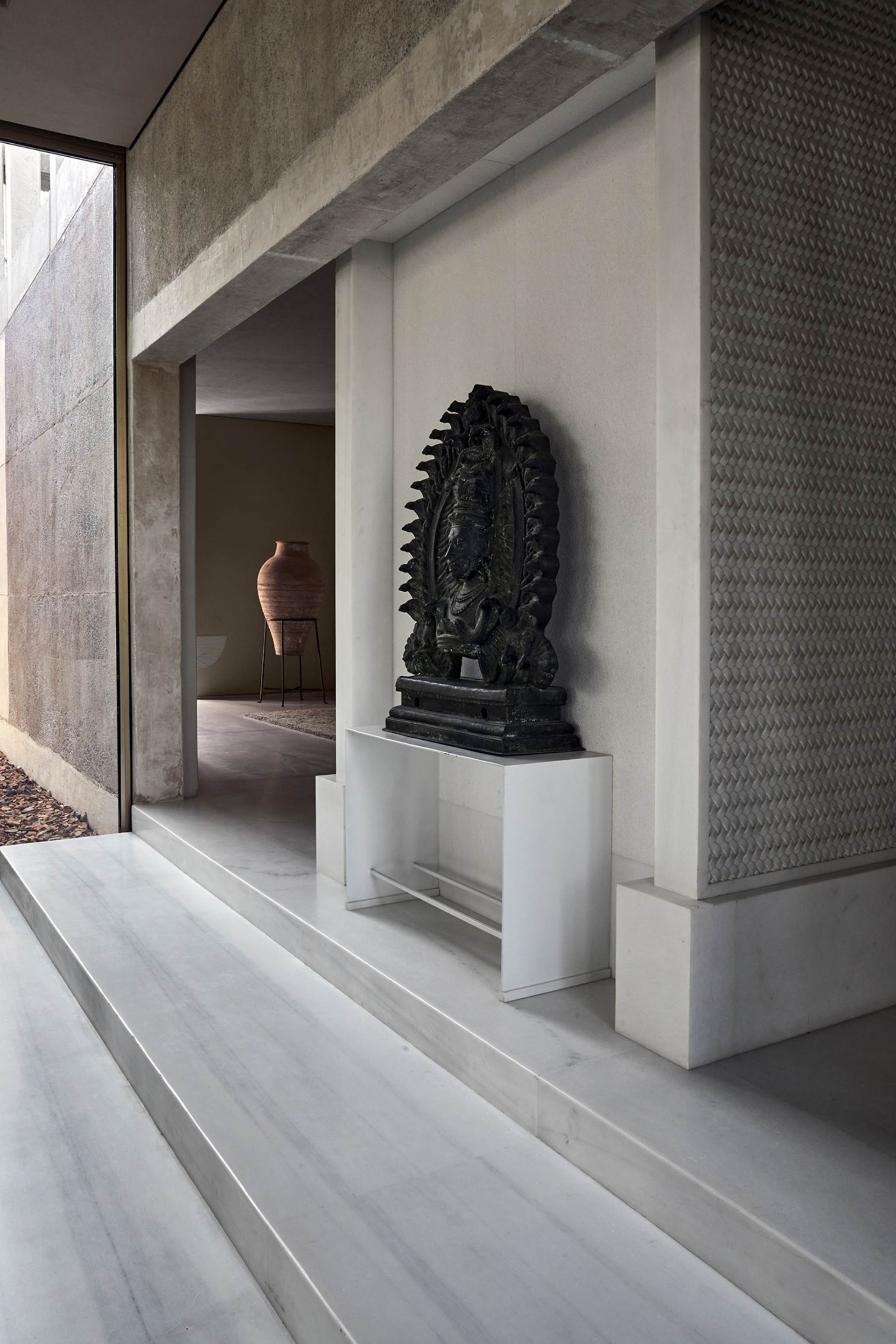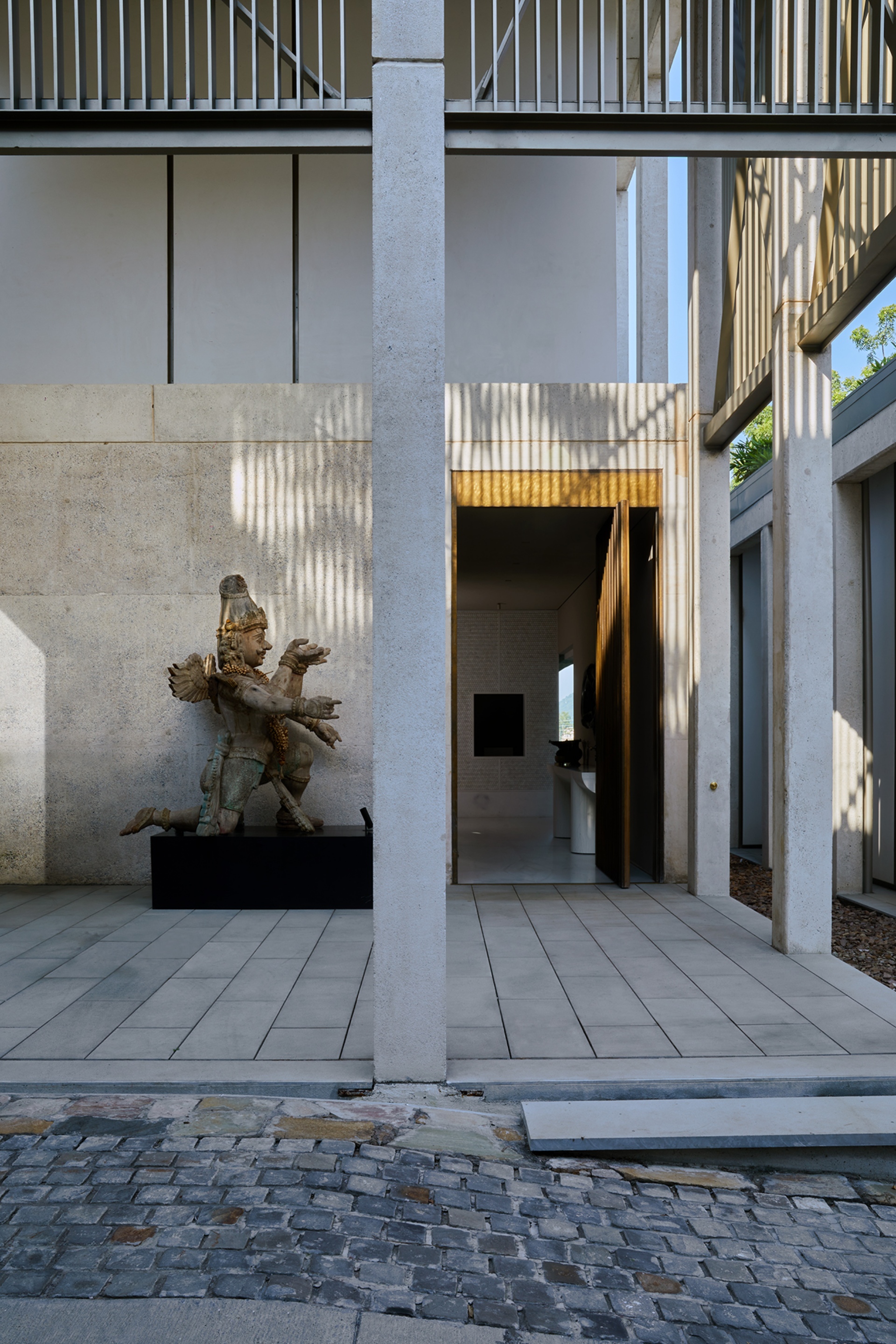 While the house has a personality of its own, the interior environment is vastly enhanced through a careful selection and presentation of art, whether a Pichvai painting or a collection of antique sculptures from the late 1850's or early 1900's. This realm is also Shah's forte, as he considers himself an eclectic collector, whose taste spans centuries and continents as well as being a renowned curator. Under his direction, the Lake House interiors are enhanced by the works of Surendra Nair, Kim Seola and antique sculptures from parts of Kerala in India.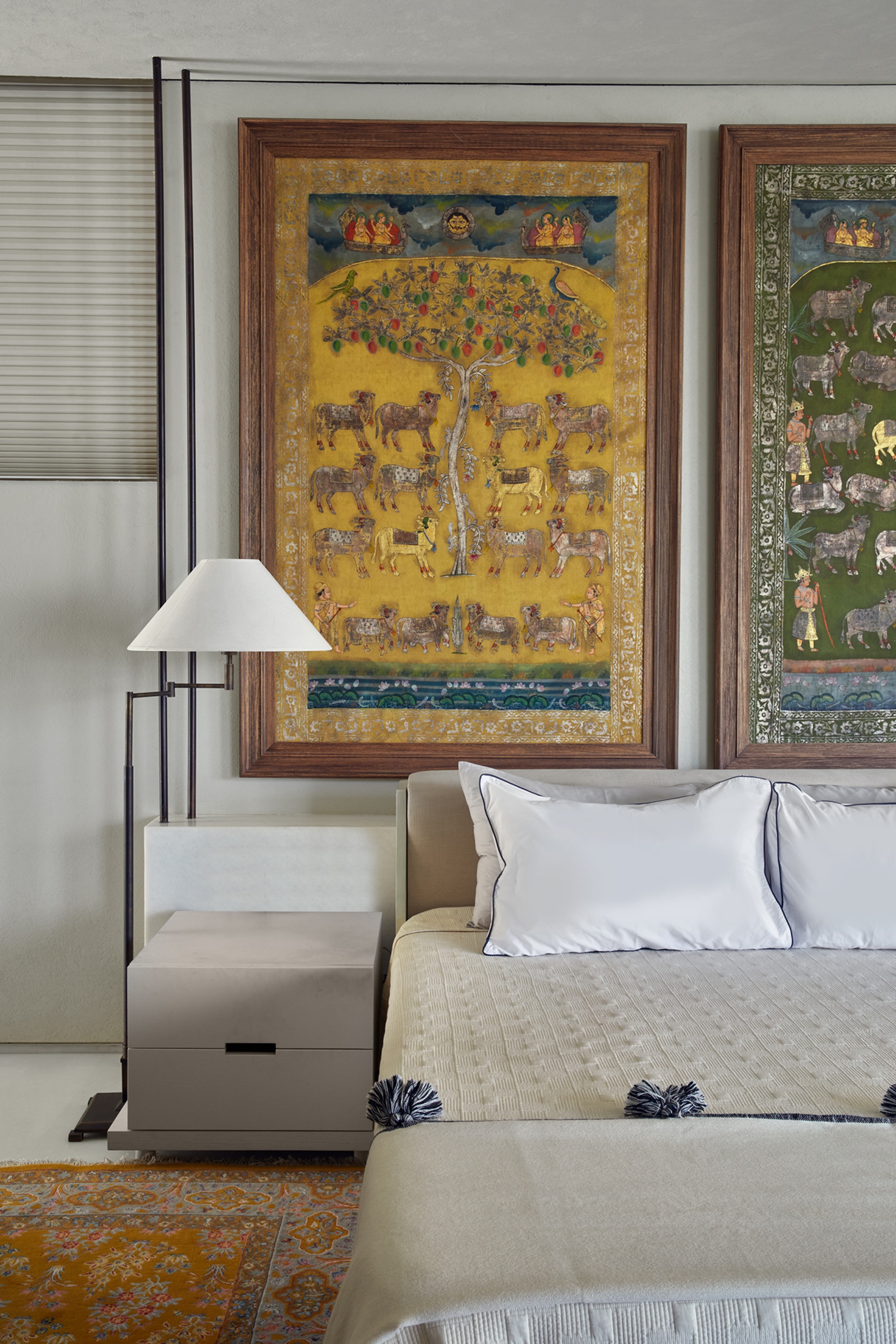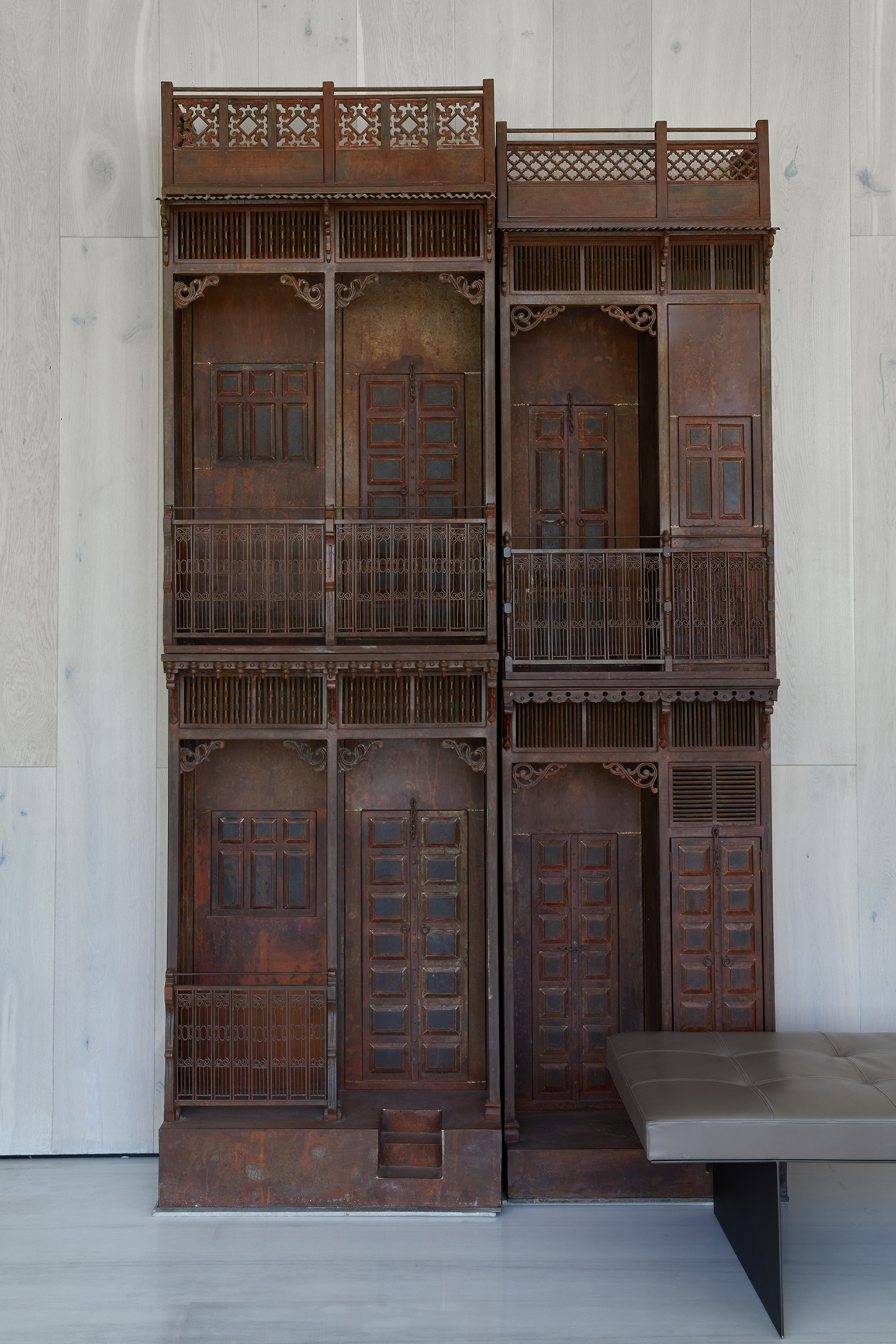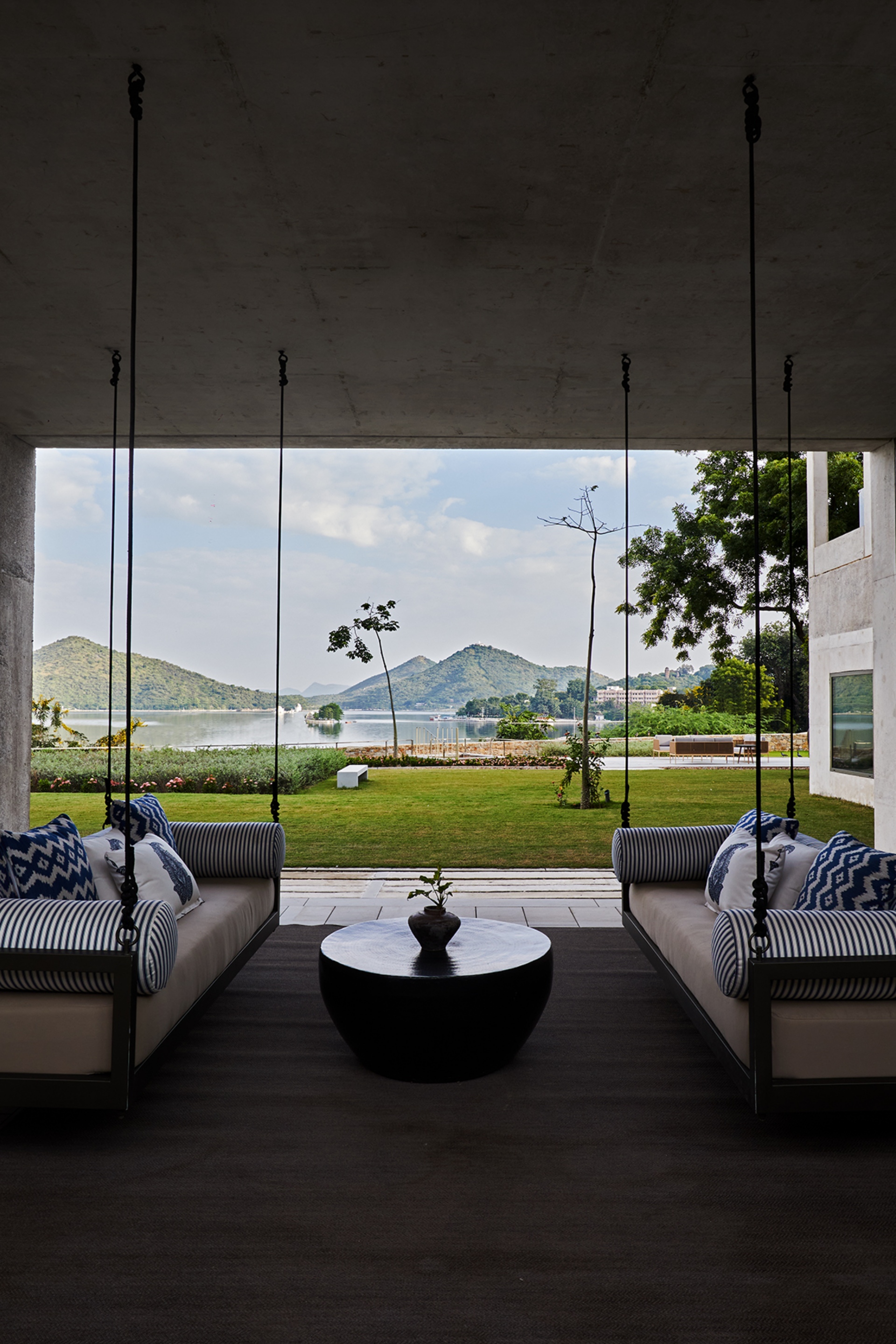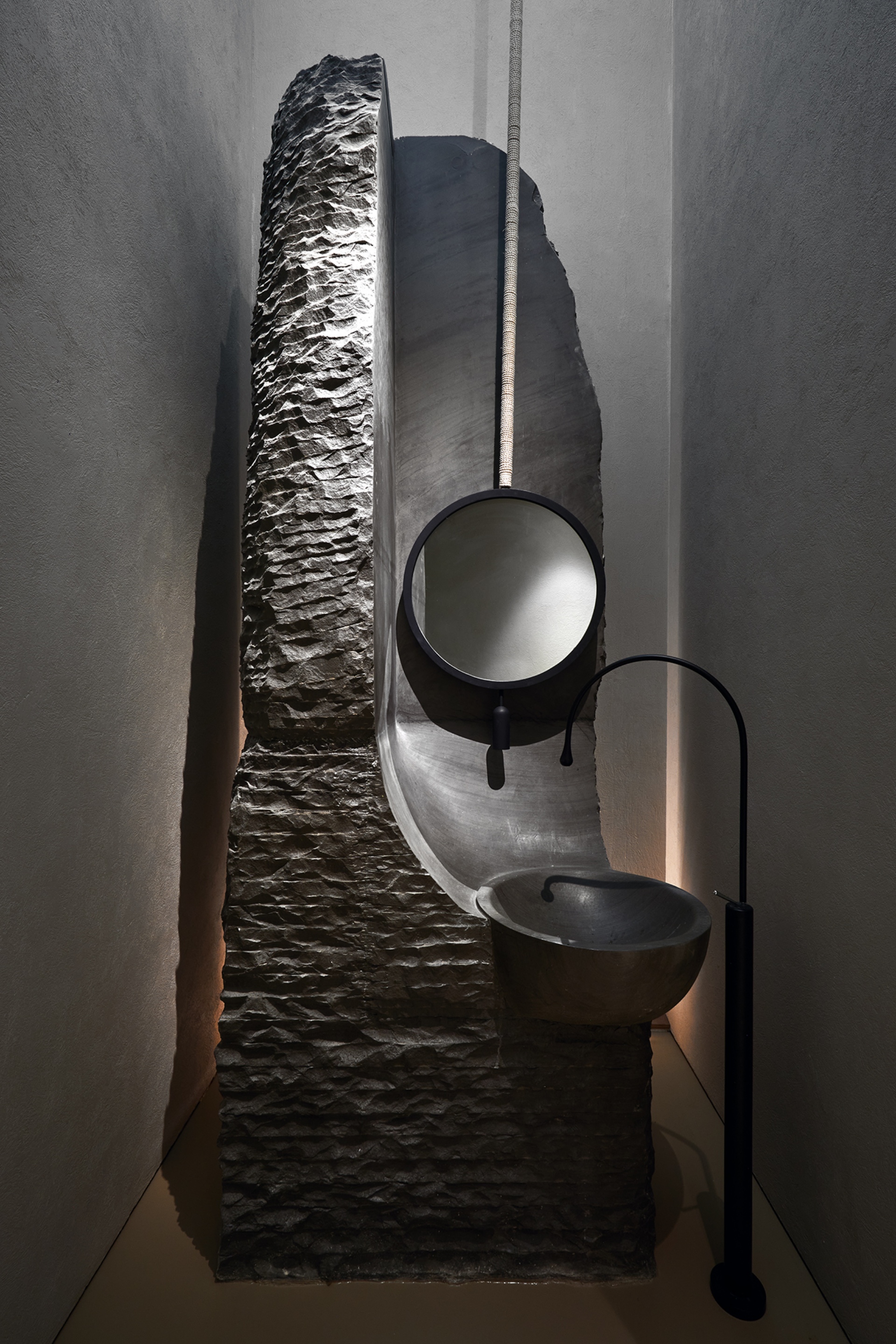 Skilful artisanship is displayed throughout this project with a selection of custom made design objects crafted to perfection and elements such as the intricate staircase that combines sculptural and functional qualities. This carefully designed marble staircase at the entrance with its simple bronze handrail and marble inlay celebrates form, function and geometry through a seamless transitional threshold. Similarly, the powder room showcases a monumental 10-feet-tall washbasin carved skilfully from a singular block of granite - an ode to the material, craft and the skilled craftsman. Also, a hand-picked selection of accent pieces sourced from various parts of India add bursts of vibrance to the space, lending immense character to every corner. Throughout the residence, the space is deeply characterized by beauty and function, merging contemporary art and design almost seamlessly.