It is on the rue du Faubourg Saint Honoré that shoe craftsman Michel Vivien chose to open his Parisian address, and a meeting of the minds occurred when he entrusted this personal project to architect Sophie Dries. This space for his singular universe filled with unexpected contours holds witness to the traditions of craftsmanship and noble materials, important to both these design minds.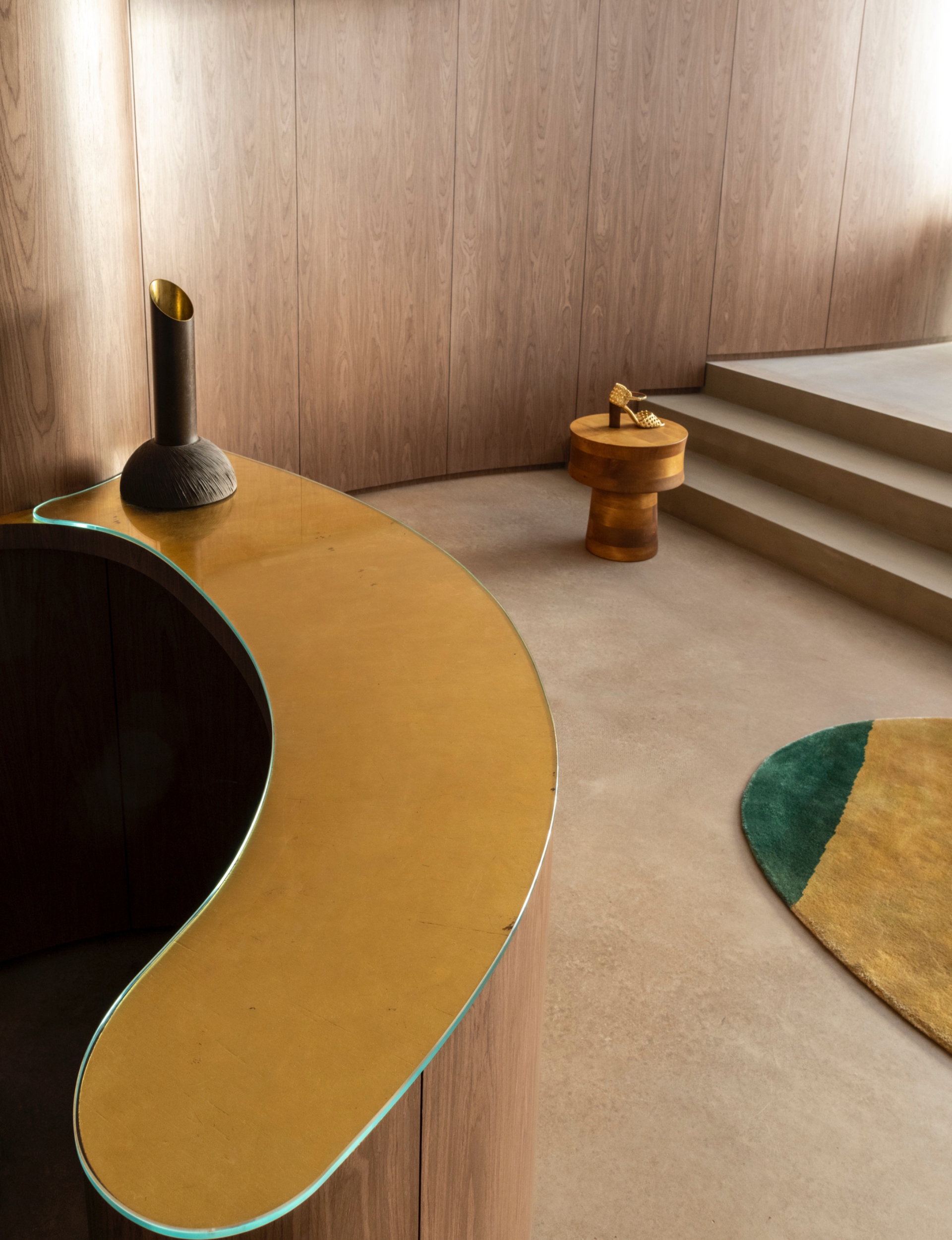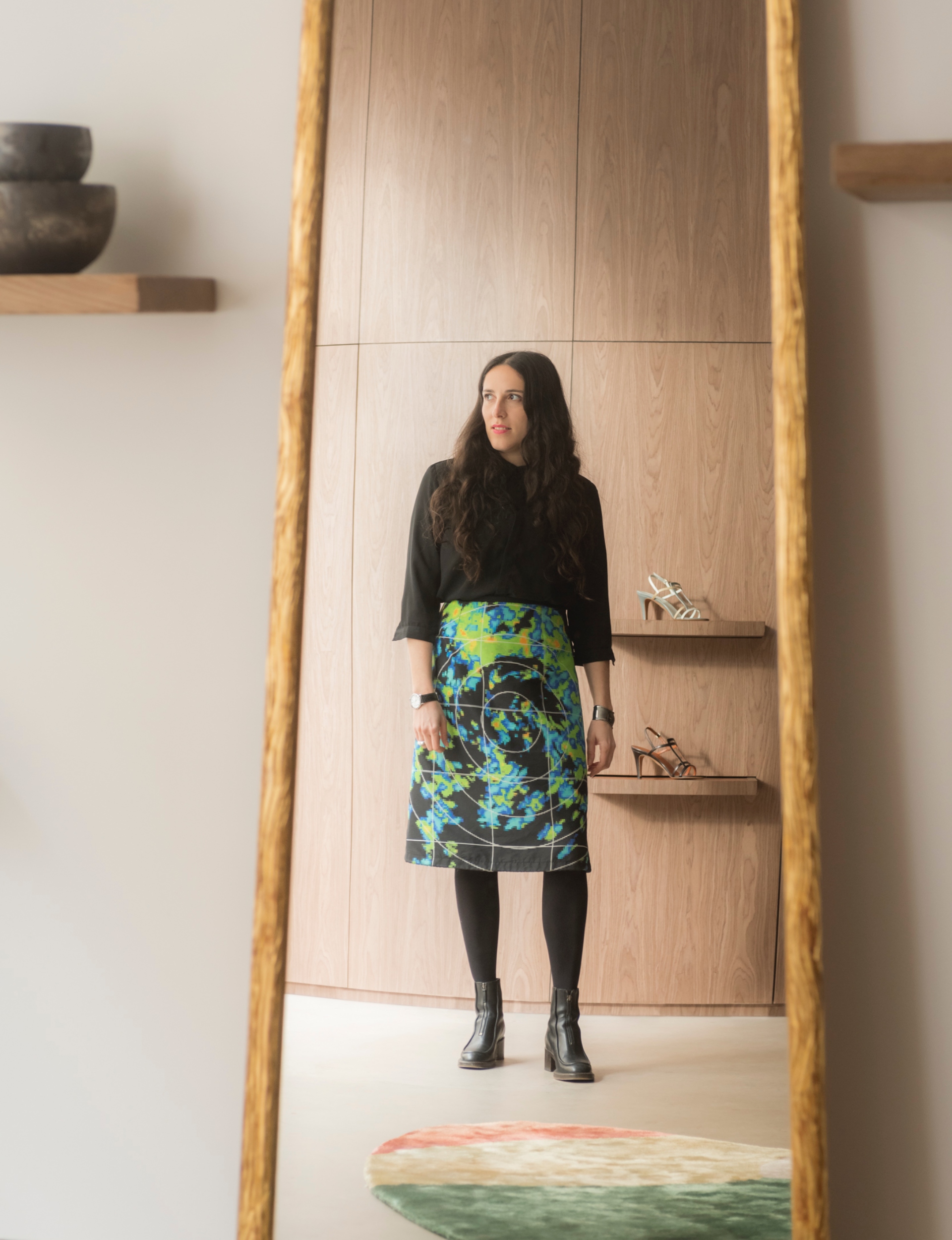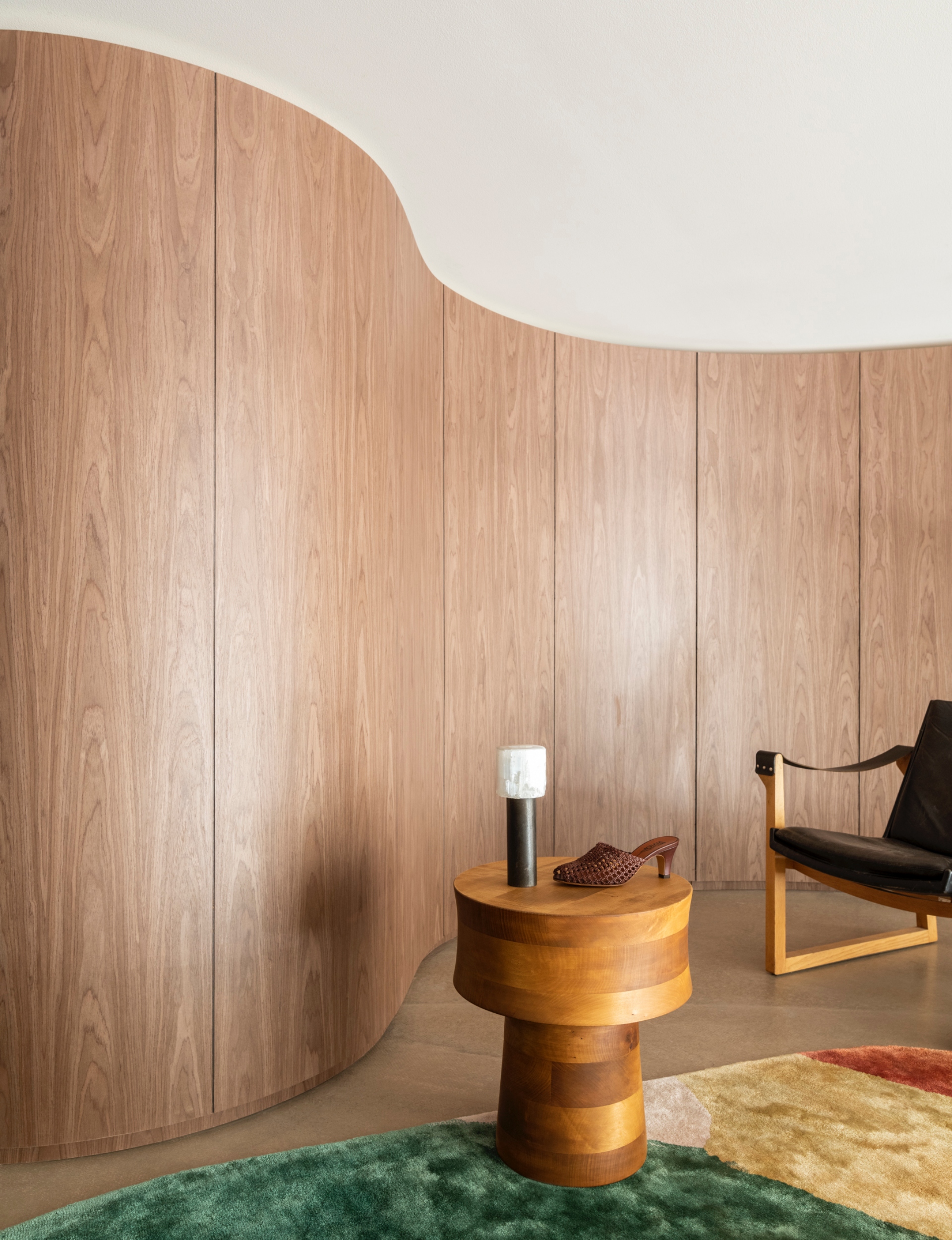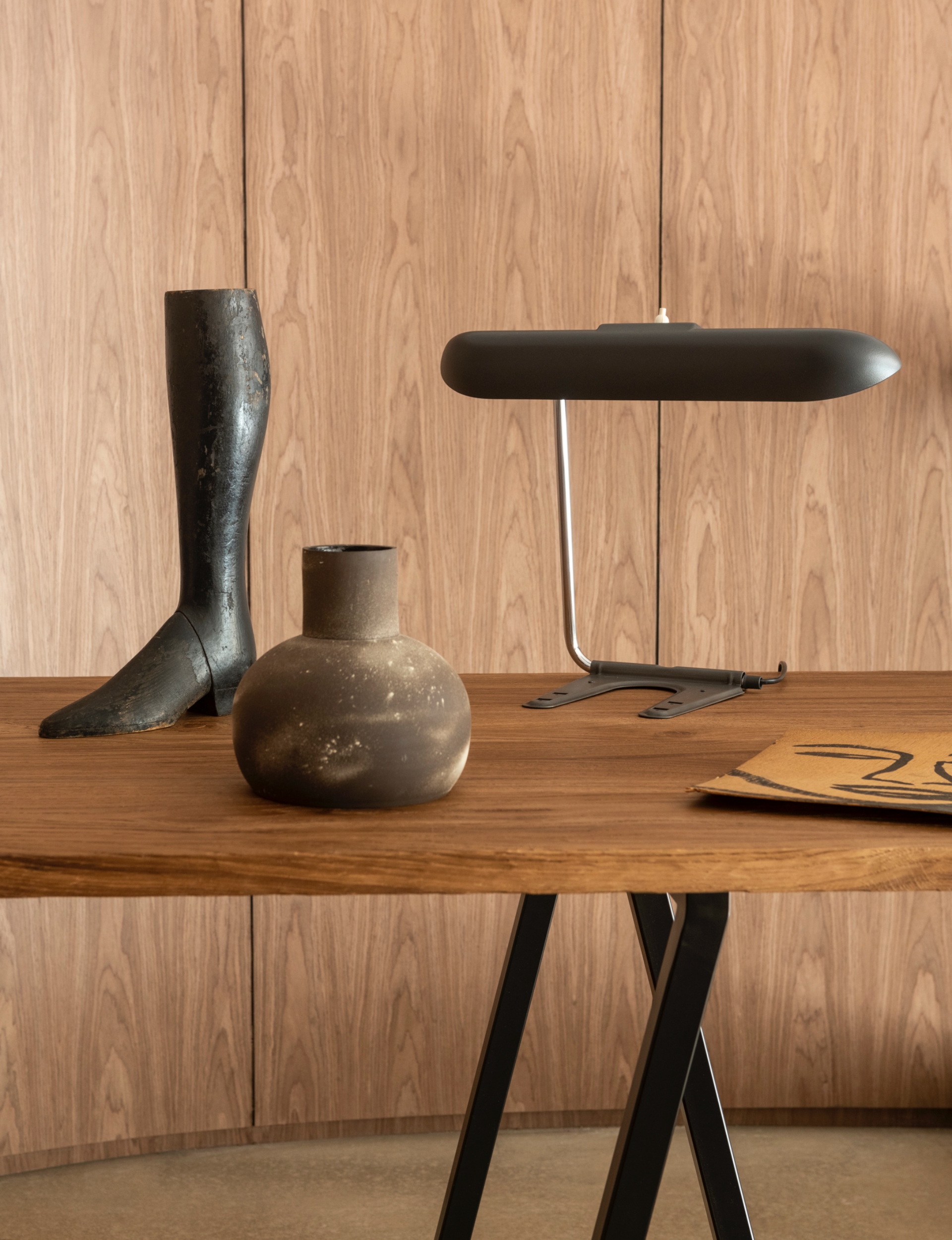 Spanning 1,080 square feet of retail interiors, a 15-meter long wooden wave vibrates the double-height volume of the store. This corrugated walnut wall contrasts with the taut lines of the uncluttered volume and takes visitors to the infinity of the longitudinal space. In this realm of continuity evoking a labyrinth, you do not lose your stride and focus. Instead, the space encourages you to release your restraints and get lost in a compelling scene. Opposite the waved wall, a 3.5-meter-high wooden wall is a display stage for Vivien's shoe collections. Presented on a modular set of solid wooden shelves - each one hand-moulded by a skilled cabinetmaker - they look as if they are seamlessly suspended in the air. The payment counter, meanwhile, is also a display of exquisite craftsmanship; a curved veil covered with hand-applied gold leaf, exudes a low-key aristocratic atmosphere.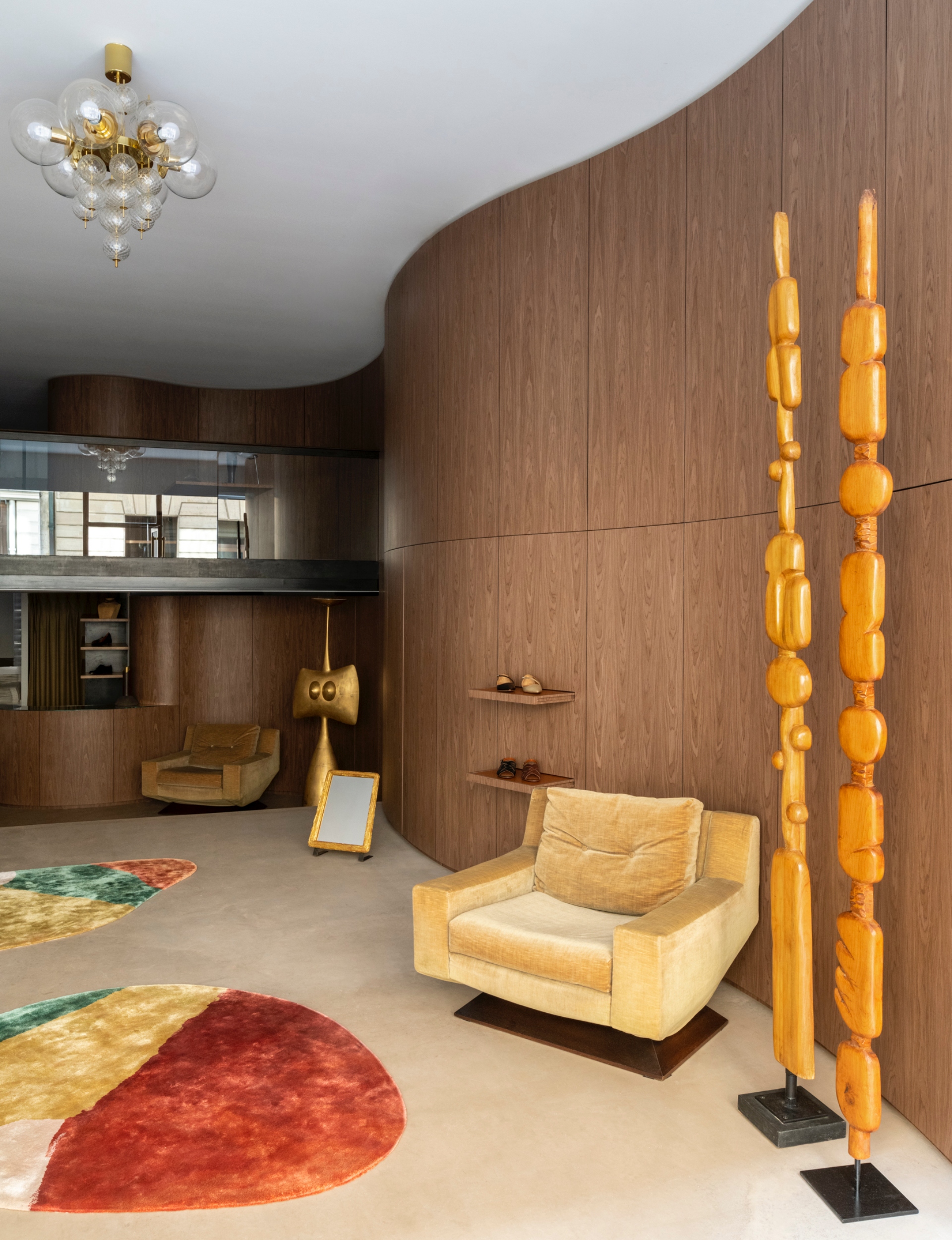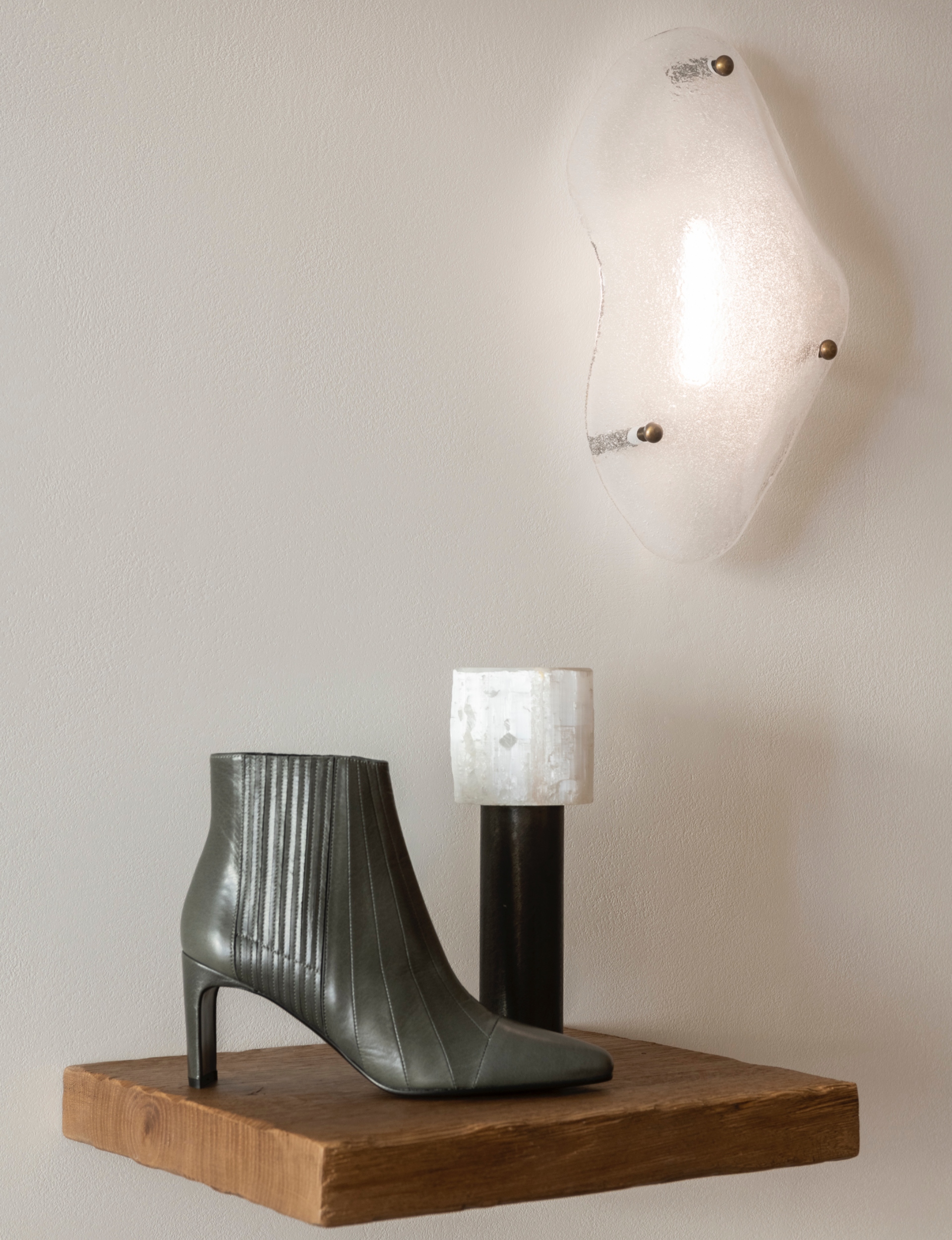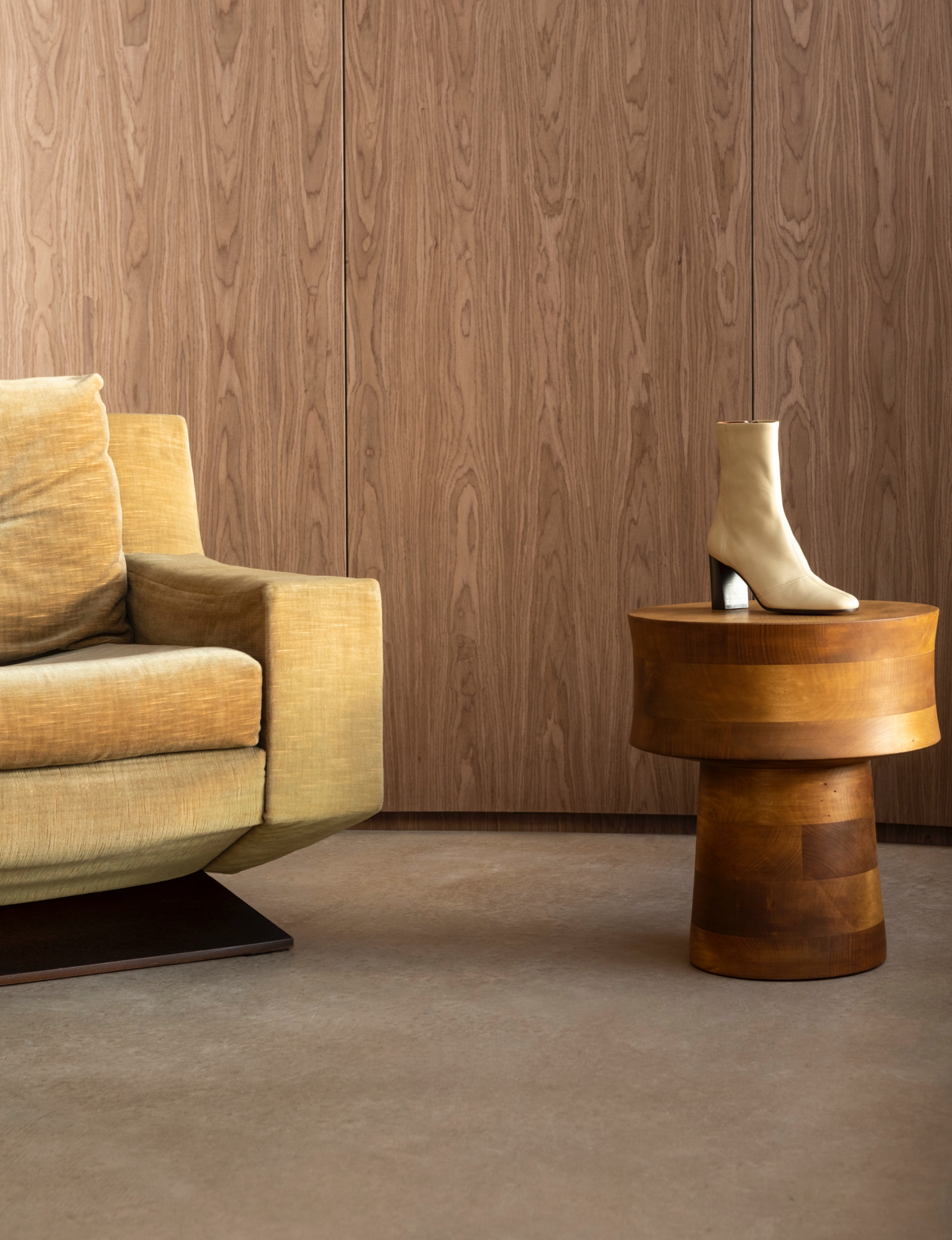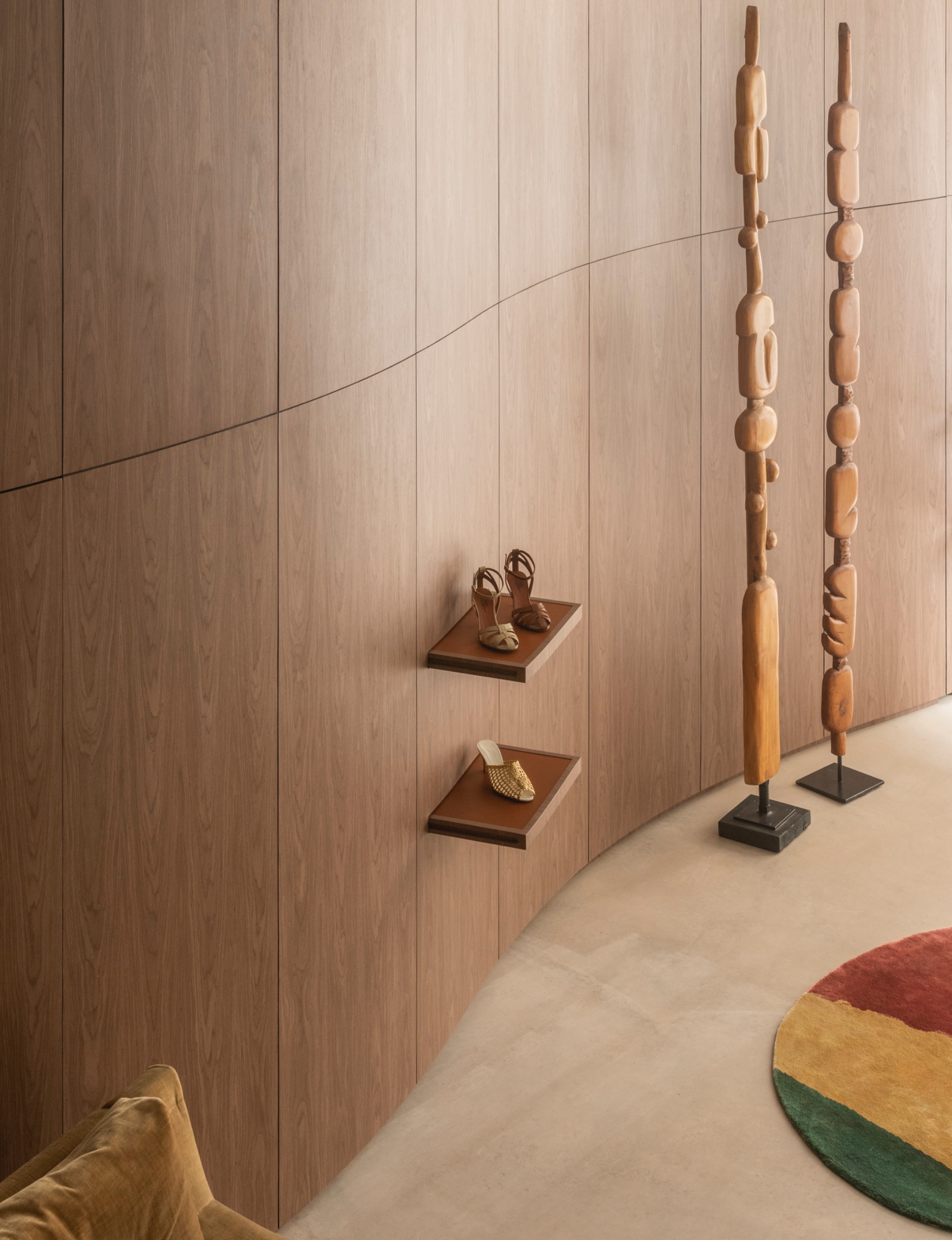 Dries, who is skilled at cooperating with craftsmen to create furniture, often collaborates with Murano's glass-making masters to design. A series of organic and bold glass wall lights with gold decorations in the store are proof of this. Together with walnut wood, leather, gold leaf and other more raw materials such as patinated metal, hand gouged solid wood or concrete, they piece together a layered atmosphere of rigidity and softness, to lay a new foundation for the retail experience.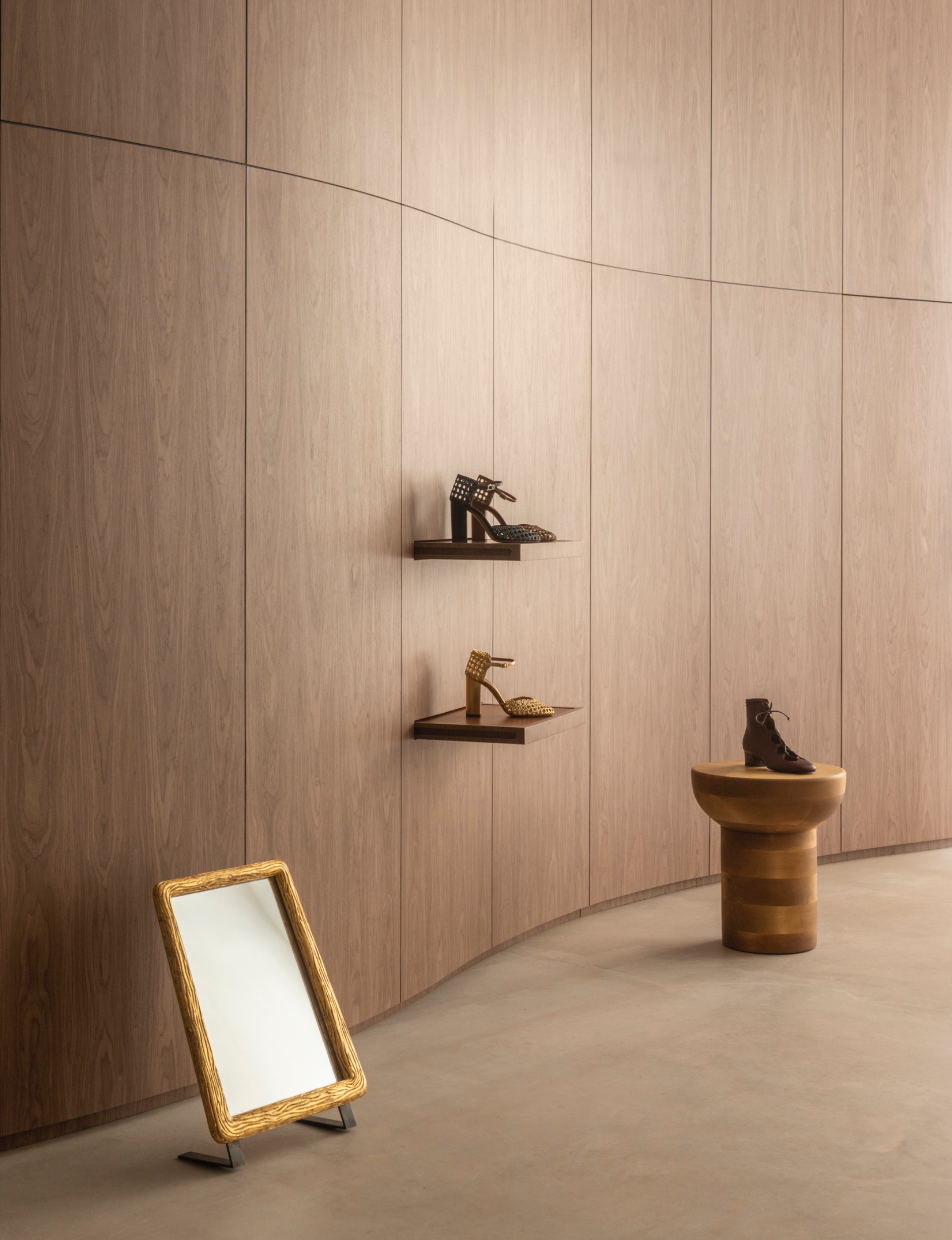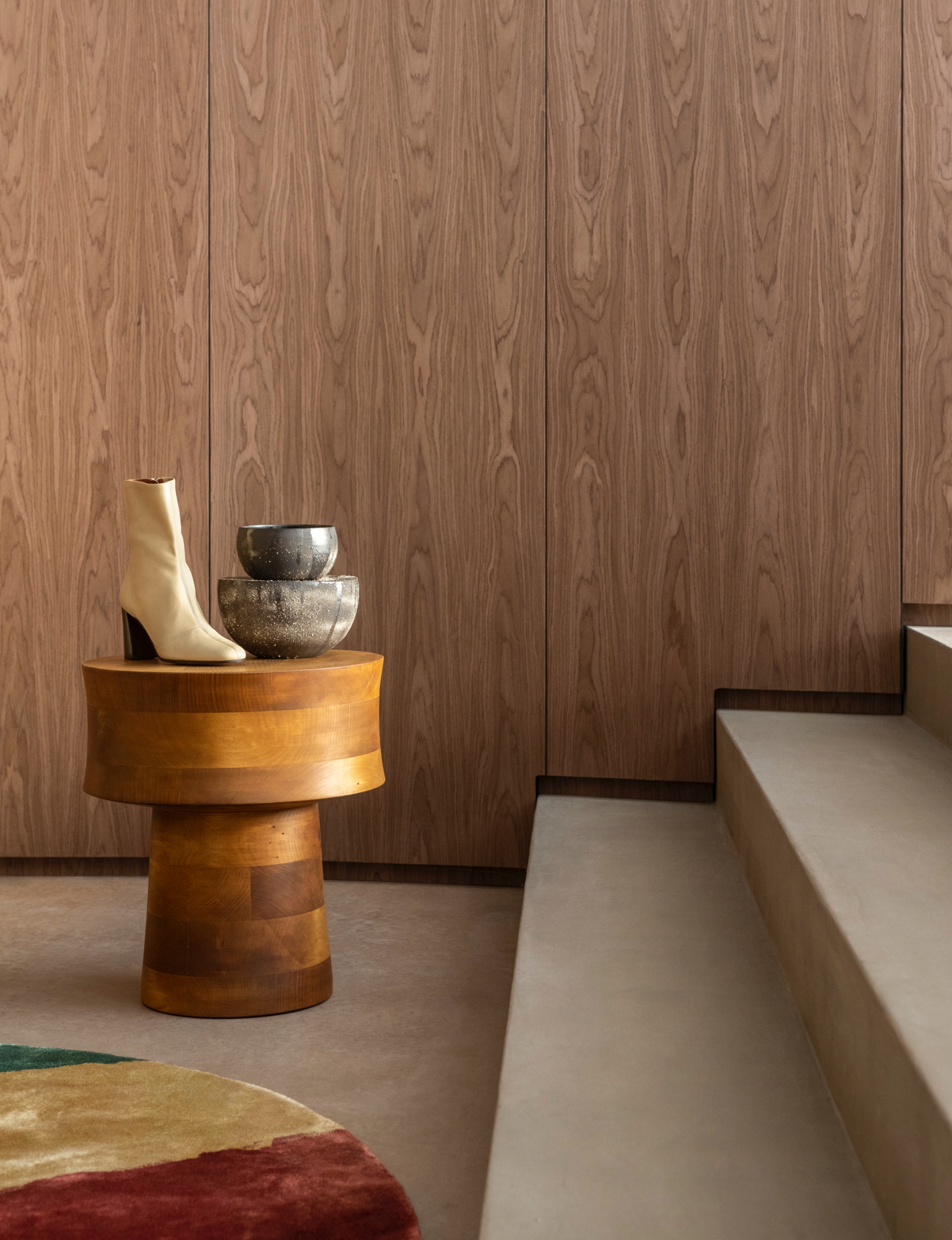 Vivien and his team worked closely to create the shoe series in the studio, which are also displayed on the concrete floor. A monumental framed mirror standing against the wall is hand-made by skilled craftsmen, and serves both form and function, used frequently by guests trying on shoes wanting to observe the effects of different designs. Carpets with organic lines have been made to measure in eucalyptus fibre with moirés reminiscent of silk – each of them unique in their colours from a painting by Michel Vivien. Leather can be found on the handle of the entrance door, the handle of the mobile mirrors, but also on the display shelves for the shoes, like an invariable between the shoe and the architecture that presents it.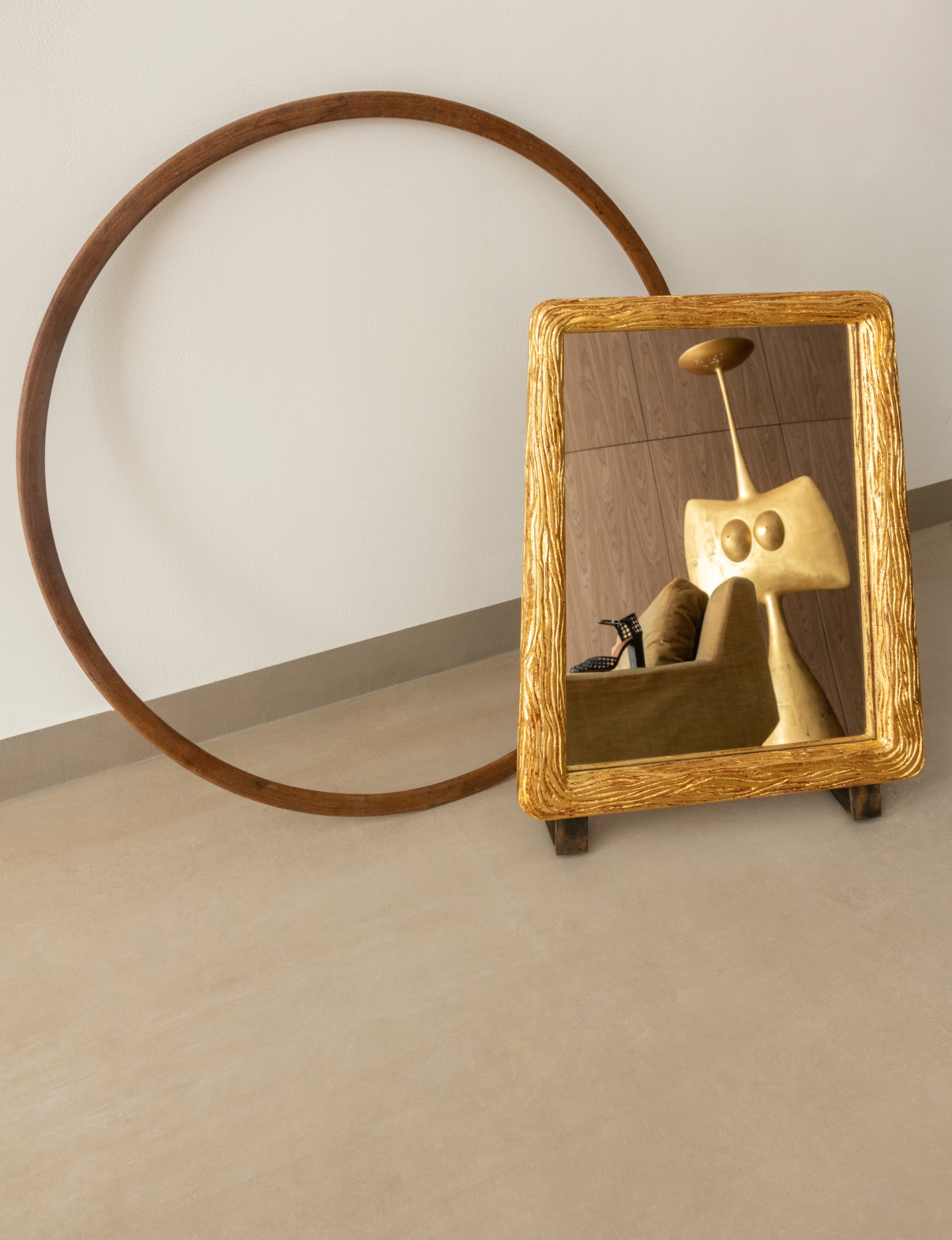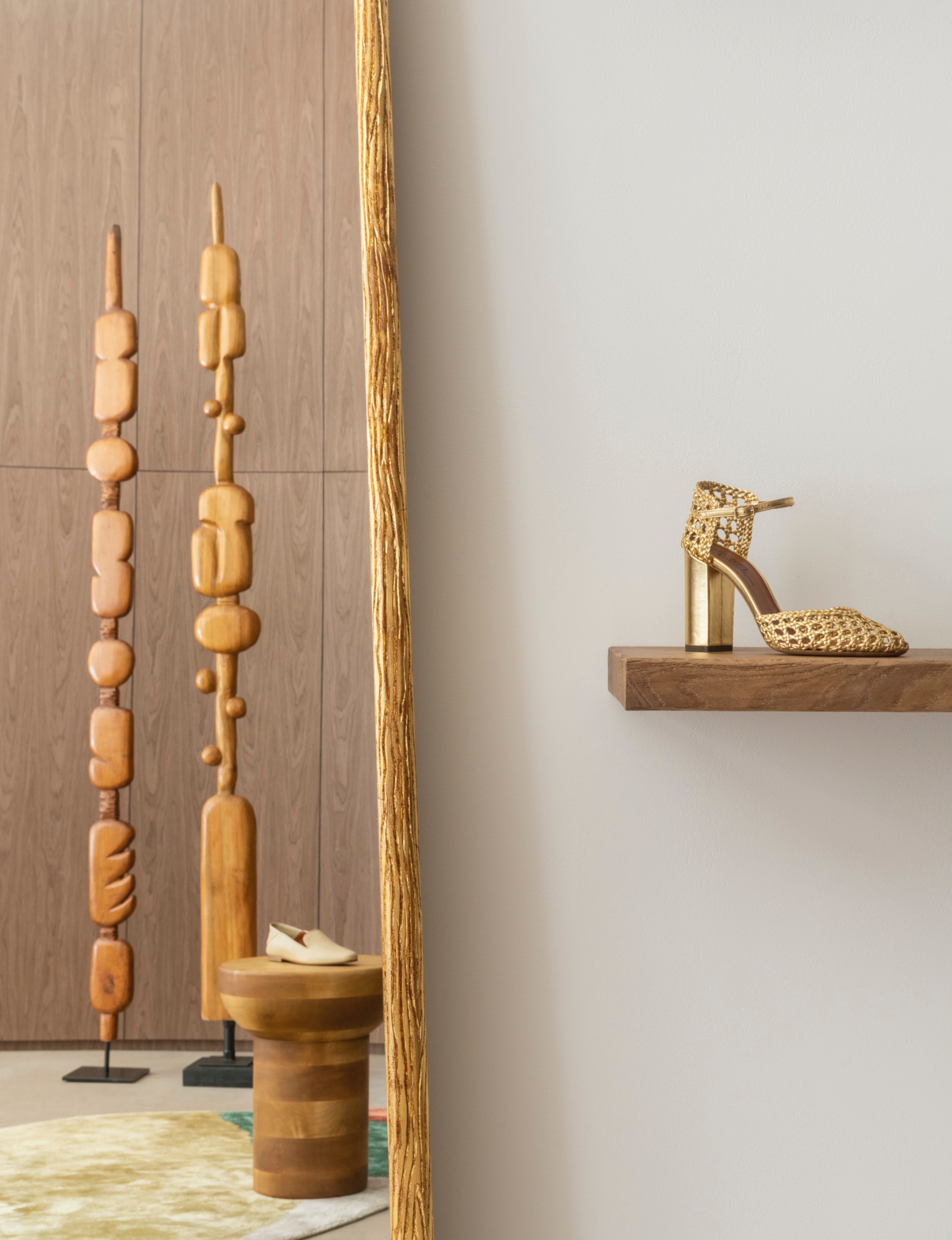 A series of totem tables in solid wood punctuate the space to display shoes or serve as an occasional table, next to the benches designed especially for the project. The lighting fixtures in gilded metal by Philippe Hiquily refer directly to the world of femininity. Indeed, both Vivien and Dries are attached to natural materials and the use of traditional techniques - everything was hand-made for the project. Thus their shared ethic of artisanal work and the emphasis on the truth of the materials are synthesized in this space. 

Vintage furniture has been selected with the curated eye of Gilbert Kann, pursuing the idea of a timeless French spirit. These include solid wood stools by Pierre Chapo, a monumental glass chandelier, geometrical armchairs in 70s velvet, wooden totems (from Michael Voseller Gallery), or industrial DCW lighting by Jacques Biny or Charlotte Perriand. A series of personal objects from the shoemaker's world and antique pieces interact with the ceramic vases designed by the architect. The idea of it all is to feel comfortably cocooned, in a space without ostentation and to leave with the essentials.