Pierre Soulages: From Midnight to Twilight traverses seven decades of the artist's practice and invites viewers to join his exploration of light and darkness. The exhibition's title captures a phrase penned on Soulages's work by James Johnson Sweeney, curator at the Museum of Modern Art, New York (1935–46) and director of the Solomon R. Guggenheim Museum, New York (1952–60), who illuminated the artist's oeuvre in the United States through significant exhibitions and writing.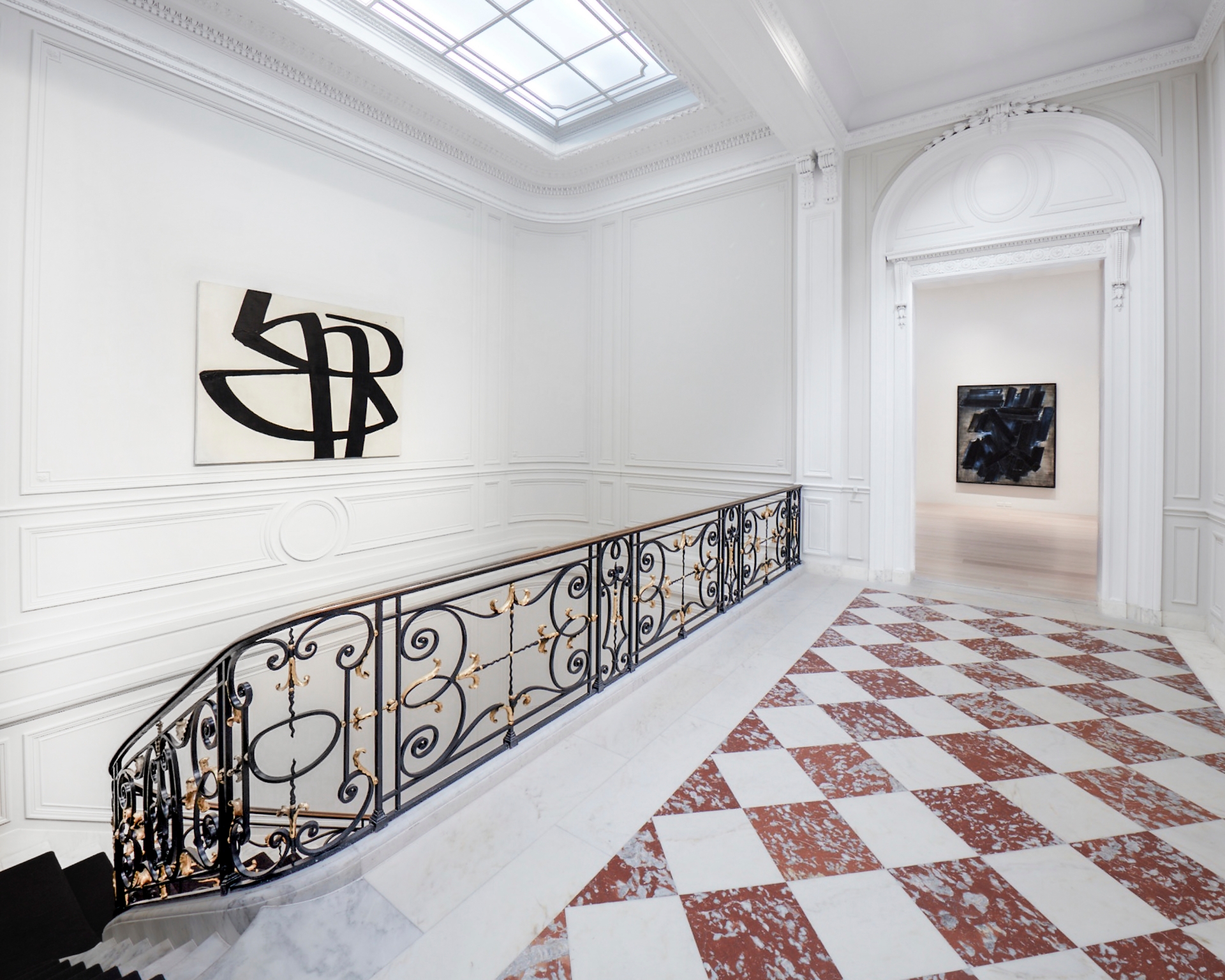 Known as "the painter of black and light," Pierre Soulages (1919–2022) forged a career remarkable for its rigorous invention and longevity. The artist worked predominantly with black from the postwar period onward, creating canvases that might recall nocturnal landscapes or charred earth. Rather than adhering to such movements as Abstract Expressionism, tachism, and Informel, Soulages contextualised his paintings in terms of vitalism, classicism, and prehistoric forms. He pursued his series Outrenoir, whose title is a portmanteau Soulages defined as "beyond black," from 1979 until his death. With these scraped and slicked tar–like surfaces, he transformed the spatial and temporal dimensions of painting.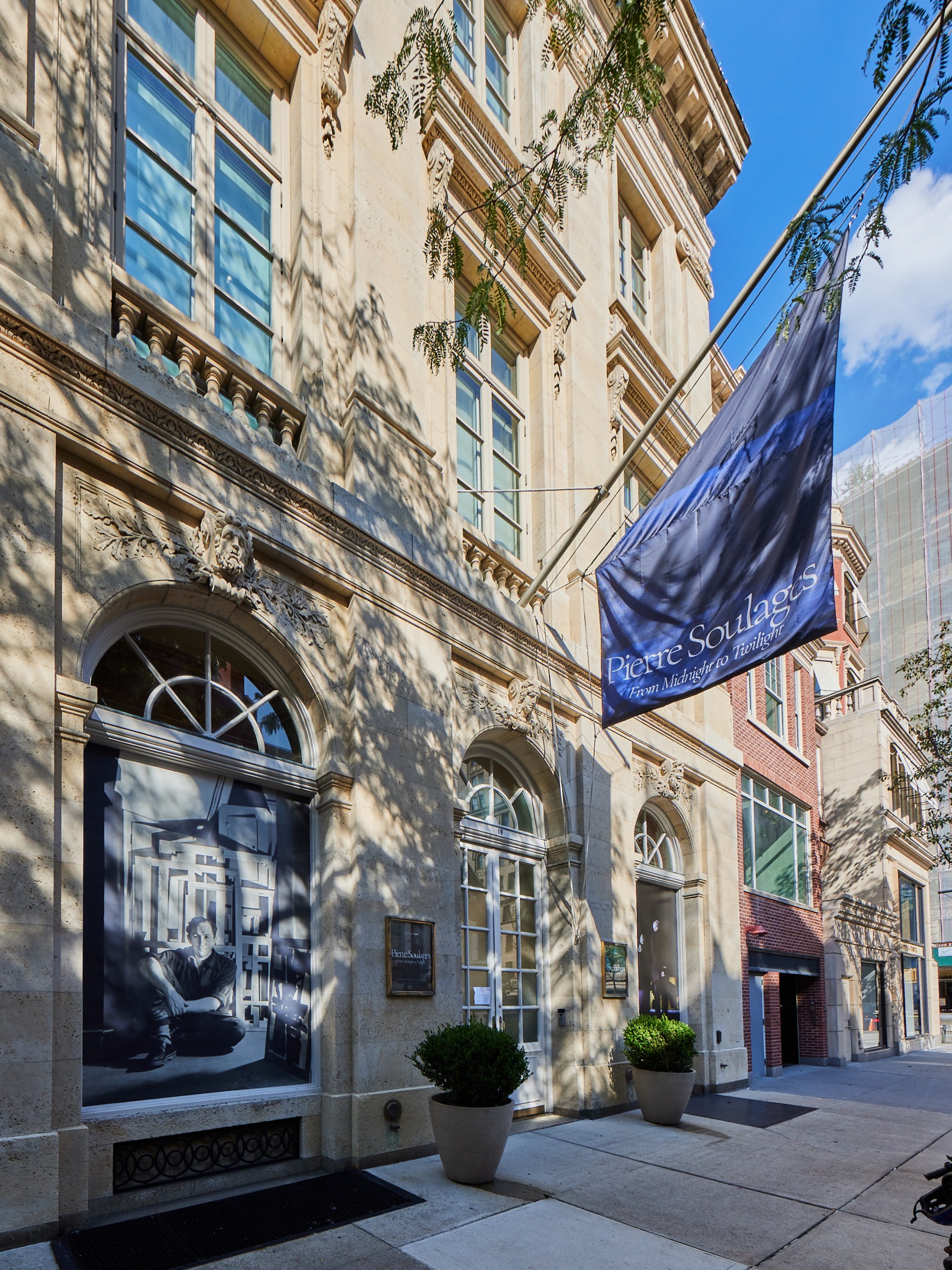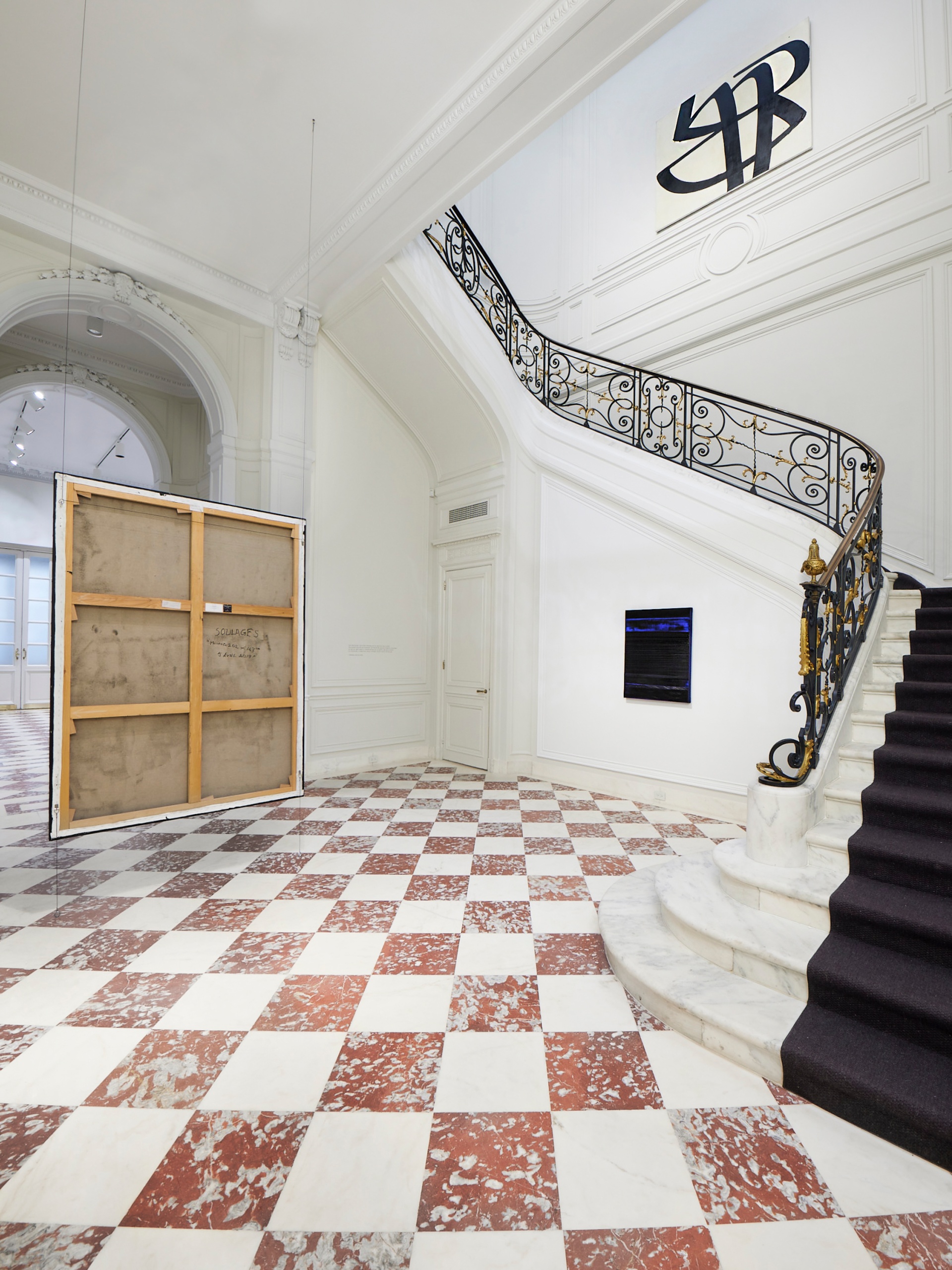 Born in 1919 in Rodez, France, Soulages first exhibited his paintings - bold, flat marks of walnut stain (Brou de noix) on paper - in the 1947 Salon des Surindépendents. In 1949, his work featured in his first solo exhibition at Galerie Lydia Conti, Paris, and a group exhibition at Betty Parsons Gallery, New York. In 1954, the legendary dealer of Abstract Expressionist art Samuel Kootz offered Soulages his first solo show in New York. The artist's first retrospective was organised in 1960 by the Museum Folkwang, Essen, and travelled to the Gemeentemuseum, The Hague, and Kunsthaus Zürich. Subsequent retrospectives of his work include those at the Museum of Fine Arts, Houston (1966); Musée National d'Art Moderne at the Centre Pompidou, Paris (1967); Musée d'Art Moderne de la Ville de Paris (1996); Hermitage Museum, Saint Petersburg (2001); and Museum Frieder Burda, Baden-Baden, Germany (2020). On the occasion of his centennial birthday in 2019, the Louvre, Paris, honoured the artist with a survey of his eight-decade career - marking the third time a living artist had received a retrospective at the museum; previously, this honour had been conferred only to Pablo Picasso and Marc Chagall.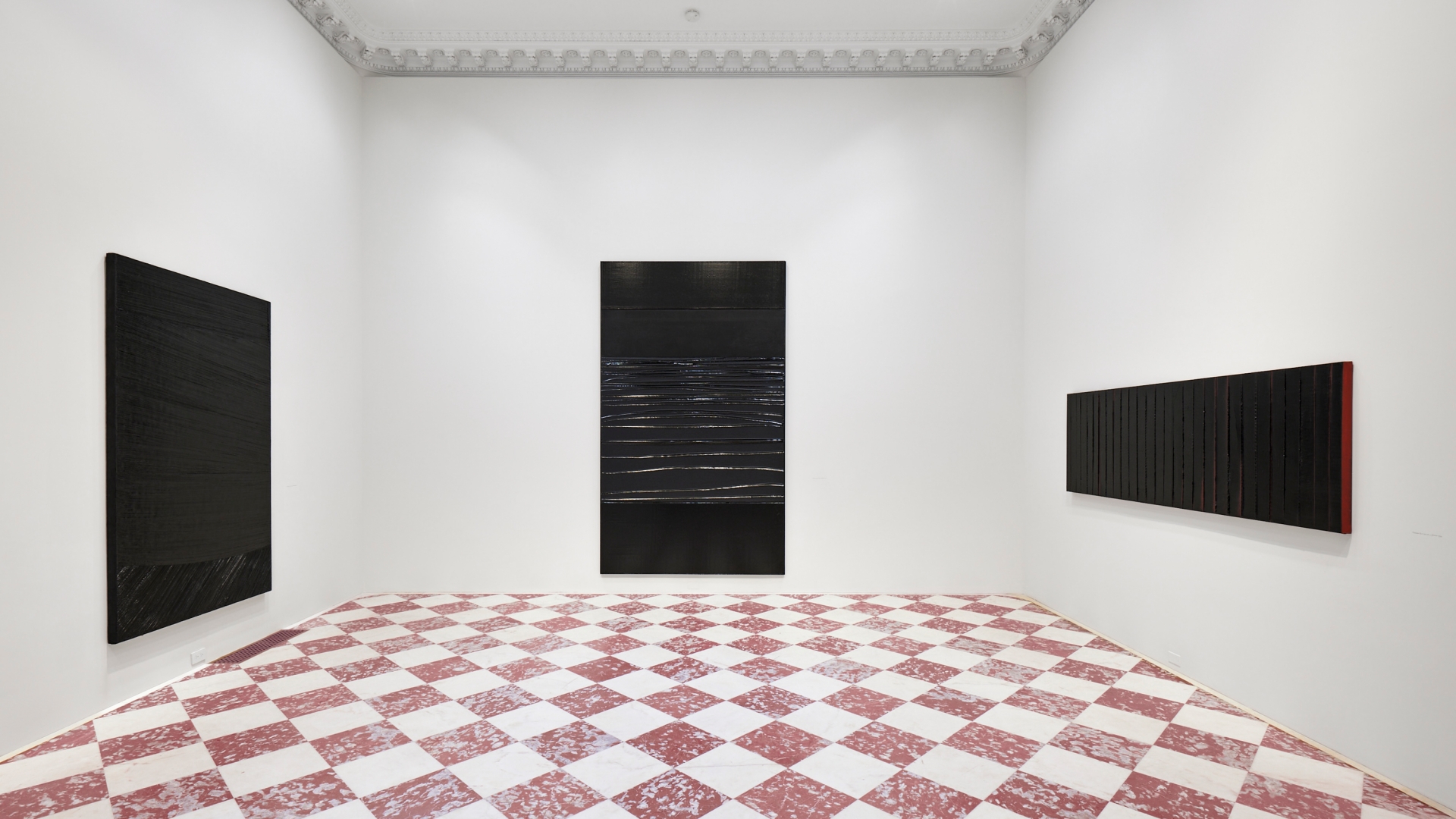 Pierre Soulages passed away on October 25, 2022, when he was 102 years old. Pierre Soulages: From Midnight to Twilight pays homage to an unprecedented and unmatched career and honours the gallery's decades-long relationship with the artist and his beloved wife and partner of 80 years, Colette. Dominique Lévy remarked on their friendship and collaboration upon his death in 2022, "We were honoured to see him and Colette multiple times a year at their home in the beautiful seaside landscape of Sète, France, where he also had his studio. The highlight of our memorable visits came when Soulages would invite us into his studio, where he rarely had visitors and worked alone." The gallery's connection to Pierre Soulages traces back to 1990 when Lévy was first introduced to the artist by Swiss gallerist and collector Alice Pauli. Then, in 2005, Senior Partner Emilio Steinberger curated an exhibition of the artist's paintings at the Robert Miller Gallery in New York. The 2014 exhibition Pierre Soulages at Lévy Gorvy, New York, included recent paintings from the artist's Outrenoir ("beyond black") series in conversation with seminal works created in the 1950s and '60s. In 2019, Lévy Gorvy presented Pierre Soulages: A Century, a comprehensive exhibition celebrating the artist's 100th birthday and showcasing works spanning his career from the 1950s to never-before- seen paintings created between 2017 and 2019. Further exhibitions of the artist's work at Lévy Gorvy included Pierre Soulages: Outrenoir in Hong Kong in 2020 and Pierre Soulages: Twenty Twenty-One in Palm Beach in 2021.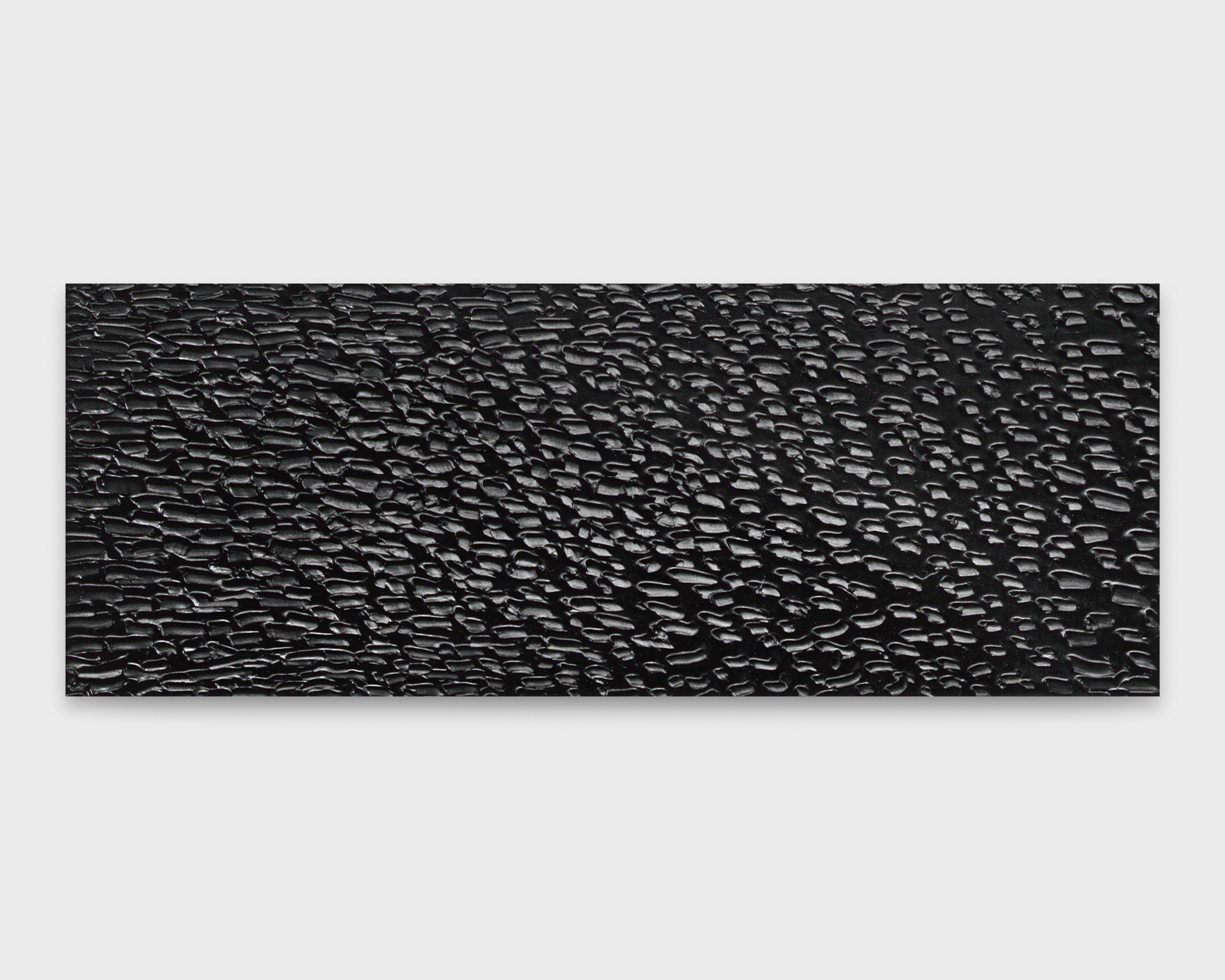 Lévy Gorvy Dayan developed this exhibition in collaboration with Colette Soulages and Alfred Pacquement, president of Musée Soulages in Rodez, France, and former director of the Centre Pompidou, Paris. The retrospective will span multiple floors of the gallery's landmark 1932 Beaux Arts-style townhouse inspired by the 18th-century Hôtel de Wailly in Paris and designed by architect Horace Trumbauer. It is a tribute to Soulages's enduring oeuvre, focusing on his prominence in America and the dialogue between his work and artistic developments in the United States. The exhibition will feature, in turn, acclaimed paintings from the 1950s and '60s, critical 1970s canvases, and examples of the artist's revelatory Outrenoir series created between 1980 and 2019. A noteworthy group of works on paper from the Musée Soulages, spanning 1995 to 2000, reveal the pure contrast of black and white - and a return to his use of walnut stain (Brou de noix) as Soulages continued his experimentation with light.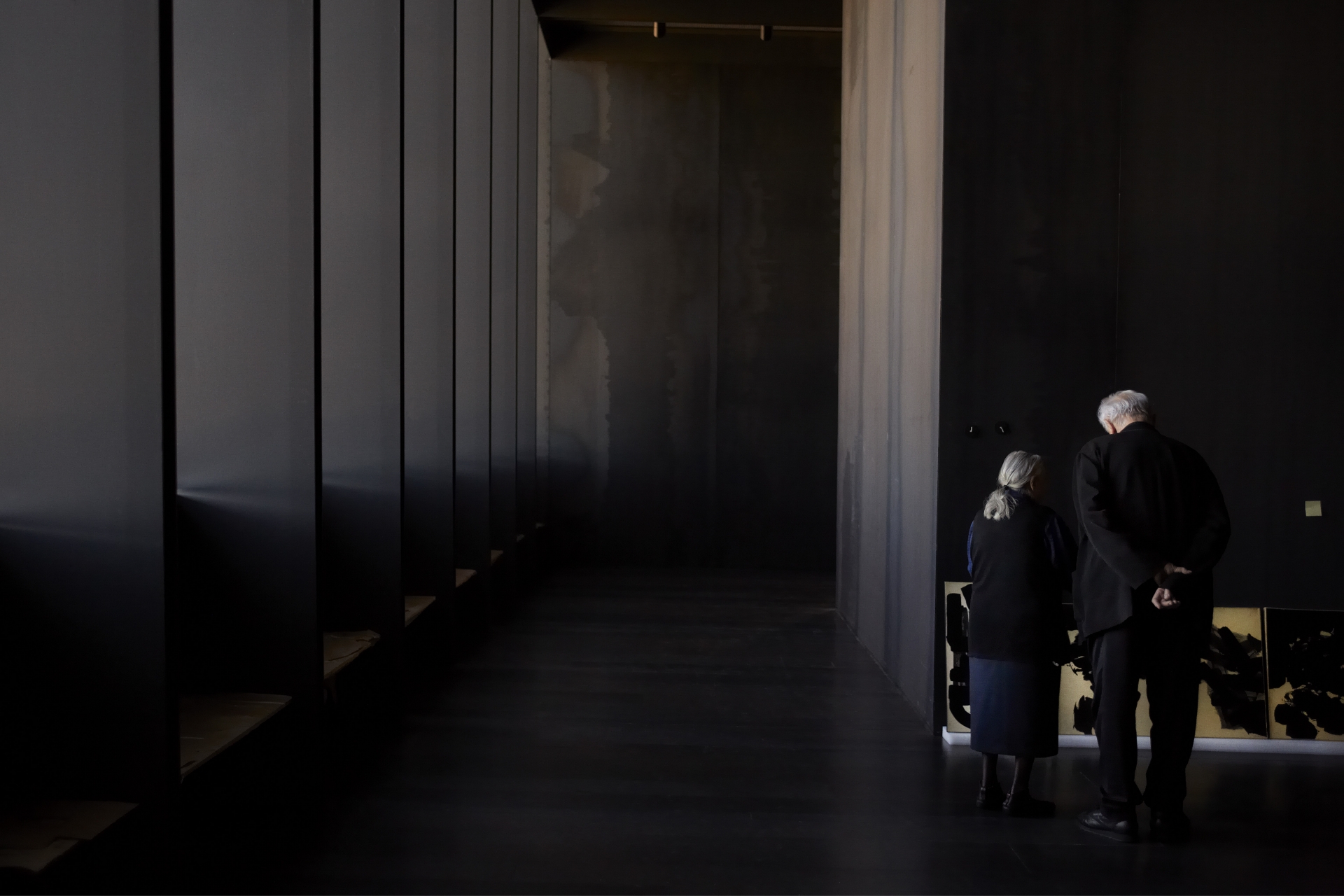 Pierre Soulages: From Midnight to Twilight includes important loans from the Guggenheim and Metropolitan Museum of Art in New York, Art Institute of Chicago, and other prominent institutions and private collections. From the Guggenheim, Peinture 195 x 130 cm, mai 1953 represents Soulages's success in America early in his career. In 1953, Sweeney, then the director of the Guggenheim, presented the landmark exhibition of contemporary European art Younger European Painters, which included Peinture 195 x 130 cm, mai 1953. The Guggenheim subsequently acquired the painting - one of the first works by Soulages to be placed in a North American museum collection. Significantly, the formal and compositional qualities of the Guggenheim's painting and others, such as Peinture 195 x 130 cm, 10 septembre 1953, from the Rockefeller Brothers Fund, New York, harken back to two of Soulages's earliest inspirations: the church of Sainte-Foy de Conques and the ancient Gallic stones populating his childhood home in southern France. Here, his bold applications of black paint upon illuminated grounds manifest his lifelong study of capturing radiance, while evoking Rembrandt's approach to chiaroscuro.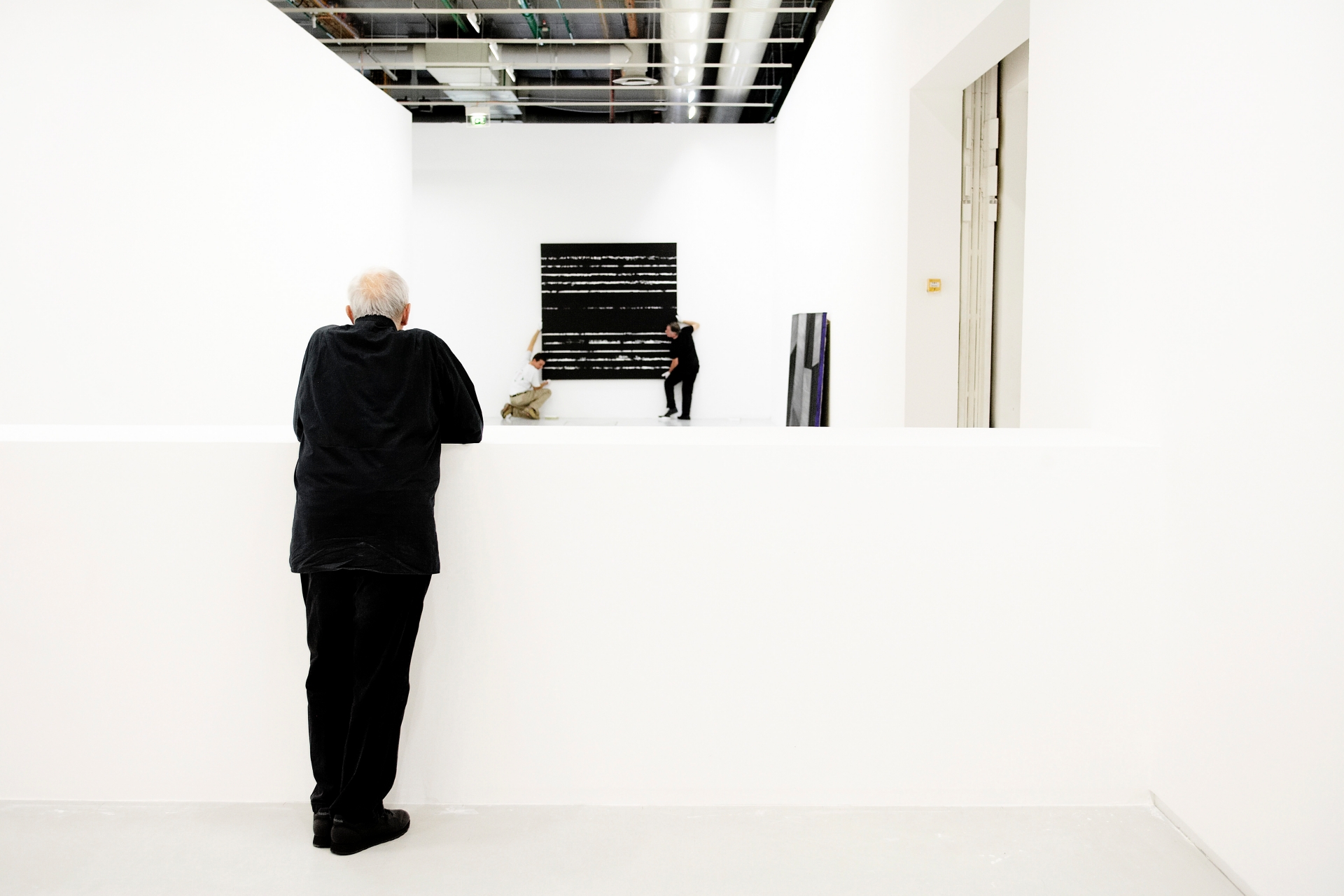 In 1979, Soulages conceived of a new direction in his quest to paint with light. He describes the concept of Outrenoir: One day, when I was painting, the black had covered the whole surface of the canvas, without forms, without contrasts, without transparencies. In this extreme I saw, in a sense, the negation of black. The different textures reflected more or less weakly the light and from the darkness there emanated a clarity, a pictorial light whose particular emotional power awoke my desire to paint.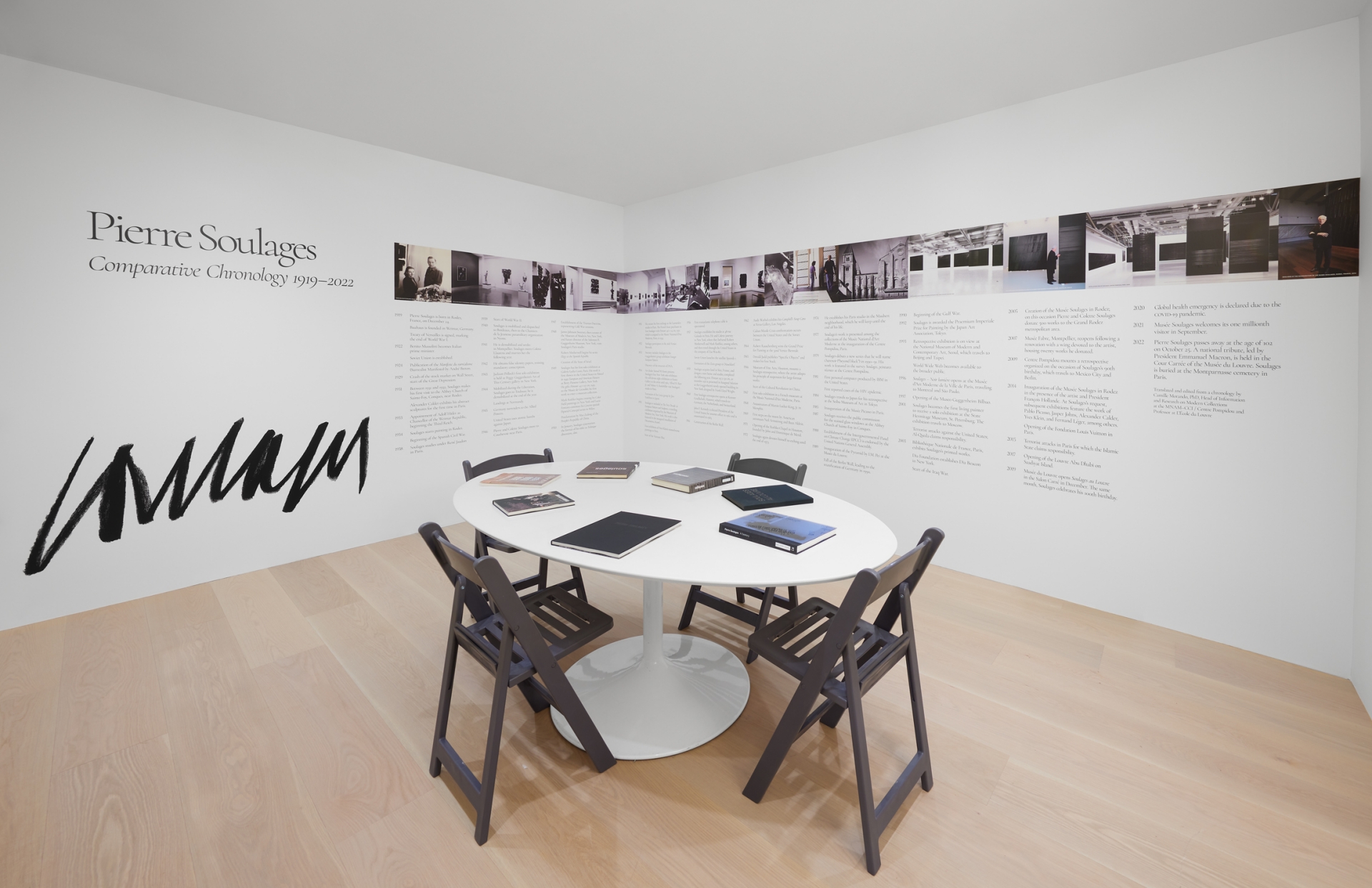 Pierre Soulages: From Midnight to Twilight represents this series with multiple works covered in contrasting densities of black pigment that reveal light through its absence, including Peinture 254 x 181 cm, 13 avril 2008 and Peinture 202 x 143 cm, 5 avril 2019. A notable example of Soulages's Outrenoir, the 2008 canvas features striated sections alternating between matte and gloss, resulting in the black appearing as various hues. In the 2019 work, Soulages composed rows of irregular rectangles rendered reflectively, lending the work a sculptural quality and referencing the modern, art historical, and architectural influences evident in Soulages's oeuvre from the beginning.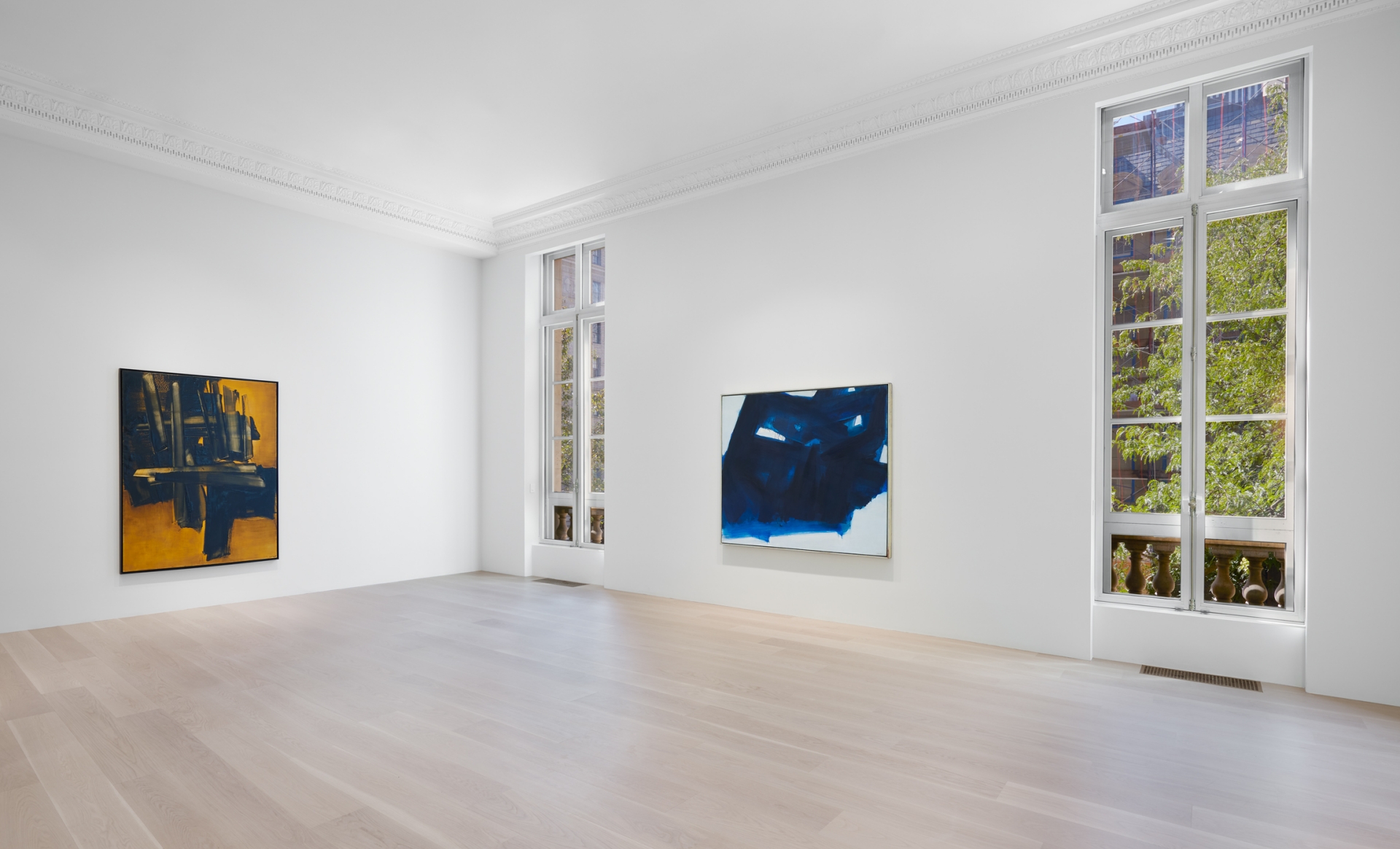 This exhibition will be accompanied by a scholarly publication including an introduction by Alfred Pacquement and an illustrated comparative chronology by Camille Morando, Head of Information and Research on Modern Collections at the Musée national d'art moderne - Centre de Création Industrielle, Centre Pompidou, Paris. The gallery's prior publications on the artist include Soulages in America (2014), comprising an interview with writer and director Philippe Ungar that explores the artist's work in the 1950s and '60s and his prominence in America and New York; and Pierre Soulages (2014) which features an interview with the artist by Hans Ulrich Obrist. Accompanying Pierre Soulages: A Century in 2019 was a comprehensive catalogue with essays by Pacquement and American art critic Brooks Adams, as well as a chronology.